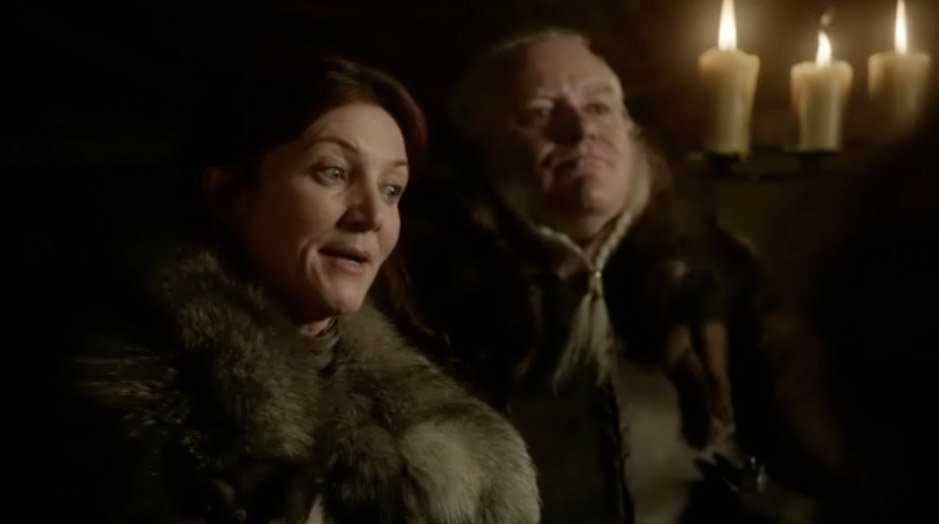 Episode: Game of Thrones 1.09 – "Baelor"
Original Air Date: June 12, 2011
Ned makes a fateful decision that will have serious repercussions, while Arya and Sansa try to survive on their own in King's Landing in vastly different ways. Robb pulls a sacrifice-heavy military move and ends up taking a prized prisoner. Across the Narrow Sea, Daenerys finds her reign, unborn child, and chance to take back the Iron Throne imperiled. This episode was hard to watch since I knew what was coming down the pipe.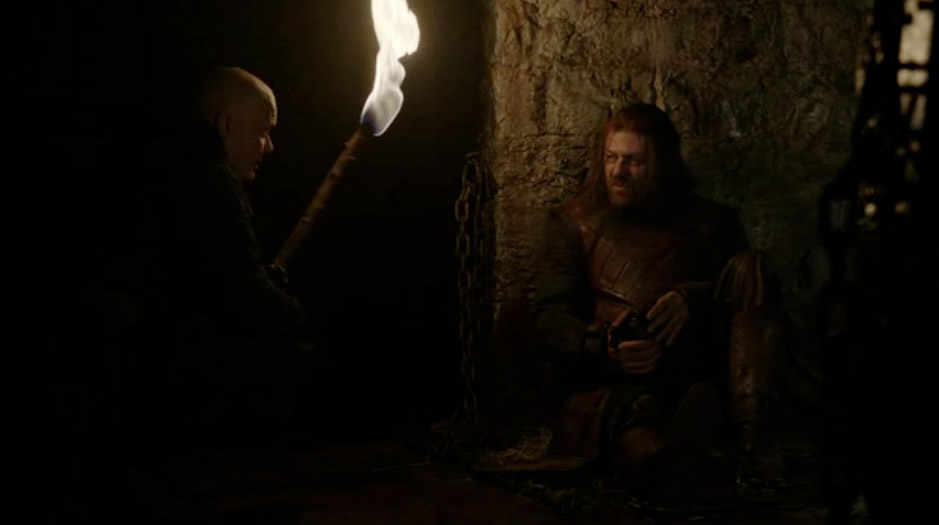 The episode starts off with Varys visiting Ned one more time to try to convince him to admit to being a traitor in order to save his family and the realm. He tries to talk Ned into being flexible this one time in his honor because there is more at stake than Ned is realizing (his daughters, the realm, Robb marching against Tywin). But Ned still seems set on his black and white path claiming Stannis (Robert's older brother) is the rightful heir to the throne. There was an interesting exchange between the two men about who exactly Varys serves, which he claims is the realm. Personally, having read the book, I think he's honest in this statement but I'm not sure if it will prove to be true or if Ned really believes that. Varys does explain that there is a huge difference between serving the woman who killed his friend and crippled his son and serving the best interest of his daughters and the people of Westeros. Ned claims that he is a soldier and knows how to die and that his life is not such a precious thing to him, to which Varys reminds him that there's still Sansa (and Arya) to consider.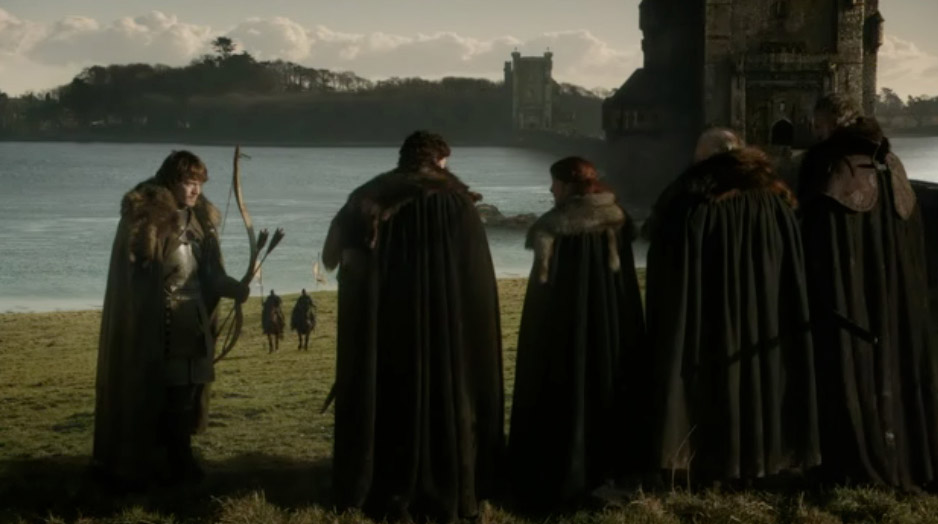 Robb and company have come to an impasse at The Twins (heavily fortified set of castles connected by a bride on the Green Fork River) because of the lord of the area, Walder Frey (cue the grossed out shivers here). Not willing to risk the chance of Robb being harmed in one way or the other by Frey if he were to go negotiate, Catelyn decides she's the one to go over there since she's known him since she was a child (this dude is like a bazillion years old). She goes over there, and … yeah. Dude is a nasty letch. He holds a grudge over the tiniest of slights he feels has been done against him and he has no loyalty. Catelyn is going to have to make some concessions that probably won't be great for those involved.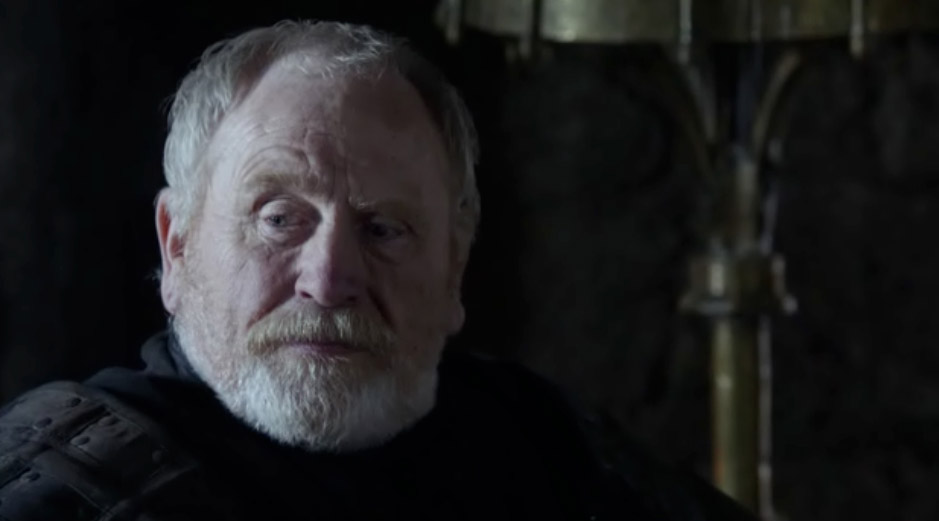 Up at the Wall, Lord Commander Mormont gives Jon the sword that had been passed down to him by his father and that he had passed onto his son. His son, as it turns out, is Jorah. I'm not sure if it was just my mother who was surprised by that revelation or if others where, but that would be why the sword was back in Mormont's possession for him to give it to Jon. Long Claw is a serious sword, it's made from Valyrian steel, and it has great meaning for him to give it to Jon despite him being all manly man and brushing off "emotions". He passes it on to Jon for saving him from the White. We also find out that Mormont sent Alisser to King's Landing with the severed hand of the White to try and convince the new king of the very real threat they are dealing with. It looks like Jon has mixed feelings about receiving the sword, and while it's explored further in the book why he would feel that way, it's not really addressed here. At any rate, Pip and all the guys are excited for him and each take a turn prancing around with Long Claw like it was the Stanley Cup. While they're all doing that, Samwell is moping because he knows something that he wants to tell Jon but shouldn't (that Robb is going to war), but he totally caves like the marshmallow he is.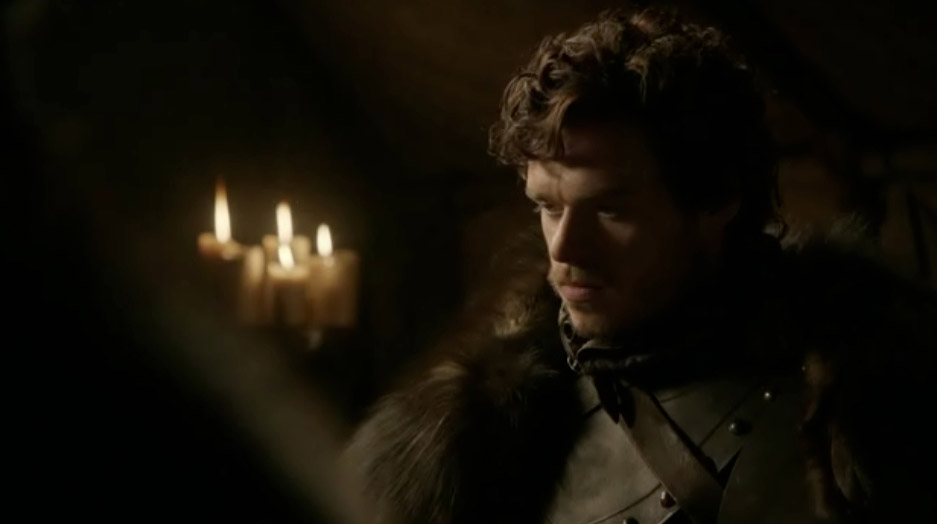 Back at The Twins, Catelyn has Lord Frey's terms for crossing: Robb has to take his son Oliver as a squire, Arya has to marry one of his other sons, and Robb must marry one of his daughters. Of course, he doesn't want to (because apparently they're all ugly), but he consents to the terms and they cross with some of Frey's men. We see part of Robb's men splitting off from the rest of the group before we switch back to the Wall.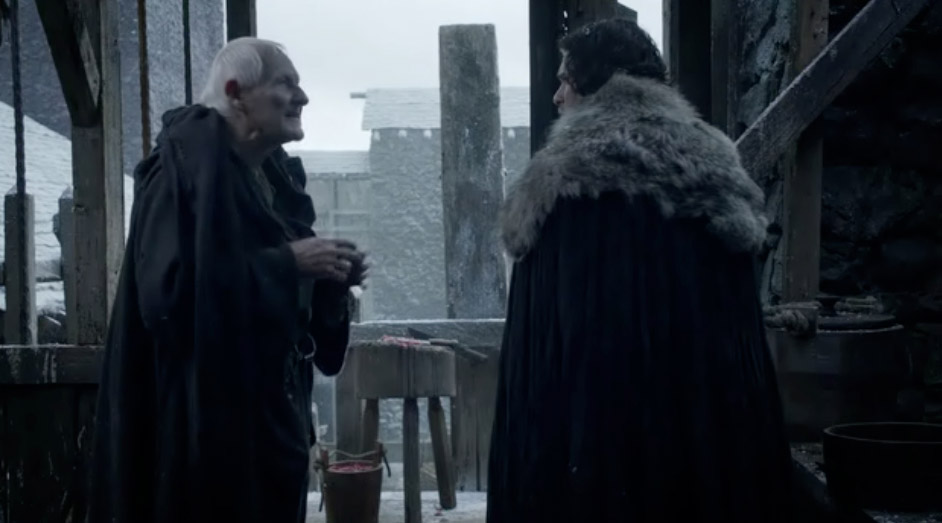 Maester Amon calls Jon up to have a talk to him about the Robb deal. Jon is telling him that there's a reason why the Brothers of the Night's Watch have to forsake their houses and take no wives — so they don't feel love, which would compromise their loyalty to the Wall. Jon assumes Amon doesn't know what it feels like to have this struggle of duty and family. Boy, Jon, open mouth and insert foot. Turns out, Amon is a Targaryen and let Jon's father and the late King Robert kill almost his entire bloodline, even the babies. But he stayed true to his oath. Amon is hardcore, but we're left to wonder what Jon will decide.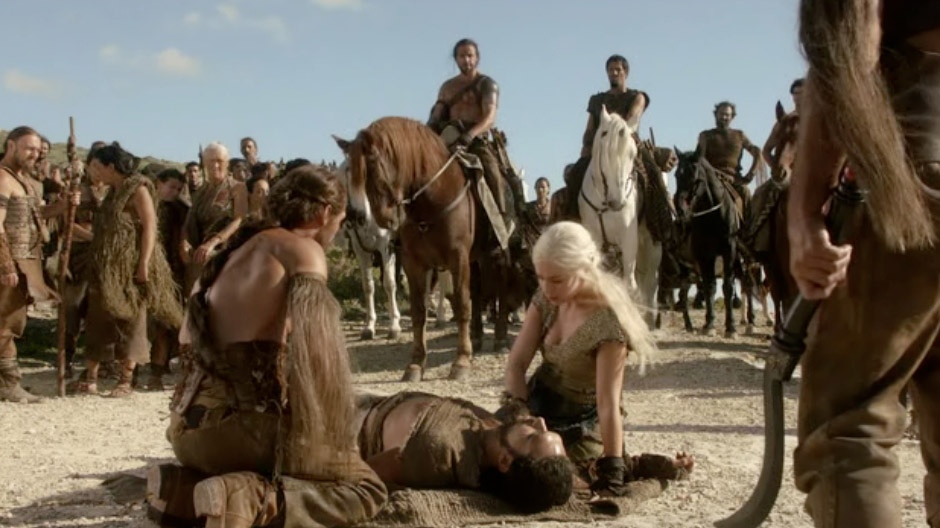 In case they hadn't made it super clear, horses and the ability to ride a horse are important things to the Dothraki. So when Drogo falls of his horse, that is a seriously bad sign. Daenerys tries to make things not seem so serious as they are (falling off your horse is a sign of weakness and these people are all about strength), but there's already dissent amongst Drogo's bloodriders. Mostly because, when Drogo dies, they have to die with him. That's why they refer to him as "blood of my blood". And the really vocal one apparently isn't too keen on taking that long ride in the night sky just yet.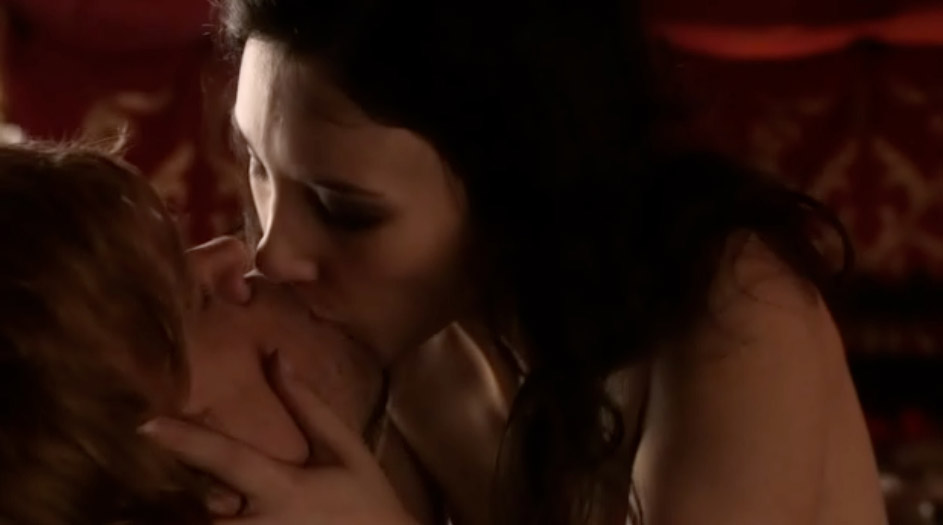 At Camp Lannister, we find out that they got the info that Robb is heading toward them with 20,000 men. Tywin also informs Tyrion that he and the Wildlings will be in the Vanguard (which is right up front in the battle formation). Man, how'd you like to have a prick like Tywin as your father? We also meet Shay, the "whore" Broon finds for Tyrion. In the book, I thought she was a throwaway character (as in, it didn't make a difference if she was there or not), and she felt that way here as well.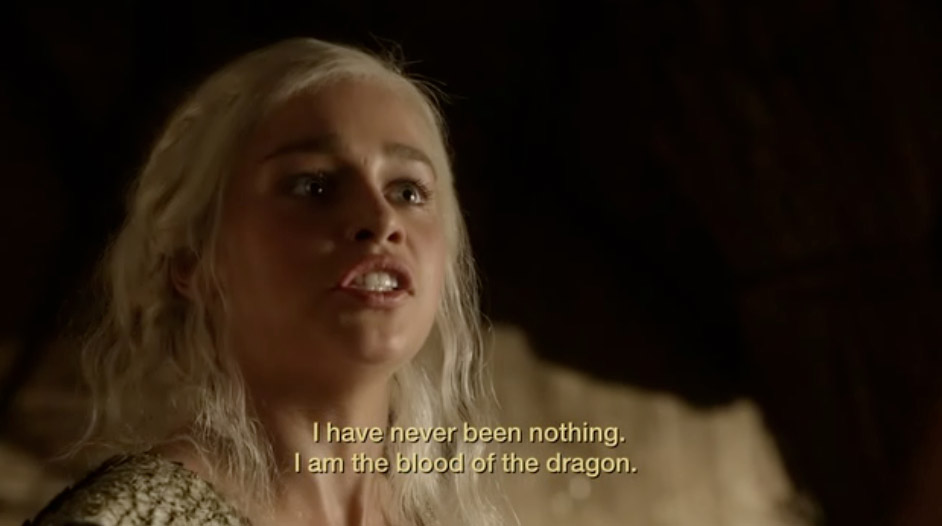 Drogo is dying. Long and short of it right there. Jorah tries to get Daenerys to leave with him before that happens in order to save her and her child, which she doesn't understand because she's their khaleesi, why would they hurt her? Jorah explains that bloodlines mean nothing to the Dothraki. They're kind of like Necromongers — you keep what you kill. She refuses and has Mirri Maz Duur try to help Drogo (she claims the usual healing arts are beyond him). Dany makes her do blood magic to save him, though she didn't really have to push all that hard which would make me suspicious of the old lady. Dany is hellbent on saving Drogo, and you're left wondering if it's for love or power or maybe both. Mirri Maz Duur warns her that once the ritual starts, no one is to enter the tent. So you know someone is going to enter the tent. That same bloodrider that having a fit about Drogo falling is back and causing trouble. He knocks Dany down (causing her to go into labor) and Jorah has to kill him. None of the Dothroki midwives will help Dany because of the blood magic, so Jorah takes her … wait for it …. yep, into the tent.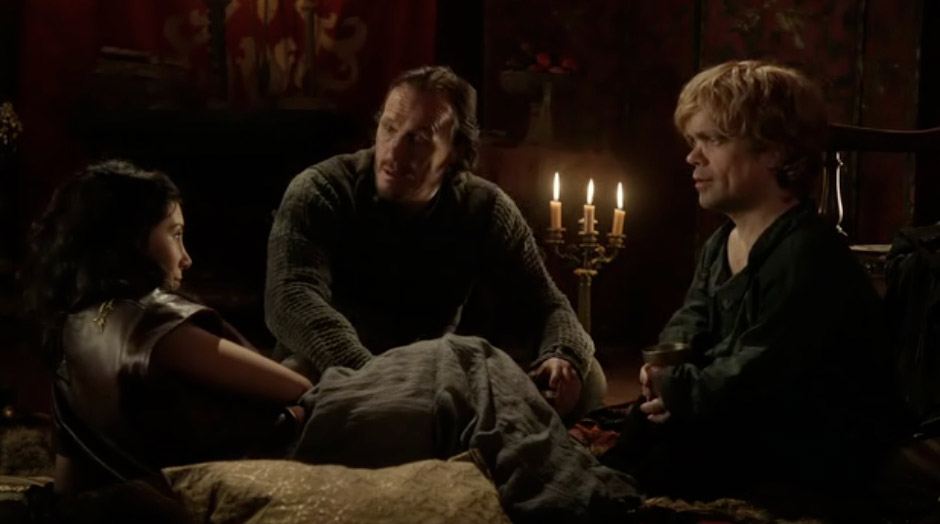 Quickly, we get a "just hanging out being silly" scene between Bronn, Tyrion, and Shay. Who else wants to see a spinoff with just Bronn and Tyrion? I love those two — they are fantastic. The facial expressions alone kill me. We get a little more back story on Tyrion, about when he was married, and how messed up Tywin and Jaime are. They may be rich, but the Lannisters are completely Fruit Loops.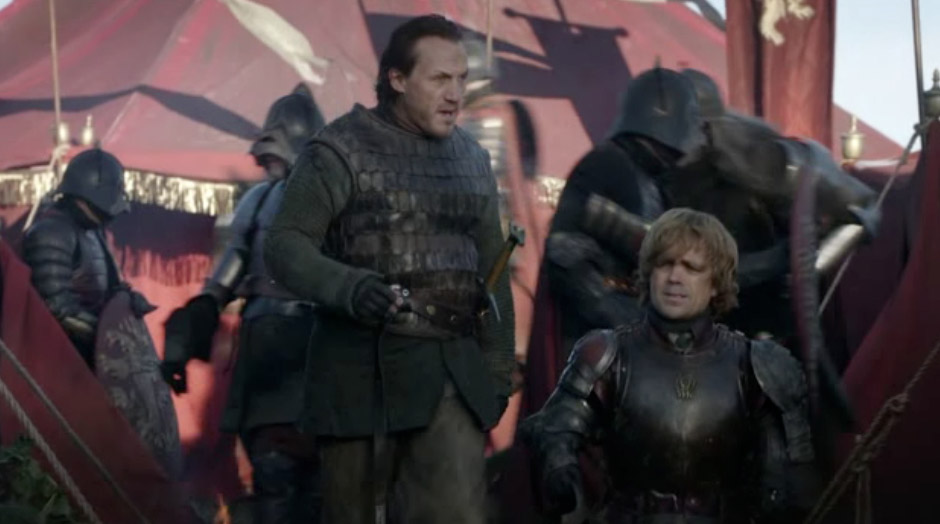 Then the battle finally happens. Sort of. We don't get to see it actually happen, just the aftermath, and both Bronn and Tyrion survive. However, it turns out that Robb had only sent 2,000 men to meet Tywin. Wonder where the other 18,000 men went?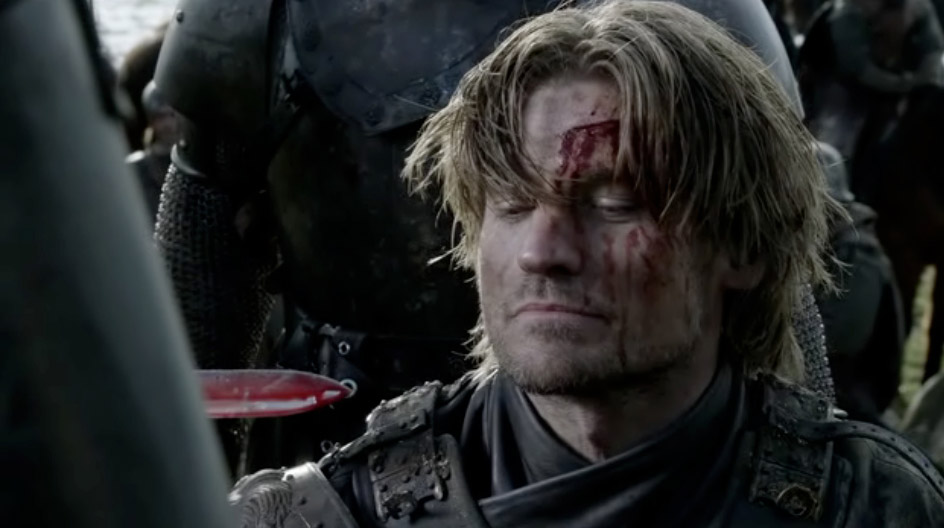 Well, turns out they went to ambush Jaime at the Whispering Wood and that this is another battle we don't get to see. So, no battles and barely any direwolves. While the show has been great so far, this makes me worried about how they're going to handle what should take place in the finale. It's something much bigger and way more complex than two battles and dogs that look like wolves. Anyhow, Robb snags himself one Jaime Lannister and Jaime tries to goad him into a one-on-one fight. Robb doesn't fall for it, knowing full well that Jaime would win. So far, the kid's proving to be pretty smart about how to handle things.
So this was one of three events in the book that I have had a hard time not talking about because you don't want to spoil them (the first was Viserys getting his golden crown from Drogo and the third hasn't happened yet). It was incredibly hard to watch for me, though. We come back to King's Landing to find Arya living on the streets, catching pigeons to survive. Noticing that everyone is heading in a rush towards something, she asks a boy what's going on. He tells her that the Hand of the King is going to confess his "crimes". Arya rushes with them to the Great Sept of Baelor and positions herself at the feet of a giant statue to get a better look. When the guards bring Ned out, and this is the part that I think made watching this even harder for me, he finds Arya in the crowd (who are just screaming for Ned's blood because they're The Mob and The Mob is a fickle bastard) and they make eye contact. As they drag him to the front of the crowd, he passes Yoren and indicates to him where Arya is to get her out of the city possibly. Ned does something you almost think he wouldn't do — he confesses to everything they want him to confess to.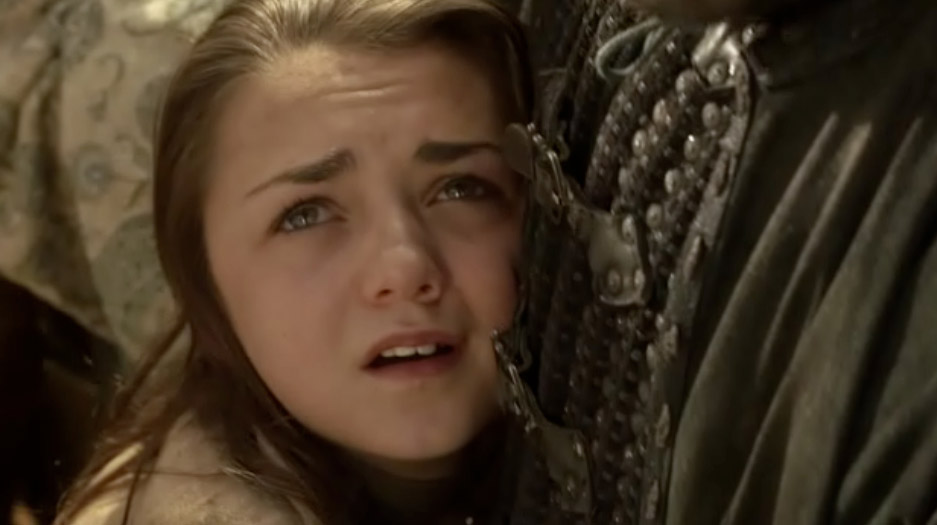 Then Joffrey, the jerkiest of all jerkfaces, goes on and on about how his mother and Sansa would have him show mercy and make Ned take the Black, but that they're both women so that makes them "soft". Instead, in what turned into a huge shocker for most of the viewing audience, Joffery has Ned beheaded with Ice (Ned's sword). As soon as he calls for Ilyn Payne, EVERYONE (except, from what I could see, Littlefinger) rushes him and tries to get him to reconsider. Because he obviously didn't remember a single thing his mother said to him in that talk they had when they got back to King's Landing from Winterfell. Interestingly enough in a show that has had zero issues with being graphic, the beheading is not shown. We see Yoren forcing Arya not to look. The slowing of time, the muted colors and sounds, and Arya just seeing and hearing the flock of pigeons fly off was extremely effective.
Rating: 4.5 / 5 Stars