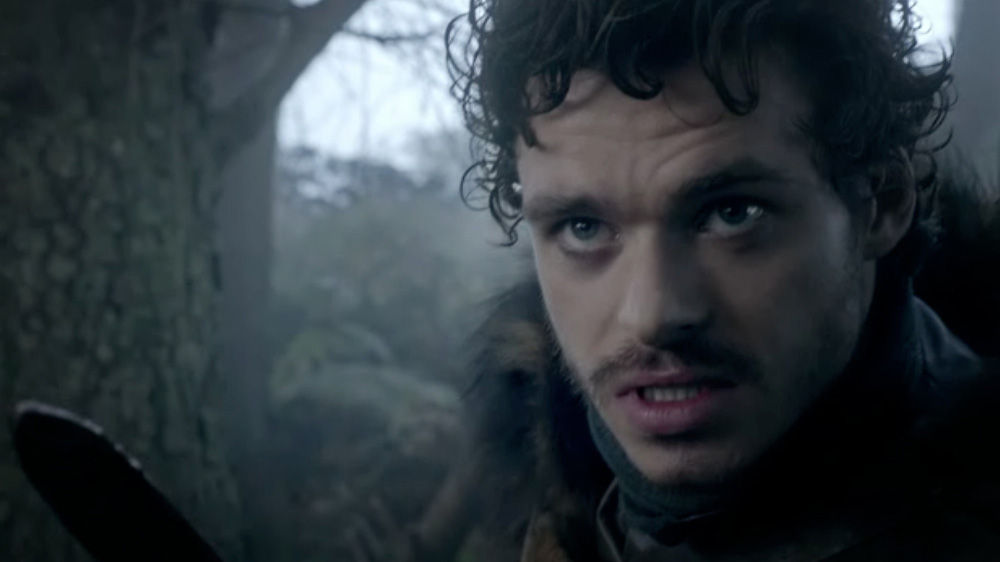 Episode: Game of Thrones 1.06 – "A Golden Crown"
Original Air Date: May 22, 2011
Ned, having been reinstated as the Hand, sits in for Robert while he's out hunting, and issues a decree that will most likely have serious consequences throughout the Seven Kingdoms. At the Eyrie, Tyrion demands that Lysa give him a trial by combat. During the celebration of Daenerys's unborn child, Viserys finally receives his crown from Drogo.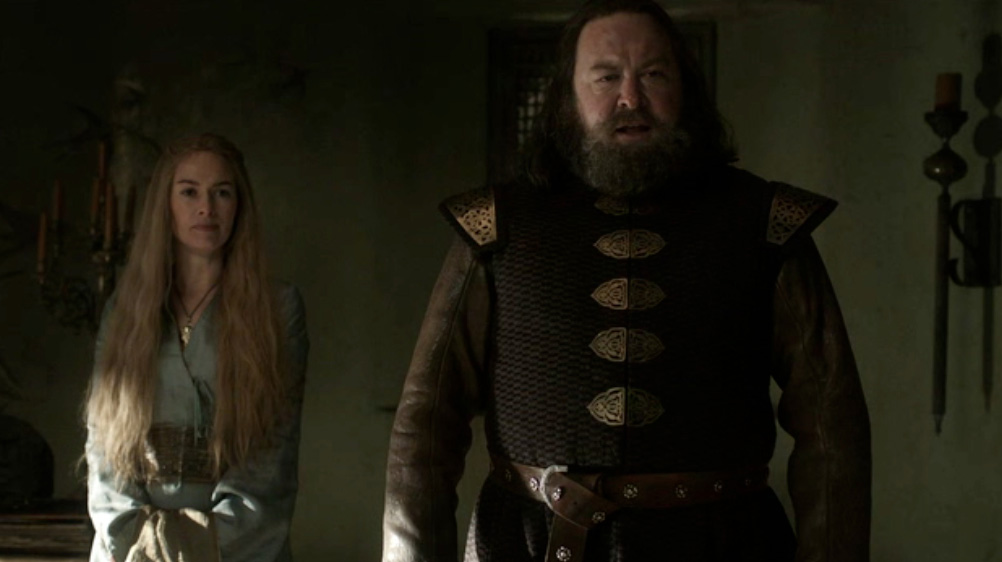 Ned's not doing so well at this stage, though a hell of a lot better than his men are doing. He wakes up to find Cersei and Robert in the room and from then on it's a load of bickering. Cersei even tries to get Robert to believe the lie that Ned was leaving the brothel drunk and attacked Jamie, which was a stupid thing to do for two reasons in my mind: 1. There's no way in the seven hells that Eddard Stark would visit a brothel and get drunk; 2. She's just insulted Robert (for thinking he's stupid enough to believe that lie) and she's insulted the man he considers his brother, the man he chose as his brother as he tells Ned later when he's commanding Ned to stay and be the Hand. When Ned questions about Jamie and bringing him back to King's Landing, Robert tries to open Ned's eyes to the game a bit — the kingdom is half in debt to the Lannisters and if the Starks go to war with them the kingdom is lost. Obviously, we know this doesn't sink in with Ned because he is just black and white about things.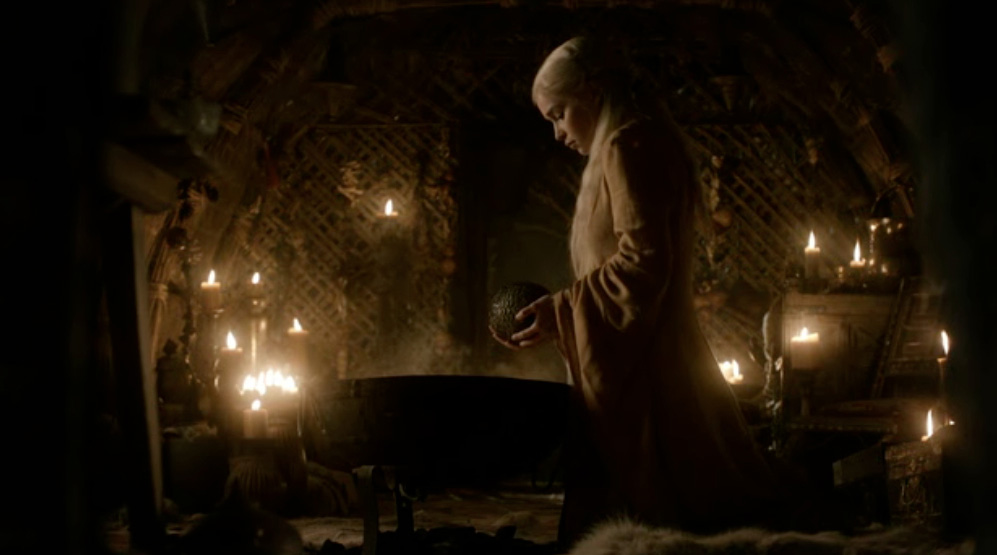 Over with the Dothraki, Daenerys discovers something interesting about herself. While trying to heat one of the dragon eggs in the fire to hatch it (doesn't work), she pulls it off the fire with her bare hands and is unharmed. She is the blood of the dragon, after all.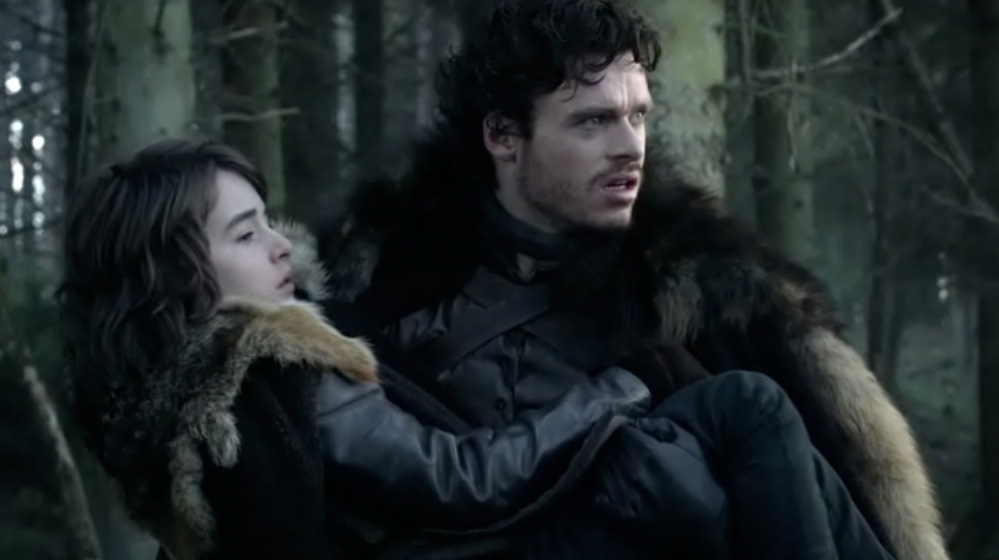 Up in Winterfell, Bran is still having the three-eyed crow dream and the direwolves (Grey Wind, Summer, and Shaggydog) and Rickon (the youngest Stark) are still nowhere to be found. On the plus side, the saddle Tyrion designed for Bran is made and he adapts to it quickly. While he's riding, Theon gives Robb the worst tactical advice ever and tells him to basically start a war with the Lannisters over what Jamie did to Ned. For his part, for the moment at least, Robb acts like it's bad advice while reminding Theon that the Stark house is not his house. Lots of Book 2 stuff has been shown here about Theon and I think it's great because it fleshes this character out more. Unfortunately, while they're bickering like girlfriends Bran's wandered off and almost gets kidnapped by four Wildlings. Robb and Theon eventually save him, but this was a disappointing scene in that, yet again, the direwolves were left out of something they played a big part in. All the Wildlings except Osha are killed, with Theon saving Bran with a well aimed arrow. Osha gets taken back to Winterfell.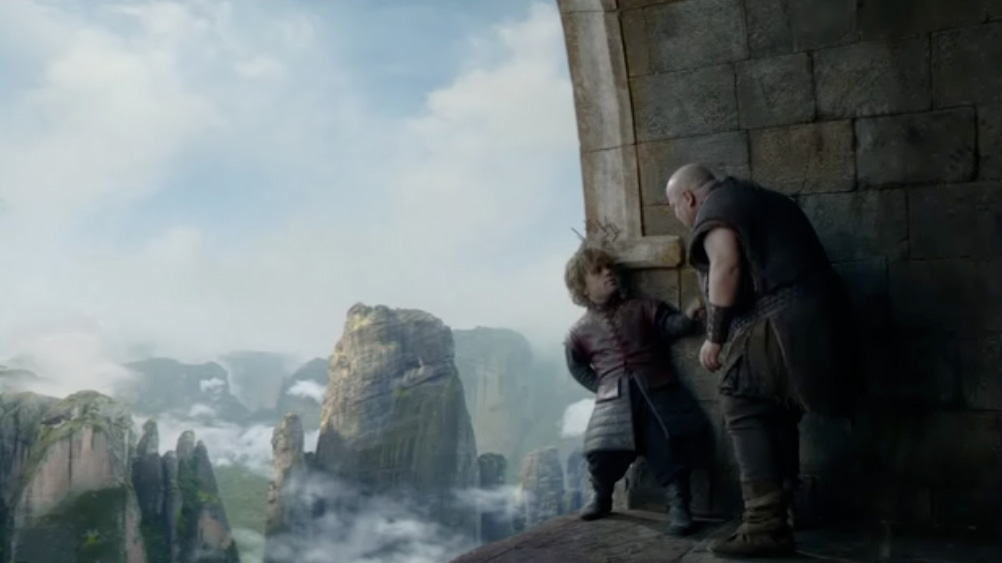 In the Eyrie, Tyrion starts to hatch a plan because he's always thinking. That's what he does. He starts by trying to bribe Mord, the gaoler, and that doesn't go so well at first because Mord isn't equipped to pick up on subtitles (i.e., that Tyrion will pay him once he's out).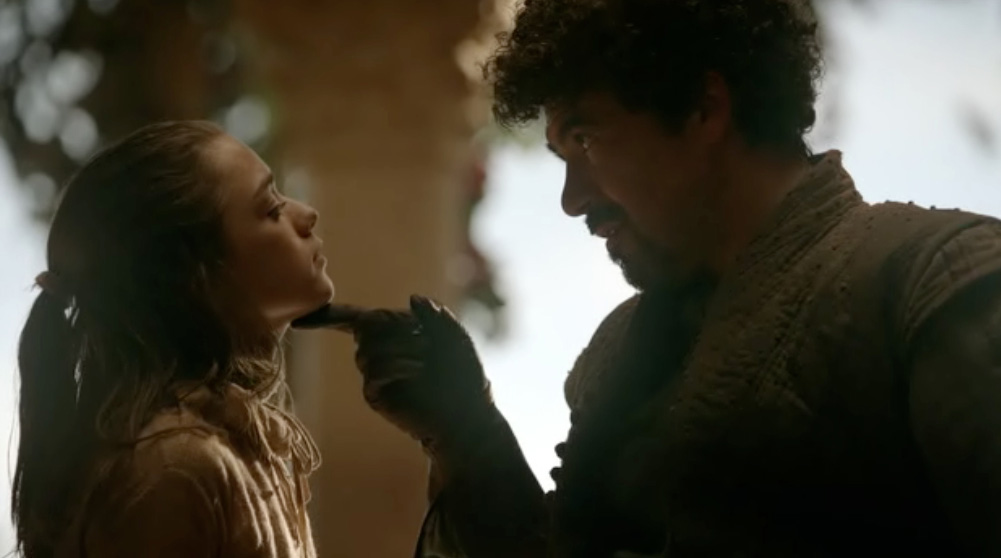 Back at King's Landing, Arya and Syrio are practicing dancing. I love these scenes. Arya is a strong girl, but still just a girl (in the sense of her maturity). Syrio is not just teaching her how to fight with a sword, but basically how to be less impulsive and distracted and to persevere and to be calm as still water so that she can handle situations with a clear head and get things done without getting killed. One of the best lines of this episode was what made Arya snap out of her funk:
There is only one God and his name is Death. And there is only one thing we say to Death: "Not today."
Love. It. I don't care if Syrio is the Westeros version of Inigo Montoya in the TV series. I want him to teach me great life lessons while swinging a wooden sword at me. He's the best.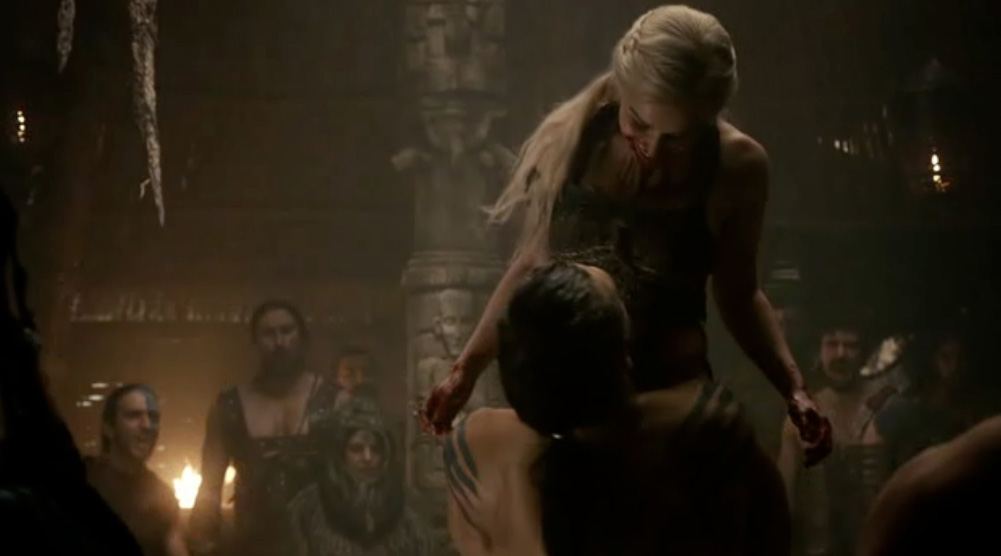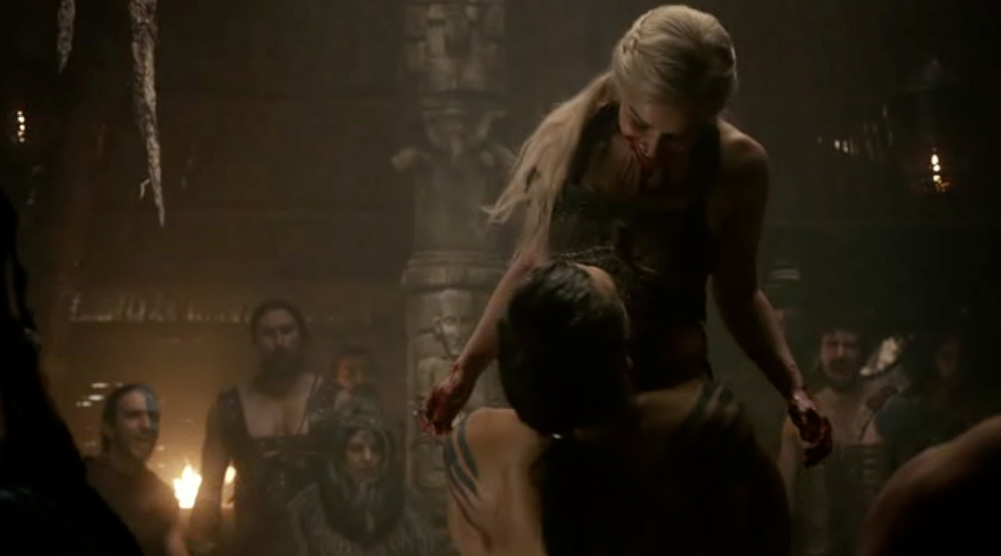 Quickly back over to Vaes Dothrak, Daenerys is eating a horse heart in a Dothraki ritual. It's important for her to Fear Factor this one so that her child will be born strong. She downs the entire thing like a champ and her child is proclaimed to be the Stallion that Mounts the World (basically, the ruler of all Dothraki and conqueror of the world). Obviously, Viserys has issues with that and the fact that the Dothraki love Daenerys. To her credit though, she embraces her life with them, learns their language and ways, so of course she's going to be a queen her people love. Viserys knows he can't rule at that moment because he doesn't have wealth or the fear of his enemies or the love of his people. So he tries to make off with the dragon eggs to buy a ship and large army. Jorah stops him from taking off with them, making it clear that he is loyal to who he thinks is the rightful heir to the Iron Throne. What I really liked in this was watching Drogo silently cheer Daenerys on and then the joy they both showed when she had succeeded. These two are faves of mine and getting to see them at this stage, where they both love each other and are happy together, is brilliant.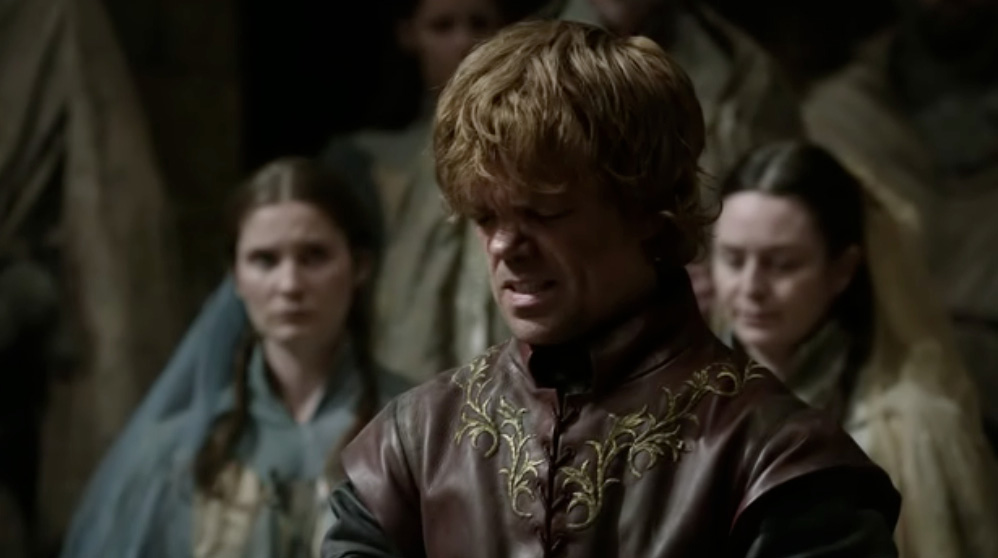 Once again at the Eyrie, Tyrion tries to bribe Mord again and this time it works. This time, he plays up his bloodline ("Rich as a Lannister" and "A Lannister always pays his debts"), and Mord delivers Tyrion's message to Lysa that he wants to confess his crimes. And then we get what I can only describe as the R-rated version of Chunk's confession to the Fratellis. I love this character! Again, this is like Varys and Littlefinger where Tyrion uses words to win his battle. It doesn't go the way he initially plans (having Jamie be his champion), but the sellsword Bronn is up to the challenge since no one else there will (and for the money he'll get for winning). Loved the look of "what else have I got to do today?" that Bronn gives Tyrion when he steps forward. I also love that this whole farce of a trial Lysa puts on backfires in her face.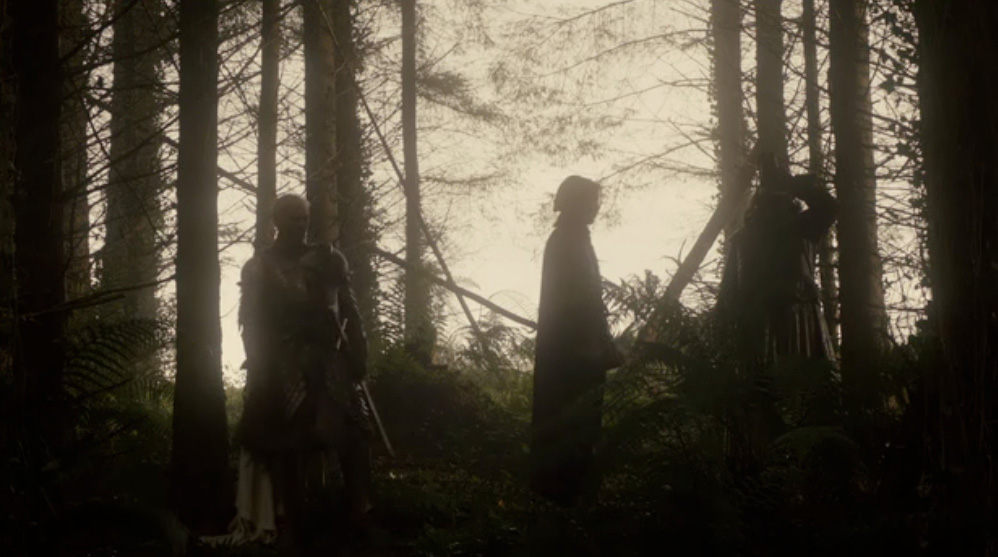 Out on Robert's hunt, Renly pretty much has it with his brother's gloating and romanticizing the "good old days". Renly storms off after that, the Lannister squire gives Robert more wine, and Barristan has a look of unease or suspicion that something's not right about this drop flash over his face before moving on.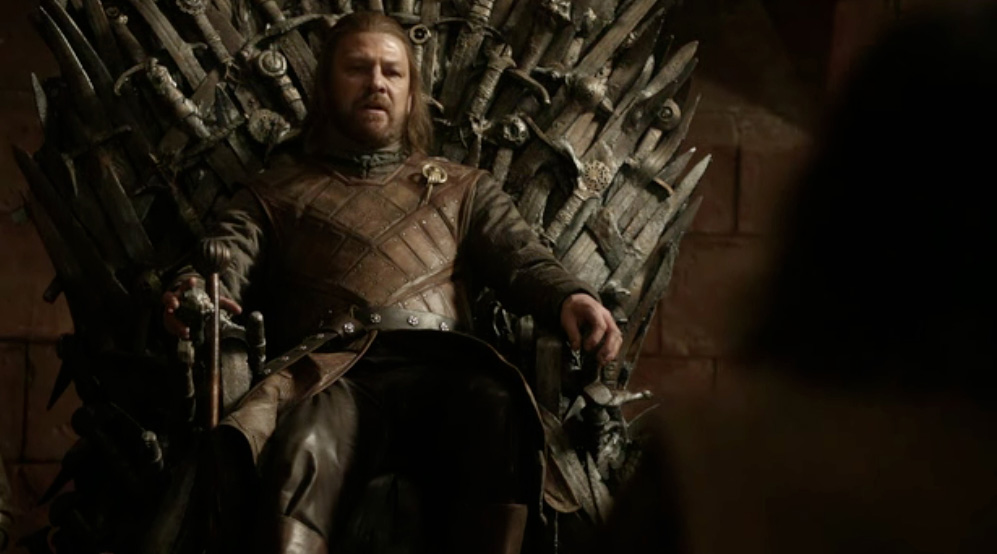 Ned's playing King back at court, and that's going about as well as him trying to get thee back to Winterfell. Some villagers show up with a story that someone fitting Gregor Clegane's description pillaged and burned and killed everything in their village. It doesn't take too much for Ned to make a rash move by stripping Gregor of his knighthood and demanding Tywin Lannister (father to Jamie, Cersei, and Tyrion) to come to court, but Littlefinger does a good job of poking and prodding at just the right times. So much for making peace like Robert requested.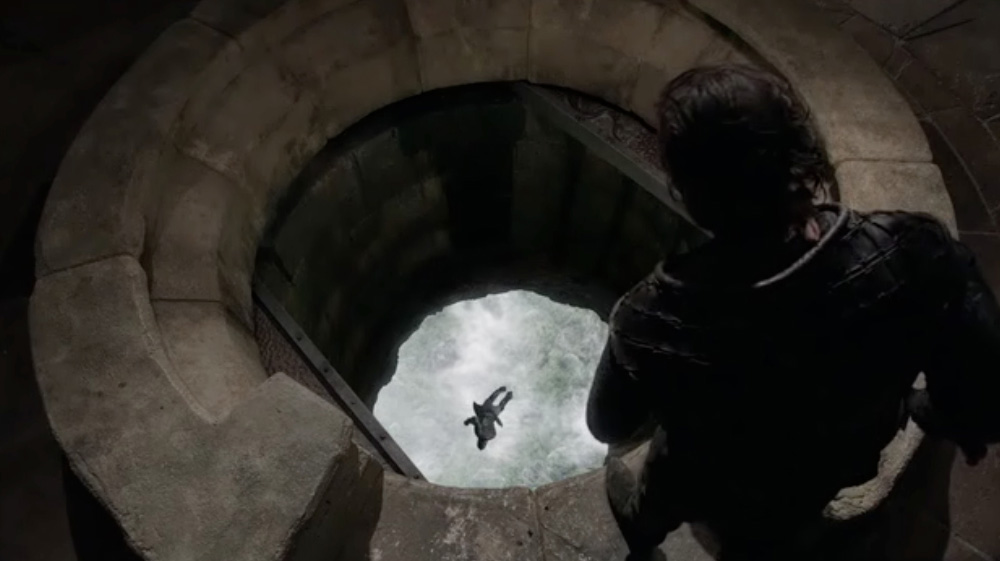 One more time at the Eyrie, Tyrion's done well with Bronn as his champion. He isn't weighed down in full armor like Lysa's champion and easily wears him out before killing him. I think this is the beginning of a beautiful friendship between Tyrion and Bronn.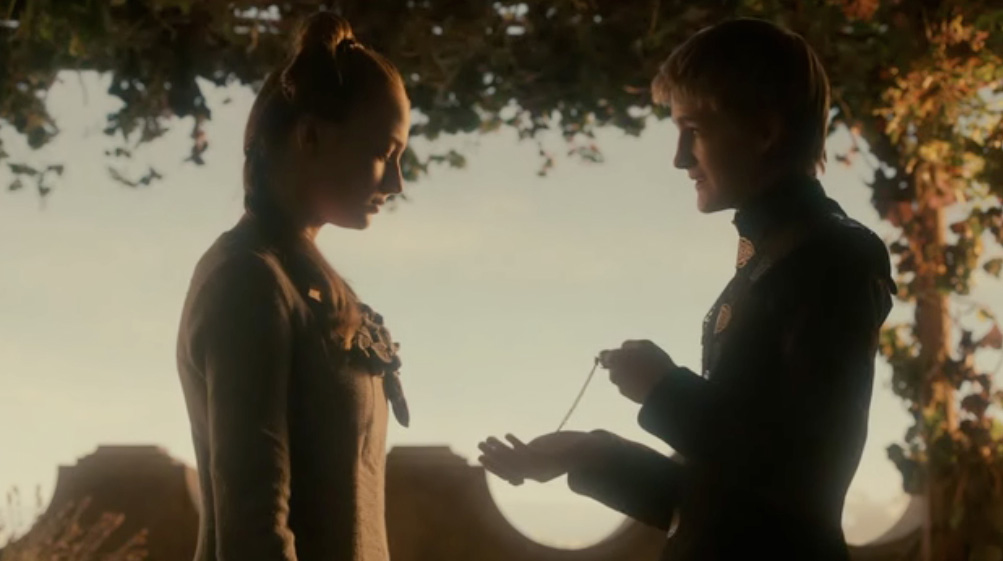 A Sansa scene happens. I dislike this character very much at this point in the story. She's rude to Septa Mordane here (which I don't remember her ever doing in the book) and totally buys the load of BS that Joffrey shovels out of his mouth (just like mommy told him to do), and is just being a very ugly, spiteful person. While part of me is thinks these two belong together because they both have a-hole face and are just nasty teenagers, you just know that things are not going to end well here and it's like watching the build up to a massive train wreck.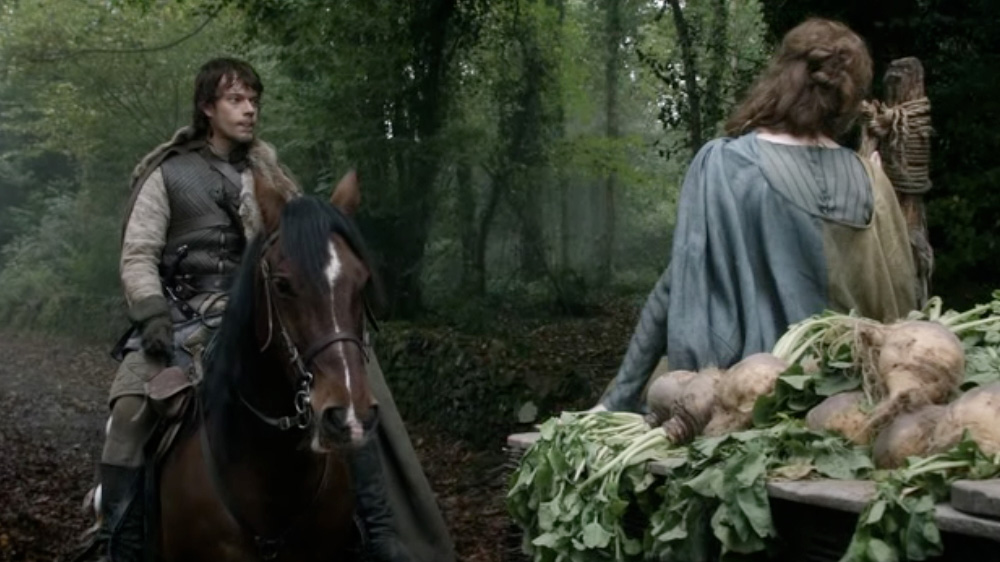 That's followed by a rather interesting/humorous Theon scene. Ros is getting out of dodge while the getting's good because of what happened to Ned and Jory. Theon will miss her. Or, at least, a certain part of her. Farewell, Ros, the most loved whore in all of Winterfell.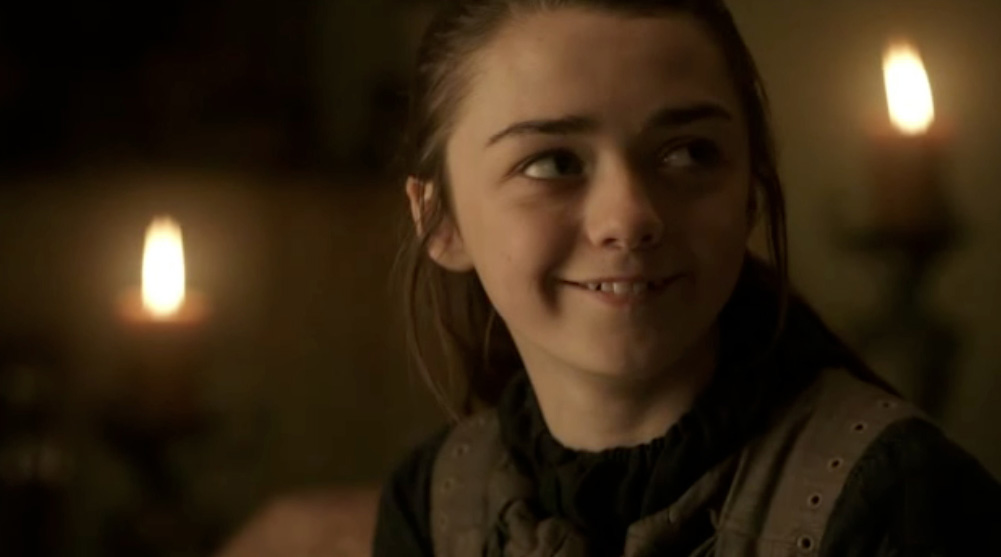 When Ned's telling Arya and Sansa he's sending them back to Winterfell for their own safety, of course it's Sansa that pitches a world class fit and a half. She wants to be Queen! And to marry Joffrey! And to have his demon spawns! I loved the look Arya and Ned gave each other when Sansa was saying that she didn't want to marry someone brave and strong and gentle — she wants Joff! Her adolescent ranting is Ned's lightbulb moment in regards to the Big Book of Westeros Genealogy. The secret Jon Arryn found out before he died was that those blonde children that are supposed to be the heirs to the throne are not Robert Baratheon's children and have no claim to the throne.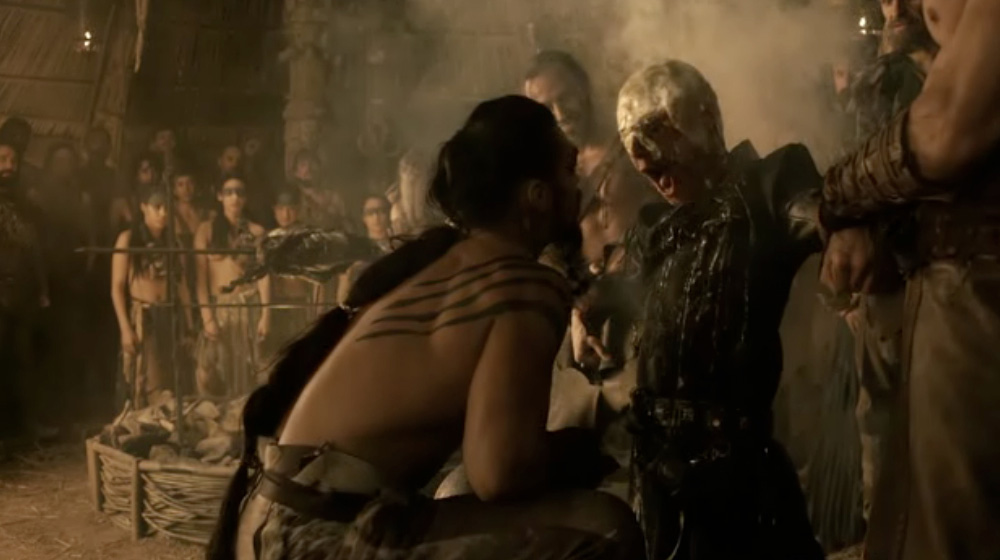 And the end scene of the episode is the one of the scenes I've been waiting for since episode one. Viserys gets his crown from Drogo finally and Daenerys learns who the real dragon is in the family. I found this scene to be great for a few reasons. First, because it's so brutal and final. It makes me feel that Ned and Drogo would actually get along fairly well in certain regards (as far as handing out justice). Second, you have this character that has been nothing but awful the entire story so far but in this episode and in this scene you almost pity him and feel sorry for him. Third, Daenerys not looking away from her brother's death and proclaiming that he wasn't a true dragon because fire cannot kill dragons was fantastic. The look on her face says it all.
Rating: 5 / 5 Stars