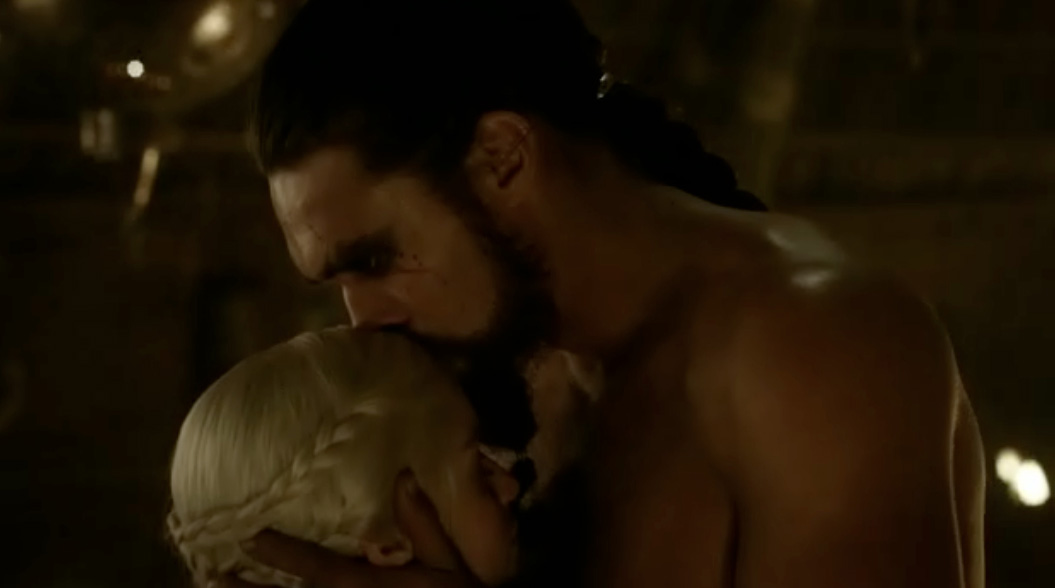 Episode: Game of Thrones 1.07 – "You Win or You Die"
Original Air Date: May 29, 2011
Making his debut in the show, Tywin Lannister explains to Jamie that the future of the Lannisters is at stake as they prepare for the battle that's about to start between them and the Starks/Tullys. Ned continues to be the worst Game player ever and confronts Cersei about the secrets that Jon Arryn figured out. Jon Snow takes his Night's Watch vows, though not as a Ranger like he wanted. Jorah saves Daenerys from an assassination and an enraged Drogo vows to lead the Dothraki across the Narrow Sea. Robert comes back from his hunt injured and makes moves to ensure an orderly transition from his rule to his heir's at King's Landing.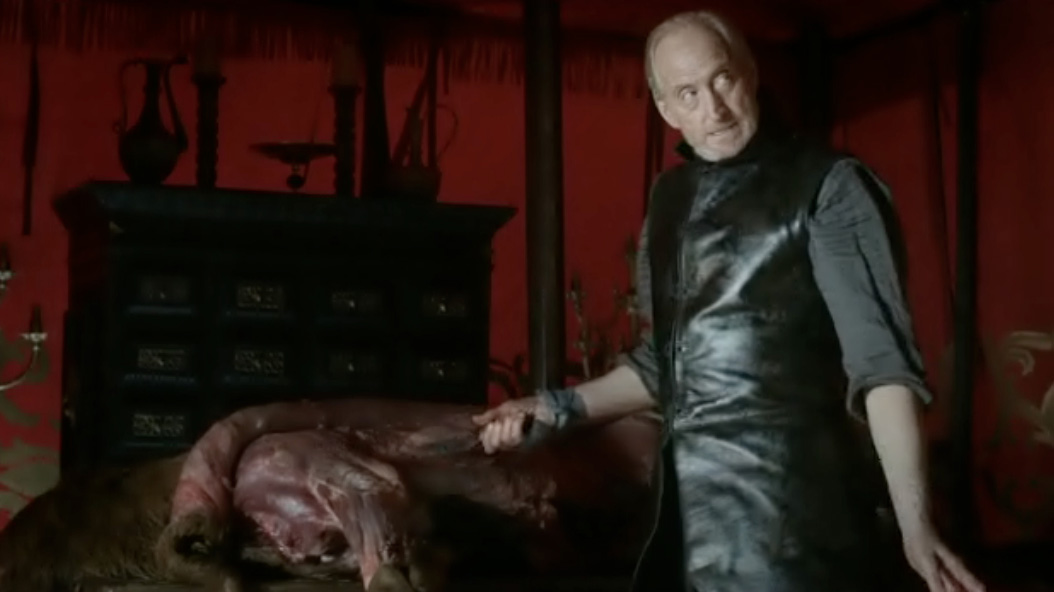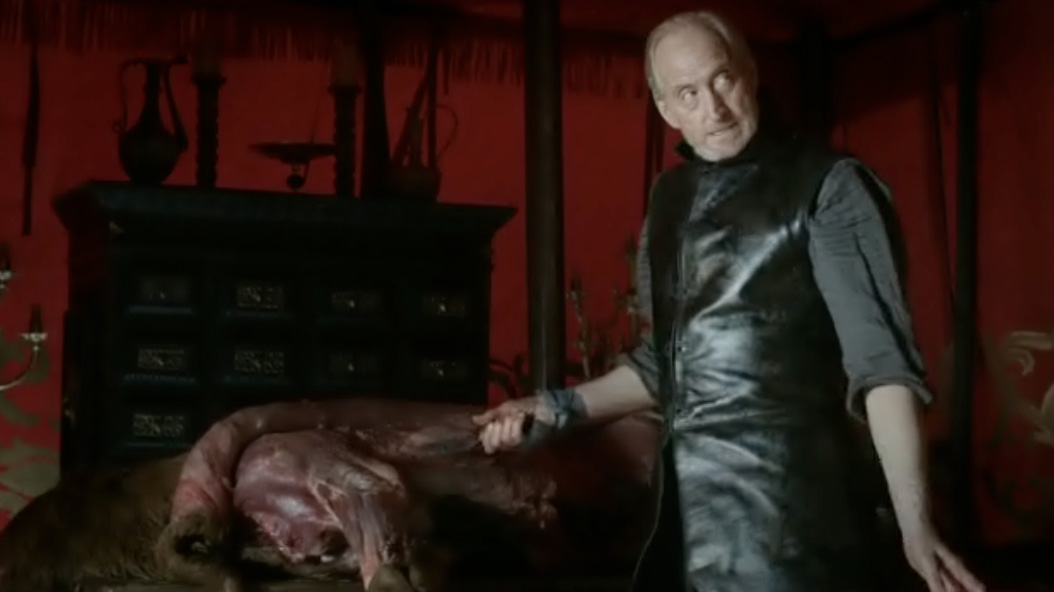 Right off the bat, we meet, in my mind, the scariest dude in all of Westeros at this point: Tywin Lannister. The patriarch of the Lannister family is skinning a stag in the middle of his tent while Jamie reads the letter Ned had sent out. Kind of an "on the nose" bit of symbolism here, as the Baratheon sigil is a stag. The exchange between father and son was interesting here because it gave a lot of insight into Jamie, as well as Cersei and Tyrion, as to why they are the way they are and why they are such good players at the Game (and also where Cersei gets her charm). Tywin is a bad mamajamma in all ways! He makes a clear distinction for Jamie between caring what "the sheep" think and retaining a house that commands respect. He makes a point to tell Jamie what he did to Ned was stupid and starts making plans to fix it and get their house respect back. Tywin knows that what happens in the next few months will either make the Lannisters a dynasty to last ages or will make them crumble like the Targaryens. This man is scary. So very wickedly, crazy smart scary.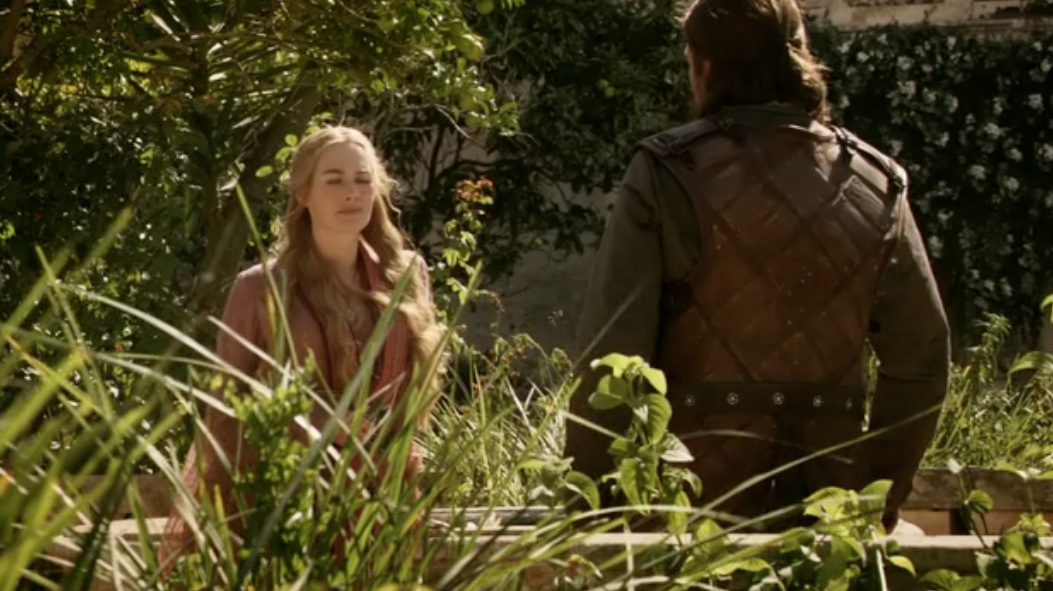 At King's Landing, Ned arranges a meeting with Cersei to let her know that he figured out what Jon Arryn had found out before he died. She does not deny that it's true, not that Bran saw her and Jamie having sex. She doesn't even bat an eye because that's how committed she is to playing the Game. My personal feeling from reading the book was that she never cared for Robert, but here I think it works really well that she worshipped him in the beginning and that her bitterness came from her jealousy of Lyanna's ghost. Ned keeps making HUGE tactical errors by telling Cersei he plans to tell Robert the truth about his supposed children because he just can't let it go. He also tries to do the right thing by telling her she and her children need to leave so Robert won't kill them. Unfortunately, Cersei is a vastly superior player at the Game and she flat out tells him what a gigantic mistake he's made.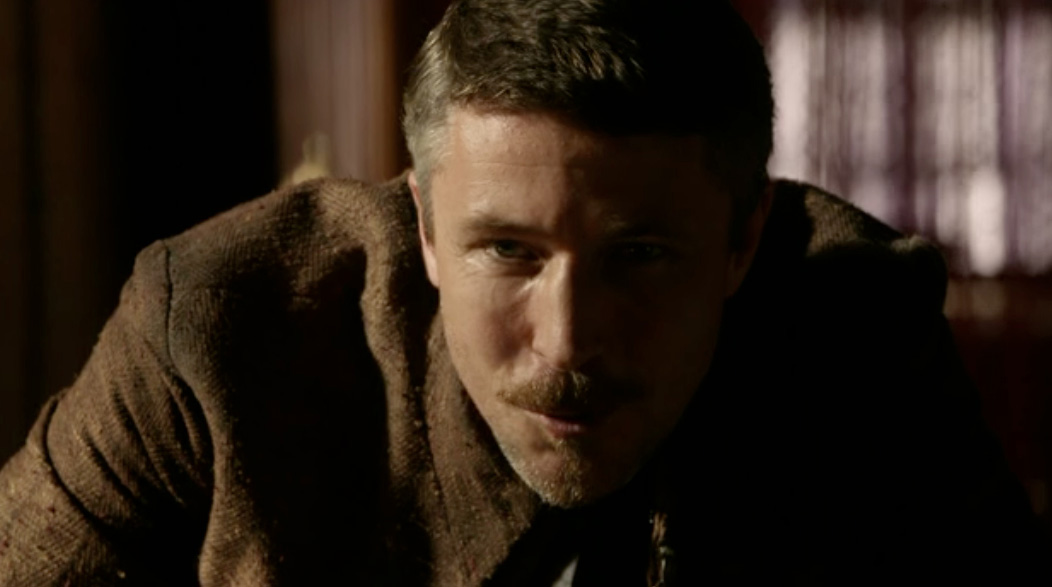 And then we come to the first NitB (not in the book) scene I haven't liked. Now, the reason I didn't like it is strictly because of the way I read Petyr Baelish in the book. First, he's been exactly as I imagined he would be up to this point, and maybe this scene worked for others who had read the book or hadn't before this. I'd be very interested to hear from other people. What he says, the story, is all true. It's the fact that he's spilling his guts to a couple of his new whores (whom he's already said are the biggest gossips EVER) is so completely out of character in my opinion. I'm having a hard time figuring out what the point of this scene was beyond dropping Game of Thrones down to the level of every other show on that has to use gratuitous sex scenes to make the episode fill an hour. It's not the sex scene itself; it's purely the fact that there's no way (in my mind) a brilliant political tactician like Littlefinger would suddenly start gabbing about his love with his employees (one of which is from the North, our good friend Ros) like they were a couple of girlfriends. It actually took me out of the episode for a few, that's how WTF I was about him doing this. Back to what the point was beyond having a F/F sex scene, I guess it could be to give info that we already knew to a certain extent or to have Ros somehow warn Ned about Littlefinger's plans which ***SPOILER*** would be completely pointless or a huge divergence from the source material.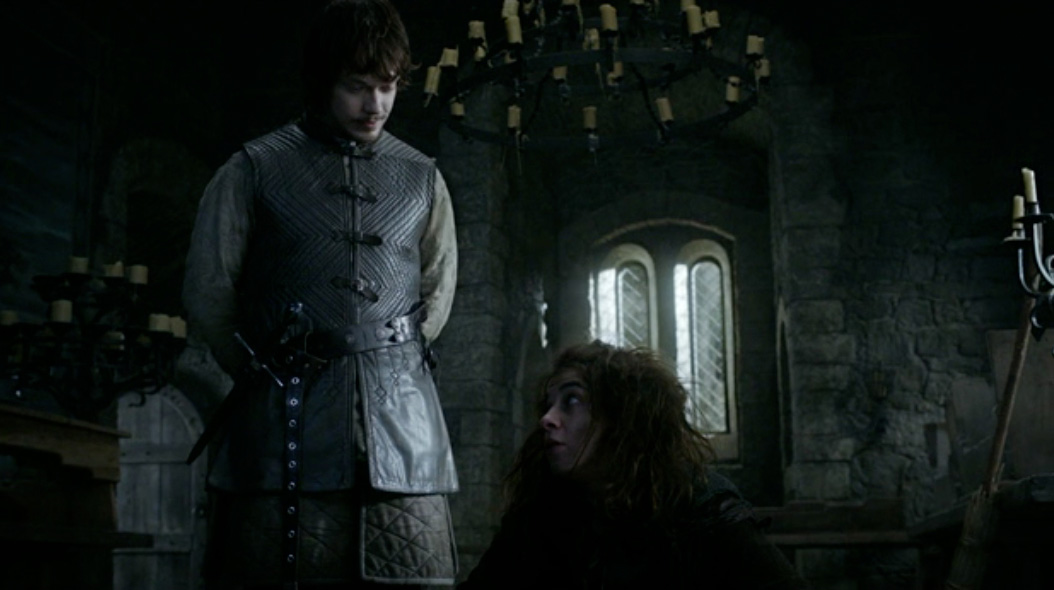 Up at Winterfell, Theon continues to be a dense prick by trying to dominate Osha while she's doing whatever chores they have her doing, and she's just way too smart for him. She's also not at all fazed by the physical threat he was trying to impose on her, as she tells Maester Luwin (who gets in a fantastic zinger on Theon) later. She also tells Luwin the reason she was trying to get as far south as south goes — the White Walkers. Luwin thinks she may be mistaken, but Osha tells him they didn't disappear, but that they were sleeping and they aren't sleeping anymore. You'd think more people close to the Wall would start to take these claims more seriously since they are being told more often.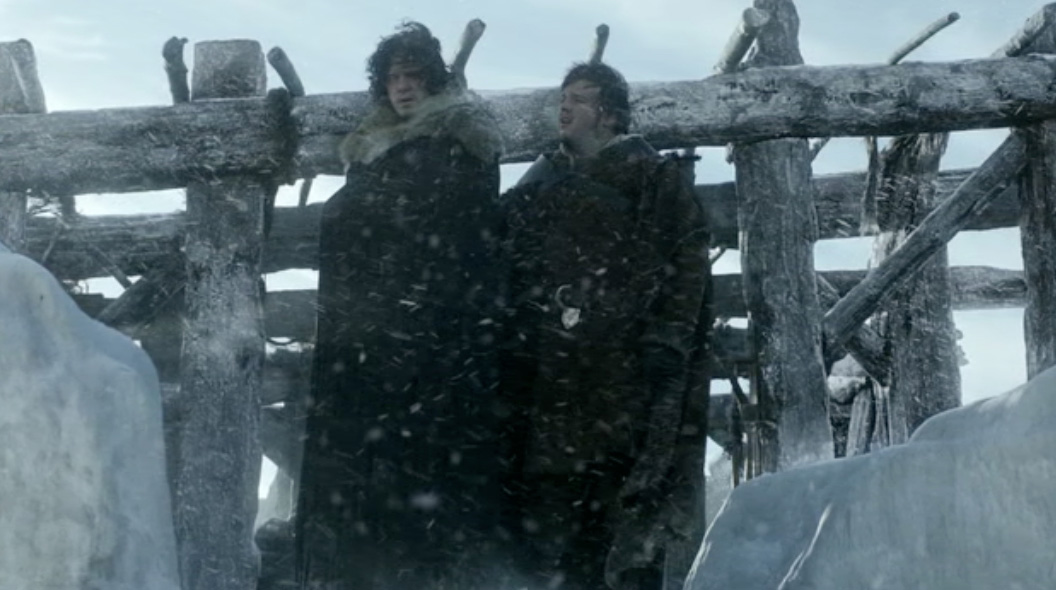 At the Wall, Jon and Samwell (who seriously need to be in a buddy cop movie) are on watch when Benjen's horse comes back without Benjen. This does not bode well. I enjoy the times we get to be at the Wall because Samwell and Jon are an absolute joy for me to watch.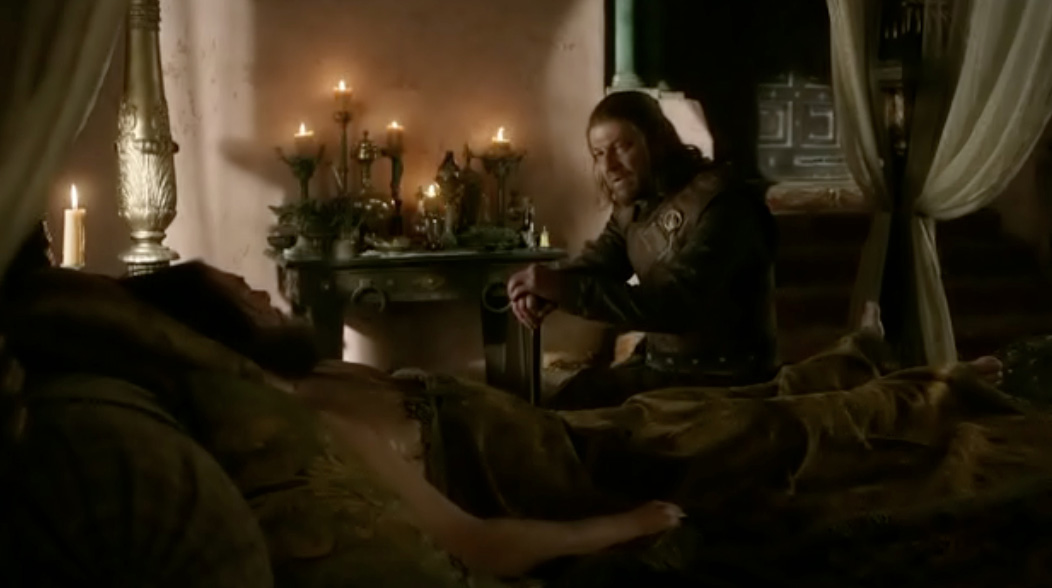 Back at King's Landing, Robert returns to the Red Keep mortally wounded by the boar he was hunting. In true Robert Baratheon fashion, he makes sure to kill the boar before he comes back and requests that it be eaten at the funeral feast. He wants it to be like he lived his life, not like a funeral usually is. Robert has Ned write down his last will and testament, which is that Ned should rule in Robert's stead until Joffrey comes of age (Ned writes "until my rightful heir"). He tells Ned this is the one thing he will have done right, and that Ned will hate ruling worse than he did, but that he'll do it well. Bigger still, he admits Ned was right about Daenerys and that she should live if it's not too late to call off the assassination. Outside the bed chamber, Barristan tells Ned what happened and Varys "implies" that the Lannister squire might have had something to do with Robert being well passed blitzed even by his standards. Ned also finds out that Varys has already sent out word that Daenerys should be killed.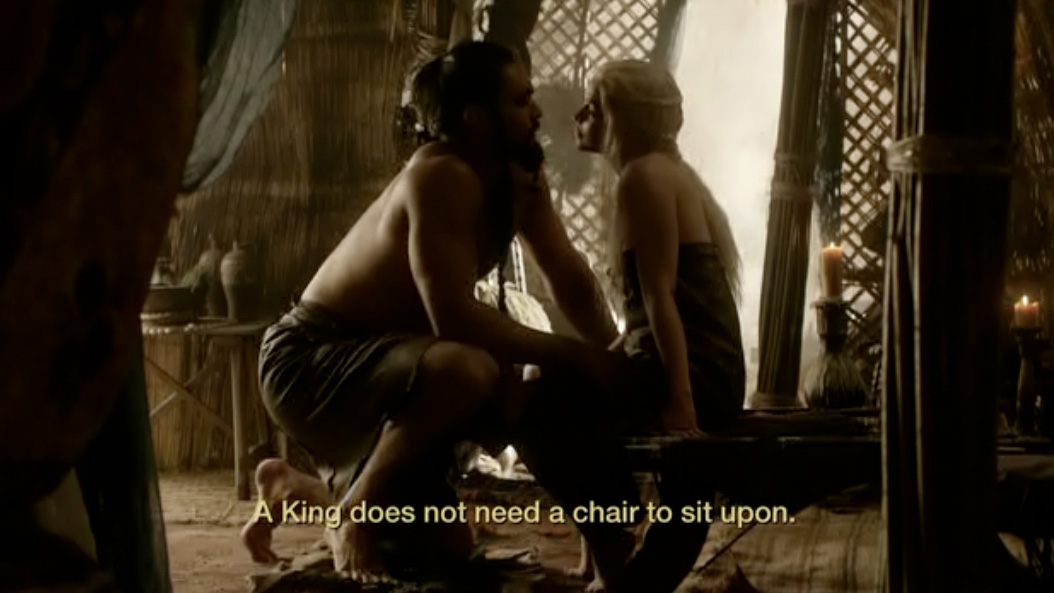 At Vaes Dothrak, Daenerys and Drogo are having a little tiff as she tries to convince him into crossing the Narrow Sea to reclaim the Iron Throne. He's not having it at first because he really doesn't see the point of going over there for war. In the market, Jorah tells Dany that her ancestor didn't seize the Seven Kingdoms because it was his right but because he could, giving her something to think about as he goes off to collect any letters he may have. Which he did, and it was a letter from Varys telling him he's got a royal pardon and can come home. But he's conflicted because he's in love with Dany, and he's considering everything as he watches her talk to a wine seller. Things with the wine seller quickly turn shady and he stops Dany from drinking the poison the seller was trying to get her to drink. I think he's staying with her to the end.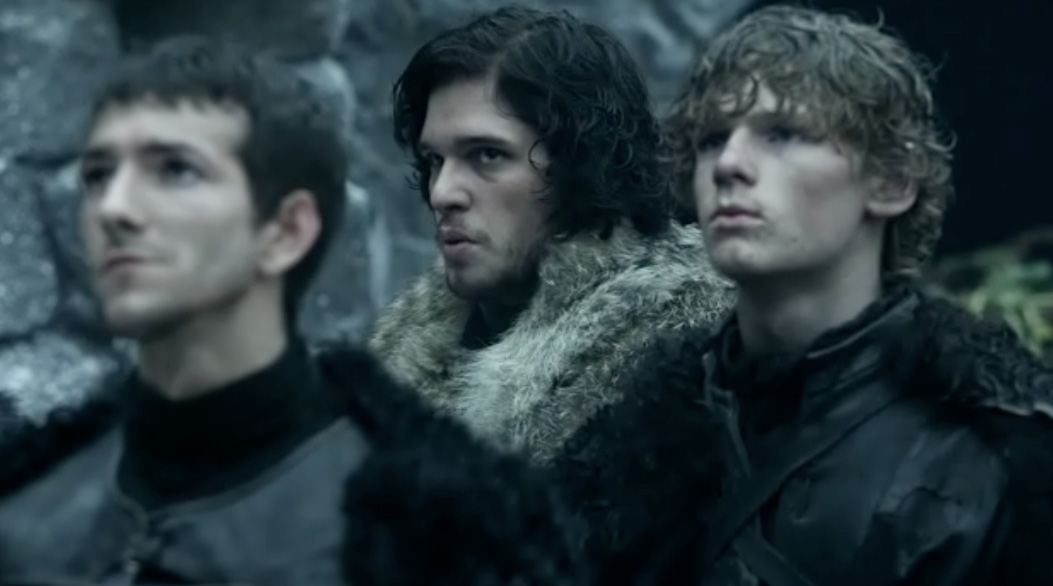 Back at the Wall, everyone is taking their vows to become Brothers in Black and get assigned to the position they'll do at their time on the Wall. Jon is just a tiny bit disappointed when he isn't assigned as a Ranger but as a Steward to Lord Commander Mormont. He has a fit and falls in it and Samwell and Pip have to remind him, once again, that on the Wall you're better than no one. Samwell also makes him realize he's being groomed for command by Mormont and proves he's smarter than he lets on.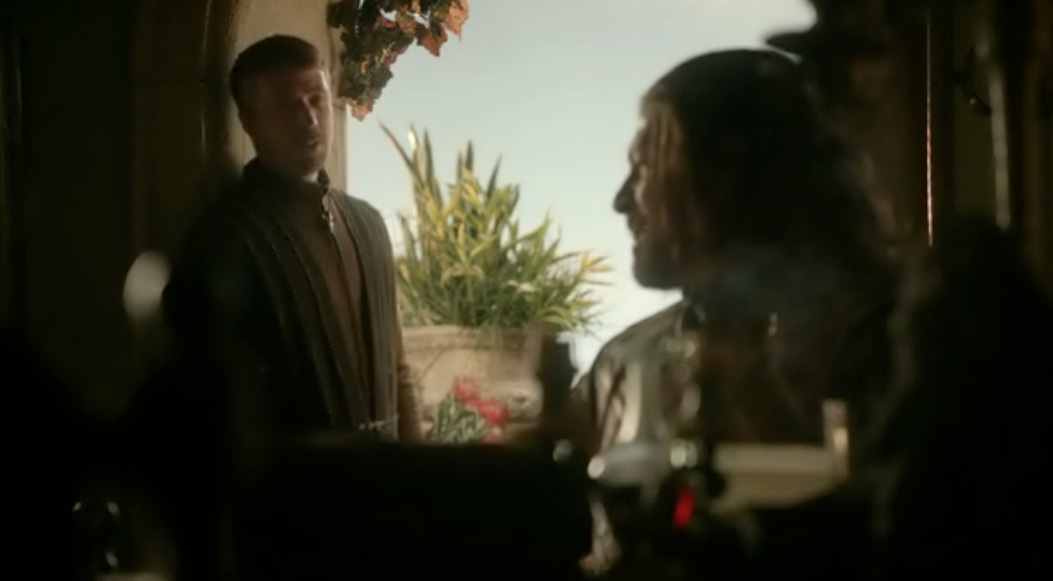 Robert's not even dead and Renly's hitting Ned up for his backing Renly as next in line for the throne. He turns Renly down, even though it would have been the smart thing to do to get rid of Cersei and Joffrey, because (again) his damn honor won't let him go with that plan because Stannis (Robert and Renly's older brother) would be next in line to rule if they got Joffrey out of the way and he doesn't want to traumatize Cersei's children. Which Joffrey could use a little of, but Myrcella and Tommen are actually children who are totally innocent at this point and don't need. Afterwards, Littlefinger visits Ned, and he's got a whole plan worked out that goes even more against Ned's honorable constitution than Renly's plan. When Ned turns him down, Littlefinger promises that the Gold Cloaks will follow whatever he tells them, and Ned foolishly takes this to mean he will have Littlefinger's help in what he's about to do.
Quickly back to the Wall, we FINALLY get to see Ghost in action for the briefest of moments as he goes out with Jon, Samwell, and a small band to the Weirwood for Jon and Samwell to take their vows in front of. They do it, everyone is all smiles because now they're all brothers, then Ghost comes back with a little "Congrats!" present for Jon of a white, severed hand. Things are not looking like they'll be calm and boring at the Wall for much longer.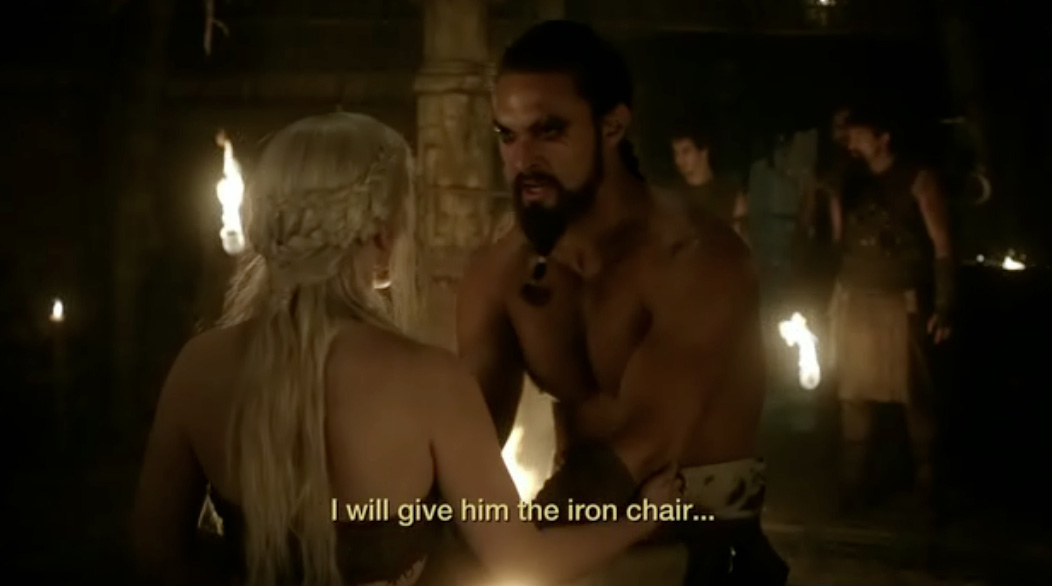 So the assassination attempt on Daenerys was a little distressing for Drogo. Apparently, it's on like Donkey Kong now. I like how this plays out. If Robert hadn't been so irrationally hateful towards all Targaryens that he had to wipe them all out, the Dothraki seemingly wouldn't have been a threat. It was only after his rash move of putting a price on Dany's head that Drogo became more than willing to take the fight to Westeros.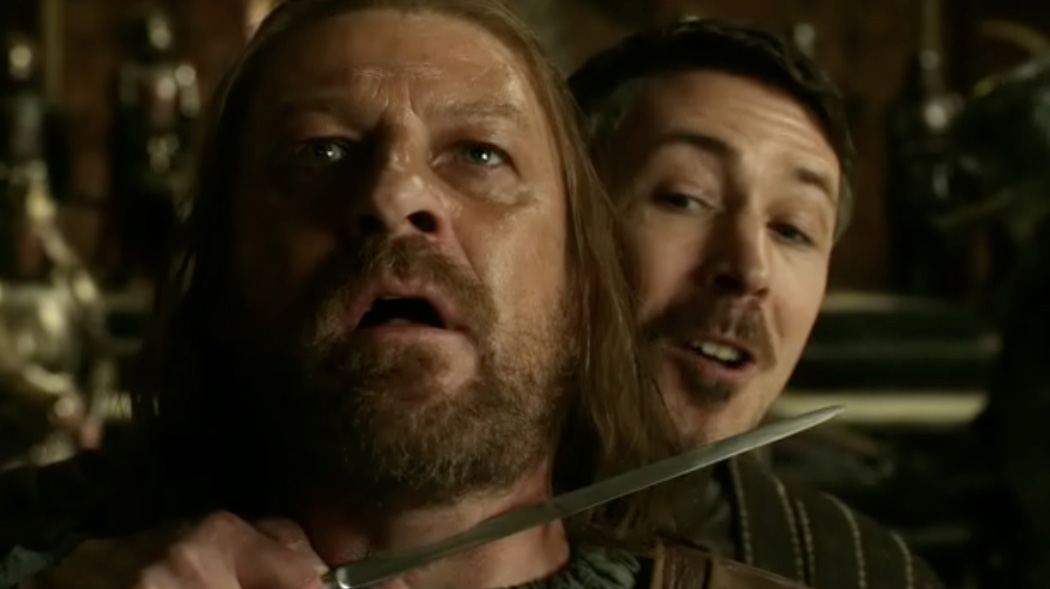 Finally, Ned finds out Robert is dead when "King" Joffrey requests him in the throne room to pledge fealty to him. Ned tries to make his move by presenting Robert's last request, and like every other political move he's made it backfires in a massive way. Cersei cares not for Robert's last will, tearing it up in front of everyone. Ned tries to take her down by force, and Littlefinger does what some might have seen coming from the start (I'll admit that I didn't) and turns on him like the slimy snake he is.
Rating: 4.5 / 5 Stars