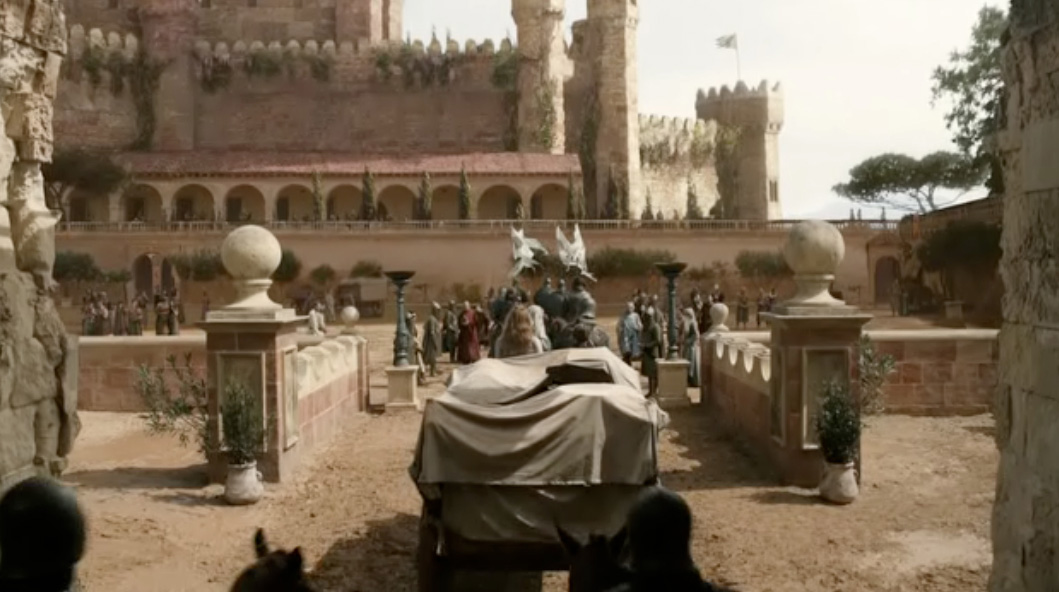 Episode: Game of Thrones 1.03 – "Lord Snow"
Original Air Date: May 1, 2011
Shortly after arriving at King's Landing, Ned discovers that the Crown has been seriously wasteful with its resources from his new set of advisors. At the Wall and Castle Black, Jon Snow takes his anger from what being of the Night's Watch really means out on the greener recruits. Catelyn makes good on her word and covertly follows her husband to King's Landing. Once there, she is intercepted by Petyr Baelish ("Littlefinger"), a shrewd longtime ally and one of the Hand's advisors. At the request of her father, Arya gets a dance instructor. On the road to Vaes Dothrak, Daenerys finds herself at increasing odds with her brother, Viserys.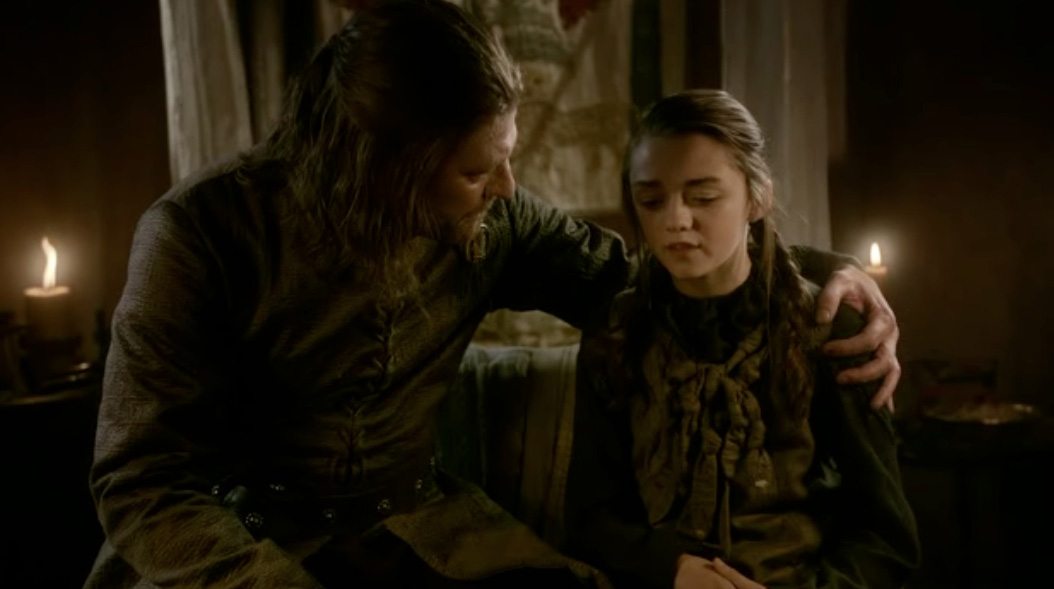 Ned and the girls make it to King's Landing, and right off the bat he's called into business. I liked when the pageboy asked him if Ned wanted to change into something else, and Ned just looks at him like he's just said the most ridiculous thing in the world. He is so not into the whole showiness of this place. What also becomes apparent rather quickly is that Ned is very much out of his depth when he finally meets with the advisors (Robert's youngest brother Renly, Petyr Baelish, Varys the eunuch, and Grand Maester Pycelle). Robert decrees by letter that there should be a tourney in honor of Ned being the new Hand of the King. This doesn't sit well with Ned for a couple of reasons: 1. He thinks it's a waste of time to do this for him because he doesn't want it; 2. When Baelish tells him the Crown is a crap load of money in debt (mostly to the Lannisters), he flips out at the notion of going even further into debt for this. He says he will talk Robert out of it, but the rest of the advisors don't seem too convinced. It felt like this was a wake up call for Ned to what has been going on with the King he serves so loyally. It's all very opposite to what goes on up in the North, and not only is he appalled that Robert is squandering the money of the kingdom away but also that it doesn't seem that his advisors have attempted to reason with him or stop him. Though, with the kind of guy Robert is, I think that would just be a Sisyphus-like task that at best would just aggravate you and at worse would probably end your head up on a spike.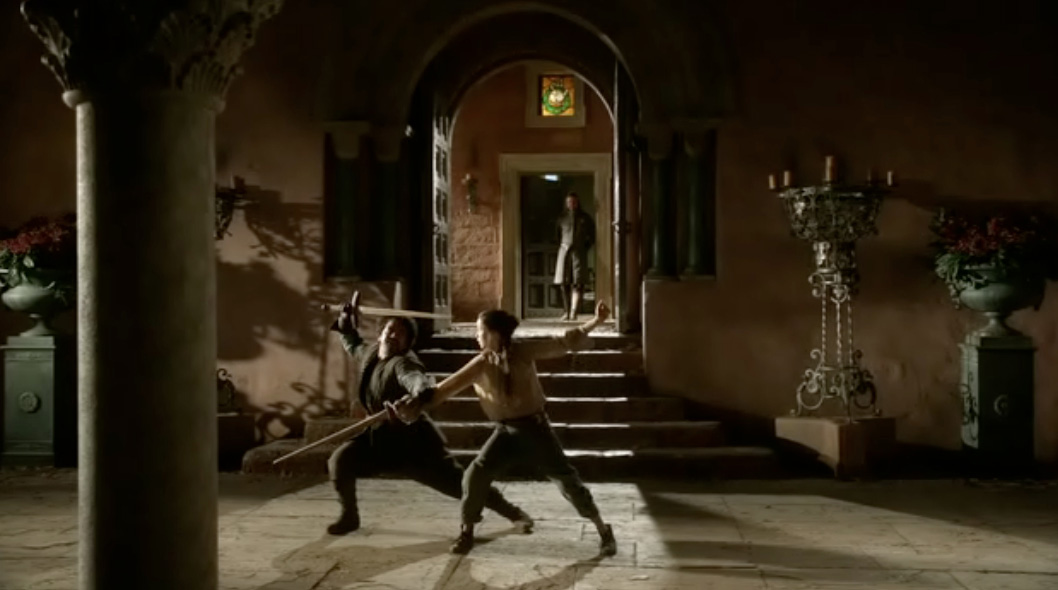 We also got to see Ned and the girls settling into the Tower of the Hand at the Red Keep, and things aren't going so well after the events on the road to King's Landing. Fortunately or unfortunately (depending on which characters you like and if you've read the book), Ned seems to focus more on making Arya understand what's going on and how she needs to behave instead of having the conversation with the elder daughter or both together. While he buys Sansa a present (a finely crafted doll), it fails to achieve the response he had hoped for. Having been a teenage girl for a number of years, I can say that while it's annoying to watch, this has been a perfect portrayal of a teenage girl. They are moody, snotty, insolent toward their parents and siblings when they really shouldn't be, they're stuck in that stage of wanting to be more adult than they are or may be ready for, and will sometimes side irrationally with the object of their affections despite everything else saying they shouldn't.
Add all that to Lady being killed, and she's bound to be unreasonable in things. Ned has more luck with Arya, and that might be because Arya is much younger and also not into growing up to be a lady and is more of a tomboy. He explains to her why Sansa had to waffle in front of the King, and that the phrase "Winter is coming" means more than just the season. She is told that they are in danger, no doubt, and it's going to get even worse in the times ahead. While she may be angry with Sansa now, he reminds her they are sisters and family has to stick together in order to survive this. He finds out about Needle and let's her keep it, even tells her that she should be taught how to use it properly. Ending the episode with Syrio Forel giving Arya her first "dancing" lesson was fantastic for me. I'm not sure how to explain it, but there is so much that I relate to with Arya, and seeing her get to learn how to do "boy" things like wield a sword from Syrio just makes me smile. I love it. There are so many awesome and wonderful and devastating things that happen in these stories that would be great to see on screen, but those two training is number one for me. The show could be cancelled now, and it would suck, but I'd be happy that I got to see that.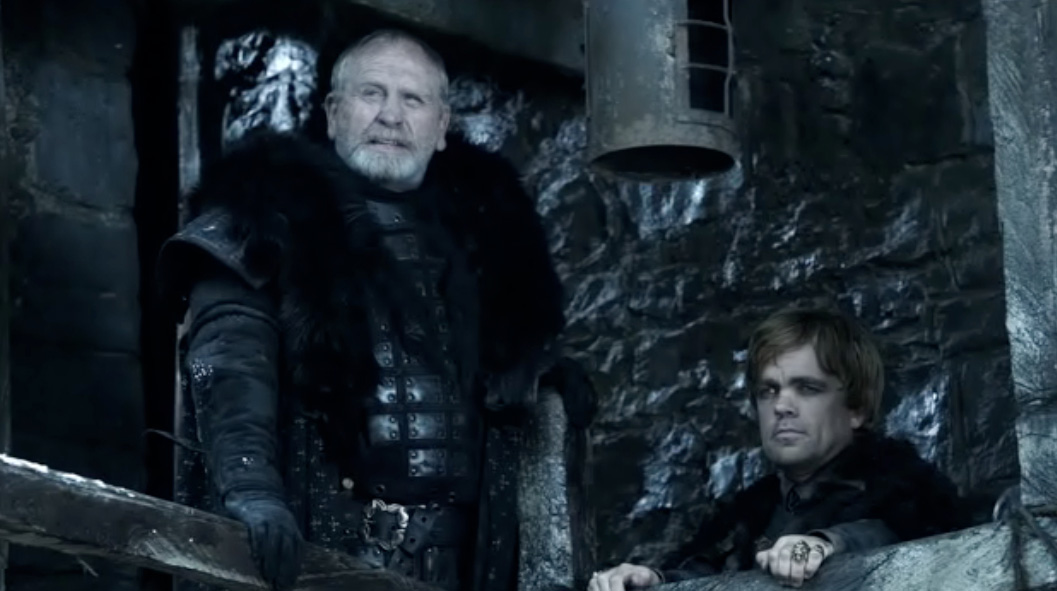 Over at Castle Black, Jon isn't doing so well to begin with. He's a little angry, you might say, with what the Night's Watch and Castle Black turned out to be. Basically, the place is in shambles and the Watch itself is made up of castaways, rapists, thieves, and the like and all of them are either old men or very young men with no training. Being the only recruit with actual training, Jon takes his frustration out on the faces of his soon-to-be brothers. Which leads to him almost getting gutted by them in the armory. Tyrion intercedes and fills him in on the background on some of those recruits he was humiliating in the yard, and as it turns out, they had it rough before coming to Castle Black, but it doesn't seem to sink in with Jon just yet. Later, he gets his first look beyond the Wall and has a talk with Benjen. Benjen tells him that out here, you're better than no one and "a man gets what he earns when he earns it". Before heading off to get ready for his ride beyond the Wall, he promises to talk more with Jon when he gets back. The next we see Jon, he's training the recruits he was beating up previously. Biggest disappointment here again is the lack of Ghost. I'm starting to wonder if the people making this show forgot that Ghost is basically a part of Jon. All the dire wolves are a part of the Stark child they belong to. It's frustrating they are not being represented hardly at all when they are a huge part of these characters' stories and are hugely symbolic.
Tyrion, meanwhile, is taking it all in, the stories of the place, the people, everything. He still thinks the Wall and everything is a bit of a joke, and even tells Benjen that he has great respect for the men here but he just doesn't believe there are giants and grumpkins and white walkers out there. Benjen tries to give him a reality check, but I don't think it really took. I do enjoy Tyrion so much and his quick wit and his jests, but I find it hard to believe that someone who's mind is their weapon would seemingly dismiss what Benjen had to say. Before he heads back to King's Landing with Yoren (who's going to collect more recruits), he stops to actually pee off the side of the Wall like he said he would, talks to Jon, and hears from Lord Commander Mormont and Maester Aemon that things are dire at Castle Black and is asked to talk to Cersei about getting some real help out there. The talk he had with Jon was short, but he asks Tyrion to check in on Bran for him and I feel like these two have an understanding of sorts if not a friendship.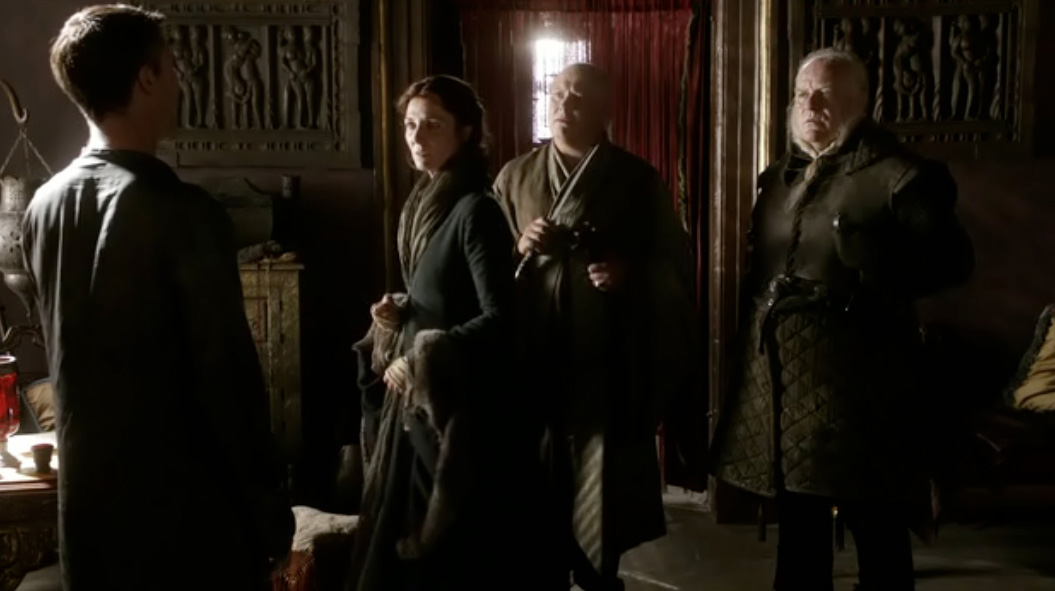 Catelyn and Ser Rodrik make it into King's Landing but not as stealthy as they thought they had because they are taken immediately to see Lord Baelish. At his brothel. We already know that Littlefinger had eyes for Catelyn many years ago, but you can tell that he's still carrying that torch. Varys is actually the one who knew Catelyn was coming (this guy has "little birds" everywhere and knows practically everything), and even knew about the knife. Turns out the knife used to belong to Littlefinger, but he lost it in a bet to Tyrion. Later on, Littlefinger brings Ned to Catelyn and convinces them both not to act on their accusation against Tyrion just yet as they haven't any real proof, which is true. Catelyn claims that Littlefinger will help them and that she trusts him, but I'm not sure why. Plain as day on that face that he would turn on you in a heartbeat. At this point, I don't think Ned trusts him as far as he could throw him.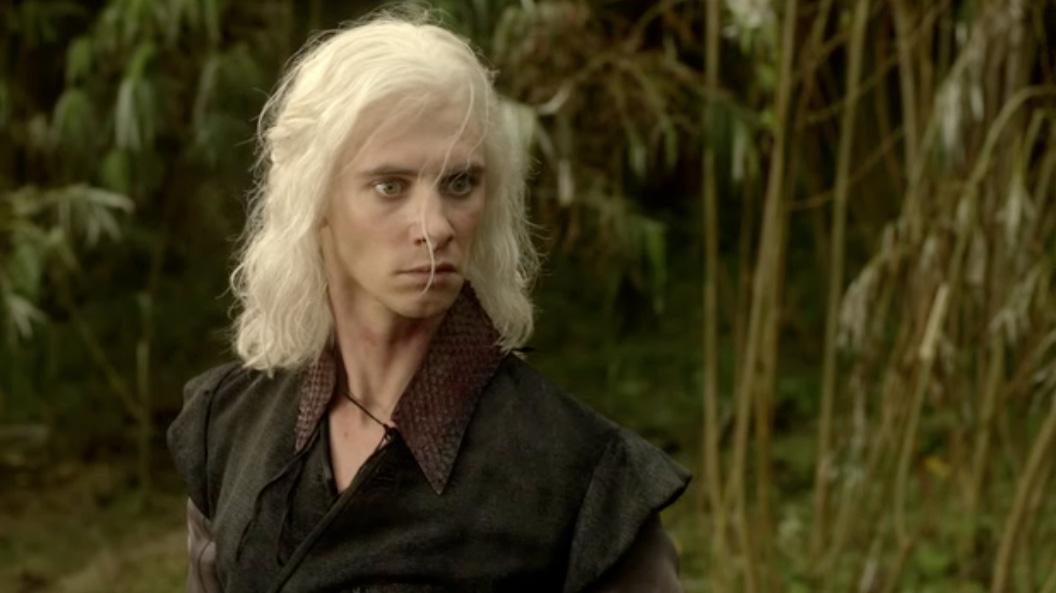 Across the Narrow Sea, Daenerys is starting to become more like a khaleesi and less like the timid, scared girl she was. Up until she orders the khalasar to stop for a moment and Viserys takes that as her ordering him to do something. Which is a horrendous act in his mind because he's the King of Westeros and she's just someone he's whoring out to get an army. He attempts to physically bully her (grabbing her by the throat and pointing his sword at her face), and that doesn't end well for him. Rakharo, the Dothraki warrior assigned to guard Daenerys, disables him and tells her that he can kill him now if she wants. Daenerys pleads, then commands them not to kill him. Rakharo does what he is told, but shames Viserys by making him walk behind the khalasar instead of riding his horse. Wake up call to Viserys as he finds out that he may have bought an army with his sister, but he did not buy their loyalty. Not even Jorah Mormont is loyal to him at this point. After they make camp, Irri (Daenerys's handmaiden) notices that Daenerys is pregnant. When Jorah hears this, he immediately sets off for Qohor, telling Rakharo that he will catch up with the khalasar on its way to Vaes Dothraki. Curious thing to do. The immediacy of his actions make me wonder what he needs to get at Qohor or who he's telling of the pregnancy.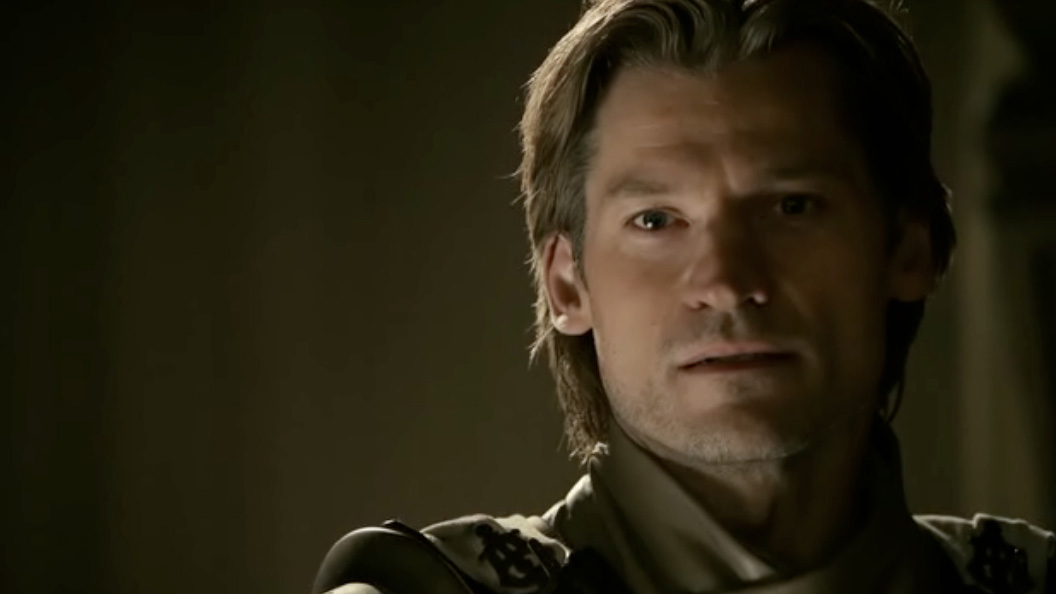 There were so many other things that happened in this episode, that I could go on forever. All the scenes with Jamie were add-ons/not in the book and all of them were fantastic and really dropped hints at his character. I particularly liked the war stories with Robert scene. Having him allude to the "burn them all" phrase the Mad King was saying before he killed him was an interesting choice for a show that, at the time, hadn't been green lit for more than one season. The scene with Cersei and Joffery said A LOT about each character, and none of it good in my opinion. We also find out that Bran doesn't remember anything about his fall. Still no reference to the dream that woke him up, but he is a little philosophical when Robb mentions a story Nan told him about the sky being blue because they lived in the blue eye of a giant. He's also feeling like waking up alive is more cruel than being dead. After this small scene, I cannot even believe this is Isaac Hempstead-Wright's first major television role. This kid was amazing with the way he delivered, "I'd rather be dead" to Robb. Can't wait until he starts to get back in the story more.
Rating: 4 / 5 Stars