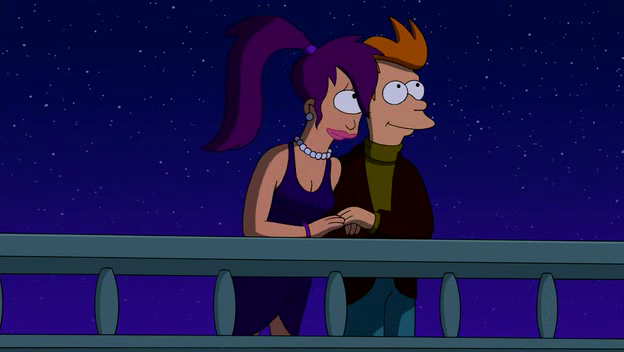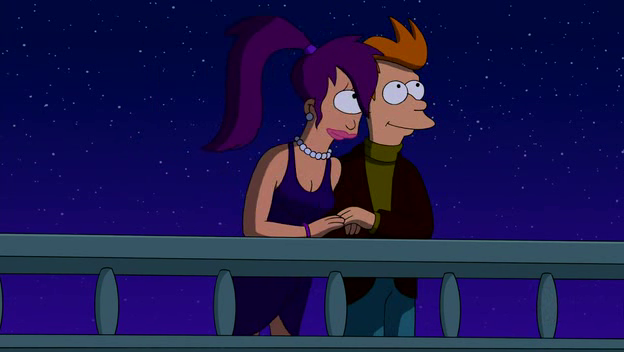 Episode: Futurama 6.07 – "The Late Philip J. Fry"
Original Air Date: July 29, 2010
Yay! This episode of Futurama really focused on Fry and Leela, even if they weren't in the same place, or even the same time, for most of it. It was still really romantic and drives home how they're meant to be together. Yes, I am totally a fangirl for Fry and Leela.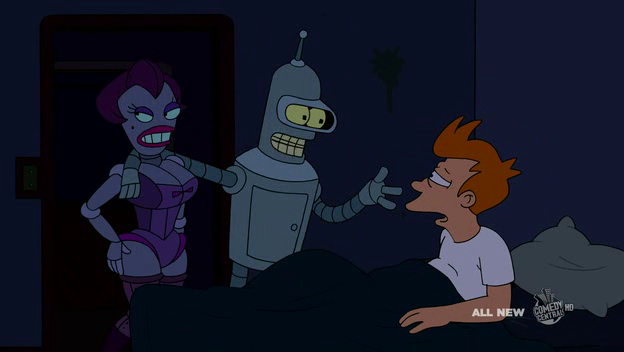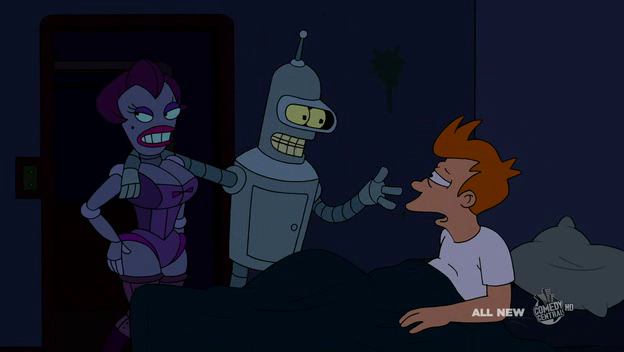 The episode starts with Bender obnoxiously keeping Fry up all night making noise with a lady-bot. The noises they made were hilarious. If I'd ever imagined what robots getting busy would sound like, that would be about right, jackhammer and all.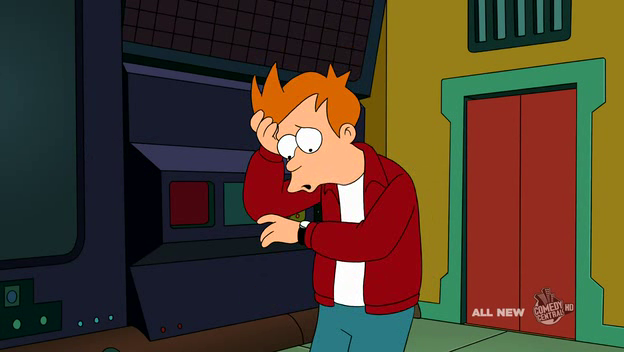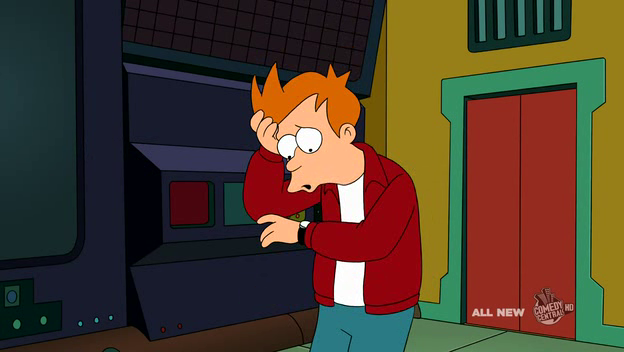 All the racket and lack of sleep makes Fry late for work, and after the professor complains for a second, Fry is reminded of yet another thing he's late for, Leela's birthday lunch. Poor girl. She looks so disappointed waiting for Fry. I totally don't blame her for wanting that big hunk of cake, or for making Fry pick up the tab. Still, she shouldn't be surprised, and it turns out she really isn't. Fry isn't the most punctual guy and she knows it.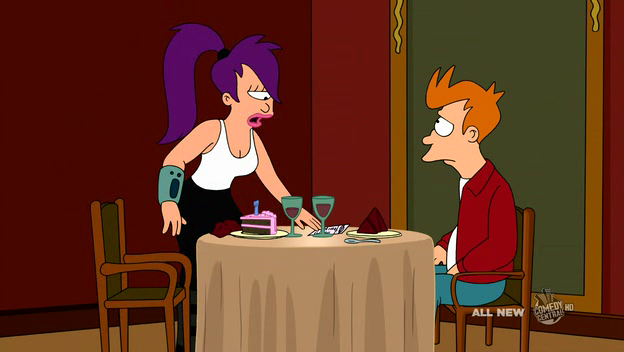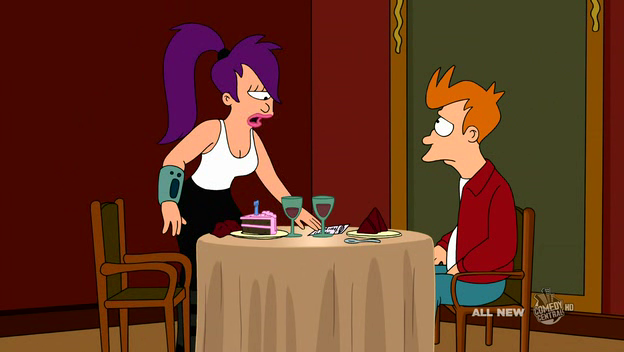 Fry begs for another chance, and she agrees to meet him for dinner at Cavern on the Green. Then he finds out that Hedonism-bot is having a bachelor party that night. Still, he tells Leela he would rather be with her. He gets her a card with a recordable video message and is about to leave work with just enough time to get to the restaurant when the professor tells him that he has to stay late and help test his latest invention.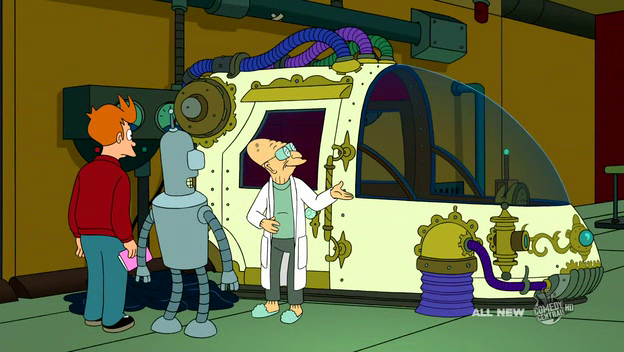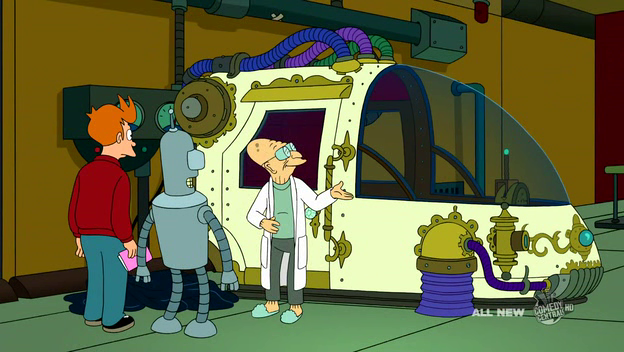 What is this invention, you ask? It's a time machine of course. Even better, it's a time machine that can only move forward in time, so you can't accidentally change history or sleep with your own grandmother… again. They're going to test it by moving forward in time one minute, so Fry decides to use that minute to record Leela's birthday message.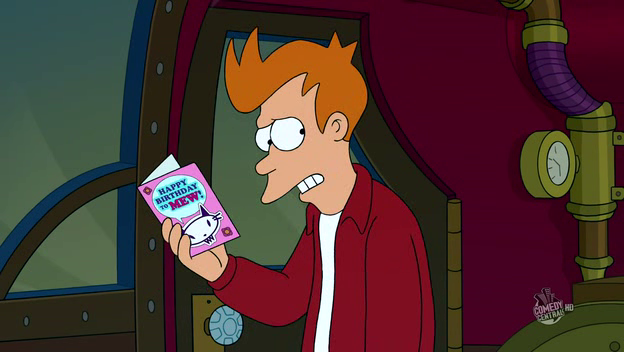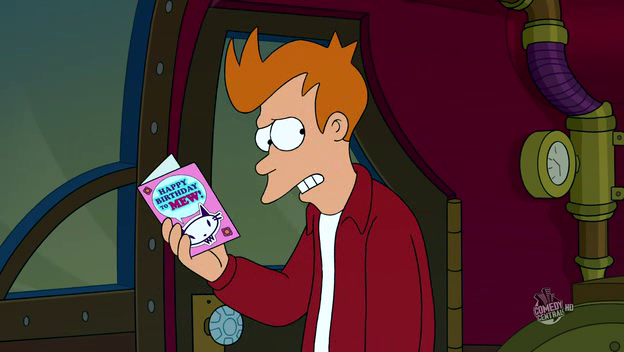 When Professor Farnsworth turns the machine on, he accidentally sends them much further into the future, to the year 10,000. Poor Fry. The only thing he can think of is that he missed dinner with Leela. He's a good guy, really, just dimmer than most. His card flew out the window somewhere along the way, which is very important to the rest of the episode.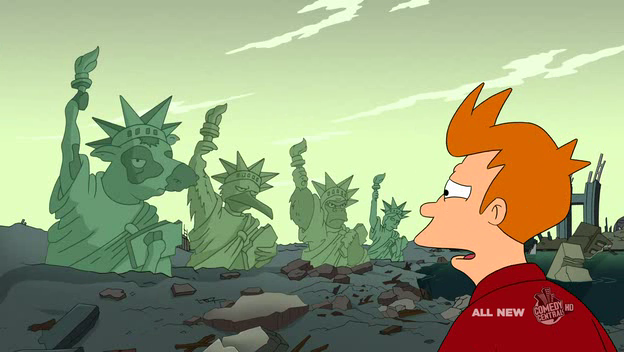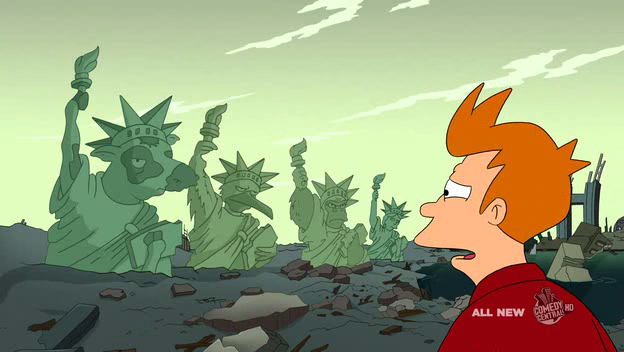 Meanwhile, back in the present, Leela is waiting at Cavern on the Green. I always found stalactites and stalagmites interesting, so I'd love to eat there. She orders two dinners and eventually goes back to Planet Express, where everyone assumes that he blew her off to go to the bachelor party. Just in time, a news report comes on and details how a nuclear powered robot stripper had a catastrophic meltdown, killing everyone but Hedonism-bot. They assume that Fry, Bender, and the professor (who Bender had named his wingman when Fry said he wasn't going) are all dead. Leela can't decide if she wants to be angry or sad, so she settles on both. Good choice.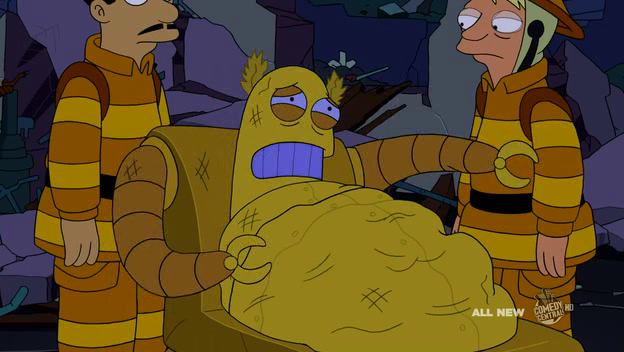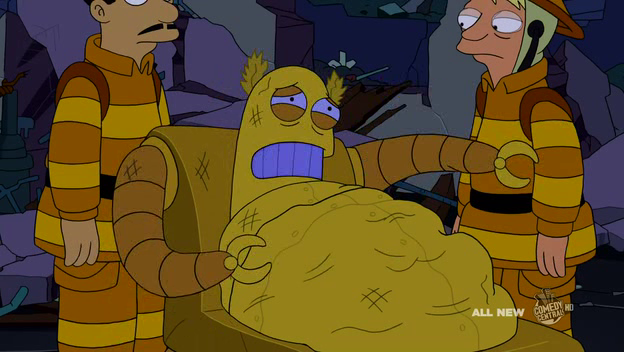 The guys are still hanging out in the year 10,000, and after they pout for a while, they decide to go further and further into the future until someone had invented the backwards time machine. I rather enjoyed this sequence as they searched. Things certain get interesting in the future!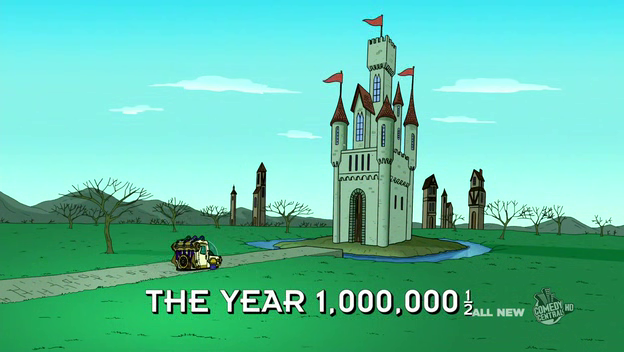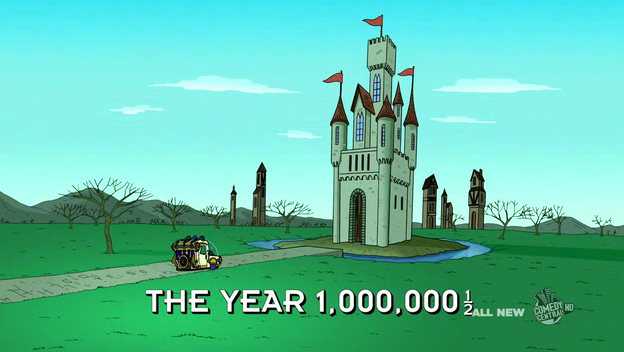 Now we're back with Leela and it's the year 3030. Leela has taken over Planet Express and has made it into an incredibly successful business. While reminiscing, she notices how similar Cubert is to Fry, and *shudder* flirts with him. Ewww. Sorry, but Fry is a million times cuter than Cubert. I'm not the only one who thinks animated characters can still be considered cute, right?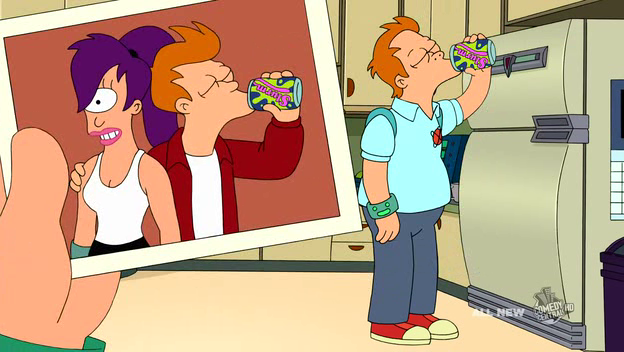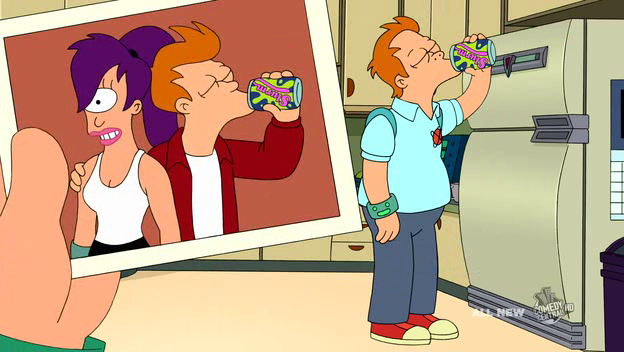 The search into the future continues to the year Five Million, where the world is inhabited by creepy, yet intelligent, little pink and purple elf-eared little guys and big ugly stupid things that live underground. They talk to a pair of the little guys, who tell them that, no, they haven't invented a backwards time machine, but they could if they tried, and it would only take them five years. Did the little female one remind anyone else of Lisa Simpson? I don't know what it is about her, but all I can see is Lisa when I look at her.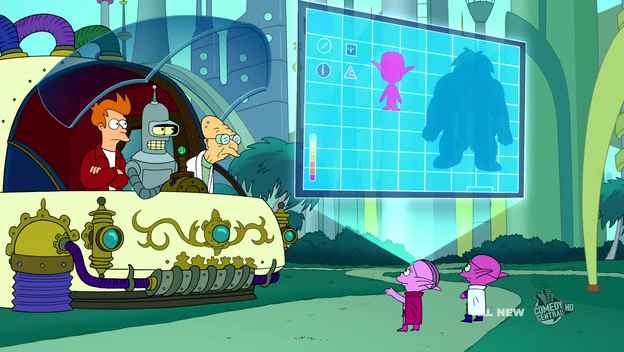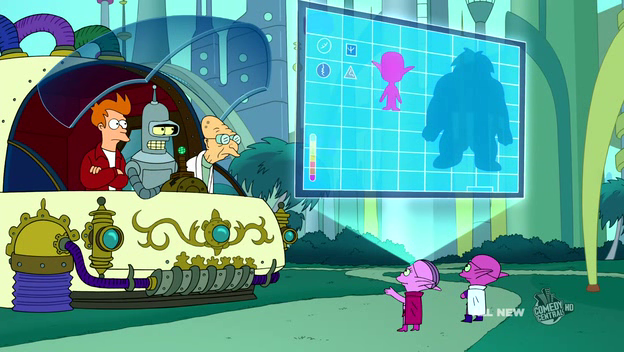 Not willing to wait around, they jump again to five years later. Too bad when they get there the big dumb brutes have killed everyone.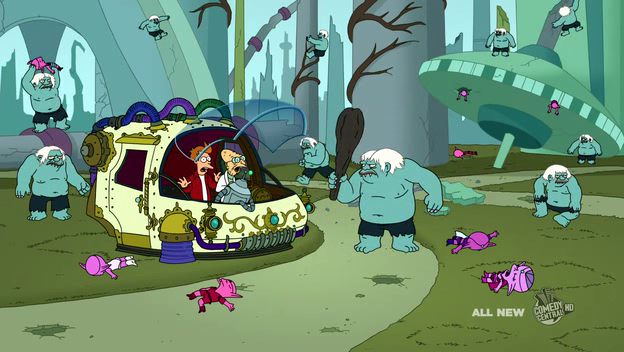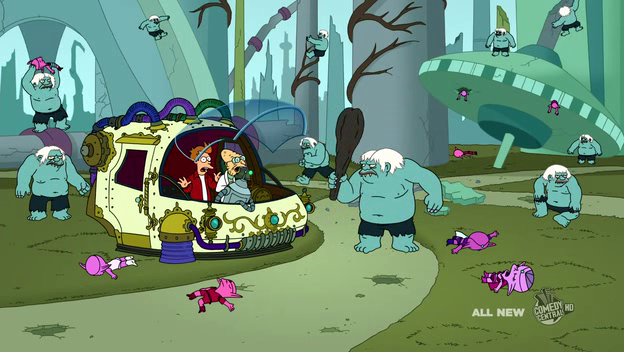 The search continues. In the year Ten Million, the machines have taken over and want to kill every remaining human. No big surprise, Bender likes it then and wants to stay. Fry and the professor, however, overrule him and continue on. In the year Fifty Million, everyone appears to be busty females in skimpy clothing. Better yet, they have a backwards time machine! Bender is still cranky and sends them further into the future, causing a fight.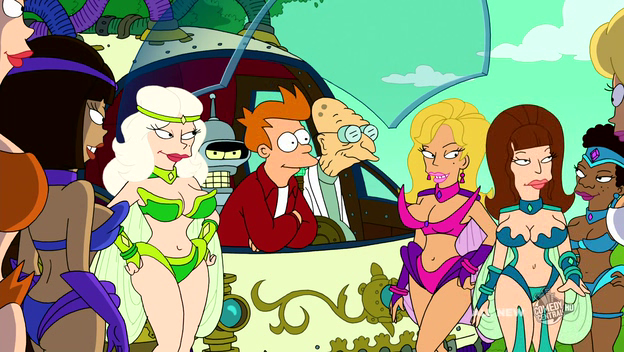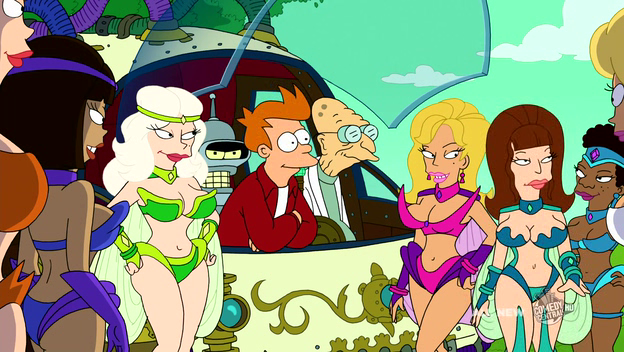 They stop at the year One Billion, only to find that all life is extinct. The planet is dead and there is no point is looking any further. They've missed any chance of getting back to their own time. A depressed Fry takes a short walk and stumbles upon the Cavern on the Green, only to find a surprising message from Leela formed by the dripping water.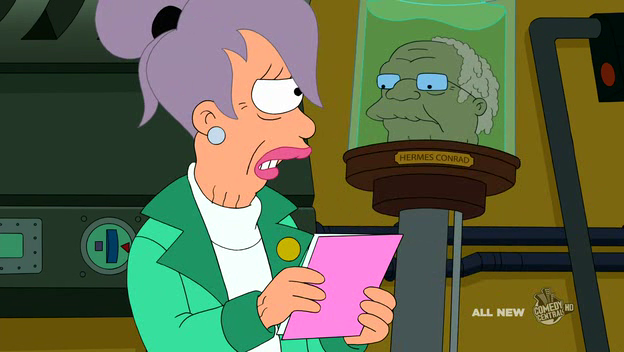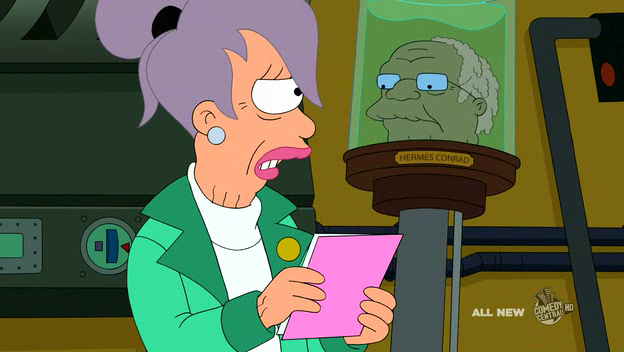 Back again with Leela, now in the year 3050, she's apparently married and divorced Cubert, who is now sleeping with a robotic Amy. As Leela is saying how she's married to the job now (and Hermes is hopping around on a pogo stick, just a head in a jar) Fry's card flies into her head and she opens it. Fry's message plays and she finally finds out that he didn't mean to stand her up, he never went to the bachelor party, and he isn't dead… just out of reach. Oh, and he loves her. Awwww! Leela goes to the now abandoned Cavern on the Green and decides to leave him a message by shooting at the ceiling, creating little holes that form her romantic note that Fry finds.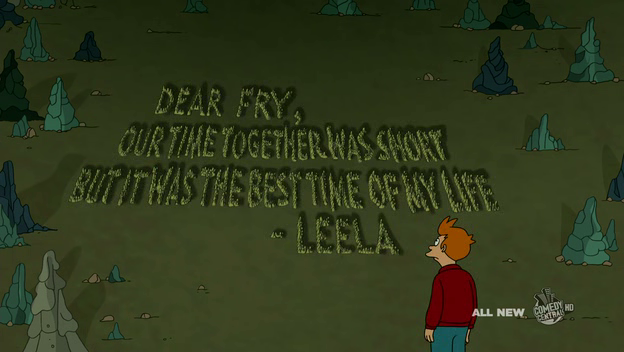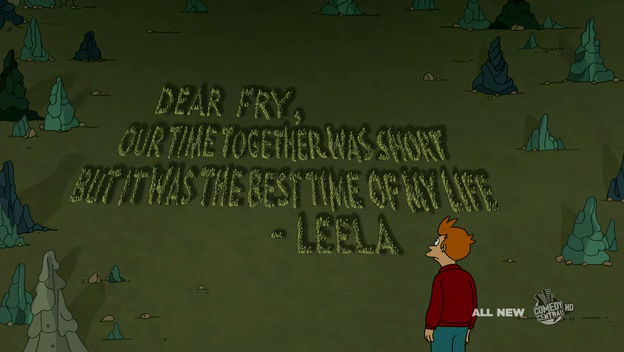 The guys decide to put the machine at full tilt and watch the end of the universe. This part is really beautiful graphically, and if it wasn't for the comical bits, I might have been tempted to shed a tear.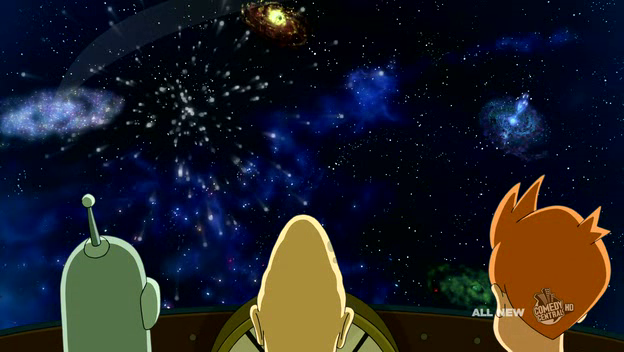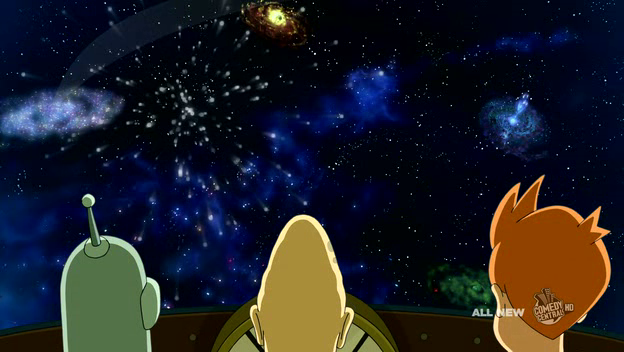 Now that the universe has ended, for a minute the guys don't know what to do, but just in time there is another big bang, creating another universe identical to the old one. Time is cyclical, so they just have to be patient and keep going forward until they reach their own time again. This part was even cooler. It was sort of like watching a condensed, animated version of How the Earth Was Made, followed by every history channel program ever made.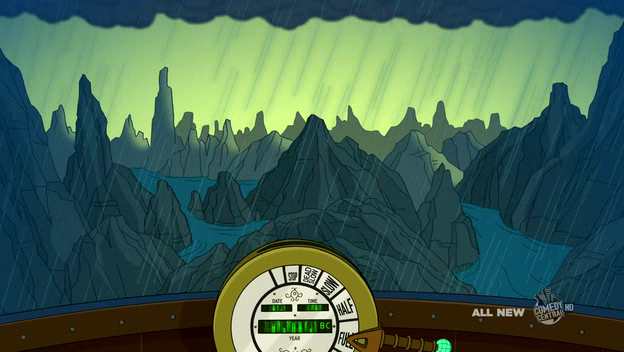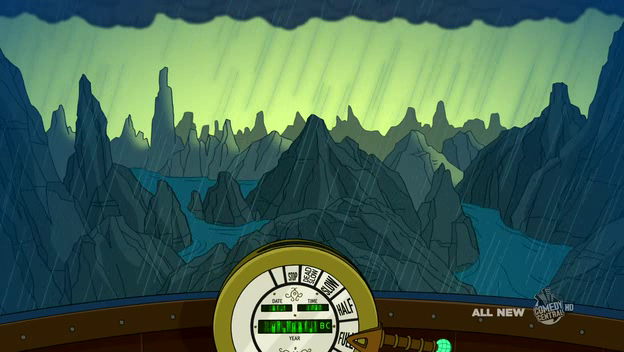 It was especially neat when they were getting close and we got to see a little summary of all their adventures from past episodes of Futurama! Right when they're about to stop, the professor falls again and sends them too far, so they have to go around again. Bender mans the controls this time, so they stop just when they're supposed to. The time machine then falls on the other set of them, correcting the paradox, and Fry rushes off to his dinner with Leela.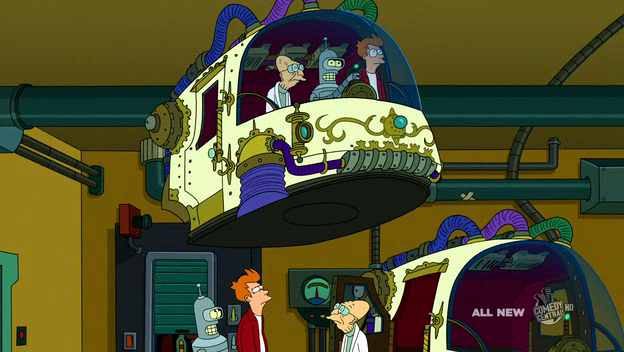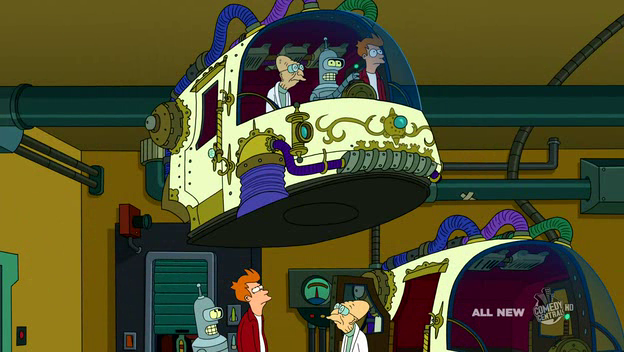 He makes it on time for once and Leela has no clue how much trouble Fry went through to get there. They have a romantic dinner and walk in the moonlight (while Bender buries the bodies of their doubles right below them), and we all learn an important lesson. Things like cards don't matter nearly as much as the time we spend with our loved ones. Yes, I take my life lessons from TV shows. Doesn't everyone?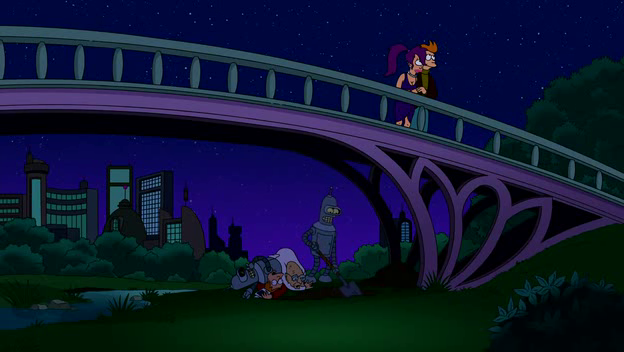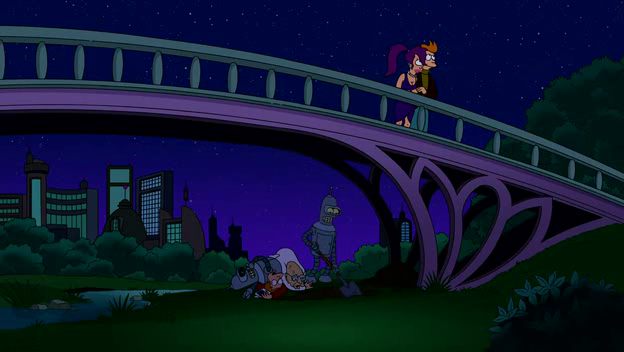 Rating: 5 / 5