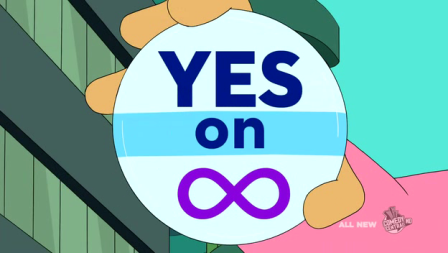 Episode: Futurama 6.04 – "Proposition Infinity"
Original Air Date: July 8, 2010
The main focus of this episode of Futurama is robosexuality and the legalization of robosexual marriage. Robosexuals are couples involved in a robot/human relationship. In the future, marriage is legal between a man and a woman, a man and a man, a robot and a robot, an alien and a human, and more, but a human and a robot together is taboo. Bender and Amy set out to change this.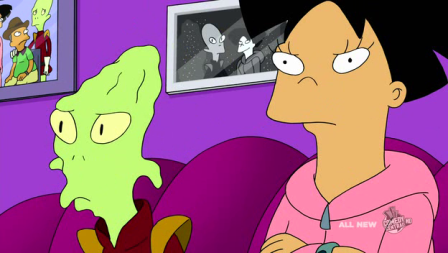 Things aren't working out so well between Amy and Kiff. Amy's affinity for bad boys is clashing with Kiff's polite and docile nature and they end up in a huge argument. Meanwhile, Bender has been arrested after a graffiti spree, caught red-handed creating a mosaic of his head with tiles on a robot police officer's rear end. He calls Amy to bail him out and she does, with Kiff accompanying her. Kiff can't stand Amy's flirting with the other inmates, which brings the fight right back and they break up.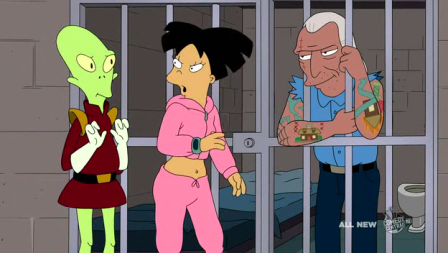 Amy denies being attracted to bad boys, but just a few insults from Bender lead them right into bed. The thing I'm curious about is how does a robot have sex with a human anyway? The logistics of that intrigue and confuse me. Since robosexuality is taboo, Bender and Amy have to keep their love a secret. Too bad they're not too good at hiding.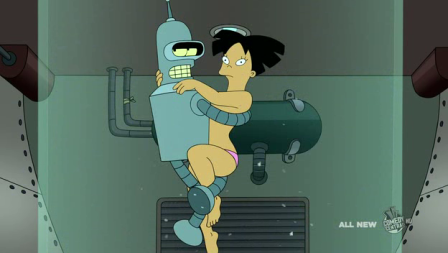 The rest of the crew finds out and Professor Farnsworth feels he has to intervene. No one else seems to have a problem with it, but they don't stop the professor's plans. Amy's parents come and take her home to Mars with them while Bender is sent to a workshop that is supposed to reprogram him away from robosexuality.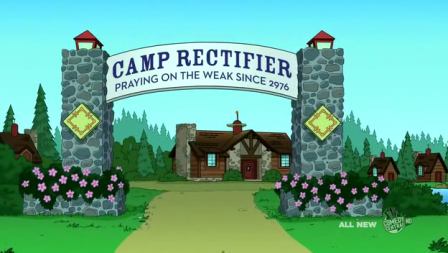 While Amy's parents try to force her to choose a human man, Fry shows up to save her. Then Amy, Fry, and Leela head out to rescue Bender as well. Bender proposes and Amy accepts. It's so weird to see Bender in love. Sure, he's still a jerk, but he's an affectionate jerk. Professor Farnsworth reminds them that robosexual marriage is illegal, and they decide to fight to legalize it, introducing Proposition Infinity.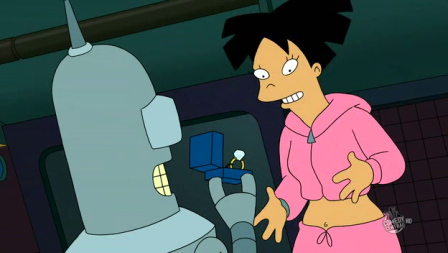 The commercial against robosexual marriage was hilarious. They couldn't even come up with any reasons, but somehow robosexual marriage is a threat to traditional marriages. Familiar, anyone?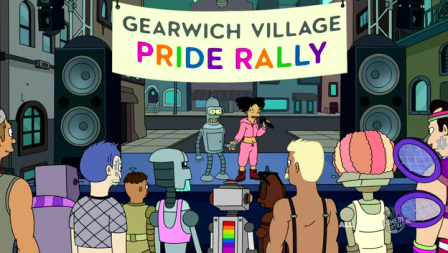 Bender and Professor Farnsworth hold a debate on the issue, and it's then revealed that the Professor was once a robosexual. His robot love broke his heart and from then on he's been against robosexuality. He realizes his mistake and apologizes, encouraging everyone to vote yes on Proposition Infinity. This is the final push needed, and the proposition is passed!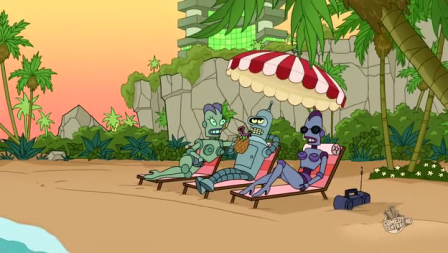 In celebration, Amy says that they can now have a legal monogamous marriage, to which Bender says "Monogamous?" We then see Bender on the beach with two fembots. Meanwhile Kiff is outside on a motorcycle dressed up like a bad boy to get Amy back. Don't you love happy endings?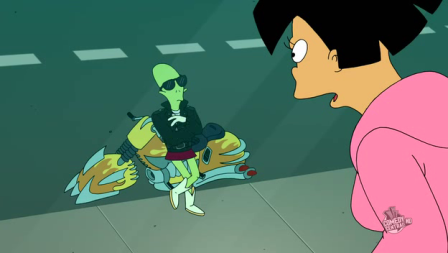 Rating: 4.5 / 5 Stars