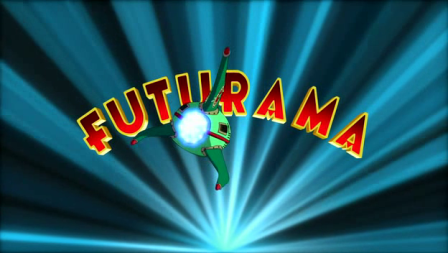 Episode: Futurama 6.03 – Attack of the Killer App
Original Air Date: July 1, 2010
First, let me say I love how Futurama has caught up with the changes in the world while it was away without actually changing anything. I'm impressed. This episode really proved they could do it, using something very current: the excitement over the new iPhone, to make a totally classic Futurama episode.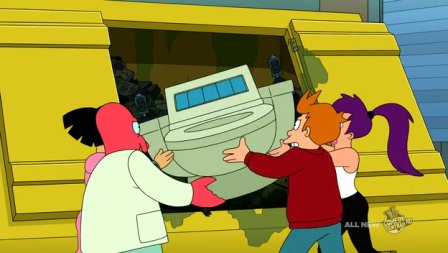 We start at the E-Waste Recycling Festival, where everyone is recycling their outdated technology. The crew is hired to transport it all to the Third World of the Antares System, where it is broken down into its basic elements. This is, of course, done by setting it on fire.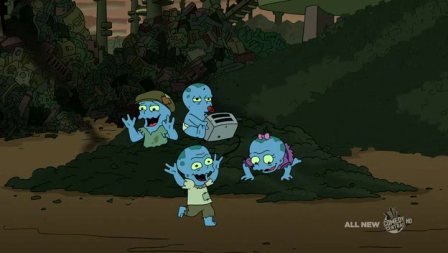 Seeing how their wastefulness is affecting the planet and its inhabitants, Leela declares that recycling technology isn't the best solution. Instead, they should use what they already have, even if it isn't cutting edge. This lasts about ten seconds, until they see a commercial advertising the new eyePhone. Then everyone's current phones are in the trash, and Leela's was the first to go.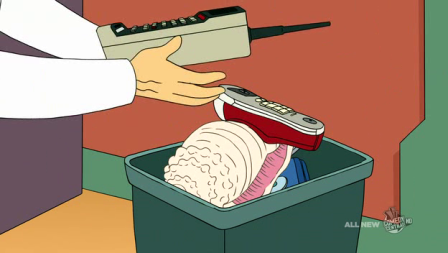 They decide to buy their eyePhones online, or rather on line, as they get in a huge line at the door to Planet Express, which leads all the way across town to the Mom Store.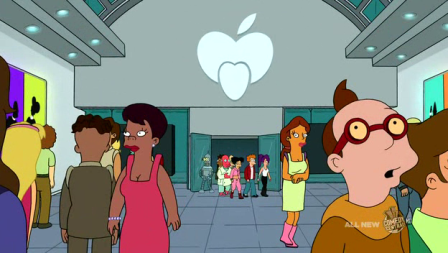 I absolutely love the Mom Store symbol. Just like iCarly (and every other DanWarp Production) has the PearPhone, PearPod, etc. with a pear on them, Mom Corp.'s symbol is the shape of Mom's hair with a heart over it that makes her hair look like an M. Don't forget the little stem!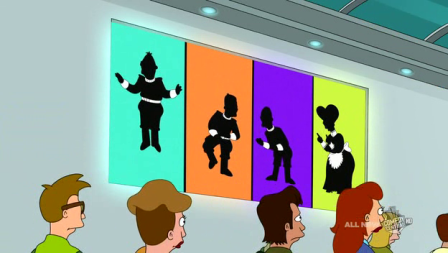 When Fry finally gets to the counter, the salesman's spiel was awesome. "Okay, it's $500, you have no choice of carrier, the battery can't hold a charge, and the reception isn't very…" Fry cuts him off by yelling, "Shut up and take my money!" The installation of the eyePhone is just… ouch. I could never have one if they existed. Nothing and no one is getting near my eyes, not even the Optometrist. Seriously, I slide out of the chair and onto the floor when they try to eyedrop me. Still, the thing looks so cool. Everyone in the 31st century must have one!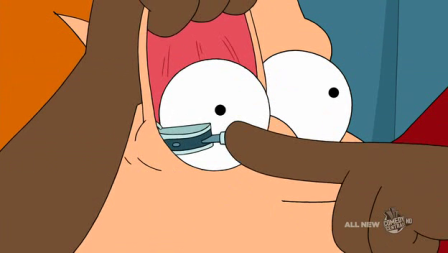 Ah, Twitcher, just as addictive as its real world counterpart. I've only been on Twitter for maybe a month and I'm hooked, constantly checking it and tweeting inane things. Mom is right. It makes people voluntarily tell everyone and anyone everything about them with no concern for privacy.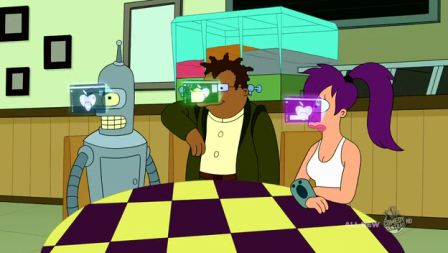 Now begins the battle of the followers, Bender vs. Fry. The first one to reach one million followers wins. The loser has to do a double somersault into a pool of alien goat vomit… and diarrhea! Bender is perfectly fine with humiliating people to gain followers, but Fry doesn't want to sink to his level. He's losing big time.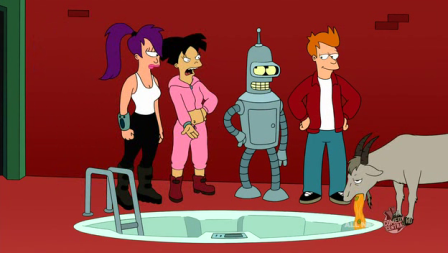 Mom's evil plan is revealed. When a Twitcher user reaches one million followers she will transmit the Twit-Worm. It's a virus that infects the human brain and will turn all the followers into zombies who will follow her every command.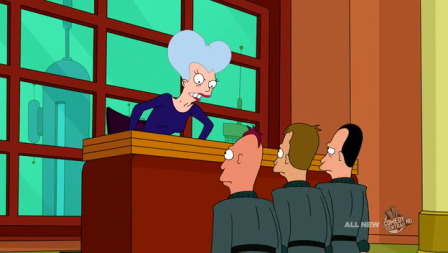 We've reached the really good part! Leela has an embarrassing secret and Fry sees, and films, it. What is it? Will Fry respect her privacy, delete the video, and risk losing the bet or will he sink to Bender's level and humiliate her? What does Mom intend to do with one million zombies? I'm not going to tell you! You'll have to watch the episode and find out! (Hopefully your DVR won't cut the end off like mine did. I had to record it twice to see how it ended!!) I will however say this… LMAO, classic!
Rating: 5 / 5 Stars