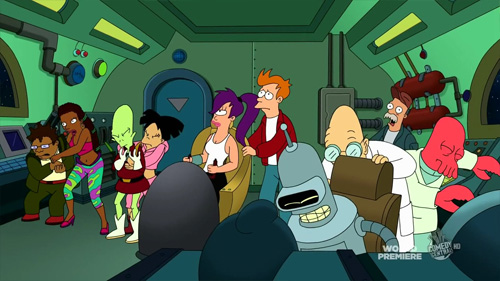 Episode: Futurama 6.01 – Rebirth and 6.02 – "In-A-Gadda-Da-Leela"
Original Air Date: June 24, 2010
Screencaps from The Futurama Madhouse & Can't Get Enough Futurama
Futurama is back!!! I can't even begin to tell you how excited I am. Ever since I heard I've been waiting very (im)patiently. Sure, there were four movies in the meantime to tide me over, but it wasn't nearly enough. Finally the blessed night arrived and I was treated to not one but two new episodes! According to Wikipedia, the four movies are considered season five, so the new episodes start season six!
I was so relieved to find that all the original voices had returned. There's nothing I hate more than when a character's voice changes. Okay, maybe there are things I hate more, but not many! It was wonderful. The new episodes fall right into place and it felt as if the show had never been cancelled. Big congrats for consistency!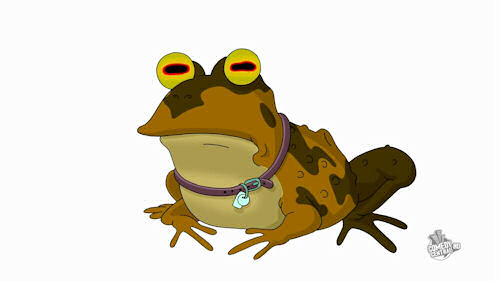 The first episode, titled "Rebirth," starts out with Hypnotoad on screen. We hear Bender's voice saying "On the count of three, you will awake feeling refreshed, as if Futurama had never been cancelled by idiots and then brought back by bigger idiots. One, two…" I have to admit that as the intro sequence began I actually got choked up a bit. Yes, that's how much I love this show.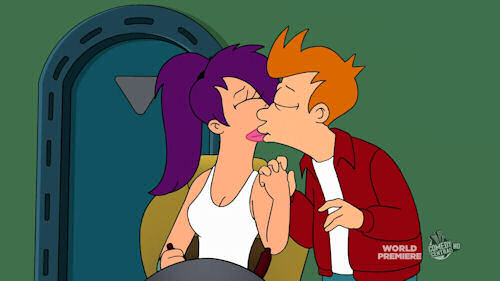 This episode was complicated and there is no way I'm going to try to outline everything that happened. Let's go with a summary instead. At the end of the last movie, the ship was just about to crash into the earth. Fry and Leela kiss! Yay! If I allowed myself to write fanfic for more than one fandom I'd be all over Futurama because I love the idea of Leela and Fry finally together so much.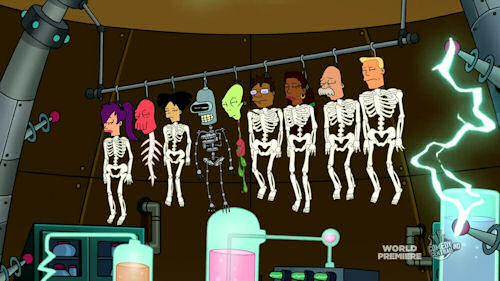 After the title sequence, this episode starts with Fry with no memory of how he'd received nasty burns all over his body and a Fry-Fro (so cute). Professor Farnsworth explains that as the ship was about to crash, he protected everyone with safety spheres. Of course that means he protected his entire body and everyone else's head. The entire crew, minus Fry and the Professor, are revealed to be nothing but heads atop skeletons. (Kiff's body was mushy organs of course, since he's supported by a system of fluid filled bladders. I've seen every episode a million times. Does it show?)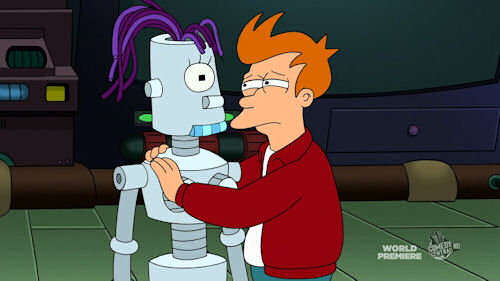 The bodies are dumped in a big pool of stem cells to be reborn, but Leela is in a coma. Poor Fry! Just when he finally gets the girl she's plunged into an irreversible coma! He's depressed and builds a robot version of her at the Build a Bot Workshop. Hermes fills the robot with her memories and personality downloaded from the security system and poof: new Leela. There's only one problem. Leela wakes up. This of course causes serious confusion on her part, both "her"s. Just when you think it can't get any more twisted around, it's revealed that Fry is a robot too!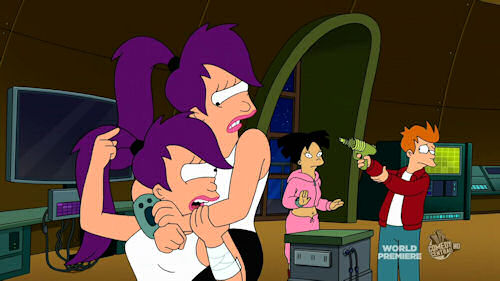 Yup, the stem cells hadn't been able to revive him so Leela, in a depressed state, had made a Fry robot which then accidently zapped her, killing her, causing burns, his Fry-Fro, and a bit of memory loss. Just in time for you to begin to wonder how they're going to figure this out, Fry, the real one, comes sliding out of the stem cell soup perfectly fine.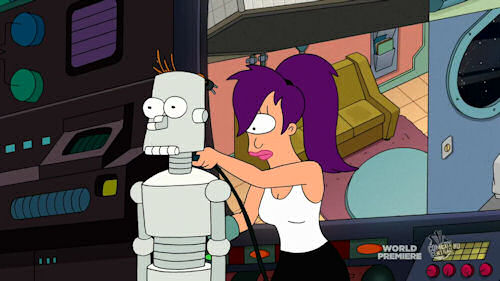 So now we have two Leelas and two Frys, one robot and one human of each. The robots decide they love each other and go off to be together, leaving our original and beloved Leela and Fry back where they started, only both still feeling a little confused. Fry declares that he's waited for Leela this long. He can wait a little longer until she sorts things out. Isn't he just the sweetest guy?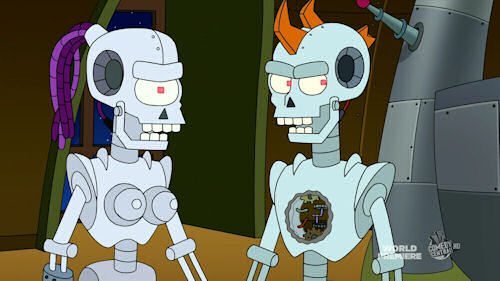 Believe it or not, that's the condensed version. Lots of other stuff happened of course. There was a whole sub-plot involving Bender's power supply, a doomsday device, and unstoppable partying. There was a wild Cyclophage that only eats Cyclopes. There were so many wonderful things that made me feel all warm and fuzzy inside just seeing them, but heck, you should watch the episode so you can feel the joys of the returned Futurama. I can't give it all away!
The second episode, titled "In-A-Gadda-Da-Leela," centered wholly around Zapp Brannigan's obsession with Leela. Oh, Zapp, what an overconfident, chauvinistic jerk of a man you are. I feel so bad for Kiff, having to deal with him on a regular basis.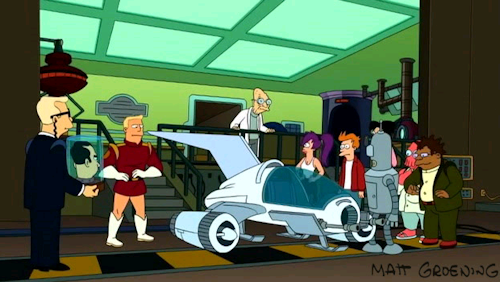 Zapp is summoned by Nixon's head, current president of Earth, to the white House. A death sphere is on course to destroy Earth! The planet has only one chance, a weapon created by Professor Farnsworth. It is a tiny, one man stealth fighter that can be made invisible. Zapp refuses to fly into the death sphere's one vulnerable opening until Leela volunteers, and then he insists on accompanying her. It was so cute to see Fry and Leela kiss goodbye as she left on her mission. I can't get enough of that. It was incredibly amusing when the ship went invisible, leaving Leela sitting in Zapp's lap, both completely visible. That definitely seems like an issue the professor would overlook!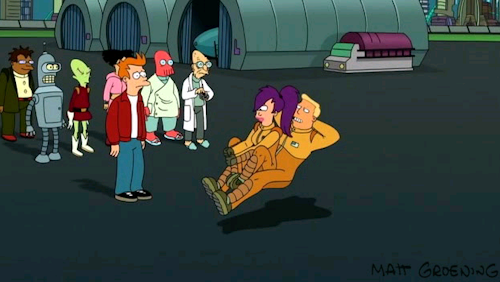 The death sphere is labeled V-Giny, which is funny on its own, and it was only made funnier by Zapp's declaration that it wasn't familiar. I love all the little not so subtle jokes. Man, I really missed this show! Their mission fails when the sphere detects them. Leela loses control of the ship while they are trying to escape, causing it to crash. Leela then wakes up pinned under a large downed tree on an uncharted planet. Zapp is acting suspiciously gentlemanly, but then she's suffering from dehydration, so she assumes she's just loopy.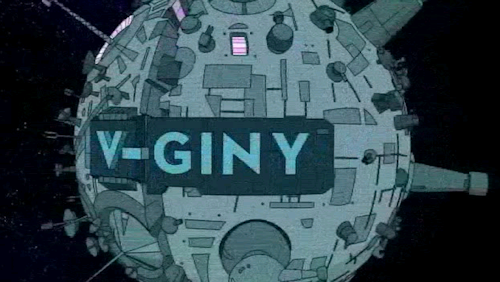 Back on Earth, the professor has identified the death sphere. It's the result of two satellites crashing together, one airforce and the other FCC. This caused it to begin censoring indecent planets. The only way to save Earth now is to convince everyone to give up their debauched ways. Yeah, that's likely.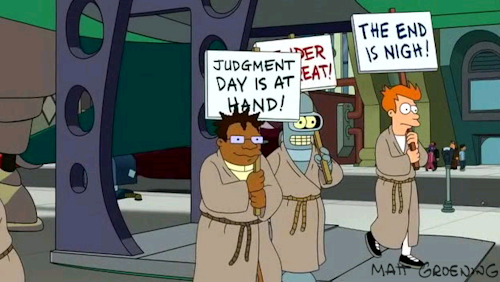 More and more, Zapp and Leela's surroundings seem like the Garden of Eden and Zapp is still acting like the perfect gentleman. I didn't even think that was possible!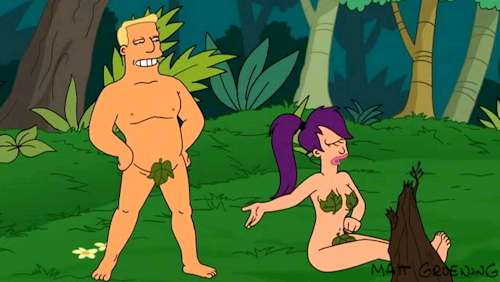 Giving up on convincing everyone to clean up their acts, the rest of the Planet Express team goes to the last unspoiled acre of earth to show the sphere that there is still purity on the planet. The plan is ruined by Bender having inappropriate relations with their broadcasting equipment. Then we see the sphere destroying Earth, which Leela witnesses by telescope.
Leela and Zapp decide that they will have to build a new Earth and repopulate the human species like Adam and Eve. I absolutely loved the crack about the incestuous nature of the Bible. That's just my kind of humor right there. Yes, if there is a hell, I'm definitely destined to end up there, but hey, I won't be alone!
Right when they are about to begin the begetting, Leela realizes some things aren't quite right, helped by the fluid content of an apple which apparently decreases her dehydration. This results in a string of confessions by Zapp, each making him look worse than the last.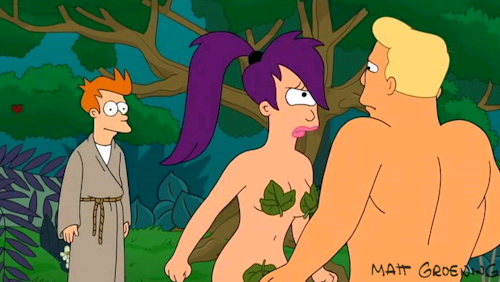 The tree didn't fall on her, he put it there. There was food and water available. The ship wasn't destroyed. Then Fry stumbles upon them while in search of a good place to take a dump (you're never too old for toilet humor!) and we find out that they're actually on Earth! Zapp had actually faked the planet's annihilation, all so Leela would sleep with him. I'm not at all surprised. Were you? That strikes me as just the Zapp thing to do.
V-Giny, seeing what appears to be Adam and Eve, decides that the Earth still has potential and demands that Zapp and Leela consummate their union or the Earth will be destroyed. Leela decides to take one for the team to save the planet, the poor thing. If it had been me, well, we might not have survived it. She's a stronger, and more animated, woman than I. I think I most enjoyed the little black and white bits, The Transcredible Exploits of Zapp Brannigan. It was like seeing his life through his eyes!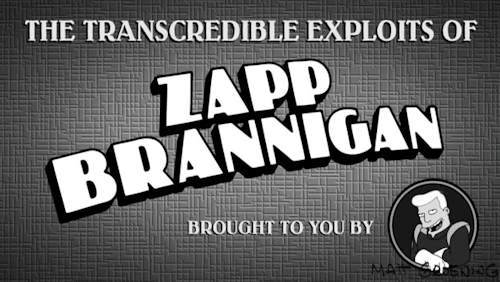 I still haven't come close to conveying just how glad I am that Futurama is back and I can't wait to see every new episode they have in the works. I just wish it could continue on forever and ever. I'll never get enough.
Rating: 5 / 5 Stars