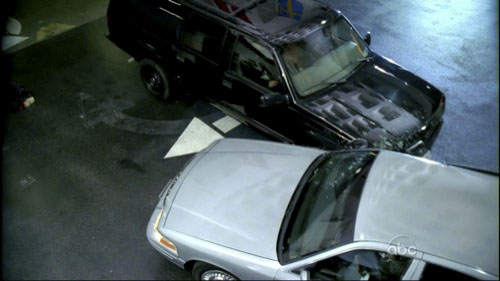 Episode: FlashForward 1.05 – "Gimme Some Truth"
Original Air Date: October 22, 2009
Screencaps by In A Dream Caps.
Mark and the LA office's FBI agents are the main focus of this week's heated episode. The pressure has been turned up a notch as Demetri, Mark, and Wedeck are in Washington to defend their Mosaic project and its hefty funding. Spoilers from here on!
Mark, Demetri and crew are in a parking garage, getting into a vehicle, when a dark SUV speeds into the garage, slams into a car and blocks our guys in. Next thing we see is a group of unknown-to-us men jump out of the SUV and open fire with automatic weapons and grenade launchers. The whole episode will then build us back up to the opening scene's gun fight, and the puzzle starts being assembled 39 hours earlier.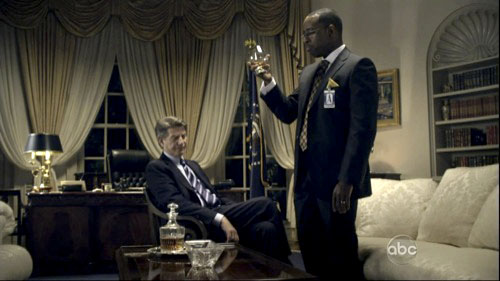 Polygraphs about the contents of flash forwards are being administered to all of the agents in preparation for the budget hearings in DC. It seems that all of the characters we know are telling the truth about their visions, a good thing for the credibility of Mosaic. We also find out the Wedeck is old buddies with the President himself, as well as harboring an old rivalry with the woman who's running the hearing: Senator Clemente.
Obviously we know that the hearings are going to end up okay for our characters, how could they not? I understand that the Senate shouldn't dump a bunch of money into one renegade field office, but I wasn't really buying that the validity of Mosaic could really be so questionable. Mosaic seems pretty baseline and important to me. Although it may not have been their call to start the project, since it's up and running it seems a no-brainer to let it ride and see what happens.
We glean that world leaders aren't making their visions public, which was interesting to me; sadly, I took until now to consider the weight of different visions. It makes obvious sense that world leaders or political/military higher ups could and should have had far more significant flash forwards than your Average Joe. I'm sure some of them were doing mundane things — making breakfast or taking a shower — but the opportunity for these people to glimpse into major futuristic events is pretty legitimate and fascinating.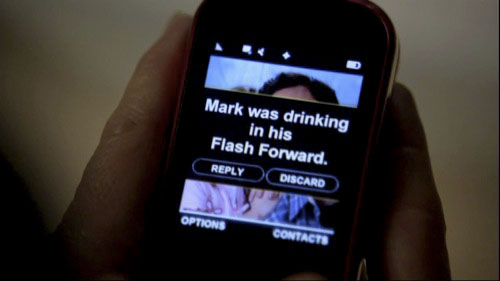 Mark was boozing during his flash forward, which has led to a hazy two minutes and seventeen seconds that comes and goes in blacking-out spurts. He gets called out on this during his testimony, and it's such a weird fine line he's walking. He's risking his credibility whether he lies or tells the truth. It's so impossible to prove anything like these blackouts and visions; I think the show has done a pretty realistic interpretation of intra-personal trust issues, and taking people for their word on what they saw. Seriously, how can you prove it other than to just wait six months?
The issue of Mark's drinking is a running theme this week. Olivia overhears Aaron on the phone (he's at their home doing some work while Mark is out of town). Aaron is Mark's sponsor and he's encouraging him to go find a meeting in DC. It seems like Olivia is already starting to doubt her marriage, and cracks between her and Mark are widening. She sighs and confesses to her husband's friend, "I love him, Aaron, I just [long pause] know I can't control him." She seems to be giving up here; it's a turning point, in my opinion. Perhaps escaping the inevitable fate of the flash forward visions will be harder than anticipated (maybe it's impossible?). The text Olivia gets informing her of Mark's drinking in his vision is sketchy at best. I wonder who sent it (my guess is maybe the Simon character from last week). And for the record, I kinda don't like Olivia anymore — she annoyed me this episode; I just thought she was whiny.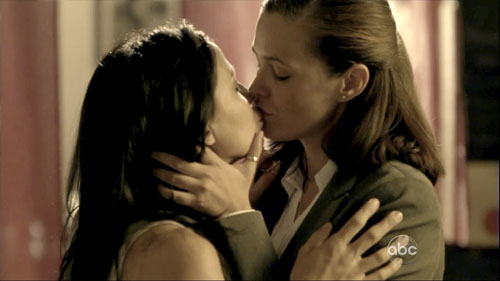 Janis is a lesbian. This is awesome! I'm about as progressive as they come, and seeing the same-sex smooching get so much screen time made me really happy. FlashForward's stock went up in my book for this move. Although, they did lose a few points for the entirely cheesy and fake dialogue used on the ladies' first date. Angelina Jolie? Who Wants To Be A Millionaire? Ehh. Lame. Maya and Janis do expose an interesting facet of the visions: using Mosiac on a civilian average-joe level. Maya has looked up Janis's vision before their date; she's having dinner with a woman who will be pregnant in six months. That would be pretty overwhelming information to know! Surprisingly, it's Janis who freaks out over the possibility of this date spurring something real, and Maya's left lovestruck but confused when Janis says she's just not ready for anything.
Janis also does more than dating this episode. After her team has scoured the satellite images of Somalia, they've discovered some very strange towers built right before the local blackout that happened there.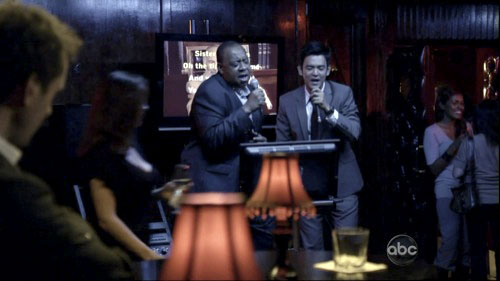 On a couple random notes, Wedeck has a kid maybe? At least I think that's what all the stuff with Renée was. This episode also had some awesome bar karaoke scenes that I was appreciating for the LOLs. I was crooning "How does it feel?" for hours after watching.
At the end of the day, Mosaic is saved and funding will go on. And then we see the scene from the beginning. The scene of the agents walking towards the SUV with their guns out, "Like A Rolling Stone" cranking in the background, was pretty awesome. This show has a knack for montages that I am totally digging. At the same time, back in LA, a lone gunman (ethnically similar to the gunmen in DC) finds Janis and shoots her coming out of a store. The episode ends with her laying on the ground bleeding, thinking about her future baby vision. This is a pretty significant cliffie. If Janis dies, the validity of all flash forwards can be questioned, or at least the implication of the fate being finite can be. If she lives, it further locks in how all actions now keep chugging down the tracks towards the visions coming true.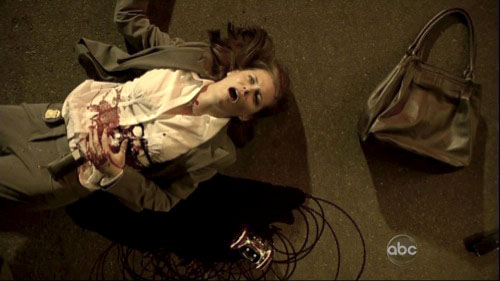 I'm still hooked in, and the long story arc is really fascinating to me. We saw some really interesting development this week, and yay for featuring a gay relationship on primetime tv. But due to some cheesy dialogue and too much focus on the hearings, I'm just giving this episode three and a half out of five stars.
Rating: 3.5 / 5 Stars