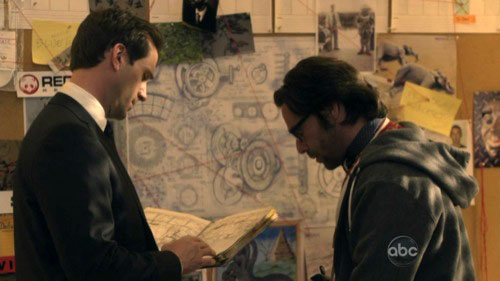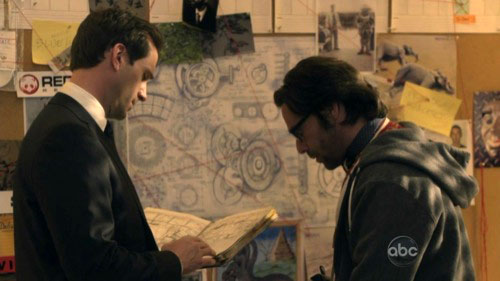 Episode: FlashForward 1.20 – "The Negotiation"
Original Air Date: May 13, 2010
Screencaps from burgundy_shoes.
Ugh. I pretty much hated this week's episode, and I had honestly had a hard time even sitting through it. Sighs and spoilers ahead.
What was up with all the heavy overdramatic dialogue this week? I felt like every scene was full of foreboding music and short power statements (that actually weren't very powerful, but corny). Wedeck and the president, Janis and Mark, Simon and "the big guy" — they were all using this weird staccato dialogue with every character trying to be prolific and hard hitting. It was really ineffective writing. Is it like this every week, and I'm just oblivious? I feel like this episode was just trying way too hard.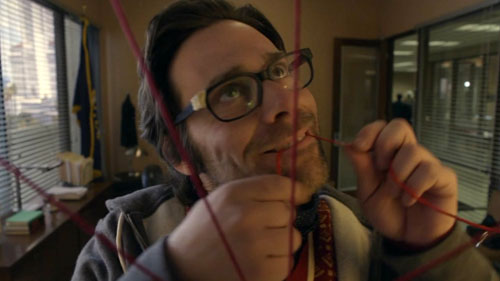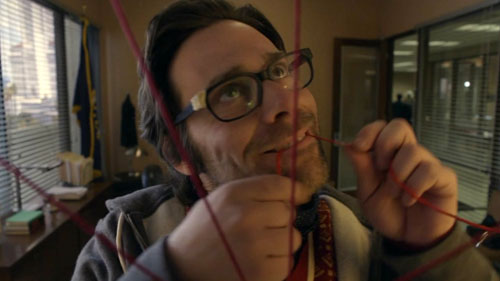 Gabriel is easily what ruined this episode for me, and has me so turned off to the show right now. His stuttering repetitive speech and the constant freak-outs are so annoying I am tempted to fast forward any scene he's in. Gabriel is a caricature, and frankly I'm finding him insulting to people who actually have autism. But the other characters are taking him very seriously and he's acting like some kind of agent of reassurance. Everyone keeps asking him what he sees for them in his many visions of the future. Mark asks Gabriel about Olivia, and if she really ends up with Lloyd. Demetri goes to find out if he ever lives in any version of Gabriel's blackouts. But why do they care?
I just don't get the relevance of the visions anymore, and I feel like the more variants and possibilities (like Gabriel having so many different flash forwards) the less the content matters. People are already proving that not all the flash forwards will come true, so why are they so dead set on finding out what everyone saw? Especially when we're within hours of knowing for sure, it just seems irrelevant and tangential.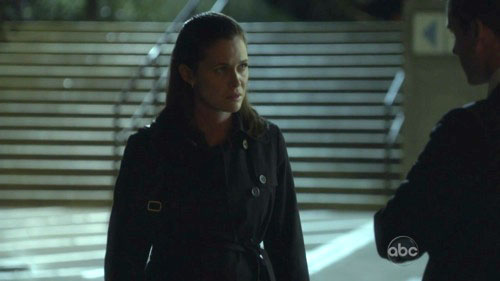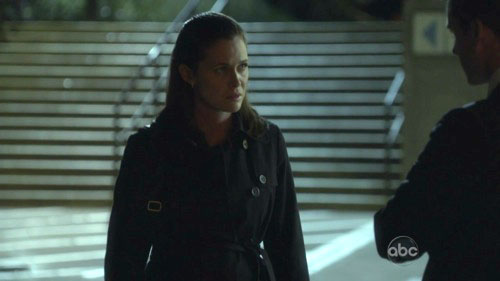 So Janis is outed as a double agent, and she doesn't have to kill Mark. I think we can all be comfortable assuming that nothing bad will ever happen to any main character, no matter how many ways they try to hint or foreshadow doom and gloom. Everyone survives every death threat, bullet, prediction and hit. It was annoying that Mark had figured out that Janis was working for someone else, I guess it proves what an awesome FBI agent he is? Sigh. When she explains the whole story about working for the CIA, Mark is super miffed and basically tells Janis he has no idea who she is and that she's all alone, and all this crap. So he doesn't trust her now? I guess that's legit, seeing as she has been secretly working for someone else. But it's not like she was working for an enemy, it was with the CIA and she didn't have a choice. His reaction just seemed weird to me.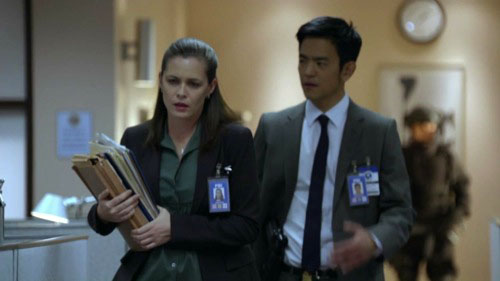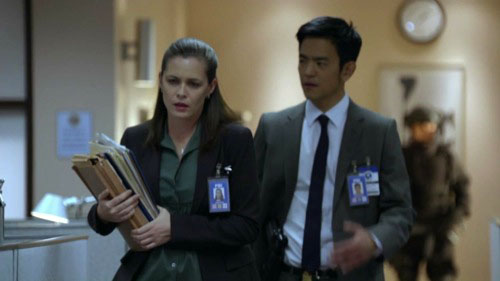 Demetri and Janis are having a baby together, one that was conceived under duress back when Demetri still thought he was going to die on March 15th. He wants to be a part of the baby's life, and Janis doesn't think this is necessary. This is so ridiculous on so many levels. It's his baby! They've been friends and co-workers for years, and they're close. How is she honestly planning to hide the baby's parentage? It's not like they'll never see each other again; Janis and Demetri see each other everyday. Also, does Zoey even know that Demetri is the baby's daddy? This whole thing is a mess.
This whole episode is a mess, actually. I'm having a hard time even writing a sensible review because it was so all over the place.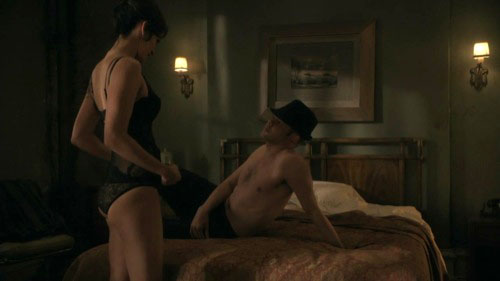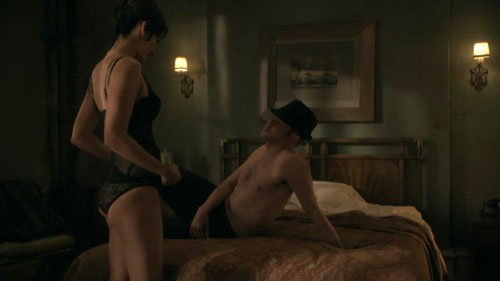 So Simon is on the run, and the people who are his bosses (even though he doesn't seem to think he has a boss) are trying to get him. He met with some broad in a bar, who he slept with, and they seem to know each other. She's working for "the big guy," the one who's running the show. We finally see his face, and Mark actually arrests him. I'm sure we'll find out more about "the big guy" and his role next week. So this head honcho of conspiracy uses this lady to lure in Simon, and they have some meeting in a hotel. There's all this talk about "carrots" and "sticks," and clearly they want him to do their bidding. Simon is trying to go into hiding and change his identity (and ditch his accent, and wear a creepy hat), so clearly he doesn't like being brought in.
It doesn't really matter though, because like I said, Mark captures the bad guy and the FBI has some crazy shootout with these people running the show. A big problem I have with FlashForward is how spread out it is. There are so many scattered storylines and plots, and a lot of the characters and their importance is so vague, that it's confusing to even try and summarize. I mean, saying "the FBI has a shootout with the people we assume are bad guys," is so sketchy and unclear, but that's seriously what we, the viewers, know. Bottom line: Simon's time is running out, and it looks like FBI is at the bottom of all this.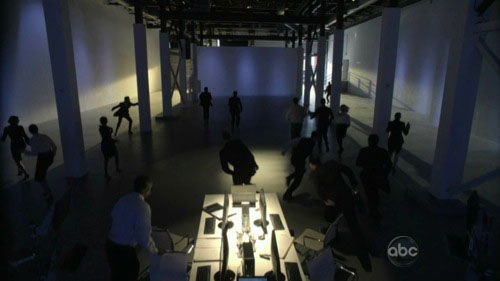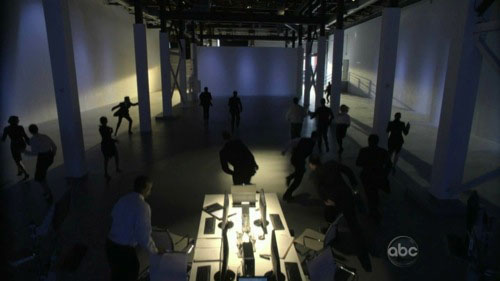 I guess that's why Wedeck has to make "the call" to the President. The call that the President knew would come some day, but never from Wedeck. Again, could this dialogue get any cheesier? Thanks to Aaron, Wedeck knows all about Jericho and some shady activity in Afghanistan, and he's going to blow the whistle by telling the Vice President. I'm not really sure what Jericho is doing, but it involves a base, and interrogating people, and it's shady.
Yeah, Aaron finally saves Tracey, and he realizes his flash forward: he lives it out, just as he imagined it. So his vision actually came true. Should I even waste my time commenting on how terribly far-fetched his whole plotline is? If Jericho is so top secret, high tech and lock down, how on earth did Aaron and his guys get so close, in broad day light, and take photos undetected? I also like that Aaron used only two rounds to shoot and bring down two different guys who were wearing flak, from hundreds of feet away, in the night. Yup, that's how he was able to get to Tracey. Who happens to be injured, and the nearest hospital is very far away, and Jericho is after them. Typing this out just sounds ridiculous.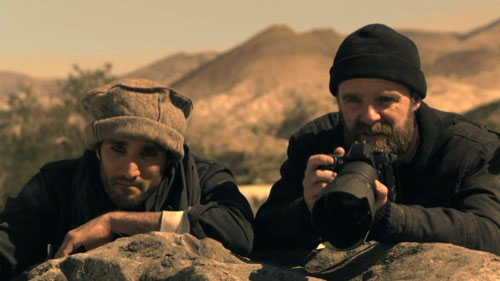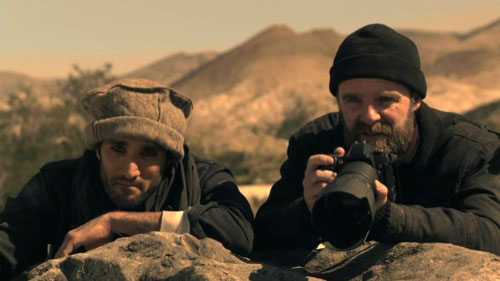 Alright, let's wrap this up. I've been watching FlashForward all season and trying really hard to enjoy it. In the beginning it was great, and there have been a few good moments in recent episodes that have kept me interested. But now that we're supposedly so close to the day envisioned in the blackouts, and everything is supposed to be coming together — I just feel the show losing its grasp and spreading out farther and farther into nonsense. It's all over the place, the dialogue is silly, and the show is so predictable — why am I still watching?
I give this week one out of five stars, and I'm going to begrudgingly watch next week's episode just become I've come so far, I may as well finish. So I'll keep watching and I'll review as long as I do, but I'm probably not going to like it.
Rating: 1 / 5 Stars