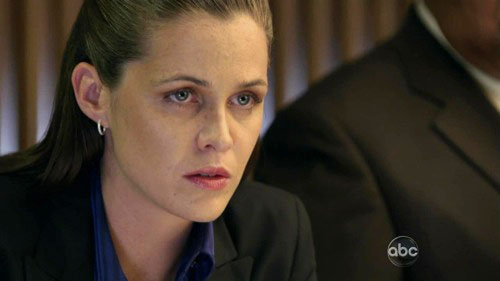 Episode: FlashForward 1.18 – "Goodbye Yellow Brick Road"
Original Air Date: April 29, 2010
I'm not sure where to even start with FlashForward right now. It's just been a little all over the place for me the past few weeks. Something will happen and I'll find myself all edge of the seat and invested. Then, two seconds later comes the biggest eye roll ever. It's just so (frustratingly) inconsistent. Ugh! Technically this week's ep is "Goodbye Yellow Brick Road," but since I've been out for a few weeks, I'm going to yammer about the last most recent three-ish episodes. Spoilers ahead!
Demetri is alive. Should I even be surprised? There was a teeny part of me that still had hope he'd die off. (If you haven't read any of my reviews yet, you're probably all "say what!?!" that I do indeed want that guy killed off, but it's not for lack of liking the character — I think he's great — it's about my overall desire that the blackouts mean something and they all come true.) As soon as we were at the point where Dyson Frost was going on about all of his many personal blackouts and his many visions of the future, I knew Dem would live. Sigh. So much for this round of blackouts actually being relevant and foretelling.
Seriously. If every time these people create and test a blackout, and every vision of the future is different, what's the point? Why not save a lot of money and time and just buy some fortune cookies? In my opinion, a prophecy or a prediction of the future is only valuable if it's going to come true, or if those hearing it believe it will come true. Clearly the characters of FF have been a mixed lot, some subscribing to absolutely and others ignoring altogether the supposed predictions of the blackout visions.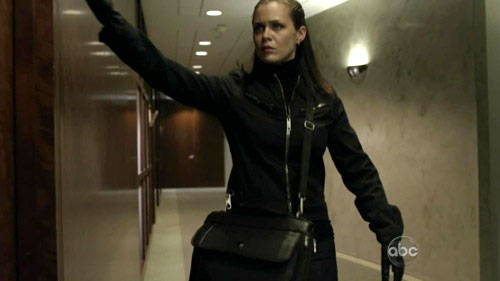 So yeah, Demetri is alive. Whatever. I guess in the end I'm glad, because I do like his character. So the visions are not guaranteed and to add insult to injury (and further reduce the significance of the blackout and everyone's visions), this blackout event isn't exclusive either. Some people have been experimenting with dozens of mini-blackouts, and a large scale blackout happens again. I guess they had to keep the show going somehow, but it just feels lackluster to me, and I see my attention span waning.
But for the truly dedicated followers of my reviews (Bueller? Bueller? Is anyone reading this?), I press on.
Janis is a double agent. Womp womp. I thought it was a hundred times cooler when we found out she was the other inside gal at the FBI. But as we found out this week, the FBI and the powers that be identified her as a risk way back in the day and assigned her the toughest job ever: accepting an offer to be a spy for another agency, earn their trust, and be a double agent. The only interesting part about this is that she has been told by Vogel (CIA) to do what it takes to earn the trust of the fish store lady and the group employing her. (Who is she "working for," by the way? Do we know that yet? I'm assuming it's Jericho, but I don't think the real puppetmaster has been revealed yet.) This episode ends on a chilling note: Janis has been instructed to kill Mark as a way of earning her other agency's trust!
Now it's heating up! Will Janis go through with it? Something tells me that's a big ole NO, and that it's never going to happen. But the morbid, death-and-destruction-loving voyeur in me kinda does want to see her off Mark Benford. It would be interesting and unpredictable at least.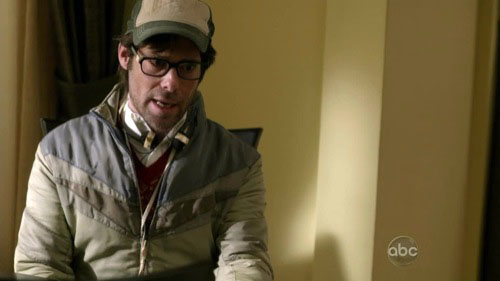 So, the blackouts don't mean anything. Janis's spy work doesn't mean anything — she's not really a bad guy, just a double agent. So as if things weren't getting obvious and lame enough, now some of the more personal story lines are being supersaturated with unnecessary plot pushes. Insert "Gabriel" here. He's the "savant" with the glasses who stalks Olivia. In the intro I said that a plotline will get interesting for a minute and then it'll get ruined for me. Here's a great case in point: Olivia and Mark are on the outs, and all this weird attraction and chemistry is mounting between Olivia and Lloyd. I am loving it. It's organic, and it feels like no matter how hard each has resisted, the prophecy of the blackout is having it's way with them (they're totally gonna hook up!). But then, FlashForward sprinkles in a catalyst to push it, and it's just too much. We don't need a Gabriel telling Olivia to go be with Lloyd, saying that in all his blackouts Olivia is always with Lloyd (he was abused and experimented on by Dyson Frost, and thus has experienced many blackouts himself). Gabriel is the personification of trying too hard, and a microcosm for what the whole series is doing. Just let it happen, it was just on the tippy tip of happening anyways (wasn't it?).
So now Olivia is all freaked out. And after everything with her daughter, and a threat out on Mark, she's back to needing Mark. And to me, the more someone pushes you to go be with someone (*cough, Gabriel telling her to be with Lloyd, cough*) the less you want to do it. This is probably all pushing her right back to Mark. Boring.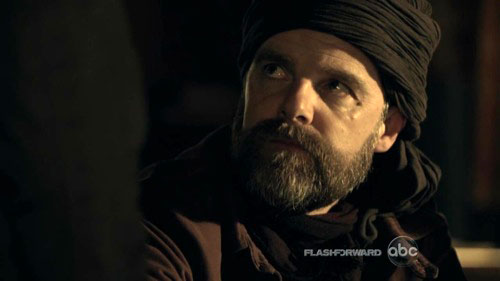 This Jericho stuff. I actually got really into the whole Aaron-Tracey-Afghanistan plotline for the first time ever a few episodes ago. All of sudden, the Vice President wants to know about Jericho and Wedeck is poking his head around — I'm into it. When the FBI helped get Aaron all these fake documents and unmarked weapons, it was getting interesting to me. I'm still liking this plotline, for now. Malik (the Afghani guy Wedeck arranged to help Aaron) is killed at a roadblock, and we're left up in the air about how this will all play out.
The guy who comes to help Aaron though (after they've been attacked at this roadblock) is the same guy who helped Tracey! Full circle on that one! The medic/helper guy (his name is Khamir), is he bad? I can't remember, but I feel like he's in with Jericho. Like, even though he helped Tracey, he also sold her out? Or something of the like? Maybe I'm getting mixed up (make another reference to why big mid-season hiatuses are so not cool). So we'll see what happens there, its one aspect of the show I think is going well and they've been able to effectively build on and twist without making it so eye-rollingly cheesy or obvious or lame.
I'm sure there are more points I could talk about, but those were the main things I thought deserved comment. I mean, we could talk about chess pieces and QEDs (quantum entanglement devices), but somehow the more they "reveal" about the minutia and the workings behind the blackouts, the more lame I find them. I think there's something to be said about the air of mystery being so much sexier than us hearing some fancy name for a fictional kind of technology. (Let's not kid, I was really into the rings and really wanting to know how they worked, and what the link is. And as soon as we find out about this QED chip, it just was a kind of shrug-and-move-on feeling for me.)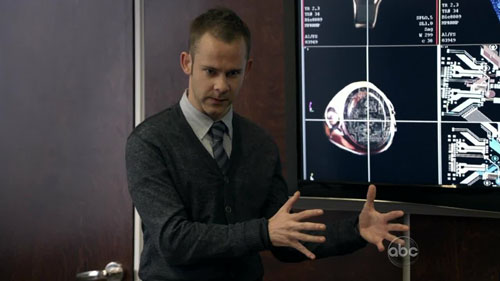 This upcoming new episode has me intrigued. I'm hoping to see Janis shoot up Mark, Olivia totally get together with Lloyd, and find out what the heck is going on with Aaron and Afghanistan, and how Jericho fits in. But really, I have a feeling that in a week's time I'll just be back here rolling my eyes when nothing turbulent plays out and happy endings abound. Maybe we'll get lucky?
For now, I give "Goodbye Yellow Brick Road" three out of five stars. Yes, Gabriel's incessant pushing is too much, and Janis being a double-agent is pretty lame (she's not even a bad guy, she's just a really good FBI agent) — but, the Jericho stuff is heating up and even if Gabriel is too much, I really want to see what happens with Olivia and Lloyd anyways (my fingers are crossed for mayhem!).
P.S. Apologies to any loyal readers who noticed my absence the past couple weeks; I was away traveling. But I am back now and plan on being back next week with reviews for the rest of the season. As always, thanks for reading!
Rating: 3 / 5 Stars