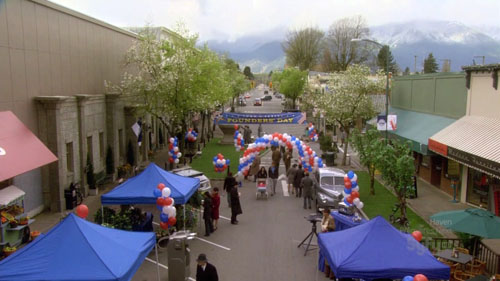 Episode: Eureka 4.01 – "Founder's Day"
Original Air Date: July 9, 2010
Screencaps from burgundy_shoes.
Just as a review, at end of last season, Carter's daughter Zoe had left for Harvard, Tess (thankfully) had left for Australia, and Dr. Allison Blake had left to have her baby but was going to return this season. We were all excited because there was a chance Tess would never return to this show and Dr. Blake and Carter would finally end that love triangle thing that was fun for the first couple of seasons but now is getting kind of old.
Spoiler alert: our joy was short lived. But let's get to the plot. The name of today's episode is "Founder's Day," since Eureka is celebrating the founding of Eureka as a scientific research community. Einstein had wanted to see what happens when you populate a town with bookish geniuses with no common sense to speak of, and that's how Eureka was founded.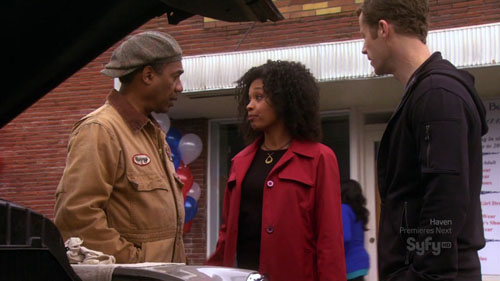 Everyone is excited about Founders' Day. There's a new character named Grace Monroe who is in charge of the day's celebrations and obviously meant as a love interest for Henry. Henry is fixing up an old 1940s car for the parade, Vincent is serving 1940s style coffee… everyone is into it. Even Dr. Blake's son Kevin getting into it by repairing an old satellite interface (yes, Eureka was so advanced that they secretly launched a satellite before Sputnik. And yes, this is foreshadowing this week's adventure).
Carter is not excited about Founders' Day, because he's seen the final results of Einstein's experiment, and it usually involves putting himself in mortal danger to save the geniuses of Eureka from their own lack of common sense. But he is excited to see Dr. Blake (as am I since, as usual, she is totally hot).
Carter decides to go for a jog before the festivities start, which takes him to that lonely strip of road we all love where things always seem to go wrong and serve as a convenient catalyst for the plot. In other news, back at the city jail, Zane proposes to Jo, but she rejects him.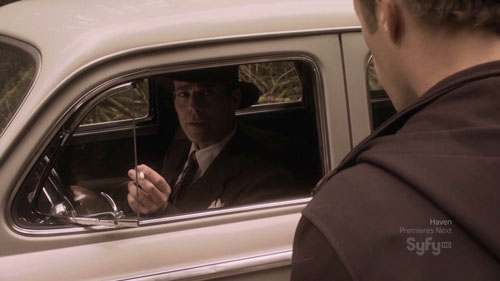 When Carter answers his cell phone while jogging, he gets transported back to the 1940s, on the exact day that Eureka was founded. Of course, he doesn't realize at first that he's been transported back in time. He notices that the trees got noticeably shorter and therefore something must be up, and he flags a car that is straight out of the 1940s, but he figures it's all part of the Founders' Day celebrations.
The guy that gives Carter a ride turns out to be Dr. Trevor Grant, one of the founding scientists of Eureka (extra bonus: he also turns out to be played by James Callis, Dr. Baltar from Battlestar Galactica). When Carter gets to town — which at this point is a military base that is in the process of being converted to a town — the military man in charge arrests him for being a spy. Having been transported back in time while jogging, Carter has no identification to prove that he is from the future or that he is the sheriff. The only thing he has is the cell phone he was using, but the 1940s military personnel are too primitive to figure out what it is and assume it's a spying device.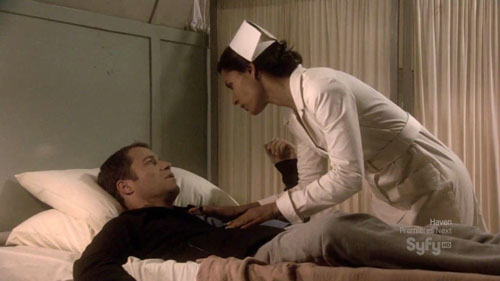 In a twist, it turns out that Dr. Blake has also been transported back to this time. The good news, aside from the fact that she is back to playing a prominent role in Eureka episodes, is that she's dressed as a nurse. Being a little faster on the uptake than Carter, she realized what was going on and figured out a way to blend in.
She busts Carter out of jail. While getting Carter some local clothes, they figure out that the cell phones must have had something to do with their time travel. They also figure it would be best to maintain a low profile, just to make sure they don't alter future events.
That's when Jo shows up, fleeing from the local military personnel, generally kicking their asses (in true Jo form) and making a huge mess (also in true Jo form). Others who have been transported back in time include Henry and Fargo.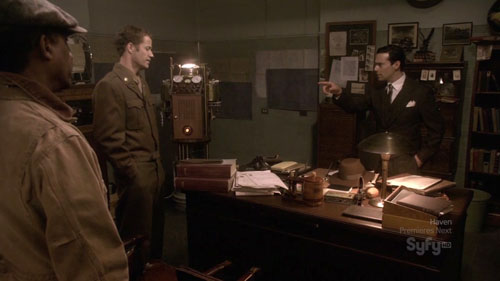 As Carter and Dr. Blake respond to various emergencies using their advanced knowledge and training, Dr. Grant realizes they are from the future. Together with Henry, he surmises that the cell phones must have been the catalyst to transport everyone back in time. Dr. Grant is the person who originally invented the satellite interface. In the present, Kevin found Dr. Grant's machine and was repairing it. When he activated it, the energy source triggered the specially advanced Eureka cell phones. Anyone using them when the satellite interface triggered the energy pulse was sent back in time.
Now that they know the cause of their time jump, the gang has to reset the satellite (which happens to harness the sun's energy) in order to investigate Dr. Grant's theories regarding time travel. Even worse, they have to time it exactly according to a solar eclipse that will occur later in the evening.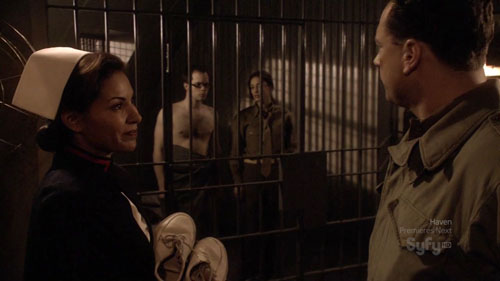 Chaos ensues as Carter has to climb to the top of the building to adjust the satellite, Dr. Blake breaks Jo and Fargo (who's naked, by the way) out of jail, and Dr. Grant reconfigures his time traveling doohicky. At the last minute, each person turns on his phone, and they get transported back to the present.
There is one hiccup: Jack had forgotten his phone, and left it back with Dr. Grant. He doesn't have time to go back and get it, so he hugs Dr. Blake close and gives her a good luck kiss and hitches a ride with her to the present.
When the gang gets back to the present, they realize that somehow they have changed history. Dr. Blake goes home to find that Kevin is no longer autistic, Jo goes back to the jail to tell Zane she changed her mind and wants to marry him only to find out he never proposed to her, and Henry finds he is married to Grace Monroe.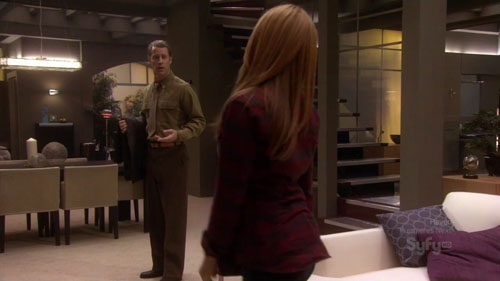 But the worst news is yet to come. When Carter gets home, he finds out that he is married to Tess. The audience does a face palm, realizing the permanent elimination of an annoying character like Tess was too much to hope for. Carter also isn't thrilled because with the kiss and hug, he was finally ready to make a move on Dr. Blake, and now this stupid love triangle thing is going to get in the way. Well, thinks Carter, at least we didn't overdo it last season, and the season before, and the season before that…
There is a consolation price, though. Remember how Carter accidentally left his phone with Dr. Grant? Grant had it when the transport occurred, so he is in town to. So, we will have at least one more episode — and hopefully more — with Dr. Grant, who is an interesting character played by a fascinating actor.
Rating: 2.5 / 5 Stars