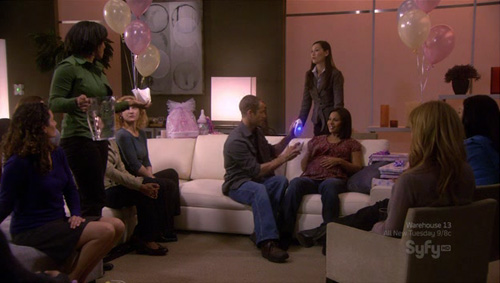 Review: Eureka 3.15 – "Shower the People"
Original Air Date: August 21, 2009
Rating: TV-14 (Recommended for people 14 or older)
This week's installment represents the end of something I like to call the "what is that mysterious thing in outer space approaching Eureka that the show has been hinting at for the entire season and now we finally find out and it's not worth the hype, but still it was entertaining" story arc. I'm kind of proud of that. Rolls off the tongue quite nicely, I think.
Anyway, we start with Tess and Sheriff Carter doing a bit of the small talk thing. It seems a new neural networking expert has been called in to figure out how to download the information from Kim, so they are awaiting his arrival. We viewers know that all you have to do is put Henry on the job, and you'll have your little data downloading problem solved in time for supper. But the big bosses at Global Dynamics didn't ask us — plus we need a plot for this week — so there's a new genius on his way. While they're waiting, Tess and Carter have a nice little post-dating smalltalk.
"I had fun the other night."
"Yeah, me too."
"We should—"
"Tess? Tess the mess? Is that you?"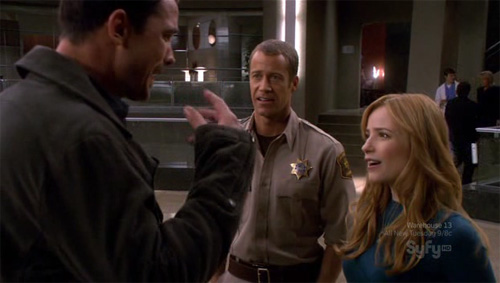 Yes, just as Carter is about to ask her on a second date, the neural network expert shows up. It turns out he knows both Tess and Dr. Blake, and he is both charming and sexy (like Carter) and a PhD genius type (unlike Carter). And, he knew Tess and Dr. Blake when they were, as Blake puts it "more awkward than lovely." It's hard to imagine either of them not being drop-dead sexy (especially Dr. Blake), but apparently even sexy geniuses were once mortal… and had sexy professors to witness it.
So, Tess introduces Dr. Bruce Manlius (she messes it up and calls him Bruce Manly). She also totally slobbers all over him in front of Carter who, being Carter, simply reacts with one of those Sheriff Carter looks. Now that Dr. Charming-hot-man-meat is on the scene, Carter has to head over to the Café Diem. That's where Henry has been hanging out with the Kim-Clone-Biocomputer thingy, trying to help her adjust to being human.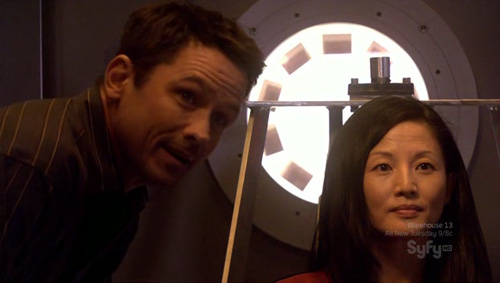 The next scene shows Dr. Manly — whoops, I mean Dr. Manlius — interviewing Kim. He refers to her as "it," he's fascinated by her efficient construction, he basically considers her a computer with breasts (which he barely notices), and Henry doesn't like it. So, we establish that Henry is totally emotionally attached, and that Dr. Manlius, while polite, is a bit of a creep. A sexy creep.
Next, it's time for Dr. Blake's baby shower. Sheriff Carter is the birthing partner, plus he and Blake are totally into each other — even if neither of them recognizes it — so the party is at his house. He's very excited, so he got some presents, like diapers, baby bottles, a little radio thingy so you can monitor the baby. He's is really excited. The problem is that the other people in the shower are hyper-achieving scientific geniuses that will stop at nothing to impress their pregnant boss. So, they show up with crazy awesome baby care inventions. They have diapers that can absorb a gallon of water, a machine that not only allows you to monitor the baby but actually feel what the baby is feeling, and, of course, and all kinds of things. Each time one of the super inventions comes out, it outdoes Carter's present, until he's left with nothing but the original basket the presents came in. Poor Carter.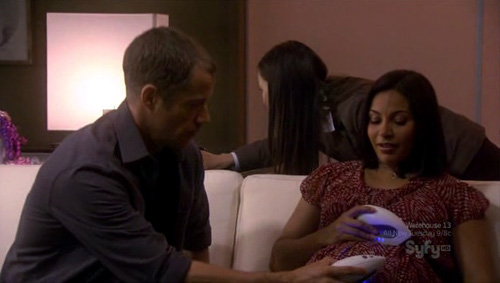 In the next scene, Sheriff Carter is driving along that typical Pacific Northwest road that shows up in every episode, and comes across a car. Upon closer inspection, it appears that it's full of water, and a woman has drowned inside. We now have the first victim. She turns out to be one of the researchers from the baby shower.
At this point, we have two plots: how to download Kim's information without hurting her, and the baby shower deaths. Normally there would be a plot and subplot. But, in the tradition of shaking things up, we have once again broken the normal form of things. Now, instead of a plot and a subplot (or two or three subplots), we have two plots.
Fargo shows up, toting his lunch (an egg and cream cheese burrito with horseradish), to help with the investigation. It turns out that while Henry is busy with "downloading" Kim, Fargo will be Sheriff Carter's forensic backup. His conclusion is that the woman drowned.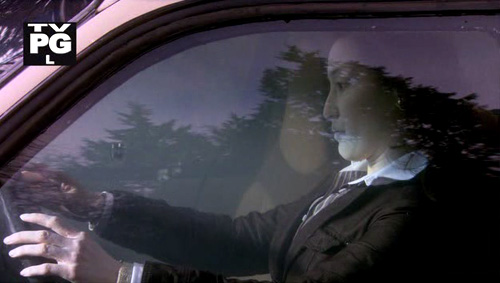 After a brief scene in which Tess talks with Dr. Blake about how she "likes" but doesn't "LIKE-like" Carter, and is surprised that he turned her down on a second meteor shower date after having thrown herself at Dr. Manlius, we cut to the first attempt to download Kim's memory. Henry is there. Dr. Manlius is there. All the minds you might need to get it right are there. But they don't get it right. She screams out in pain, and they stop the experiment, but not before Dr. Manly gets another chance to show he doesn't care about Kim, just about the data she contains.
Meanwhile, back in the other plot, one of the other scientists from the baby shower had been hanging out at the Café Diem. Carter showed up to ask her a few questions, and she excused herself to go to the bathroom. That was a few hours ago. Now, there's a leak somewhere in the restaurant, and they'll have to shut down Café Diem until they can locate it. But don't worry. Zoe is there, and — being Sheriff Carter's daughter — she knows how to put two and two together. She remembers that the missing scientist had gone to the bathroom just before the leaking started. She rushes to the bathroom, and finds the second baby-shower-genius's bloated body, which is leaking water all over the place. Body number two. Mystery still not solved.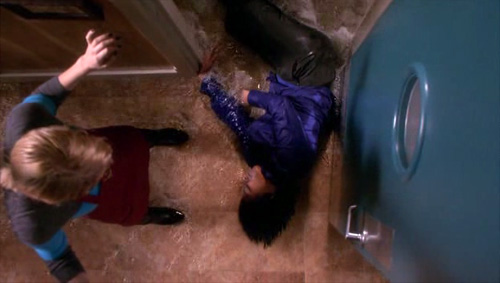 Fargo shows up to confirm that this second scientist also drowned. This is strange. You could understand how a person trapped inside a car full of water might drown (although you would be curious regarding where all the water came from). But how do you explain a person drowning in a bathroom, sitting on the floor, where there is no water… except the water coming out of her body. Carter speculates that, perhaps, her body is producing too much water. Maybe, thinks Carter, her body is producing water faster than her lungs can process it. Fargo replies that he will have to see more evidence before he can accept such an outlandish theory. Of course, right behind him is the body bag, squirting water out of it like Niagara Falls.
We are treated to a double awesome scene which I shall refer to as the battle of the competing "Looks." We already know that Carter has some awesome looks that express about six or seven sentiments at the same time and tend to be totally hilarious. That's why we love him. But Fargo is starting to move in on his territory. Fargo's look is a little less complicated. His looks are more like "I am the comic relief, and if you thought the disgusting burrito gag was funny, then watch THIS." So, we are treated to a battle of the looks, followed by a classic Fargo line: "Maybe I should test the water," suggests Fargo. HA! This guy kills me.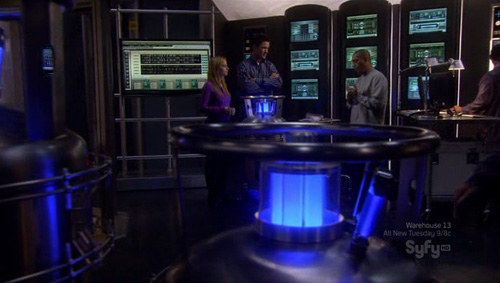 Time for the other plot. Henry, Dr. Manly (I mean Manlius), and Tess are discussing what went wrong with Kim. It turns out that the reason the attempted extraction of data went so poorly is because she is the data. Her cells are falling apart because the data is getting corrupted, and if the data is corrupted, that means she is corrupted. They may not be able to save her, but perhaps they can save the data.
Back to the mysterious drownings. Fargo has discovered that the water being produced by the two drowned women is pure water. No bacteria, no contaminants. You know what that means, right? "No," replies Carter, "what does that mean?" It means the water is synthetic. Dr. Rivers makes that synthetic water stuff in her lab.
"Dr. Rivers makes synthetic water?" Asks Carter.
"Yeah," replies Fargo, "you should meet her."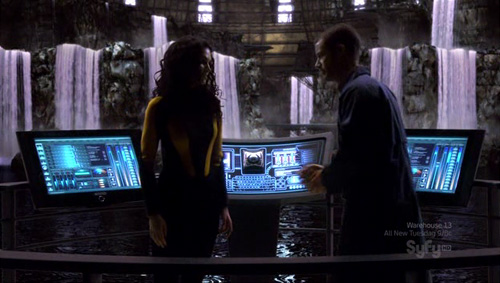 She's totally hot like a river nymph. But that's not important. Dr. Rivers explains that her water is perfectly safe. This doesn't quite reassure Carter, but he's got nothing else, so he'll accept that… for now. Then he asks where the bathroom is. He suddenly has a really active bladder. He heads back home, just in time to start displaying symptoms that seem dangerously similar to the symptoms the dead drowned women were probably feeling. As he complains about retaining water, and having to use the bathroom too much, he asks SARAH to review the super eco-friendly bottles he and the other two women who have died were drinking from at the baby shower.
"They are self-sanitizing," explains SARAH, "they bond to any liquid, then releases 100%, of it." "Like the into the person who's drinking it? Like me?" asks Carter, just in time to pass out.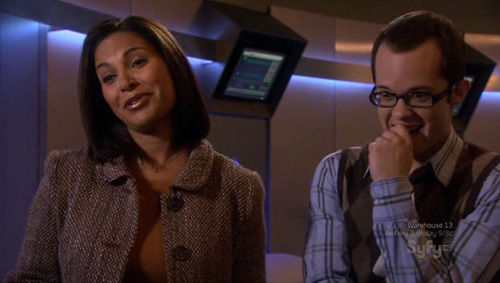 He wakes up in the clinic, assuming that he was a victim of the bottles. But it turns out to be something even more strange. He is the victim of technology enhanced sympathy pains. You know how sometimes the father will feel the same symptoms that the pregnant mother is experiencing? Bloating, gas, pain down there… and stuff. It turns out that when Carter was at the baby shower, he stood a little too close the to baby monitor thingy. The super genius was demonstrating that, if you program it right, the mother will be able to feel what the baby is feeling. She'll feel that the baby is hungry, or needs to be burped, or whatever. But this time, the machine was improperly programmed. So, instead of Dr. Blake feeling her unborn baby, Sheriff Carter is feeling Dr. Blake!
But there is not time to make pregnant jokes at Carter's expense. There is another victim, and this one was not at the baby shower. She's a member of the cleaning crew at Global Dynamics's fitness center. Carter and Fargo rush to the scene. They can't figure out what the connection is.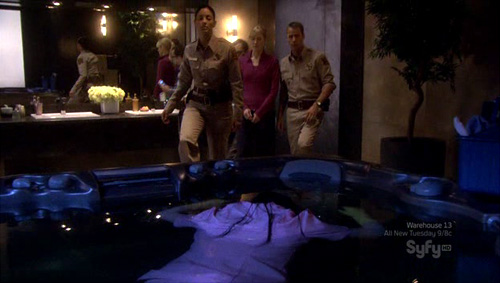 Meanwhile, Henry and Dr. Manly (I mean Manlius) are discussing the fact that Kim's original cell structure had no Earth-centric immunities. Henry had made it that way, because it took up less weight, which is very important in spaceships. The result is that she is unable to survive on Earth, where she is exposed to all kinds of Earth-centric pathogens. Dr. Manlius's idea is to dissolve her in a solution of acid, so they can then access the data stored in her cells. Henry is understandably upset at this idea, since he hasn't had a chance to jump her bones. Tess says it will take her about 12 hours to put together the acid solution, so he has that much time to think up something better.
Back at Dr. Rivers's lab, Carter is explaining that they found out that Dr. Rivers's synthetic water doesn't cause any problems, until it comes into contact with blood plasma. Then it starts expanding. Dr. Rivers explains that it is compressed, and then when exposed to air it expands. This way, you can use it to colonize space, and all kinds of things. One canister of this stuff could provide water for an entire Mars colony. But once it's expanded, it's perfectly safe. Hmm… you can see the gears in Carter's head turning.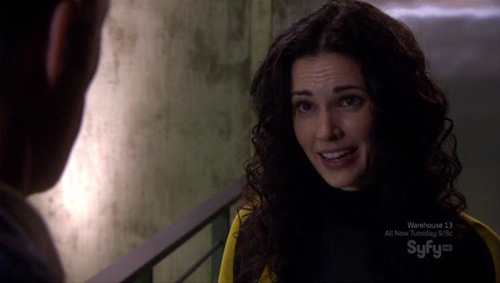 Back to Henry: he had created an antibiotic solution that will both save Kim and retrieve the data. He's got high hopes, but Tess examines it and discovers that it won't work. Carter rushes into the lab and demands to know whether they are using the synthetic water as part of the extract-data-from-Kim expiriments. Yes, they are. It's very efficient, and it's a great coolant. Carter rushes to Dr. Rivers, and they figure out that, if the water is exposed to radiation, this activates the water, and makes it compress. Then, later, it is released, and expands, and it is that expansion that is drowning everyone. They also figure out what all the dead women have in common. They were in the health spa's steam room at the same time. So, they inhaled steam from compressed water. The reason they are all drowning in water is that the synthetic steam in their lungs is now expanding. Even worse, Tess was also in the steam room.
Meanwhile, Henry and Kim are coming to terms with the fact that she is not going to be a permanent character on this show. It's quite a touching scene. Back to Carter — he is rushing to save Tess. She gets trapped in a elevator (because it uses ocular bio-identification, and her water-filled eyes can't be read by the computer), but Carter rushes to her just in time to give her mouth to mouth, and keep her alive long enough to get her to the medical center.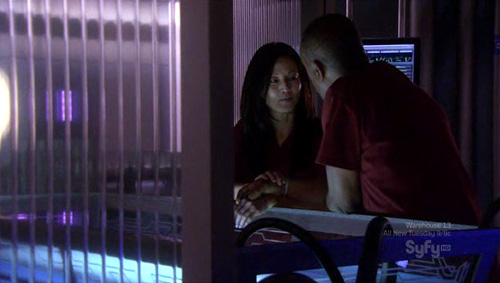 Kim is ready. She's in the acid bath, which looks an awful lot like the stuff that came out of my butt the last time I ate Taco Bell (except without the corn). But she knows what she is getting into. She knows she's going to die anyway, so why not submerge herself in this post-intestinal-chalupa liquid so they can get the data out of her? There is a little sad music, and the experiment goes through, and Kim dies, but at least they get the data.
The good news is that the nutrient bath that Henry had originally developed for Kim will release the radiated synthetic water from Tess's system. At first, it doesn't work, but Tess hangs in there, and it's all good in the end.
The only thing left is to detach the machine that made Carter feel sympathy pains. So, they do that, and everything is okay.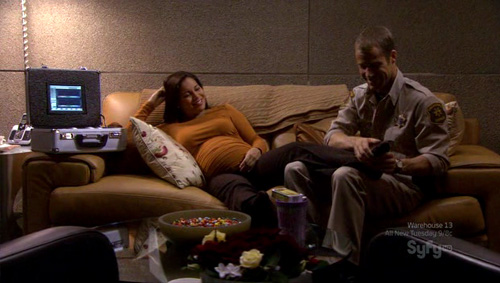 This was not the best episode produced this year. I have to say that the chemistry between Tess and Carter is a bit forced, which makes it difficult to care at the end when Carter was rushing to save her and give her mouth to mouth. The other problem is that Henry and Kim DID have chemistry, but now Kim is dead. Basically, they killed off the romantic relationship that was really interesting, and they kept the romantic relationship that was MEH. Still, the love triangle thing with Dr. Blake/Tess/Carter is interesting, so that could get a little better if they do it carefully.
Also, I have to give props to Joe Morton, the guy that plays Dr. Henry Deacon. He really pulls off the bitter sweet thing at the end. Admittedly, the scene where Kim dies was not that good, because Eureka is supposed to be primarily comedy with some drama, and when you go for too much drama, you nudge your audience out of their suspension of disbelief. So, the scene was not too good, but Joe Morton's acting was superb. He single handedly prevented the scene from being complete crap.