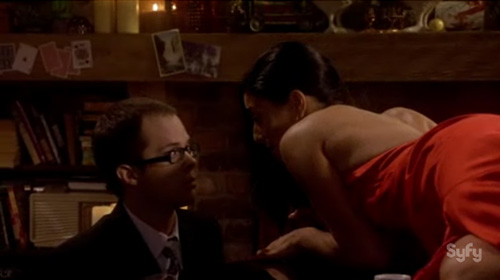 Review: Eureka 3.10 – "Your Face Or Mine"
Original Airdate: July 17th, 2009
Rating: TV-14 (Recommended for people 14 or older)
This episode falls under the "delightful little romp" category. It's a notch down from the previous episode, but the previous episode was the season opener, so I'll give them a little wiggle room. Then again, with such a cool new channel name like Syfy (pronounced by the annoyed masses as Siffy, of course) channel, perhaps I should expect top quality programming every single time.
Anyway, this episode focuses on Deputy Jo Lupo, and it's about time. In the first season, Jo's job was basically to prompt Sheriff Carter every once in a while so it wouldn't seem strange that he was thinking out loud, or give Zoe (yet another) person to whom she could voice her teenage angst. For variety, she occasionally got a line that was some variation of "I like guns." In this episode, however, we get to see Erica Cerra, who plays Jo, flex her acting muscles a bit.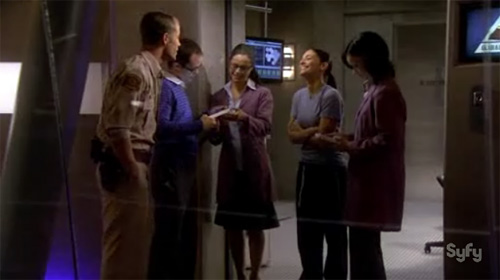 We start off learning it's time for Carter's physical, which, since this is Eureka, will be insane in two ways: insanely difficult and insanely pointless. But it serves as a way to get Carter out of the way so we can put Deputy Jo in charge for the episode, and it is actually pretty entertaining to watch Sheriff Carter (one of the few people in this town with a scentila of common sense) manage his way through a test that manages to be even more pointless than the PSAT (but only slightly).
They cut to Carter in the test room throughout the story, but I'll just describe it right now, so it won't distract us any more. Sheriff Carter walks into the room that has a button on the wall at the far end of the room, and a computerized voice says "push the button." Carter shrugs at how easy this test is going to be and walks towards the wall, and the entire floor falls away, except for one small square that he is standing on. He figures out it's an illusion, and starts walking anyway, but falls down. It turns out there are some other squares he can walk on, but they're invisible, so he won't be able to use them. Then a deck of cards appear, and Carter realizes he can throw cards around randomly, and they will land on the invisible squares, and this will show him how to walk to the far wall and push he button. However, the closest square is still about fifteen feet from the button, so he still can't reach it. Then, a bunch of straws appear. So he makes a long stick out of the straws and tries that. But they don't reach. Finally, he realizes that he can use the panic button. Before he had entered the test room, they had given him a little remote control thingy, and said if he pushed it, the test would be over, but also he would fail the test and lose his job. But he realizes that instead of using it to give up, he can instead throw it at the button, which he does, and he passes the test.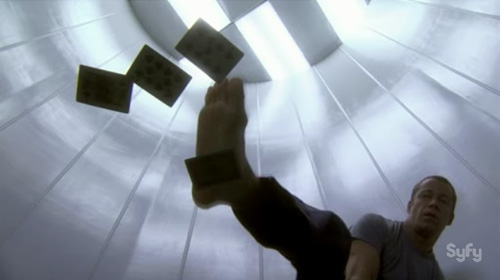 It sounds pretty lame, but Colin Ferguson has gotten so good at playing Sheriff Carter, and the running joke about Carter not being a genius like everyone else in Eureka but being one of the few people in Eureka with common sense works really well, so it's actually pretty funny. Okay, back to the main story:
Jo has just finished the test. She is informed by Julia Golden, one of the technicians, that she got a perfect score. Julia also tells her that not just her test score, but Jo herself is perfect. And she says it in one of those ways that makes you say to yourself "do I have a stalker, and if so, should I brag about it or be afraid… or both?" At least, I assume that's what it would make you say. Nobody's actually said that to me, so I don't know for sure. Either way, nobody notices how creepy she is, but it's a good setup for the payoff at the end.
So Jo returns to duty, temporarily becoming the sheriff, just in time to get the town in trouble. It turns out the Department of Defense wants to test a DNA tracking device. The device catalogues a person's DNA, and then it will know wherever that person is going. It's such an invasion of privacy that, to approve the test, there must be a vote between the head of Global Dynamics, the Mayor, and the chief law enforcement officer. Of course, Dr. Blake, as head of Global Dynamics, votes in favor, the new Mayor Henry votes against it, so Jo is the tie breaker. She wants to prove she's up to the task of being Sheriff while Carter is away, and she figures a sheriff should be primarily concerned with safety, so she votes yes.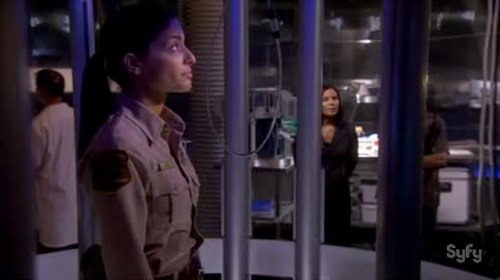 And, as the tie breaker, she gets to go first. She steps into the scanner, which is not supposed to hurt, and screams out in agony when they turn it on. Everyone is concerned, lights start flashing, pandemonium breaks out. But it turns out Jo is okay. It also turns out that someone sabotaged the DNA scanning machine. Of course, Dr. Stefano, the DNA genius guy in charge of the program, doesn't find the sabotage. But Jo does. You know those jokes where you don't get it at first, or don't even realize there is a joke, but then later you are thinking about it, and you're like "oh, yeah, that was a joke," and then you think about it a little more, and you're like "wow, that actually was pretty funny!" This is one of those jokes.
The sabotage is a ripped out piece of circuitry that even my five year old nephew would have spotted. But Dr. Stefano didn't even notice. In fact, Jo spots the sabotage just as Dr. Stefano finishes talking about how he doesn't know what went wrong because he just finished a whole bunch of scans and nothing showed up. It's pretty funny, but it's also quite subtle. I'd like to say to the writers: "nice one, guys!"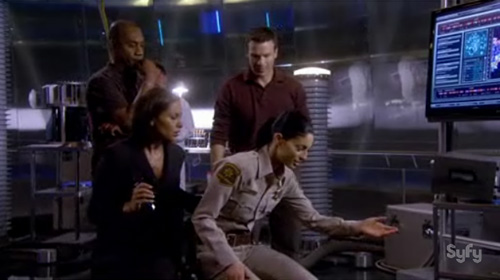 Sorry about all these tangents, I just can't help it. Anyway, back to the plot. Jo says she's going to get right on it, and finds out that someone stole a intramuscular electrode array from Henry's shop. That's two crimes in a few hours! Jo's not doing too good. She is about to get right on that when her PDA reminds her that she has to help Zoe with her homework. Of course, this doesn't work out because Zoe's homework is slightly more advanced than the engineering problems the folks at NASA had to solve to get Apollo 13 back to earth. So, Jo goes to bed.
Cut to a quick scene of Carter, and then back to Jo find out that — wait! Jo decided to go to Café Diem instead of napping. Dr. Blake shows up to to scold Jo for slacking. But not before Jo gets a chance to flirt with Fargo. Wait, with Fargo? Is she insane? Yes, probably she is, because she tells Blake she found the culprit, arrests a random bystander, takes him back to the jail, grabs some giant guns, and heads back to Café Diem. For people who like sultry women in slinky dresses singing sexy songs, this is a great scene, because that's what Jo does next (it's virtual karaoke night). Then she plants one on Fargo! What? Yeah, that's what Jo's boyfriend Zane is thinking. He tries to take her home, but she tells him off and leaves.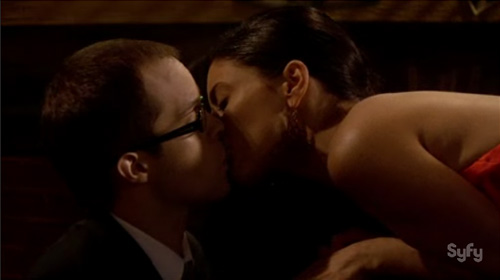 Cut to the next morning. Jo is just waking up, and she has an even worse headache. She doesn't remember any of the craziness. Fargo shows up to give her flowers — she doesn't remember the previous night's tongue fight, so she thinks it's all a joke. A bad, horrible joke. Zoe insists that yes, you did kiss Fargo last night. Jo responds with a great line:
"I've been through my fare share of physical tramas in the last 24 hours, and kissing Fargo was not one of them."
"Ouch," he replies. Ouch indeed!
Cut to Carter's test for a moment, and then back to the jail. Zane shows up to finish the argument from last night, but Jo's getting increasingly annoyed at what she assumes is a town-wide practical joke, and tells him off a second time. She lets the random guy out of her jail. She goes to Global Dynamics and finds out that no, it's not a joke. In fact, they have found DNA traces at the crime scene. The person that stole the crazy genius thingies is… are you ready? Jo! But she convinces them to let her keep working on the case. S.A.R.A.H. confirms she was sleeping all night at Carter's place. How can she be at two places at once? They confront Dr. Stefano, and he confirms that he found two DNA matches, but he kept it secret because he didn't want his DNA program to be delayed (there's that common sense thing kicking in again).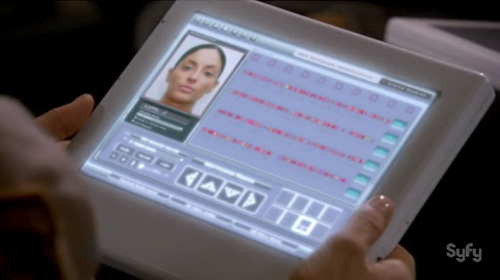 Eventually, Dr. Blake, Henry, and Jo figure out that if the person who sabotaged the DNA machine is the same person who stole Henry's intramuscular electrode array, then someone must be trying to change his — or her — DNA. And they found two copies of Jo's DNA because he — or she — is changing herself into Jo. Who could it be? In a masterful leap to catch up with the viewers, Jo figures out it's the lab technician. The one that has been acting all stalkerish and calling Jo perfect and salivating whenever she's around. Jo tries to confront her, but it turns out Julia planned ahead. She gave Jo time released sedatives. Don't feel bad, Jo. Even Carter doesn't usually set things straight until the end of the show.
So, Julia turns herself into Jo, and turns Jo into Julia. They arrest Jo, who they think is Julia, but Zane asks a few questions only Jo could know, and they figure out the truth. No problem, right? No, we still have ten minutes left in the episode. So, the new problem is that the DNA is unstable. If they don't fund Julia, and turn them back into themselves, then both of them will die! Where could the fake Jo be?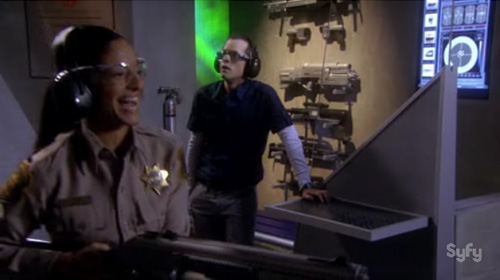 She's on a date with Fargo, of course. They can't find the fake Jo because Julia turned off the DNA sniffer for Jo's DNA. But wait! Jo gets an idea. Find Julia by searching for Fargo's DNA! Good job, Jo. Maybe you've learned a few things from Carter! Cool.
So, with the help of Julia, they figure out how to reverse the process. Julia will have to go before the Ethics Committee, but considering how at the last minute she helped fix things, she can stay in Eureka, on probation. Fargo's reaction is classic Fargo. He's fallen in love. Isn't that cute?
So Carter passes his test, Jo shows she's a pretty good Sheriff, and Fargo gets a girlfriend. To quote Henry: "All's well that ends well."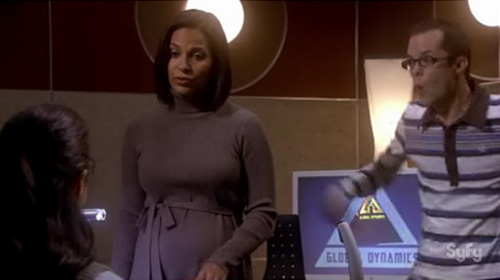 This was a solid episode. It was not a top notch episode by Eureka standards, but it was very good. The real stars of this show were Fargo and Jo. Fargo is getting better and better at being the quirky nerd (which is probably why he is getting more and more screen time). But Erica Cerra is the real star of this episode. She had to play Jo, and play a person who is not Jo but acts like Jo. And, as the acting Sheriff, she had to carry the episode. She did a great job.
The only problem is that the plot was so obvious. Of course, the show is not a whodunit, so it's not a deal breaker when audience is two steps ahead of the characters. But it would be nice to have a couple episodes where you're like "wow, I didn't see that coming. That blew my mind!"