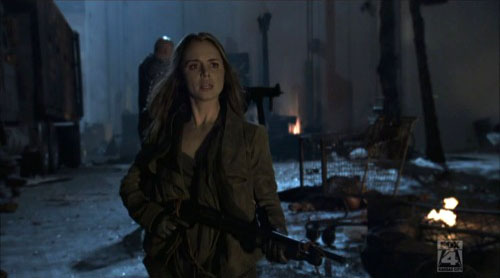 Episode: Dollhouse 2.13 – "Epitaph Two: Return"
Original Airdate: January 29, 2010
Screencaps from burgundy_shoes.
The final episode of the second season of Joss Whedon's sci-fi action television series Dollhouse is intended, undoubtedly, to give viewers everything they could ever ask for, namely resolution.
Resolution of the on-again-off-again romance between Echo (Eliza Dushku) and Paul Ballard (Tahmoh Penikett), the ongoing struggle between the Rossum Corporation's higher-ups and the resistance movement that began in Adelle DeWitt's (Olivia Williams) Dollhouse with actives and Rossum employees like Echo, Sierra (Dichen Lachman), Victor (Enver Gjokaj), Ballard, and even Adelle, and resolution of how Topher's (Fran Kranz) wiping and imprinting technology will ultimately be used. "Epitaph Two: Return" even attempts to resolve — or at least address — viewers' inevitable questions and concerns regarding the fates of some of the series' other memorable characters, such as Alpha (Alan Tudyk), Sierra (now Priya again) and Victor (now Anthony), and Topher Brink.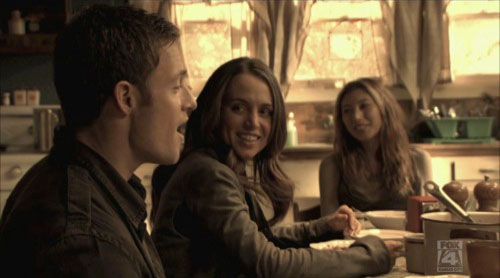 But what's wrong with trying to tie up loose ends for your audience when you know that your show is ending? The problem lies not in the quality of the episode's subject matter, but in the quantity and, it's only fair to point out, this is also partially Fox's fault. First things first: as a huge fan of Dollhouse, I purchased the Season One DVD set the day it came out last year so that I could watch the two never-aired episodes of the show, the original pilot and the thirteenth episode, titled "Epitaph One." Aside from lamenting the fact that so many Dollhouse fans would probably never see these unreleased episodes, the ramifications of failing to air the final episode of the series's first season on television didn't hit me until several days after the season two finale aired on Fox.
While I was having a conversation with a friend and fellow Dollhouse enthusiast, she commented that she felt completely lost while watching "Epitaph Two: Return" and wondered if it might have something to do with never having seen the final episode of the show's first season. That's when it hit me: Fox aired the second half of what is basically a two-part television episode without airing the first half.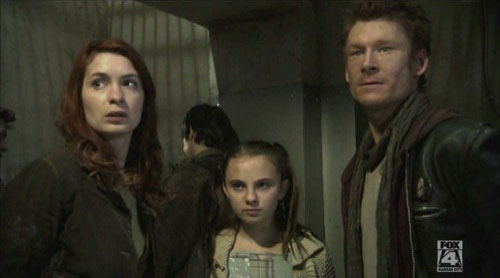 Granted, the two halves are separated by twelve episodes of Dollhouse, but you'd think that the least Fox could do would be to give Dollhouse one final two-hour block and air "Epitaph One" with "Epitaph Two: Return." Since this probably never crossed the minds of the powers that be at Fox, be warned: if "Epitaph Two: Return" is sitting on your DVR waiting to be viewed, then be sure to track down a friend who owns the Season One DVDs or find somewhere to download or watch "Epitaph One" online before you finish the second season of Dollhouse.
In addition to suffering the effects of poor scheduling decisions, "Epitaph Two: Return" draws both its strengths and weaknesses from its attempt to resolve virtually every unresolved relationship and conflict that remains after the events of episode 2.12, "The Hollow Men." The number of loose ends that "Epitaph Two: Return" tries to tie up in a single episode is a strong indicator that Whedon had a lot of plans for Dollhouse's third season and, upon discovery that a third season would never happen (at least not on Fox), tried to appease his audience and fans with a satisfactory degree of resolution for their favorite characters. Keeping that in mind makes it much easier to accept how thoroughly packed the episode really is and to focus on the quality of these resolutions rather than being wrapped up in how little time is given to each by necessity.
Most of our readers have probably watched "Epitaph Two: Return" already, but for the few that were on the fence about the series or haven't caught up yet, I will refrain from actually listing any of the episode's outcomes in detail. Suffice it to say that once again Eliza Dushku's character is outshined by her many costars, in particular by Fran Kranz's performance as Topher, the reappearance of Alan Tudyk's character, Alpha, and the introduction of several new characters, including Priya's son, T (Brandon Dieter), two "tech-head" companions of Victor/Anthony's named Romeo (Christian Monzon) and Kilo (Maurissa Tancharoen), and the reintroduction of Zack Ward and Felicia Day's characters, Zone and Mag, from "Epitaph One."
The events of "Epitaph Two: Return" take place in 2020, ten years after the events of the previous episode. In this future, Rossum has succeeded in creating and using a remote wipe process that leaves the world's population divided into three factions: "actuals," or people who have managed to retain their original personality without being wiped or altered by the tech; mindless zombies that the actuals call "butchers" who are programmed to do nothing more than kill; and "dumbshows," or people who remain in the "doll" state after their original personalities are removed by a remote wipe.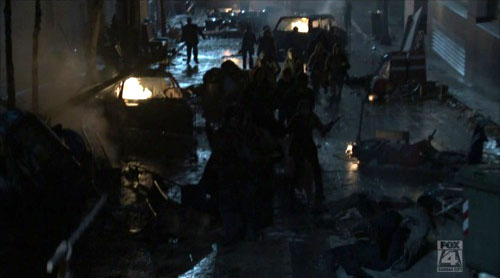 Chaos reigns in 2020 and the world that exists is far from the paradise that the Rossum Corporation imagined, due in large part to the events of the previous episodes — the efforts of Echo, Adelle, Topher, Ballard and the others to take down Rossum back in 2010. The post-apocalyptic landscape that "Epitaph One" and "Epitaph Two: Return" create is not only a complex one, but one that could easily be the backdrop for an entire season of Dollhouse (perhaps this was Whedon's intent?)… or even a spinoff, perhaps? It's unfortunate that audiences are only given this brief glimpse into the world created by Topher's tech because, as painful as it may be to watch our favorite characters struggle for their lives, it does answer some questions as to the outcome of Echo's fight against the Rossum Corporation.
I highly recommend that you watch the season two finale of Dollhouse, but as I mentioned before you should try to check out "Epitaph One" before watching "Epitaph Two: Return" and be sure to keep in mind that there's a lot going on in the season two finale and devoted fans might want to watch it a couple times.
Fun Fact: Clive Ambrose is played by Eliza Dushku's older brother, Nate Dushku, in "Epitaph Two: Return."
Rating: 3.5 / 5 Stars