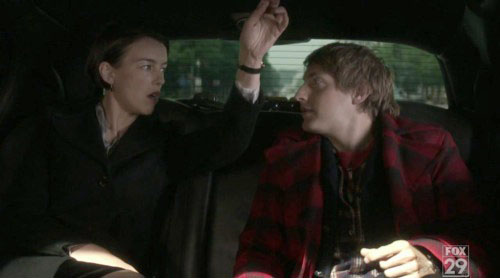 Episode: Dollhouse 2.06 – "The Left Hand"
Original Airdate: December 4, 2009
Screencaps from burgundy_shoes.
Paige catches us up on previous Season 2 Dollhouse episodes before the series finale on January 29.
In episode 2.06, "The Left Hand," both DeWitt and Topher travel to the D.C. Dollhouse to retrieve Echo, hoping to gain some insight into the imprint the D.C. Dollhouse is using on Senator Perrin in the process.
Since Topher is the only programmer in the L.A. Dollhouse, he imprints an active, Victor, with his own persona, allowing Topher to be in two places at once. As audiences have seen in past episodes, Enver Gjokaj's talent shines whenever he is given a new persona to play and his portrayal of Fran Kranz's character is no exception. The interactions between Topher and Victor-as-Topher are highly entertaining, especially given how accurate Gjokaj's portrayal of the jittery, fast-talking genius behind the Los Angeles Dollhouse's impressive tech developments is when compared to the real thing (in several scenes throughout the episode Topher and Victor-as-Topher speak to one another on the telephone, thus providing viewers with a direct comparison of the two). Time and time again, Gjokaj's role as Victor affords the actor opportunities to highlight his superb acting abilities, and the transformations that Gjokaj's character undergoes throughout the series are so real, so palpable, that he makes the tech believable. By the time Topher has Victor back in the chair to wipe him back to "doll" state, however, audiences won't be too sad; there is such a thing as too much Topher.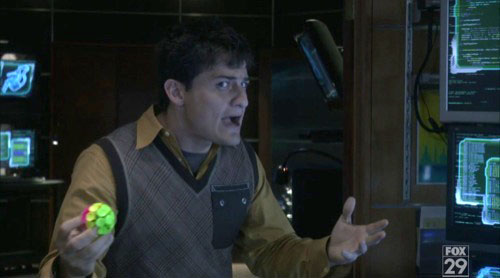 In addition to highlighting Gjokaj once again, "The Left Hand" reveals a number of surprising facts and proves several of the inferences we made about Bennett Halverson and Echo/Caroline's previous relationship — whatever it might be. Just as we guessed, Bennett's feelings towards Echo are deep-seated and far from friendly. It's unclear why or how, but Caroline — Echo's original persona — is responsible for the severed nerves in Bennett's shoulder that make her left arm useless (and given the type of precision work that Bennett conducts on a daily basis, it would be extremely beneficial to have two working hands and arms instead of one). What happens when a socially awkward, betrayed and angry neuroscientist with a busted arm finally has a shot at revenge? She takes it, using her special talents to their fullest, and most painful, extent. Summer Glau's portrayal of Halverson is exceptional, given the character's multifaceted personality and emotional instability. She is an excellent addition to Dollhouse as the series expands its boundaries outside of Los Angeles and into the realm of other Dollhouses and Rossum Corporation missions, though whether or not she will continue to play such a large part in the series remains unclear.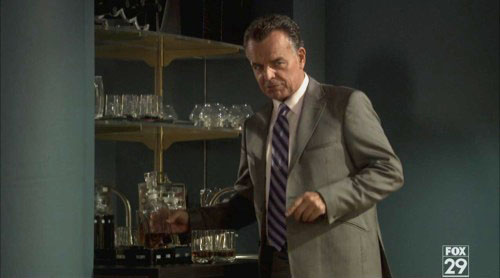 The introduction of the Washington, D.C. Dollhouse's head — the individual in D.C. who is the equivalent of Adelle DeWitt in Los Angeles — is a man named Howard Lipman. Lipman, portrayed by Ray Wise (Reaper, 24, Good Night, and Good Luck), is a delight to watch, particularly during his somewhat sleazy interactions with Adelle. Perhaps not the greatest actor — his role as Howard Lipman on Dollhouse is strongly reminiscent of his role as the Devil on Reaper — Wise is nevertheless an interesting addition to the show despite the fact that he only appears in this particular episode. Aside from a handful of visitors to the L.A. Dollhouse, audiences are given very little sense of what the other members of upper management in the various Dollhouses run by Rossum might look like, and now that they are exposed to another Dollhouse head in his own environment it's much easier to understand why Adelle often appears to stand alone within the Rossum Corporation.
"The Left Hand" is a clear indication that the momentum of Dollhouse is speeding up in the second season and it looks as though we might see some series action towards the end of the season. For now, however, we will have to wait and see how Echo's trip to D.C. pans out and what action the Los Angeles Dollhouse employees decide to take.
Rating: 3.5 / 5 Stars