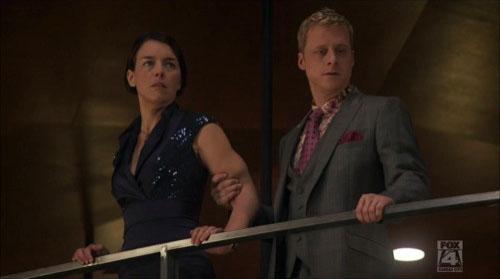 Episode: Dollhouse 2.08 – "A Love Supreme"
Original Airdate: December 11, 2009
Screencaps from burgundy_shoes.
Paige catches us up on previous Season 2 Dollhouse episodes before the series finale on January 29.
"You see, in the Dollhouse, things aren't always what they seem."
– Adelle DeWitt
After episode 2.07, "Meet Jane Doe," it is unclear which direction season two of Dollhouse will take. DeWitt (Olivia Williams) is once again in charge of the Los Angeles Dollhouse, but regaining her position has failed to stabilize her emotionally; instead, DeWitt is straddling the line between the cold, calculating demeanor needed to run the Dollhouse and a display of vindictive cruelty aimed at the individual she deems most responsible for all of the unpleasant recent events: Echo (Eliza Dushku).
In order to establish control over the Dollhouse once again, DeWitt must rein in her employees and actives, but the attitude she displays towards several of the house's actives, including Echo and Victor (Enver Kjokaj), leads Topher (Fran Kranz), Boyd (Harry Lennix), and Ballard (Tahmoh Penikett) to question both Adelle's motives and her loyalties.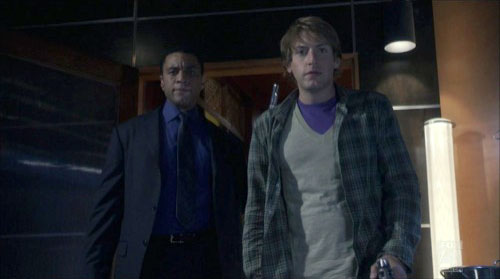 But now Alpha is back.
The return of Dollhouse's most notorious character could not occur at a better time, even if the bittersweet reunion leaves "A Love Supreme" feeling a bit fractured. Alpha (Alan Tudyk) embodies the epitome of a wide range of characteristics — the result of a self-inflicted personality disorder created when the former Dollhouse active imprinted himself with every existing personality in the Dollhouse database. Alpha is at once charming and psychotic, brilliant and homicidal. Fixated on Echo, Alpha proves time and time again that he will do whatever is necessary to be the object of her affections.
Since the beginning of season one, Dollhouse was obsessed with the possibility of a romantic relationship between Paul Ballard and Caroline/Echo. From the start, Ballard's obsession with finding the Los Angeles Dollhouse was fueled by his desire to find and rescue Caroline, and despite numerous thinly-veiled indications that led audiences to believe that F.B.I. Agent Paul Ballard was falling for a woman that he had never met — a modern-day damsel in distress — the show refused to address the issue head-on, making it the perpetual elephant in the room.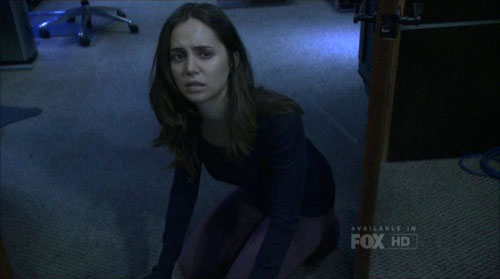 Once Ballard discovered the Dollhouse and eventually became involved in its day-to-day operations, his feelings for Caroline/Echo became even more frustrating for viewers as he continued the charade and pretended not to care about the woman he had sought for so long. When the tables are turned in "Meet Jane Doe" and it becomes clear to audiences that it is Echo who is in love with Ballard, the former F.B.I. agent's unwillingness to recognize the affection she displays for him is frustrating, to say the least.
This frustration ends with Alpha, however. Although many of Echo and Ballard's colleagues and friends are savvy enough to recognize the situation, it is Alpha who finally provides viewers with some sense of resolution by exposing the issue. Alpha's obsession with Echo exceeds that of anyone else in the series, rivaled only by the Rossum Corporation's preoccupation with the Los Angeles active, and his utterly uninhibited nature makes him the perfect character to confront Paul about his feelings for Echo and the attachment to him that she has developed. Of course, Alpha's interrogation techniques are both extreme and invasive and, ultimately, he is left without an explanation for why Echo loves Paul above any of the other men she was programmed to love, including him.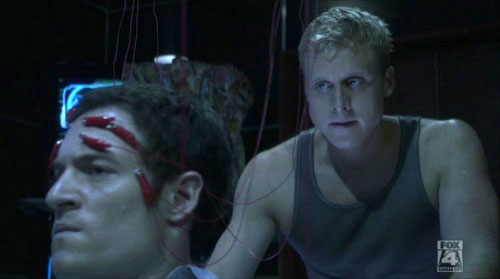 If "A Love Supreme" is intended to engender feelings of animosity towards Alpha and to establish a sympathetic relationship between Echo and Paul, then I have to say that it fails miserably. While the romance between Victor and Sierra (Dichen Lachman) is so heartwarming and innocent that viewers will find themselves rooting for the couple, Echo's attachment to Ballard comes across as little more than misguided and pathetic, especially once Alpha is finished with him. In fact, Alpha's cruel but intense struggle to determine what love really is and how it happens will leave some viewers feeling sorry for the deranged, desperate character. Of course, when Alpha turns all of the Dollhouse's actives into killing machines and sets them loose on the employees — including DeWitt, Boyd and Topher — you do lose a certain degree of sympathy for him. But Alpha is an endearing serial killer whose schizophrenic mood swings, evil plots, and manipulative behavior bring a delightful amount of action and mystery to Dollhouse as a series. Perhaps unexpected, it is nevertheless inevitable.
After all, in the land of chaos, Alpha reigns supreme.
Awesome Quote:
Topher: "I am obsolete. This must be what old people feel like… and Blockbuster."
Rating: 4 / 5 Stars