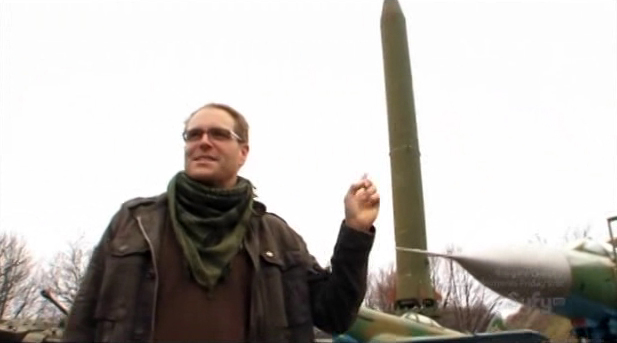 Episode: Destination Truth 3.04 – "Ghost of Chernobyl/Sal'awa"
Original Air Date: September 30, 2009
In this episode, the team investigates the ruin city of Prypiat in Ukraine and an Egyptian village that's being terrorized by a Sal'awa. Dude. Chernobyl. I was super stoked about this episode. While the first case was interesting, the second case quickly turned this episode into my least favorite of the series.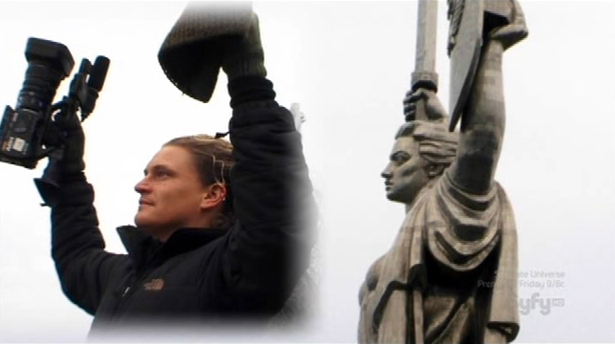 This will be the first time anyone's done an overnight paranormal investigation in the city of Prypiat. It being radioactive and all probably has a little something to do with that. In order to get there, the team will have to get past three checkpoints where they could be denied entry and deported, despite getting the okay to investigate. I guess it has something to do with the team being American and having professional video equipment with them because Americans with video cameras are the most dangerous of Americans? I'm not sure why that would get them denied access, as Josh suggests, but they should have been worried about the baggage handlers at the Ukraine airport (their gear was trashed and strewn all over the baggage carousel). After getting everything collected and packed back up, they jump in the Soviet Mystery Machine and do the usual checking out of the local sites.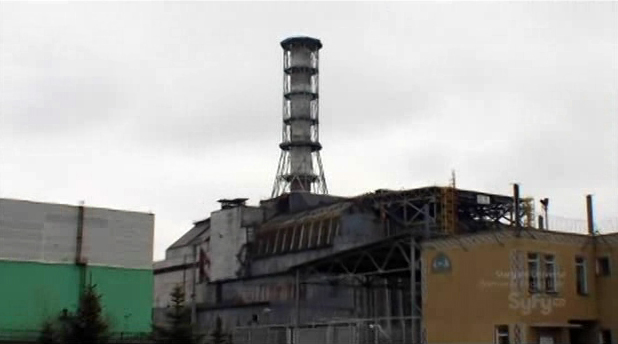 They make it through all three checkpoints (picking up a soldier at the first one who shows them how to work some radiation detection equipment and kind of flakes on them when translating for a guy who walks the actual city), stop at the cafeteria that's still up and running to feed the skeleton crew working the area, and talk to a former resident of Prypiat who told them to focus on places children would have been if they want to see spirits. They finally make it to the city, their soldier leaves them for the night, they suit up, and proceed to do their thing.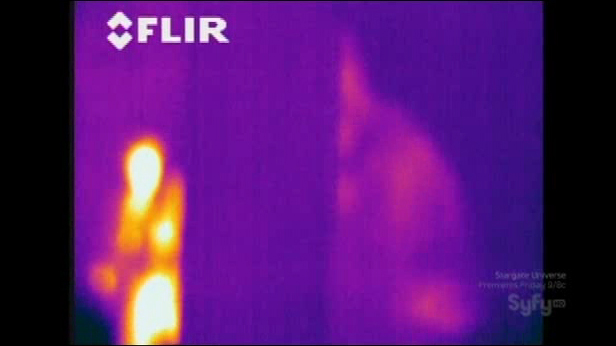 Josh and Jael (anyone else get the feeling she's Josh's girlfriend?) hit up the hospital because that's where the guard saw whatever he saw. They leave the rest of the team to set up base camp because they've only got a few hours to work before they get too much radiation exposure. While at the hospital, they experience loads of equipment problems. Batteries draining, cameras going on and off on their own, weird stuff that might have been caused by all the radiation in the area. They do catch two thermal hits before the Geiger counter goes hot and they have to leave the building.
They go back to base camp, then right back out to walk around the city. They walk through an amusement park where Jael thinks she sees someone in the bumper cars and they get another major Geiger counter spike (that seems to happen whenever they think they see something paranormal). That amusement park was creepy and sad; the whole city was, to be honest. Around this time, Rex picks up a small thermal hit that leads them into what seems like it was a school. Mike messes around with a piano in one of the rooms, running his finger along the keys before heading into the next room. As soon as everyone's out of that room, a series of high notes goes off on the piano. Before the dosimeter sounds all alarms and they all have to haul ass out of the city, Josh thinks he sees a large shadow, there's the sound of a bottle falling off a desk/shelf, and Jael runs out of a room screaming because she feels something pull her hand. She does a lot of screaming on this show. Like, True Blood amounts of screaming. They take the evidence to Jason and Grant from Ghost Hunters, and the only really impressive thermal hit is the one above.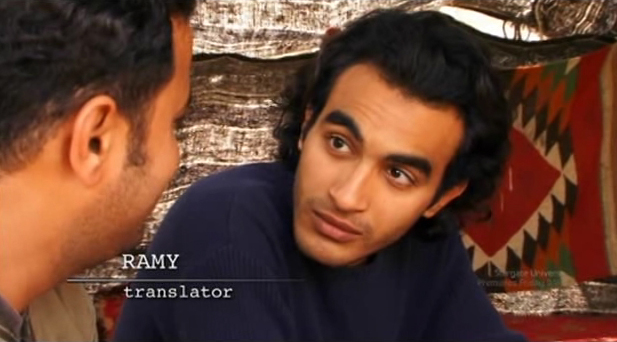 The second case is back in Egypt where we get to see the Egyptian Fabio again! Okay, this is what I hate about these shows (besides the fact that they have to tell us they're getting their plane tickets from Orbitz): Why don't they do all the Egypt cases in the same episode? We all know that's what really went down. They didn't do Egypt, then come home, then go to Ukraine, then come home, then go back to Egypt. Anyway, the team heads to the village of Armant where there have been a string of animal attacks in and near the sugar cane fields there. A Sal'awa (big, scary wolf thing) is being blamed for them.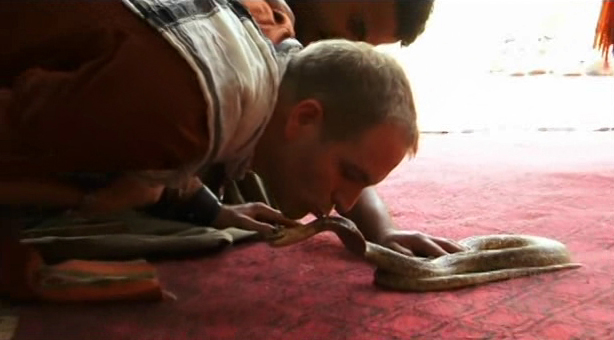 They don't get Josh to eat a bull penis this time around, but they do get him to make out with a cobra. Actually, they were talking with an "animal bounty hunter" who had been sent out to the village to try and hunt down the Sal'awa. He tells Josh that it'll eat him if it finds him. Once they get to the village, the villagers themselves are absolutely convinced that this mythic creature is responsible for the attacks and not a feral dog or wolf (I didn't even know Egypt had wolves — the more you know).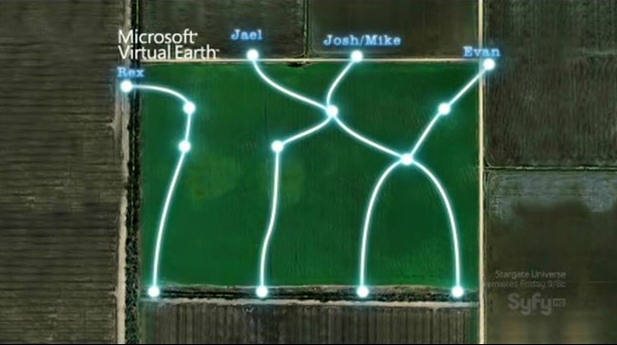 So they get to the fields, and head out there at night without any kind of weapon because they'll just use strong language if they come across a meat eating wild animal. Who walks around an area where there are animal attacks happening and doesn't bring, at the very least, a very, very large stick with them (I only saw one of them with a stick). While Josh and Jael are out doing the initial sweep, they come across a pile of crap that they bag (I know, I know, but they're being scientific and need to take something back to analyze), and a print that looks dog-like. Josh then tells Jael to walk around on her own to see if she can find out what might have left that print in the mud. Seriously? She wanders off, hears growling, and what's her course of action in response to a wild animal growling at her in a sugar cane field where people are being attacked by wild animals?
She runs away and screams.
I'm not even kidding you. I totally lost my crap at this one. I mean, seriously? From then on, this case just got more and more ridiculous for me. They all head into a field to try and flush out whatever they hear growling in there by splitting up and attempting to walk from one end of the field to the other. Halfway through their walk, they do get close enough to something real nasty (but distinctly dog) sounding. They all actually make it out of the field without being maimed or dragged off into the wild.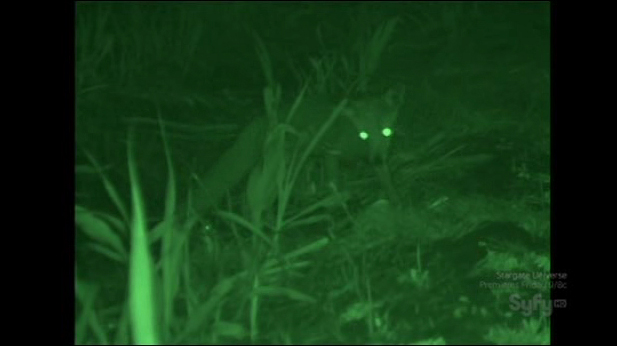 All the evidence they collect suggests that it's not anything paranormal stalking the fields. The poop, the print, even that little fox stealing the bait all suggest that it's wolves, fox, or feral dogs making the sugar cane fields their hunting ground.