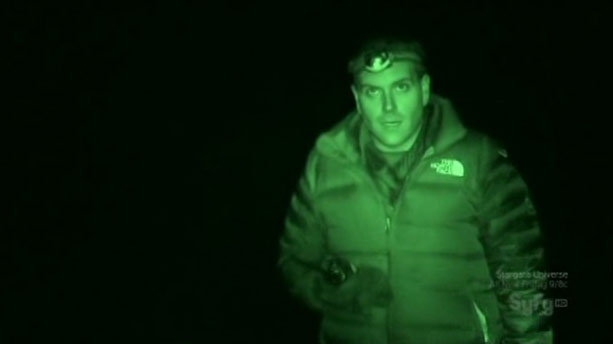 Episode: Destination Truth 3.08 – "Werewolf/Arica Monster"
Original Air Date: October 28, 2009
Werewolves and dinosaurs. I mean, what could possibly make this episode better? Oh, wait, that's right. If something interesting actually happened.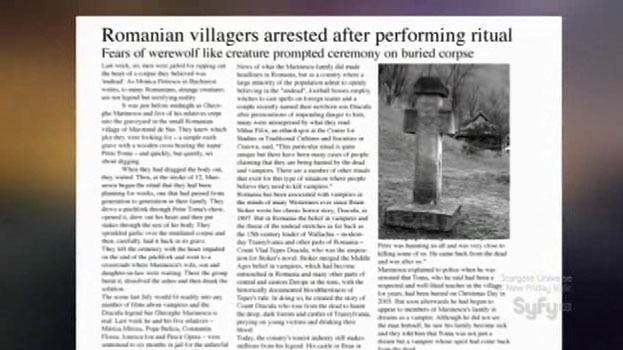 First case is checking out the forests of Romania for werewolves. Not just the home of the vampire, Romania also is maggoty with werewolves. Recently to whenever this episode was filmed, the locals of a town dug up a corpse, removed its heart, and drank its blood in an arcane ritual to ward off werewolves. That is so unsanitary; didn't these guys ever read Interview with the Vampire? You're not supposed to drink the blood of a dead man. Duh.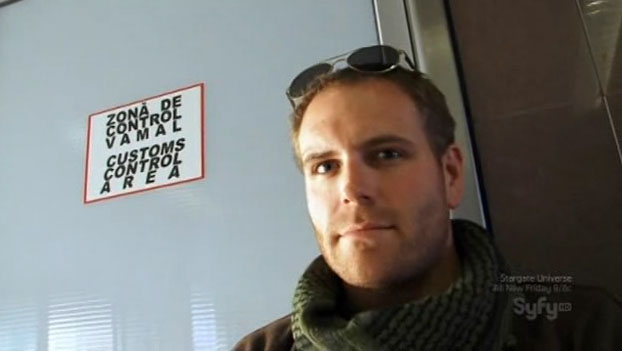 Anyway, the team heads out to Bucharest and promptly gets detained at customs for a bit. I guess if you put down "werewolf hunting" as your purpose for being in the country, and you don't look like Hugh Jackman, the local officials are going to have some questions for you. After that, they speak with a Romanian anthropologist and werewolf expert. He informs Josh that the werewolf tradition/belief is pre-historic in Romania, and points them in the direction of the most recent activity for sightings. They make a mad dash to the one train that heads to the back forty of Romania, barely making it in time, and the Hogwarts Express takes them from Bucharest to Sibiu.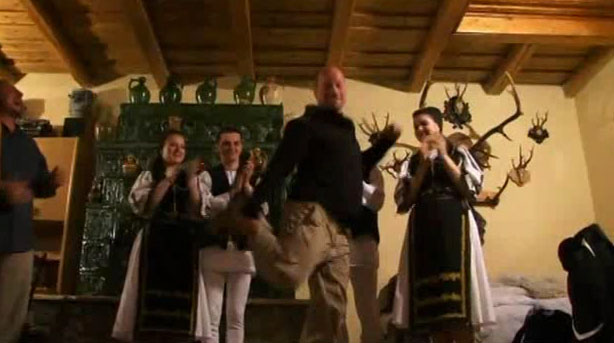 They find a place to stay the night in Sibiu, where the owner not only feeds them but brings in live entertainment for them! You know a party's about to happen when a guy with an accordion walks into the dining room (I'm not even joking about that). After a good drink and dance, they all get down to business. The owner talks to them, giving them a better understanding of the local feeling about what's happening in the woods (i.e., they are so scared, they've abandoned villages), and tells them to head to the city of Brad. It's near one of these abandoned villages where a lot of recent sightings have occurred.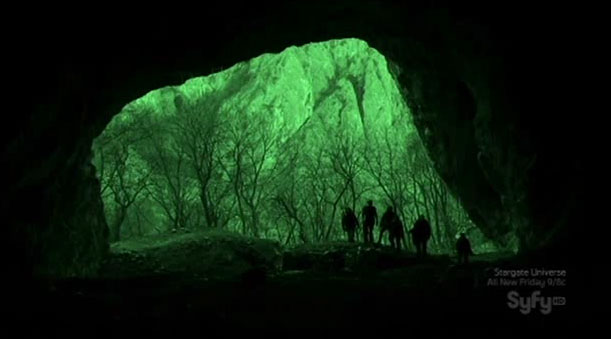 Once there, they check out the local wolf reserve to see what the actual Romanian wolves look like (they get put into the enclosure with the wolves, but no one was maimed), and talk with the locals some more. Afterward, they head to the cave the owner of the B&B told them about, which is located at the top of a treacherous-looking rock wall. They snoop around it for awhile, find some "human" bones that Josh assumes are pre-Roman in age and some hair samples. Outside the cave, they run into a villager who gives them a ride in his horse-pulled wagon to their next stop (the team bitches pretty loud about how bumpy the free ride is and that was kind of annoying).
Once in the spot they plan to spend the night investigating, they do the usual set up and spread out. In the woods, Josh picks a hit up on the FLIR near the river/creek and his group goes running after it, shouting and crashing through the brush loudly. This aspect of their "investigation" method is SUPER aggravating. If you're tracking something, animal or cryptozoological, it makes no sense to me to be yelling and shouting and running after it in the woods if you actually want to see it. But that's just me.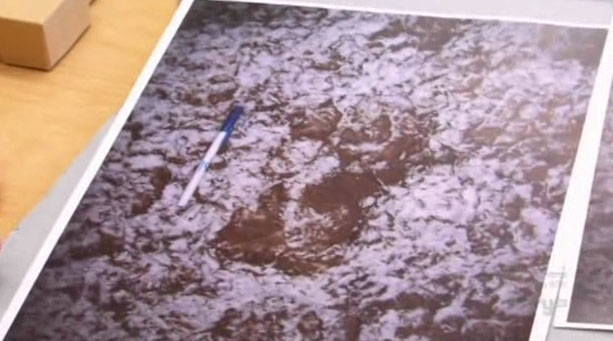 Out with Jael and Bicha, a print is found, but Jael gets sick and can't do anything anymore and needs to head back to camp. So Josh has to go back to the spot and make a cast of the print. Again, they hear howling and go chasing after it. This time, though, Evan takes a header down a hill and that pretty much ends the investigation (or what we see of it). Back in L.A., the hair sample turns out to be Romanian wolf fur, and the casted footprint a canid footprint. The pictured footprint (when they found this one, I don't remember) is much bigger and harder to identify. Which means the expert said he didn't know what it was and that was that.
Second case is in the desert of Arica, Chile, where there have been loads of sightings of a dinosaur-like creature. Unlike most of the monster sightings the team has investigated this season, no one's actually been attacked by the dino. So that's a plus for the locals!
The team gets into town, where they meet up with a local paleontologist who talks with them about the monster sightings and suggests they talk to other locals about what they've seen. Before they can do that, they run into an entertaining local custom: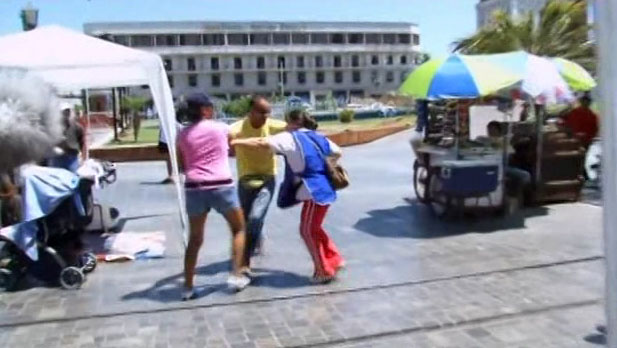 GIRL FIGHT AT THE OUTDOOR MARKET!!!!
After that awesome display of the fury of an angry Latina, they talk to two more eyewitnesses and head out to the Pampa Ancha area where most of the sightings have happened. They try to take a plane up and over the area, but the hamster generating the electricity to the engine isn't in the mood that day and Josh decides not to tempt fate by flying in it. They procure a number of 4-wheelers and head out into the desert. While out there, they find a 3-toed print on a hill and decide to investigate the area around it. The usual stuff happens: they get a FLIR hit, hear noises, fall down the sides of hills, and find decayed animal parts and piles of crap (which Jael sounded a little too happy about finding — could she have been as bored filming this ep as I was watching it?). Before they wrap up the investigation, they chase something through some brush and into a river, never actually getting a good look at whatever animal is was.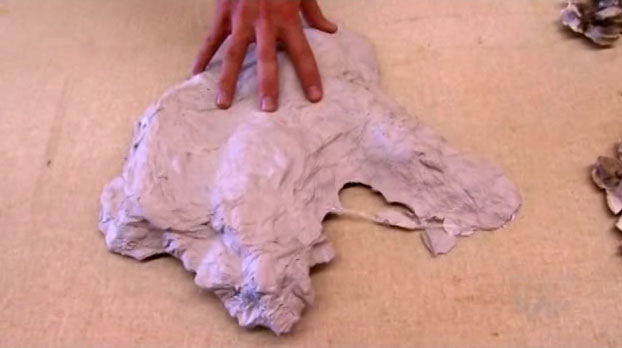 As for the evidence, the footprint is from a carnivorous dinosaur that probably walked through the area last some 3 bazillion years ago. The paleontologist Josh talks to thinks the monster of Arica is most likely a rhea, which just so happens to have a very similar 3-toed foot to that of the monster.
Rating: 2.5 / 5 Stars