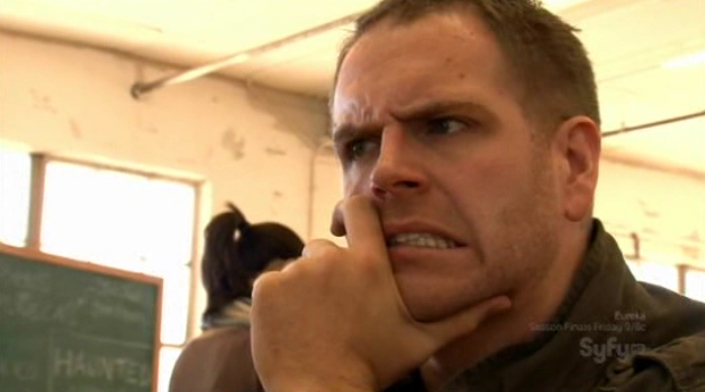 REVIEW: Destination Truth 3.02 – "Island of Dolls/Lusca"
Original Air Date: September 16, 2009
Rating: TV: PG (Parental guidance suggested)
Holy crap. This episode should have been titled Destination Truth 3.02 – "Everything Summer Has Nightmares About." I'm not even joking about this. If there's two things that make me puke in my mouth a little, it would definitely be dolls and bodies of water you can't see the bottom of. Wouldn't you know it? This second ep is all about that! While there's never any definitive proof found in any episodes of Destination Truth, there's usually always some creepy stuff happening wherever they go and it's always colored with lots of great humor from the team members.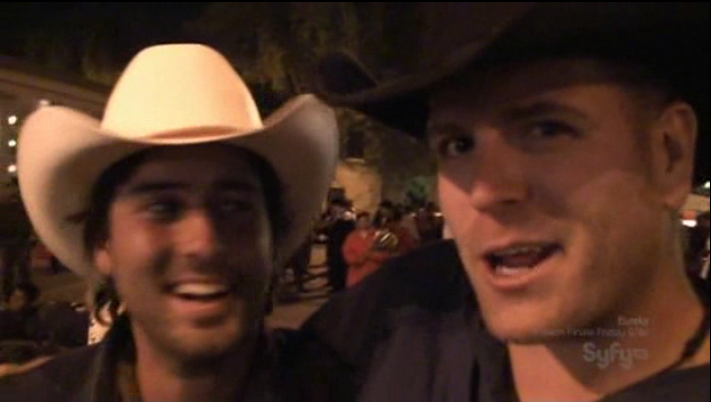 Their first stop is an island 18 miles outside of Mexico City that is covered in the crackiest dolls ever. The original owner/caretaker of the island started putting the dolls around the island to ward off the spirit of a girl that had drown in one of the canals on the island. Recently, that caretaker was found dead, having drowned in the same canal the girl is supposed to have. Now his ghost is said to be there too. But first, the team needs to "investigate" the local scene (which was referred to as the Three Amigos casting party). They load up on beer, tequila, dancing, and cowboy hats, and call it a night.
The next day, they start the real investigation. They stop to chat with a local paranormal researcher who's been following the island's story, then head out to ask the current caretaker's place to ask permission to go to the island. Of course, the car breaks down because it wouldn't be an episode of Destination Truth if a vehicle didn't break down at least once. Eventually, they make it to the caretaker, who gives them the go ahead to investigate the island. He tells them to be careful and bring traditional offerings and a doll to the island to appease the spirits. In the shopping district, they actually meet a lady who's been to the island and tells them exactly what they'll need for their shrine (a doll, unlit candles, and some hard candy). Before they head off to the island, they find out that Mike got cornered by some lady. She put three stones in his hand, sprayed him with "holy cologne," and blessed him for life. Turns out, he needed it later that night.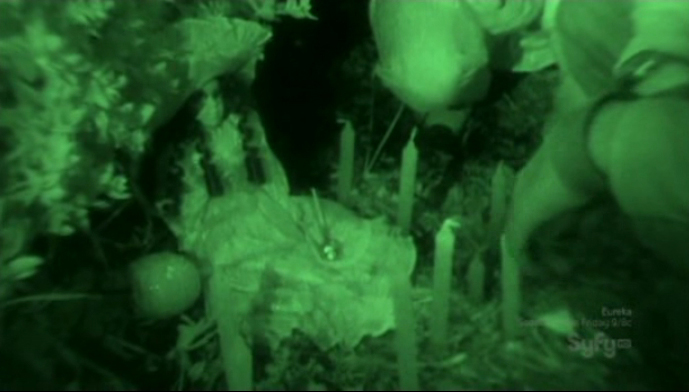 They make it to the island, set up the equipment and base camp, and Josh and Jael head off to put the shrine together. The idea is, you put the offerings out where the girl drowned and her spirit will show up. As soon as the offering is set up, Jael says that she thinks the spirit knows they're there, Josh replies with a smartass comment, and immediately there's movement in the water behind them. As if an entire island of mutilated dolls weren't creepy enough, now there's something in the water. Fantastic.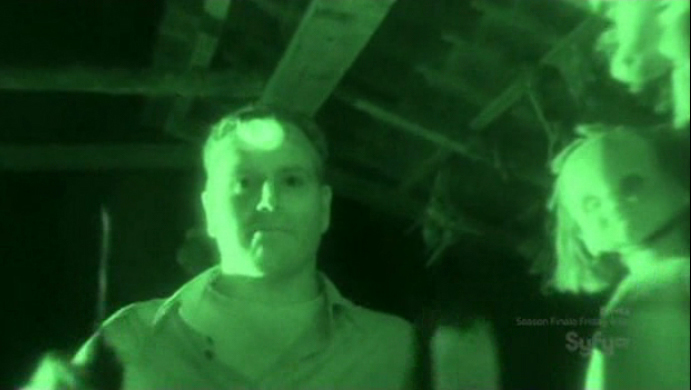 They head into a shack, checking the EMF readings in the place, and the thing starts to go nuts. In one area, around one certain doll, the reading are very high. This is about when I totally peed myself: All of a sudden, one of the doll's eyes OPENS ON ITS OWN. I'm not even kidding you, I would have swum back to the mainland at that point. I would not have cared about leaving everyone else there or the fact that I would have to swim in water I couldn't see the bottom of. I would have sprouted wings and flown my rear end back home. Obviously, this is the shack they needed to focus the rest of the investigation on.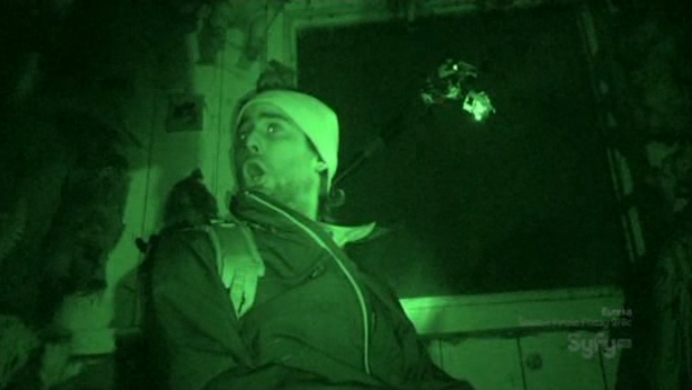 One by one, each member spends 30 minutes, without any lights, in the shed. Gabe and Jael split the first hour, and nothing happens. Josh goes in for his time, starts asking questions out loud, and the activity starts popping. Nothing major spooky happens, and Mike comes in to take his place. This is when all Creepy Doll Hell breaks loose. He isn't in there for long before he starts hearing bangs and dragging sounds all around him and sees something moving around outside the shack. Minutes before his time is up (and after asking the spirits if they should be afraid of the island and should leave), he totally bails.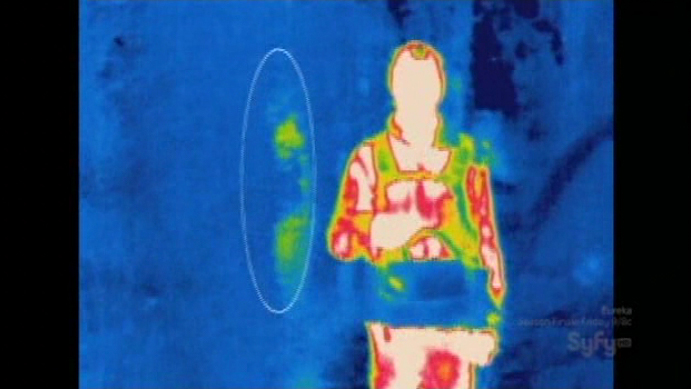 Josh and Mike go back out to see if they can catch anything with the FLIR (like the shape of animals or people) that could have been making the noises. They don't catch any obvious animal/human shapes, but they do catch a couple of interesting images (both were caught behind Mike). The first was this kind of human shape on the tree trunk directly behind Mike. The second was of three round shapes across the canal from them. Nothing else happens and they eventually head back to The States to go over the evidence they caught.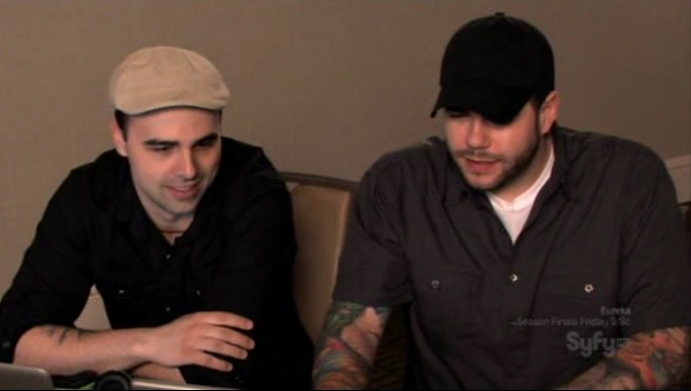 They catch two EVPs of a low, very creepy voice saying "leave" (once when Josh was in the shack and once when Mike was hustling out of the shack). The rest of the footage is taken to Steve and Tango from Ghost Hunters (my three favorite paranormal investigators in the same show at the same time — AWESOME). They aren't completely convinced that the thermal image stuck on the tree trunk is paranormal because it's pretty much on the tree trunk and not "free floating," but overall consider the evidence to suggest that the island is haunted. Nuke that site from orbit, Mexico. I'm serious. We don't need possessed baby dolls spreading to the rest of the world!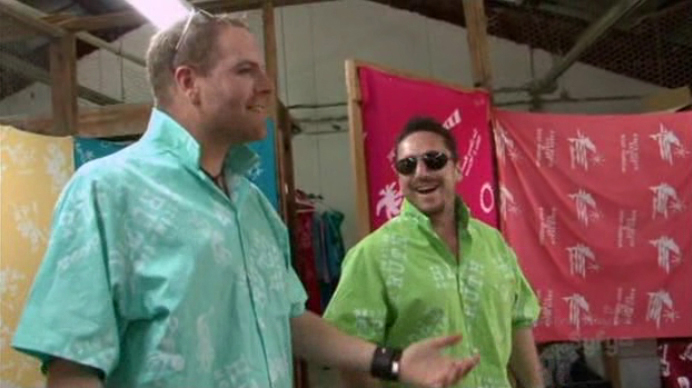 The next case they work is on Andros Island in the Bahamas, where they're looking for the lusca (a really, really, really giant octopus). Andros is covered in blue holes, and that system of caves is said to be the dwelling place of the lusca. The team does a bit of goofing around and enjoying the local scene before getting down to business.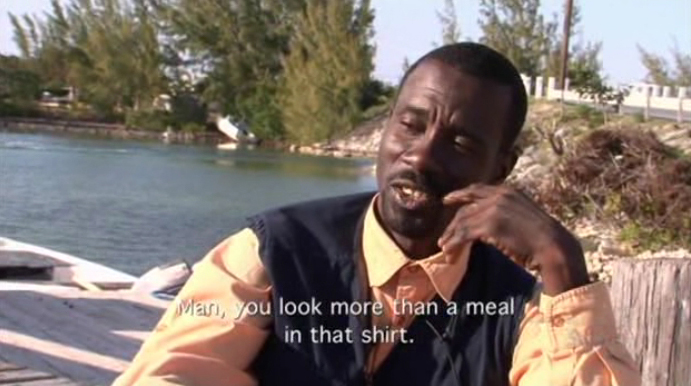 My favorite part of this case was Josh talking and interacting with the locals (the cap above is this man's response to Josh's question about if the lusca would eat him). The hardware store employee was drinking a beer and lounging around. I want to live on Andros Island.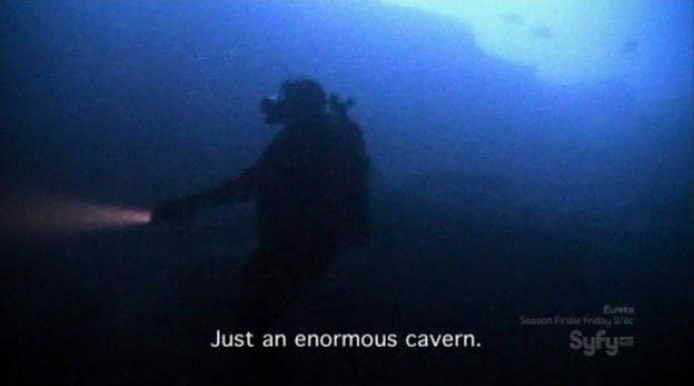 The team hits two blue holes that are connected with each other. In the first one, Josh and Jael run into a little shark action before resurfacing and Josh heads down the blue hole on his own (with a camera guy). Because they're under water and things are tight down in that cave system, there really isn't that much footage/that great of footage underwater. Josh does exclaim he saw something huge retreat further back into the cave, so the team packs up and heads to the connecting blue hole to try and catch it.
This dive is Josh's deepest dive to date, and everyone's a little nervous about him going down there (and I'm super nervous because he's diving AT NIGHT). There's totally stuff swimming around down there with him that he can't see, and everyone topside eventually loses contact with him. Panic-inducing minutes follow. At one point, Josh's emergency glow sticks float up to the surface on their own, and a huge shape shows up on sonar, but they still can't get ahold of Josh and his air is almost up. After about 30 minutes, he finally resurfaces and the team recounts what happened to each other. They also send Jael out into the water (I think mostly so they could watch her undress and get in the wetsuit), and she's a better woman than me because she actually goes out there. We never find out why Josh lost his glow sticks or what happened to his communications while he was under.
Back in L.A., they get an expert marine biologist to check out the evidence. He's says that it's entirely possible for the lusca to exist down there (all the right elements for something of that nature and size are down there), but that he can't give a definitive yes/no based solely on the footage the team got.
So this ep really freaked me out. After this episode scared the crap out of me, my mother had to 1-Up it with her creepy Halloween purchase: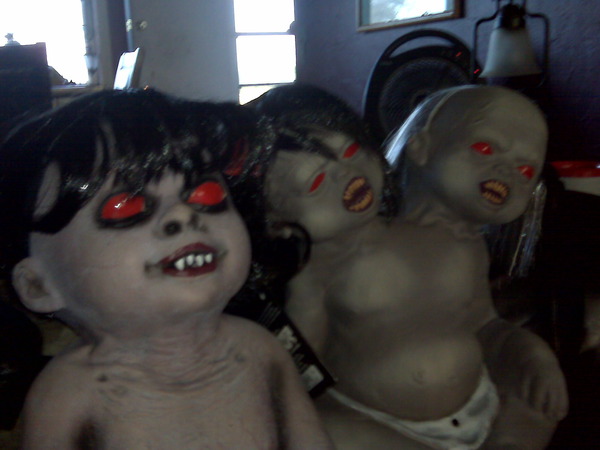 Yeah. Watch this episode, then have these freaks of holiday decoration go off in a dark room on their own with only you in the room with them. I kept imagining demon zombie babies attacking me while I slept. Sweet dreams do not involve dolls of any kind. Thank you, Josh Gates and Mom, for making it so I never sleep again.