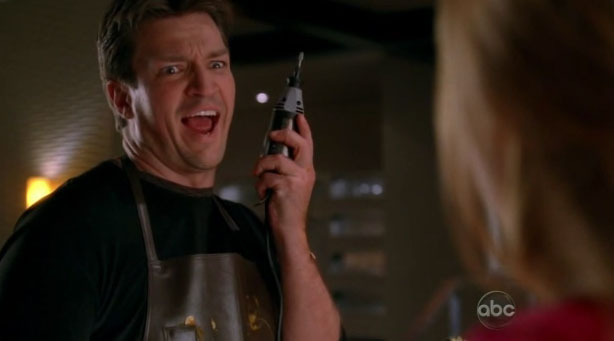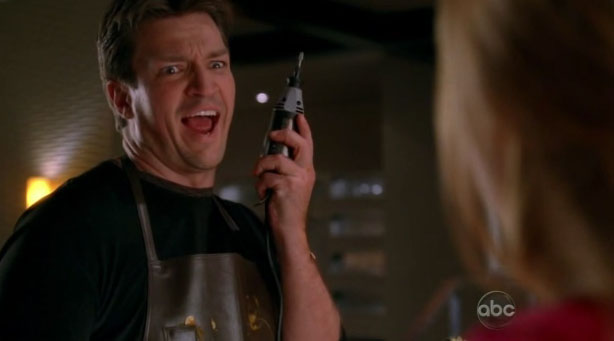 Episode: Castle 2.06 – "Vampire Weekend"
Original Air Date: October 26, 2009
For all the Nathan Fillion fandom references alone this could have been an awesome episode. However, following in line with the previous episode, 2.06 had a very interesting story to it (and some seriously awesome artwork that I wish I could find the artist for).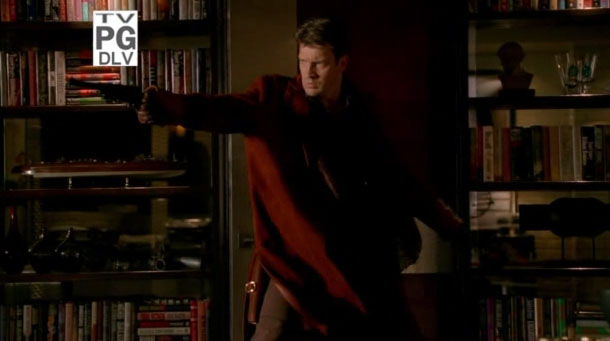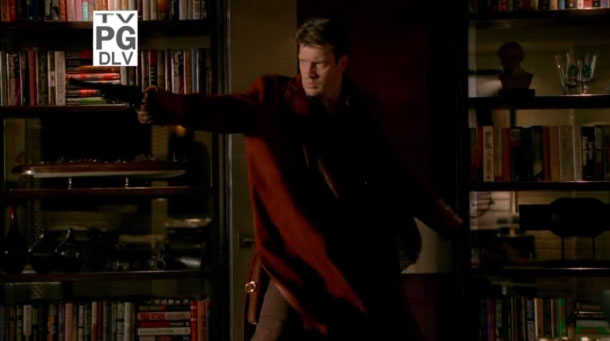 The Halloween episode. Every series has to do it, and here we get to see it done right with a full-out costume party at the end! And since this is a cop show, there's an equally spooky-themed murder mystery to solve! Right at the start is my favorite bit of dialogue from Alexis in regards to her dad's Halloween costume: "Didn't you wear that five years ago? So… don't you think you should let it go?" From the looks of it, Castle and my family would get along very well when it comes to celebrating Halloween.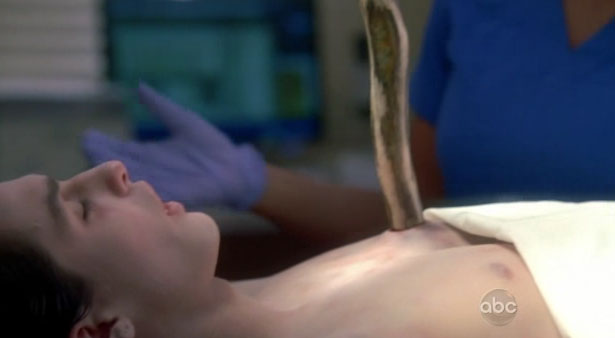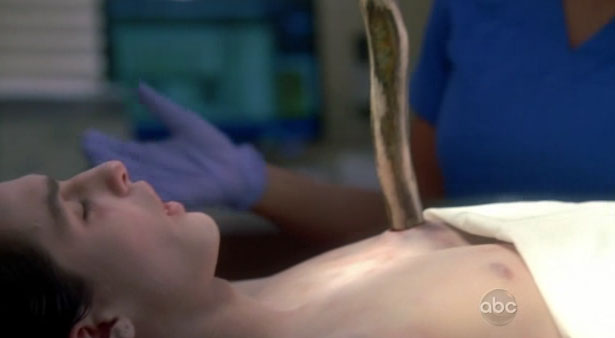 On to the case! A vampire kid is found staked in a cemetery. For all us Buffy fans, this is not news. That's like going fishing at an aquarium. Despite Castle's hope/fear, the kid turns out not to be a real vampire; his teeth, they discover, are high-end veneers and Castle knows just who to go to about them. The Fangmaster does know who the victim is (goes by the name "Crow") and gives them a billing address.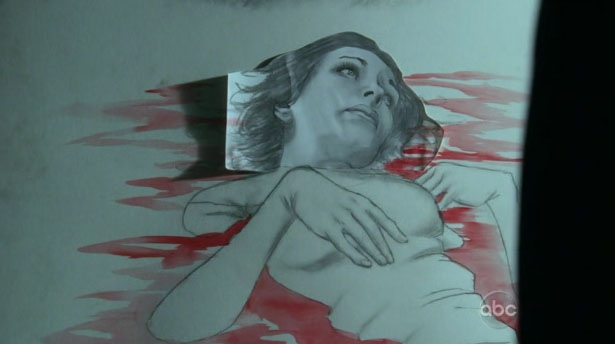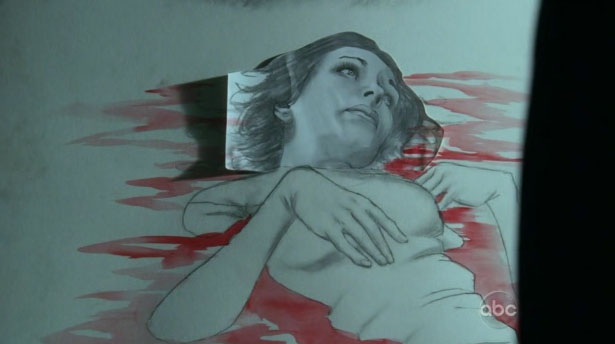 Once at Crow's apartment, the landlady tells them all she knows about him (quite, but nice, and a talented artist). Castle comments that Crow's work reminds him of early Frank Miller, to which Beckett asks which era, Epic Comic or Dark Horse. Castle, not missing a beat, tells her, "Oh my god, that is the sexiest thing I've ever heard you say." Sexual tension in the workplace — what's not to love? Crow was developing a graphic novel and had a "famous" vamp girlfriend with a website.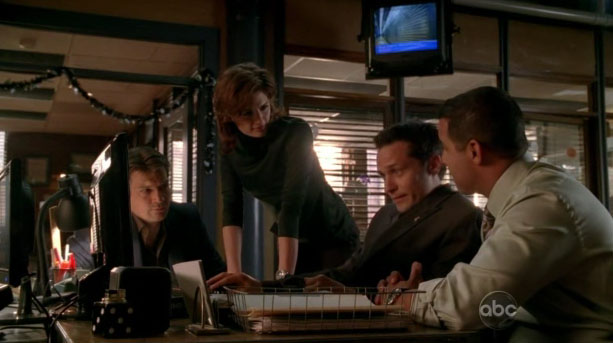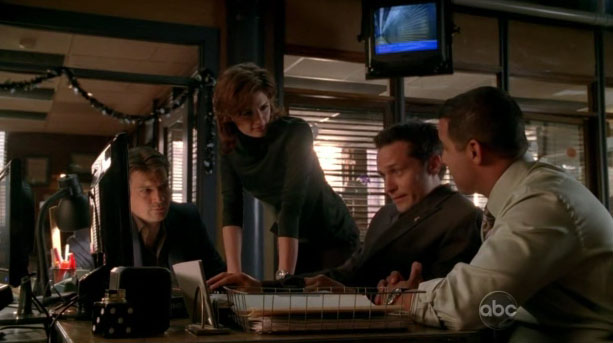 Back at the station, the team is looking through Crow's browser history and find the website for his girlfriend. They run into a snag, though, when you have to have a login to find out where the coven is meeting that night. Good thing Ryan used to date a girl "in the lifestyle," isn't it? Or just mighty convenient for the story. In any case, they get into the "meeting," talk to the girlfriend, and find out that Crow and his "friend" Damon were writing the comic together and were basing it on a homeless man known as Morlock.
Back at the station, Beckett wonders what would draw someone to the macabre the way it did with Crow and Castle. Castle says it's probably from some kind of trauma experienced as a child, like with Beckett. Eventually, they get Crow's family in from his contact/family info at the college he had been enrolled in. Typically, the family didn't approve of his lifestyle choice, and the mom goes so far as to blaming his "moodiness" on being in love with art. They get nowhere fast with these people.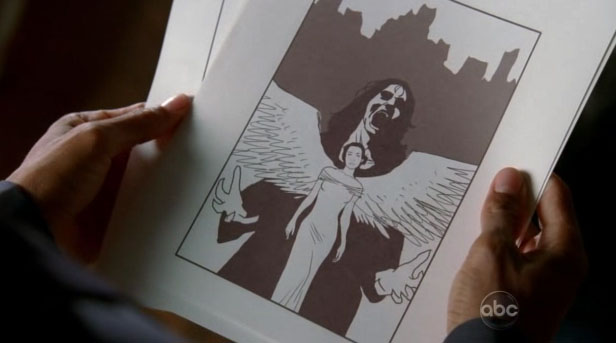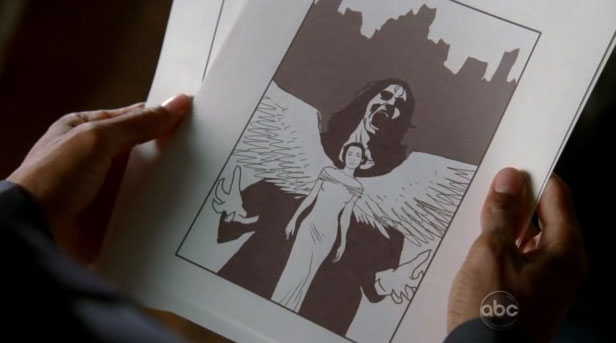 Morlock is found with the help of Crow's drawings, and his skin starts to blister when he is exposed to the sun (it's because of porphyria). So, Morlock is crazy with a capital "ZEE" and pretty much tells Beckett and Castle what happened to Crow in the cemetery. Only, it's in crazy talk. Which I must be able to translate because I figured out that's what he was doing. They keep Morlock behind bars because his fingerprints are on the stake that was in Crow's chest. Castle puts two and two together and comes up with Damon being the letterer/inker on Crow's comic since there was India ink on the stake (along with blood).
Beckett also gets the cop shrink to come in and talk to Morlock, to see if he can figure out what his ramblings are about, but he ends up helping her decipher Crow's artwork. The female figure is the focal point of the drawings, more so than the character based on Morlock. Because of this, the shrink confirms Castle's childhood trauma theory.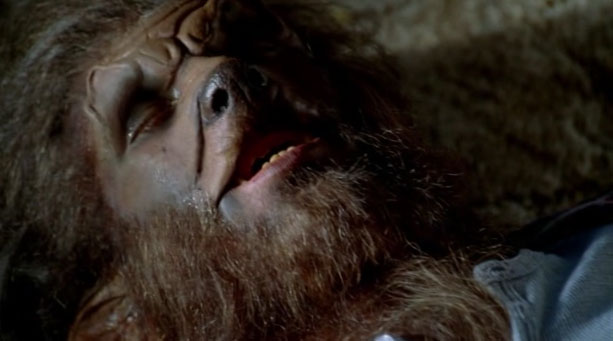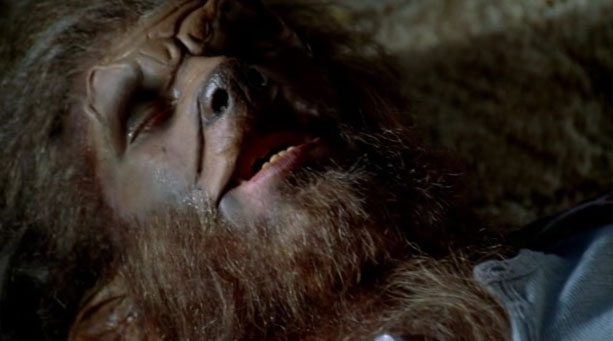 While all this is going on, Ryan and Esposito find Damon. Dead. And looking like Teen Wolf. Damon was killed the same day as Crow, and during the day so Morlock couldn't have done it. When Castle and Beckett get there, they find India ink and stakes on the desk, plus research material hidden under the drafting desk. All the paperwork is about a murdered woman found years after she had been killed. She also happens to look a lot like Crow's female character. Stranger still, his drawings of her date back to before her body was found. He must have known her before she was killed.
Beckett takes this info to Crow's parents who still claim they don't know who the woman in the drawings is or why Crow drew her. Then, the little sister speaks up. She claims that Crow told her the woman was from his nightmares. Beckett asks if Crow had any trauma in his childhood, the parents say no but the dad looks like he's hiding something. He gets even more agitated when Beckett tells them that Crow was probably around when the woman was murdered. The sister tells Beckett to check out Crow's application portfolio to get a peep at his most meaningful artwork.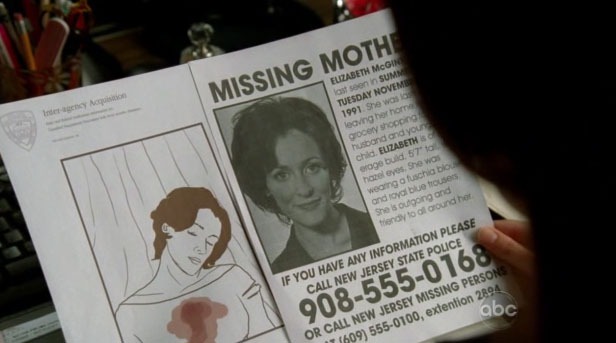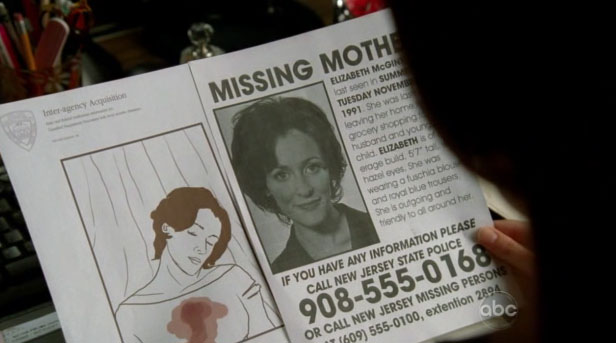 Esposito checks in with Beckett to let her know that Damon had been calling the local cops to get info on the dead woman's case and finds out that she had been shot in the chest with a 9mm 18 years prior to being found. Wouldn't you know it, Damon was shot in the chest with a 9mm and it's the same gun that shot the lady dead. Ryan shows up with Crow's portfolio and one of the drawings matches the scene where the lady was killed. The mystery lady is really Crow's bio-mother, the woman who is referred to as is mother was really his nanny before the dad married her.
They bring the family back in to question the dad (who Beckett initially likes for the murderer, especially after they find the 9mm in their house), but when he's horrified to learn that his son may have been a witness to his mother's murder. Castle takes note of the faux mom's leopard print coat and connects her to Morlock's crazy talk. When she is brought face-to-face with Morlock, Castle's suspicions are confirmed. She killed the bio-mother to take her place, then killed Damon and Crow when they pieced the puzzle together.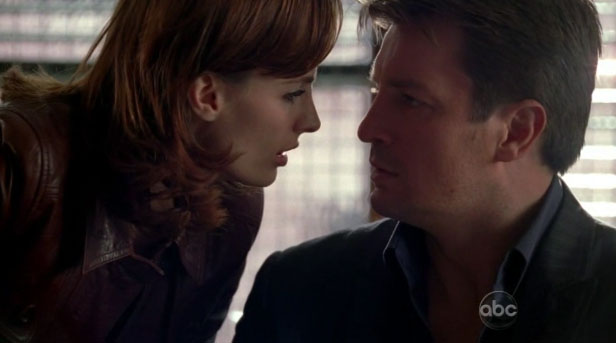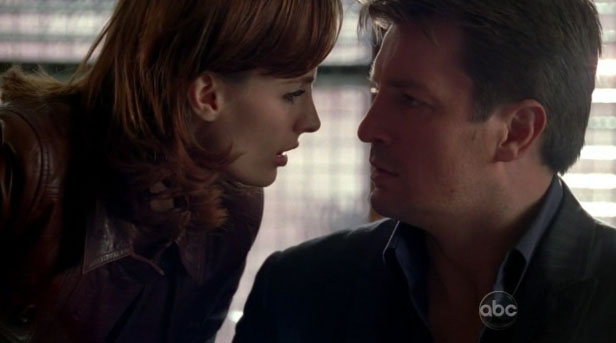 Outside the case, Beckett and Castle still have that chemistry bubbling between them. Castle is so ready to admit there's something between them, but Beckett keeps denying it. I'm not sure how much longer that's going to be interesting, or tolerable, to be honest. Every episode ends on this strange, almost forced moment between the two of them that feels like it should be followed by the "wah-wah-wah" sound effect. Not any fault of the two actors, but the setup feels corny every time.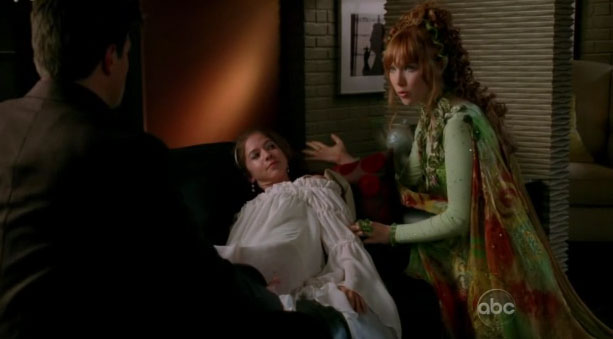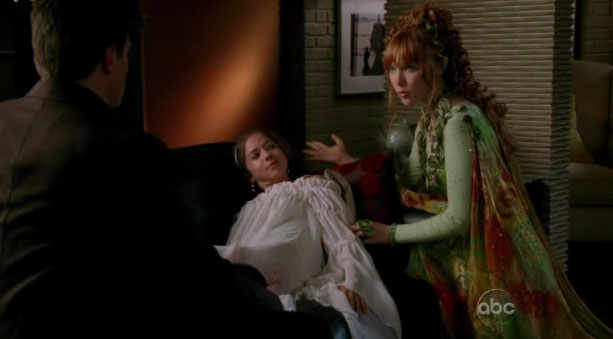 On the flip side, the progression of the relationship between Castle and Alexis was much more interesting. Alexis and her friend get invited to a senior party, and Castle gives her the go ahead to get dressed up and party with said friend. He makes her promise to call if anything happens that she's uncomfortable with. Later on, she does call him because the punch was spiked and her friend is a filthy drunk. He drops everything to pick them up and get them out of a potentially really bad situation. Going against his "cool" dad/free-wheeling persona, he calls the friend's parents to let them know what's going on. It was surprisingly sweet and nice to see Castle acting like an adult who's responsible for a child (instead of acting like a child). It's something you can forget about this character very easily in this show.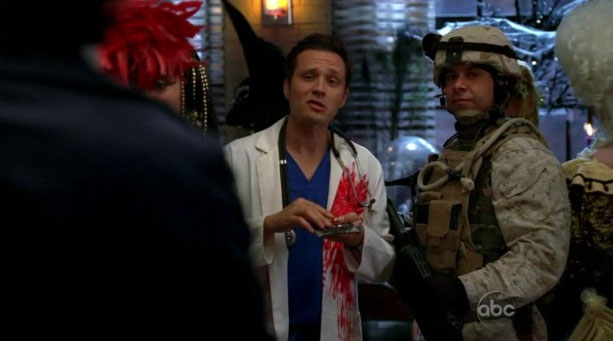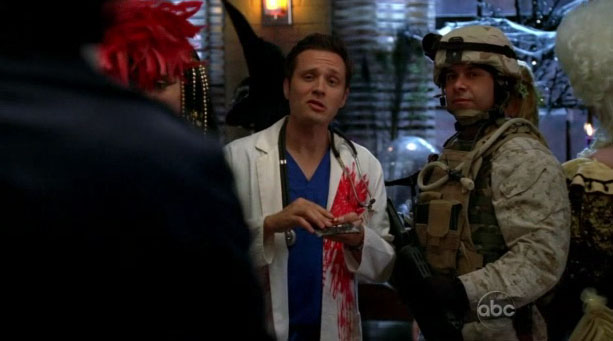 One last little bit of awesome was the Halloween party. I love a good Halloween party, and I really love a dude dressed in military garb (Generation Kill reference FTW), and it was nice to see them outside the suits and cop type stuff. Even though they don't act very formal most of the time when they are dressed to solve crimes.
Rating: 3.5 / 5 Stars