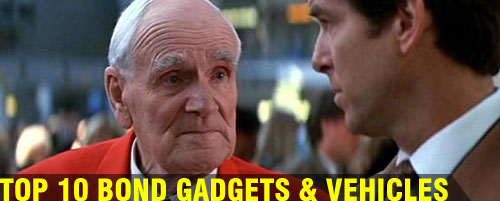 If there's anything James Bond knows, it's that it takes more than just debonair charm and lethal skills to survive out in the field. You need the right tools. It is here that Bond has constant support from Q and his massive array of fantastic devices, both lethal and non-lethal… Devices that frequently appear as conventional objects designed to deceive the enemy. So if you step into 007's vehicle, remember not to play with any of the switches. For the third part of our four part tribute to 007 we present our ten favorite gadgets and vehicles that have saved Bond's life on countless occasions.
10) Q-Branch Keyring used in The Living Daylights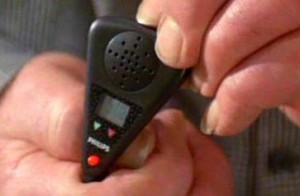 One of the little delights from Q Branch, the practical implications of this device are limitless. It looks like a little keyring. Nothing spectacular and nothing glamorous. At first glance the only thing impressive about it is that it makes funny noises when you whistle. However it's in the whistling that lies the secret. This keyring has two specific features, each triggered with a specific whistle. Simply whistle the first bar of "Rule Britannia," and the keyring emits a highly concentrated dose of stun gas which will disorient a target for thirty seconds. Secondly, the keyring also contains a lockpick, which Q guarantees will pick 90% of the world's locks. Finally, the most potent of the features is that with a simple wolf whistle, this keyring will explode. Very useful for any situation which you may require a little bang for your buck.
9) Multi-Purpose Attache Case used in From Russia With Love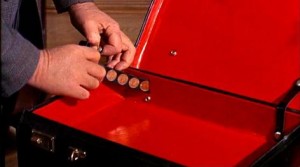 The perfect travel tool for any double-0 agent on the move. This standard issue device from Q-Branch contains all the essential items for any agent on site. The case has an array of secret compartments which contain the following: Twenty rounds of ammunition, flat throwing knives, a secret compartment containing a 0.25 calibre AR7 folding rifle with infrared sight, strips containing fifty gold sovereigns, and an effective security system to protect from theft. The security measures are simple. In order to open the case, the agent must turn the catches to the vertical position. If an enemy attempts to open the case by conventional means, a canister of tear gas, designed to look like a canister of talcum powder, will explode and incapacitate the enemy. Hmm… sounds like a good place to hide your porn pile from your mom.
8) Pen Grenade used in Goldeneye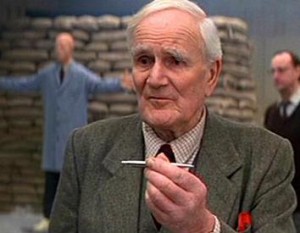 They say, "The pen is mightier than the sword," and thanks to Q they are right. As you can see, it's just a regular looking pen. Nothing fancy, and nothing spectacular until the enemy is foolish enough to click it three times. If that happens, then the writings won't be the only thing to be splattered on the wall. You see, this pen has been given the Q special. The pen is a high impact grenade, armed by clicking it three times and allowing you four seconds to run like hell. This device also has a fail-safe feature, and a simple one at that. Simply click the pen three more times, and the grenade is disarmed. This weapon is only meant for use by the British Government. It is not made to take out your frustrations on your boss if he keeps giving you crap.
7) Dentonite Toothpaste / Signature Gun used in Licence To Kill

Extremely useful for assassination missions. If the only way to hit your target is through bulletproof glass, then you may need more than just a deadly aim. Fortunately, Q Branch has just the thing: Dentonite Toothpaste, the only toothpaste in the world that's guaranteed to cause cavities… BIG ONES. Dentonite Toothpaste is actually an effective plastic explosive. After using the toothpaste to blow the window, you're going to need a long range weapon to hit the target with deadly accuracy. Don't worry, Q's got you covered. You will be given a sniper rifle which is disguised as a camera. This weapon also comes with an excellent security measure. It's a signature gun, which means that after the gun is programmed for its owner, no one else can use the weapon. Ideal for the double-0 agent who doesn't like anyone playing with his or her toys.
6) Mini-Aqualung used in Thunderball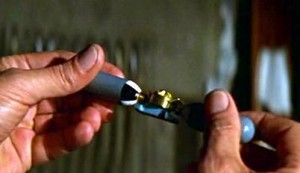 Do you need to make a swift underwater escape, and you have absolutely no time to put on bulky diving equipment? Then check out the Q Branch Mini-Aqualung: a pocket sized device which contains a miniature breathing apparatus designed for a short period of four minutes. Field tests have actually shown that it may last for much longer. However, it might not be advisable to put that to the test. This device is meant to be used as a last resort if all other alternatives are exhausted. Of course if you're a double-0 in the field, such circumstances are most likely.
5) Multi-Purpose Rolex Wristwatch used in Live and Let Die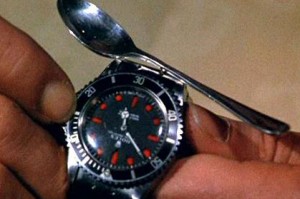 The latest in standard issue timepieces supplied exclusively for agents under Her Majesty's Secret Service. Aside from the obvious benefit of being able to tell time accurately, this watch also comes with some other features. The most important feature can be triggered by turning the face on the watch clockwise. Doing so will active an extremely powerful electromagnet with excellent range. Tests have also shown that the electromagnetic field could deflect a bullet from a long range. Additionally, if you find yourself with your hands tied in a literal sense, the watch has a circular saw feature. Simply by spinning the watch's face, it will start spinning at an accelerated speed and will cut through any type of rope that may be holding you down. This kind of watch insures that the wearer will take a lickin' and keep on tickin'.
4) The Lotus Esprit used in The Spy Who Loved Me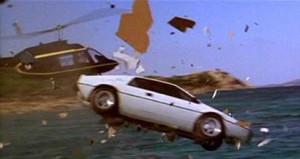 For the eager traveler who wants to see the world on land and under the sea, here is the Lotus Esprit. This vehicle is stylish on its own, but for the more demanding of vehicle enthusiasts, there are some unique defense features which you won't find on "Pimp My Ride." On land, the Lotus has cement spray which is designed to obstruct the windshield of any pursuers that may be ruining your drive in the country. The best is yet to come; all you have to do is drive the car into the ocean. No, really. Drive it into the ocean, and this vehicle will turn into a mini submarine. Naturally the minisub has all the traditional submarine features (periscope, SONAR, etc.), but it also comes with a surface to air missile which will remove any pesky aerial assailants. Then for the underwater irritations we have the special limpet mines which will remove those pesky tailgaters.
3) Little Nellie used in You Only Live Twice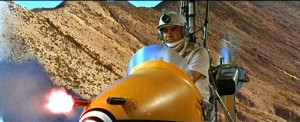 The perfect vehicle for aerial reconaissance, Little Nellie seems like a simple gyrocopter. Do not jump to conclusions, though. If your vehicle is from the British Government, then it isn't from anywhere else, because the other guys don't have toys like these. Aside from the obvious benefits such as exceptional speed and maneuverability, Little Nellie also has a few bells and whistles that will definitely have the enemy's ears ringing. Little Nellie comes with air defenses from multiple angles. For pursuers from behind, there are the rear flame throwers. For targets approaching from below, there are the mini-mines which remind attackers that "rain" rhymes with "pain." Then there are the oldies but goldies: the always favored smoke screen and the air to air heat seeking missiles which always promise to make your flight an explosive experience.
2) Remote Control BMW 750il used in Tomorrow Never Dies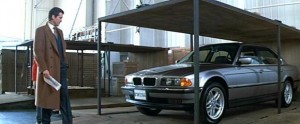 It goes without saying that if you want to drive a nice car, you'll want to make sure that its security is assured. No need to worry with this car, as it features reinforced windows to prevent forced entry, electrified door handles to prevent conventional entry, fingerprint encoded safe in the glove compartment, and tear gas jets which will incapacitate anyone in the vicinity of the vehicle. For the more tenacious carjackers, this car also has some of the most ideal features for dire circumstances. You'll have missiles which fire from the sun roof, tire spikes which pour from the rear to discourage stalkers, a hood ornament cutter to prevent being crippled by stray cables, grenades which are a definite plus, and in the event that your tires go flat, the tires are designed to re-inflate almost instantly. All of these features can be controlled with your cellular telephone.
1) The Aston Martin DB-5 used in Goldfinger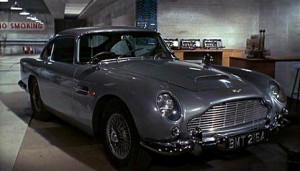 The Aston Martin is the original and still to this day quintessential vechicle to be driven by 007. Aside from being a gem to behold, this car has goodies to put the Batmobile to shame. For starters, there's the bulletproof glass which will keep the driver safe from small arms fire. The Aston Martin also has a radar screen linked to a magnetic tracer. There also are revolving license plates which are valid in Britain, France, and Switzerland. For extra protection there's a bulletproof screen which rises from the rear windshield. All defense features can be controlled from the armrest. There's the oil slick, smoke screen, tire slashers which extend from the tire hubs, and .30 caliber machine guns which fire from the headlights. Later refinements would also include fire hoses which emit intense jets of water from the rear. Of course the most famous feature is the ejector seat which can be activated via the red button secreted in the gear shift. Seriously, an ejector seat! Q never jokes about his work. Bond will sit behind the wheel of many vehicles to come but he will always come back to the Aston Martin, and it's understandable as to why.
Honorable Mention: Wristwatch Dart Gun used in Moonraker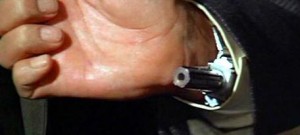 The best kind of weapon is the kind you never see coming. The wristwatch dart gun fits that description perfectly. Activated by muscle movements in Bond's wrist, this device will fire a high impact dart. The device comes with either stun darts or cyanide tipped ones, making the target regret ever asking you to put your hands up.