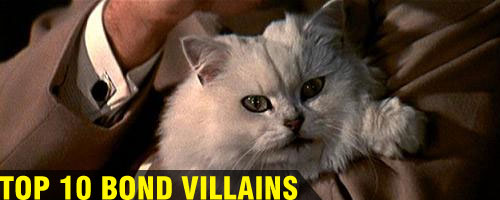 Someone once said, "You can tell the quality of the man by seeing who his enemies are." If that's true, then James Bond is the greatest man in the world. After all, what's the point of having all that fancy hardware if you don't have an enemy worthy enough to use it on? Presented here is the second part of Fandomania's four part tribute to all things 007. Here we salute all things evil in the world of Bond as we spotlight some of Bond's best enemies.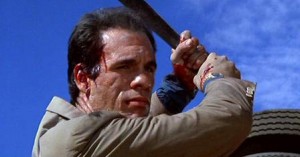 Never mind the fact that this was a Bond film that didn't feel like a Bond film. Never mind that I think the title is misspelled (shouldn't there be a 's' where that second 'c' is?). None of that changes the fact that cocaine dealer Franz Sanchez is a ruthless S.O.B. with a bit of a sadistic streak in him. It's one thing to want revenge on the agent who tried to put you away, but Sanchez could run a school for bloody revenge. He'll kill your blushing bride on your wedding night, then he'll permanently cripple you by feeding you to the sharks. It's easy to say you want payback against this ice cold dealer, but I dare you to try it when he practically has an entire country in his pocket. That may be a bit discouraging for anyone who isn't James Bond.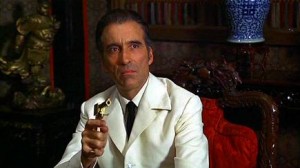 Trust me, this debonair man with a midget is not out to make your fantasies come true. Quite the opposite. If this man has any business with you, it's to collect the million dollar bounty that's on your head. What's worse is that more than likely he will collect it without breaking a sweat. All he needs is one bullet from his custom made .22 caliber golden gun. He is a master of all forms of firearm combat, and his kill record is exceptional. His only weakness is vanity. There is only one agent whose skill matches Scaramanga's, and Scaramanga has a bullet with his number on it, literally. We've seen Scaramanga kill others without even batting an eye. Hell, he even kills his own girlfriend without remorse. How do you suppose he'll handle 007? Well, seeing as there's like a dozen Bond movies after this one, it's obvious Scaramanga didn't fare too well.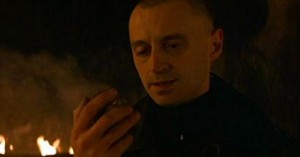 How do you fight a man who doesn't feel human? In the beginning, Renard was a cold freelance terrorist, but after recieving a bullet to the brain, Renard became something much worse: a cold freelance terrorist with an apathetic death wish. The bullet in his brain caused him to lose the ability to feel anything. Now he doesn't feel pain, which means he is a human freight train. He can push himself harder than any normal man. This benefit comes at price. He will never again know the sensations of pleasure and the sensations of the flesh. What's the point of living if you can't feel alive? This is a question that plagues Renard as it releases him from his fear of death. All Renard can do is devote the remainder of his life towards helping the woman he loves enjoy her life, even if he knows that he is her puppet. Even if it means slaughtering millions to make her happy.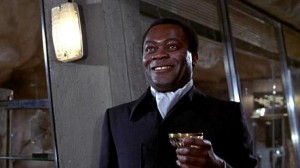 Mr. Big runs one of the biggest drug rings in the world, and he rules the streets with an iron fist. The question is, how does a petty drug lord from Harlem create such a massive empire? The answer is simple: have a secret identity that also happens to be a high end foreign dignitary with limitless resources. Resources that even expand to the realm of the paranormal. Kananga has the power of foresight on his side through the predictions of Miss Solitaire, a powerful soothsayer which he dominates and keeps from the outside world, vowing to keep her pure until the time he sees fit. Through her abilities, Kananga is able to crush his enemies and dominate the underworld. The only caviat is that it all depends on how long Solitaire is willing to hold on to her ability. For Kananga's sake, let's just hope that she doesn't meet any dashing British agents.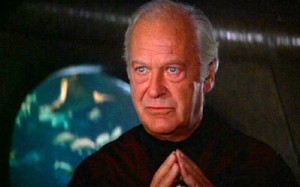 It's good to have a goal… a dream that could change things. However, where Karl Stromberg is concerned, we can only hope that he is willing to forgive us for our lack of enthusiasm for his dreams. You see, Karl wants to create an underwater utopia. Sounds like a pleasant idea, if it didn't come at a heavy price. Sometimes for one civilization to rise, another one has to fall. Stromberg has absolutely no problem with that. He intends to wipe out civilization by engineering a nuclear war between the USA and the USSR. The final result will wipe out everyone except for the few that Stromberg allows to live in the product of his warped ambition.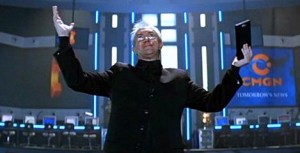 The thing that makes Elliot Carver such a sinister villain is the fact that there is something terrifyingly realistic about his schemes. It's common knowledge that news networks tend to overstate the facts to boost their ratings. Elliot Carver strives to take this concept beyond the limit. Carver fancies himself as a god in the age of information. He seeks to create a monopoly on fact and fiction by being the only source of news in the world so that he can make the news any way he sees fit. Control the facts and you control the world. To this pursuit, Carver sets out to provoke a war between the The United Kingdom and China, a war which he intends to control by manipulating the truth and gaining broadcast rights in Beijing. The staggering thing about Carver's ambitions is the fact that he is willing to go to obscene lengths for such a petty cause. What makes this worse is the recognition that Carver isn't the first person to try this. Does the name William Randolph Hearst mean anything to anybody?
4) Alec Trevelyan from Goldeneye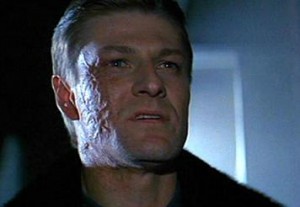 Alec Trevelyan, AKA Janis, a Russian crime lord, AKA former British agent 006! How far back does Alec Trevelyan's impending treason go? Are our enemies always foreign, or are they home grown? For Trevelyan, he was a natural born turncoat. His parents were Cossacks who were executed as war criminals. Trevelyan was raised by the British and came to prominence at MI-6 becoming a double-0. This was a grievous error. The British government assumed that he would never remember his parents and what they were. Not only did he remember, he never let it go. The first opportunity he gets, he fakes his death and conspires with a rogue Russian General to take the British government for all the money it has and then destroy it using an EMP satellite to cause worldwide economic chaos. Freud would say that Trevelyan has issues, if he had the will to listen. Of course… he doesn't.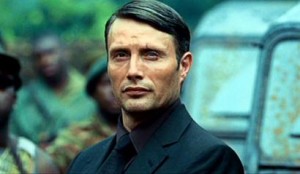 One has to wonder where the terrorists get the funding for their sinister endeavours. In this case the funding comes from Le Chiffre. Le Chiffre is unique in the pantheon of Bond villains because he's not out for world domination. He just works for the people who do. He is a ruthless financier who is willing to spend lives to make disgusting amounts of money to fund bad people who do bad things. After all, when bad people do bad things, there is always someone who profits from it. Le Chiffre works for those people. We don't know who they are, but it's certain that Le Chiffre will do whatever it takes to sustain his usefulness to them. After Bond thwarts Le Chiffre's attempt to play the stock market, he is willing to risk it all in a high stakes poker game. Win or lose, the latter being more likely thanks to Bond, Le Chiffre will go to any lengths to avoid facing his superior's wrath. So know this: cross him, and he'll bust your balls… Sorry, I couldn't resist referencing that scene.
2) Auric Goldfinger from Goldfinger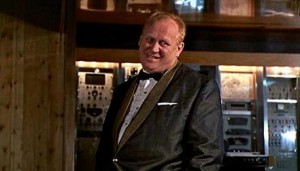 Auric Goldfinger is a different kind of evil in the Bond films… A businessman, and a vicious one at that. Goldfinger has an psychotic obsession with gold. He is willing to steal for it, he is willing to kill for it, and he is willing to topple financial institutions to profit from it. Goldfinger is the ultimate personification of brilliant ambition without conscience. That is how he is able to hatch a scheme to detonate a nuclear bomb inside Fort Knox in order to raise the value of his own gold. That is also how he is able to kill others without remorse and without pity. After all, when you consider the heights Goldfinger is willing to reach, everyone else seems so miniscule in comparison. In Goldfinger's perception of the world, you're either useful to him, or you're nothing at all.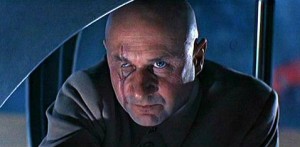 Though this is not the first time Bond has crossed Blofeld and his organization SPECTRE, but it was in his inevitable face to face with Blofeld that we are finally given a face to true evil in the world of Bond. Blofeld has no loyalties to any government and no other authorities to answer to. Instead, he strives to make it so that every government and every authority answers to him and does his bidding. Blofeld is the devil who walks the Earth, and as such he sets out to dominate the world and make it his paradise, a paradise born out of terror, deception, and extortion. Of all the Bond villains there is none more iconic than Blofeld. Even when we never saw his face, we knew that he was a force for evil that no other Bond villain could match. When his face was finally revealed, it never diminished his sinister presence in the Bond films to follow. His impact on the Bond films was so great that fans still debate whether or not Bond killed Blofeld in the beginning of For Your Eyes Only. Who knows? Blofeld may be waiting in the wings for the right time to menace the world all over again.
DIS-honorable Mention: Max Zorin from A View To A Kill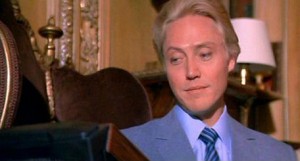 What happens when you give a psychotic genetic experiment left over from the third reich a butt-load of money and a strong bid in the world of computer software and development? You get Max Zorin, that's what. Not content with a slice of a blooming industry, Zorin is willing to destroy Silicon Valley to get the whole pie. He could do it too, he's played by Christopher Walken, and you damn well better respect the Walken!