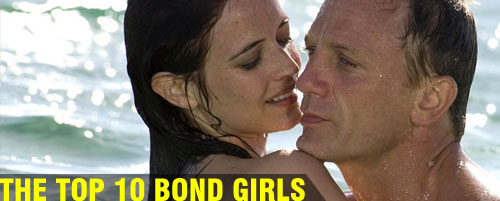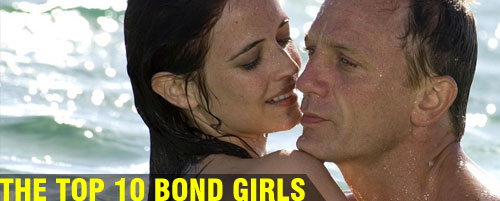 Quantum of Solace hits the silver screen on November 17th, marking the sophomore outing for the newly-overhauled James Bond franchise and of Daniel Craig as 007. So it seems apropos at this time to reflect upon all the things we love about the legacy of cinema's greatest gentleman superspy. Presented here and now is the first part of a four part series of top ten lists all devoted to Bond, James Bond. For starters, let's look at the great women behind the great man. Let's look at the ten best Bond Girls… definitely look at the ten best Bond Girls…
10) Octopussy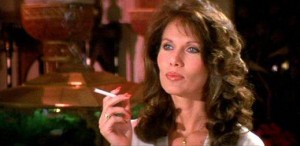 She's an enigmatic pseudo-villainess who also happens to have her own circus of incredibly limber female acrobats/bodyguards. Octopussy is a Bond Girl who mystifies the audience from the get-go, and Maud Adams plays her with a sort of undefinable allure. She's definitely not the damsel in distress; in fact, she is actually quite the entrepreneur, as she juggles jewel smuggling with steamy nights with 007. What makes her better than the garden variety villainess is that she is more than willing to rectify her mistakes. So when the time comes to get back at Kamal Khan she has no conflict as to who she wants on her side. Do I really have to clarify who?
9) Miss Solitaire from Live and Let Die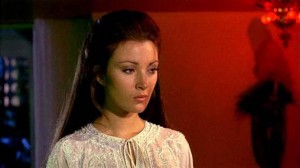 The minute Bond steps into Mr. Big's hideout and sees Miss Solitaire, the rhythmic pounding of many a heart could be heard in every movie theater around the world. That was the sound of the world falling in love at first sight with Jane Seymour. The character of Miss Solitaire is an intriguing one, owing to the fact that she is an innocent woman trapped in a den of thieves, bound to a life of premonition through a deck of cards and the horrible fate of never knowing the touch of another, except for the tyrant who keeps her locked away. In the grand scheme of the World of Bond, Solitaire is definitely the princess in the tower waiting for her knight in shining armor. Though calling Bond a knight may be up for debate.
8) Natalya Fyodorovna Simonova from Goldeneye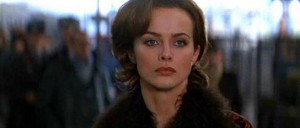 Natalya is the first great Bond girl of the 90s. Brave, resourceful, and intelligent, she is definitely never content to sit there and wait for Bond to do all the work. Many times, Bond is but a mere blunt instrument compared to Natalya's skills with a computer. She may be a level two computer programmer from an outpost in the middle of nowhere, but that doesn't stop her from being a pivotal contributor to saving the day. While Alec Trevelyan is distracted by Bond, Natalya single-handedly destroys the Goldeneye Satellite. Sorry, Boris, but Natalya is the one who is invincible.
7) Pam Bouvier from License to Kill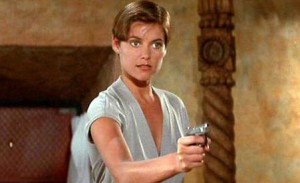 Though Natalya was the first great Bond Girl of the 90s, all she did was continue the trend. The last great Bond Girl of the 80s was Pam Bouvier. When we meet her she is an informant working with Felix Leiter to take down Sanchez, a major drug kingpin. When Bond discovers that she's been targeted by Sanchez, he comes to rescue her. Of course it comes as a surprise to him that she really doesn't need saving. Pam Bouvier is tough as nails, with a wicked tongue to boot. She is also an incredibly fine pilot, a skill which saves Bond's life on multiple occasions. As Bond rampages through Isthmus City seeking his vengeance, Pam sticks with him all the way and takes Bond's misogynistic tendencies in stride, knowing that he's gonna be thanking her later.
6) Melina Havelock from For Your Eyes Only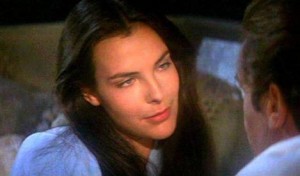 Melina is a fiery half-British/half-Greek heroine driven entirely by revenge for her parents' death, and she's got an arrow with Kristatos's name on it. Carole Bouquet plays Melina, and does so with steely conviction very rarely seen in other Bond Girls. She is eager to be a part of the fight and she proves her worth by showing her lethal skills with a crossbow. So don't be deceived by her dinky yellow car. This is a woman of exceptional skill and determination that can prove to be advantageous in life-or-death situations. Motorcycle assassins, underwater battles, even being served as shark bait — nothing deters her from her pursuit of vengeance. Not even James Bond.
5) Anya Amasova (Agent XXX) from The Spy Who Loved Me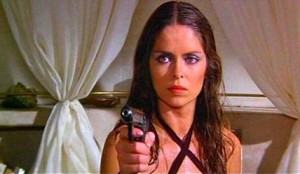 Anya is one of the quintessential Bond Girls for a multitude of reasons. I think the most important reason is the fact that she is avidly independent when it comes to the mission. Upon meeting James Bond, she really has no desire to work with him. When they meet she is quick to distance herself from him at every opportunity. So you can imagine her dissatisfaction when she is ordered by General Gogol to work with Bond, a dissatisfaction which is exacerbated when she discovers that Bond killed the man she loved. Very few times has Bond had to jump through hoops to earn a woman's favor. Where Anya is concerned, he's gonna have to jump through flaming hoops with a skateboard to keep her from killing him when the mission is over.
4) Pussy Galore from Goldfinger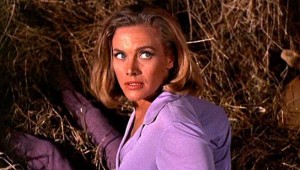 Then again, if you want to talk about a woman Bond has had to jump through hoops for, then Pussy Galore is the living embodiment of Evel Knievel's worst nightmare. When Bond meets her they are on the opposite sides of a mission. She is the personal pilot/confidante of Auric Goldfinger, and Bond is the guy sent by British Intelligence to take him down. So you can imagine Pussy's reluctance about a guy who's eager to halt her dreams of her own personal island with a sign that says "No Trespassing." Pussy is definitely a tough egg to crack, especially since she is proficient in Judo and can teach Bond a trick or two. Naturally, despite claiming to be immune from Bond's charms, she ultimately falls for him and chooses the right side.
3) Vesper Lynd from Casino Royale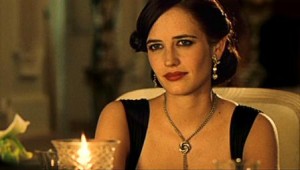 She's the money, every penny of it. Vesper is definitely one of the most complicated Bond Girls of the lot. Upon meeting Bond she is naturally dismissive of his flirtatious tendencies and focuses entirely on the mission. When it comes to the bankroll, no one messes with Vesper, but there is still an innocent vulnerability to her. She gets a glimpse of Bond's world as she helps Bond in a life or death brawl with a terrorist. Afterward she is desperate to wash herself clean of what she has witnessed. After Bond wins the money and Le Chiffre is murdered by an unknown savior, Vesper and Bond's love affair is tragically cut short when Vesper is forced to betray Bond. Racked with guilt, Vesper ultimately kills herself. Vesper Lynd is clearly meant to be the first woman Bond ever opened himself to emotionally, and thanks to her, he may never feel the same way about about any one else. Then again…
2) Wai-Lin from Tomorrow Never Dies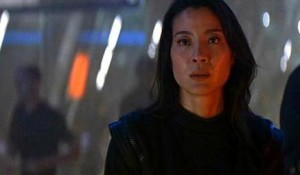 Wai-Lin is, without a doubt, one of the most trendsetting heroines, not just in the realm of 007 but in movies in general. Sure, Bond has had encounters with other beautiful female agents, but none have them have ever reached the level of dynamism that Wai-Lin has. When moviegoing audiences watched Wai-Lin take on almost a dozen men in her hideout all by herself, they were taken aback as she heralded a new type of action heroine that had been seldomly seen on this level in American cinema. Now the concept of self sufficient, butt-kicking heroines has become a staple of action movies. Ironically Michelle Yeoh went on to play one to even higher acclaim in Crouching Tiger, Hidden Dragon. Wai-Lin was the right type of Bond Girl at the right point in action cinema's evolution. All she had to do was upstage Bond in no time flat.
1) Teresa "Tracy" Di Vincenzo from On Her Majesty's Secret Service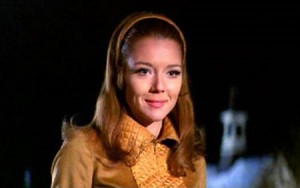 After Vesper Lynd you would've thought that Bond would have learned his lesson about surrendering your heart to somebody. Then again, he probably didn't count on meeting Teresa "Tracy" Di Vincenzo. Tracy is an extremely complex character, played with exceptional grace by Emma Peel herself, Diana Rigg. She is reckless, headstrong, and when she meets Bond, suicidal. Bond finds himself to be mystified by her, and is eager to save her from herself. Yet when the situation is dire and Bond is up against the wall, it's Tracy who winds up saving him. After Tracy is captured by Blofeld, Bond wastes no time in returning the favor. In Tracy, Bond finds a kindred spirit which he has long since been lacking, and he has no hesitation in asking her to marry him. Unfortunately, in Bond's world, there are no boundaries, and both Bond and Tracy learn that lesson the hard way.
Honorable Mention: Jinx from Die Another Day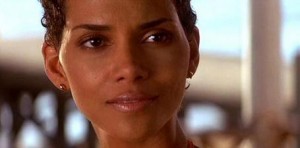 She's a feisty female American agent, and she is practically Bond's equal on all fronts. She's got the moves, she's got the skill, she's got the sexuality. Heck, she's even got the street smarts. The only thing she didn't get is a good Bond film to show off her goods.