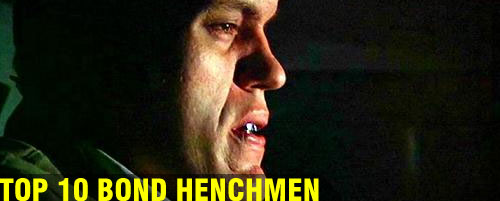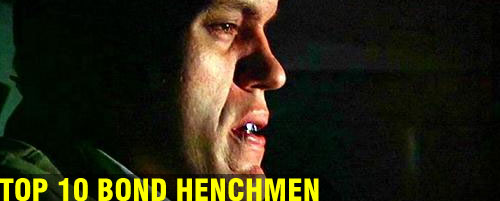 Well, here it is: the final part of our four part tribute to all things Bond. When all is said and done, 007 always wins the day, but give credit where credit is due. Bond's nemeses have never made it easy for him, and all they had to do was hire some of the best henchmen on the scene. For our final Fandomania 007 tribute list, we're going to pay respect to the errand boys. The middle-men, who have absolutely no problem getting their hands dirty for an evil paycheck.
10) Herr Stamper from Tomorrow Never Dies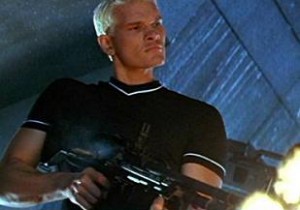 When you're a little media mogul with big ambitions, it pays to have a bulky German to get your back. Especially if the Aryan chap is Herr Stamper. Stamper is Elliot Carver's go-to guy for the dirty jobs that require a bit of solid muscle to enforce your psychotic whims. While Carver is keeping up a legitimate face for the world, Herr Stamper handles Carver's dirty deeds under the table. He's also enthusiastic about a variety of exotic methods of torture, a talent he has refined under the tutelage of a Dr. Kaufmann. Herr Stamper intends to trump his mentor by beating his record for longest torture session. Just hope to God you're not the one he practices on.
9) Irma Bunt from On Her Majesty's Secret Service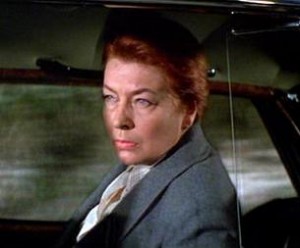 If you run an evil empire hatching a new plan to wage bio-terrorism on the world, it can be most advantageous to have a capable henchwoman as the face of your operations. Of course, it doesn't necessarily have to be a pleasant looking one. Irma Bunt is a perfect handler for Blofeld's operation. She is methodical as she is efficient, and there is absolutely nothing that happens at the Piz Gloria that she doesn't know about, especially if a British agent shows up on the scene pretending to be a scholar. Fraulein Bunt will never lose sight of him, and if he crosses her, she'll happily take on the duty of executioner, and execute she does as she winds up pulling the trigger on Bond's blushing bride Tracy. Worst of all, Fraulein Bunt lives to tell the tale.
8) Dario from Licence To Kill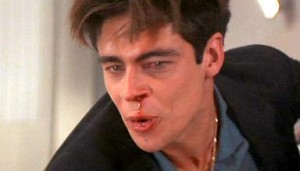 Every major drug kingpin needs a poster child. This coked-up, knife wielding, Menudo nightmare Dario screams "Employee of the Year" in Sanchez' operation. Dario brings something different to the henchman's table: a love of sadism. Not only will he kill someone you love, but he'll want to see you suffer afterward as you dangle to your painful demise. Of course this lust ends up being the death of him when he decides to enjoy making Bond struggle to stay alive. I don't know about you guys, but when your prey is dangling over a large grinder, I would make it a point to just kill him and be done with it. I guess Dario just couldn't resist getting a closer look at Bond as he is ground up into cat food. Sorry, man, but there's no ground chuck double-0 on the menu today. Just pureed henchman.
7) Mr. Wint and Mr. Kidd from Diamonds Are Forever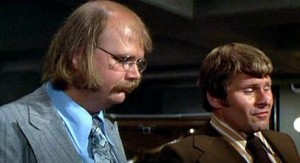 We live in an age of "don't ask, don't tell" well when it comes to the homicidally gay duo, Mr. Wint and Mr. Kidd. You can ask all you want, because you'll be dead before they tell you anything. Their gift is the art of subtlety. They are very unimposing in their presentation, never seeming in any way threatening or dangerous, and that's the way they work best. Their victims are so busy raising an eyebrow to their eccentricity that they never realize that their deaths are planned long before they show up. So if you're next on their hit list, it may be wise to rethink your views of the efficiency of gays in the workplace. While they slip a scorpion down your shirt.
6) Nick Nack from The Man With The Golden Gun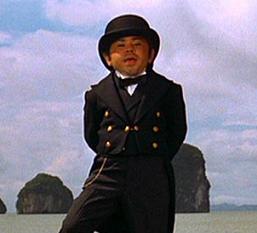 Henchmen like Nick Nack are in short supply, and I don't mean that literally (bet you thought I did). Nick Nack is the butler to Francisco Scaramanga, and though Nick Nack is quite able in the traditional tasks like cooking and cleaning, it's Nick Nack's other talents that come in handy for Scaramanga's use. Nick Nack's unimposing presence makes him an ideal man to serve Scaramanga in his hard to reach tasks. After Scaramanga kills a target, Nick Nack will pick up the pieces without anyone really noticing. This allows him to be extremely able in his tasks of murder and espionage. So when a murder happens nearby, never underestimate the power of the little guy
5) Fiona Volpe from Thunderball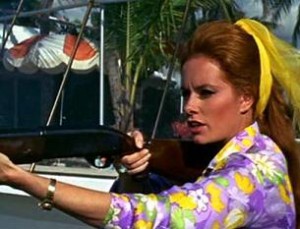 She is the ultimate human personification of a black widow. It's safe to say that if you give in to her seductive allure, your demise won't be far behind. When you meet her, she will turn your head, she will blow your mind, and she will rock your world. That's exactly what she wants, because once you fall for her, you are enslaved. So if you meet her, pray you're not one of that lot who has high clearance access to sensitive military weaponry that could lay waste to major metropolitan areas. If you are, then you might want to run like hell, because a hot night with a fiery vixen like Volpe is not worth losing your life over. Additionally, it's not worth putting others at risk because of it.
4) Tee Hee from Live and Let Die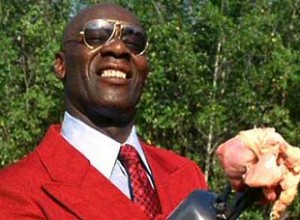 Solid proof that the handicapped still serve a purpose in the workplaces of supervillains and megalomaniacs. Tee Hee is the right hand man (whoops, sorry) to Kananga. He handles the uncivilized jobs that may be a bit too messy for his sophisticated boss. Tee Hee's loyalty is as solid as the steel that his claw is made of. Even when Tee Hee lost his arm in Kananga's alligator farm, he just found another one and proceeded with business as usual. Wow… You try and find a secretary with that kind of commitment to their work. When Tee Hee delivers the goods and you want to congratulate him, it would be advised that shaking his hand might not be the best course of action.
3) Xenia Onatopp from Goldeneye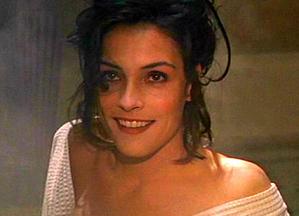 Trojan is famous for providing protection from all sorts of dangers. STD's, no problem. Unwanted pregnancies, meh, no challenge. Xenia Onatopp? Well, that may be a bit problematic for America's trusted condom. Xenia is a woman of extremely deadly sexual prowess. Her powers of seduction are almost irresistible, and she has a leg lock that could break two Thighmasters at once! She is an extremely capable woman with her skills in infiltration, assassination, and sabotage… three skills that go hand-in-hand with her ability to seduce men. If you find yourself between her legs, you might want to enjoy it while it lasts because this may be the last thing you ever do. Or to be technical, the last person you ever do.
2) Oddjob from Goldfinger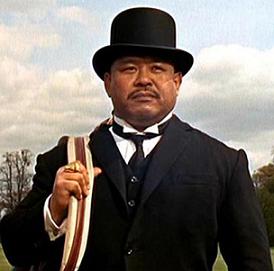 Oddjob is a gentleman of few words… Well to be more accurate, he's a man of no words. He's Auric Goldfinger's mute butler. Highly efficient in all things, he's an excellent butler, a good caddy, and an expert at killing the odd opposition with a simple tip of the hat. The only thing more lethal that Oddjob's fashion sense is Oddjob himself. His strength is almost superhuman, and he can give a hell of a lot more than he takes in a fist fight. In Oddjob's last fight with 007, he is able to take a gold brick in the chest, and he breaks a 2×4 with a simple judo-chop. Though there have been many henchmen, it was Oddjob who truly set the first standards in the traditions of great henchmen to follow.
1) Jaws from The Spy Who Loved Me and Moonraker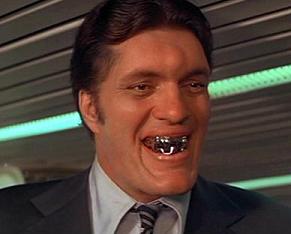 The henchman we loved so much we wanted to see him again, Jaws is definitely the perfect killing machine in the Bond franchise simply because he is virtually indestructable. Jaws has survived a seemingly lethal series of unfortunate defeats. Going down the list, Jaws has been buried in concrete rubble, smashed into a wall by the back of a van, walked away from a car wreck, thrown off a train, fed to the sharks, fallen from a plane at 25,000 feet (maybe more), crashed a cable car with him still inside it, fallen off a waterfall, and finally apparently blown up in a space station. Jaws is The Energizer Bunny of the Bond henchmen. His seeming invincibility, combined with his deadly metal choppers, make Jaws the end all be all of all Bond henchmen.
Honorable Mention: Red Grant from From Russia With Love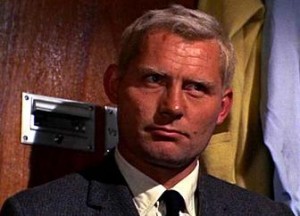 Red Grant is a living, breathing blunt instrument who is trained and conditioned for one purpose: Kill James Bond. His approach to the opprtunity is effective, and his skills of persuasion are abundant. However, no amount of training will ever prepare a blunt instrument for the constant unpredictability of 007.