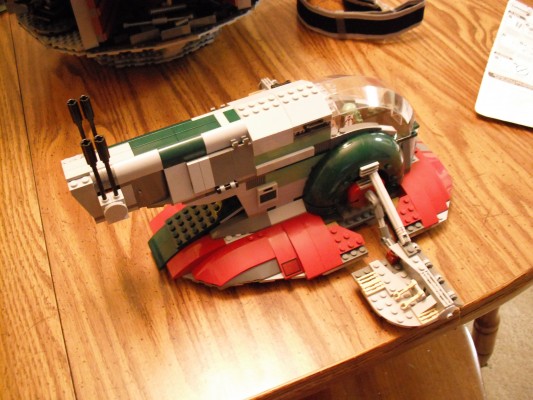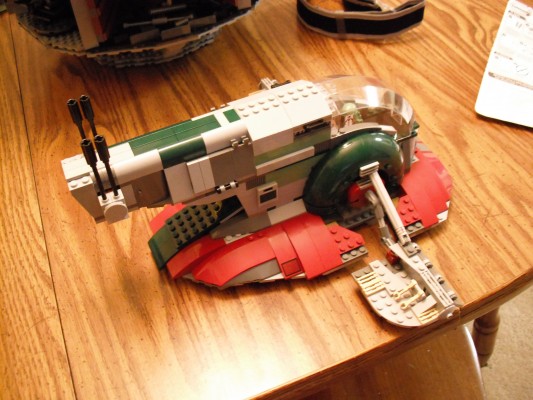 This was another set for which I had been waiting a long time, in part because it was a new version of Boba Fett's ship, but also for the unique, new minifigures. To start off with, there is a new sculpt of Boba Fett. Instead of a black head with a one-piece helmet/jetpack element, this Boba has a separate helmet, a separate jetpack, and a little shoulder-cape. His head actually looks like a person underneath the helmet, and the helmet itself has an antenna similar to the one for Clone Wars clone commander minifigures.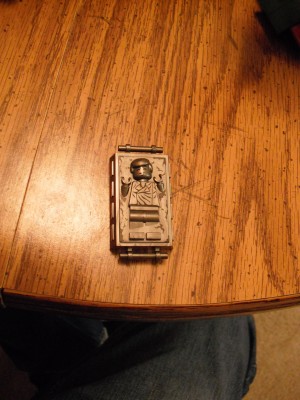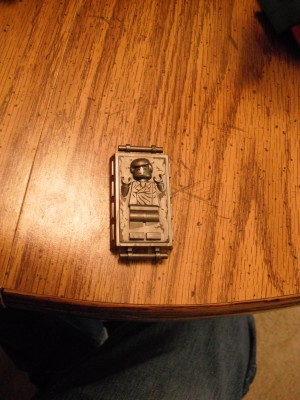 With this set, you also have a Bossk minifigure, which is a first for the reptilian bounty hunter, but the other, more awesome minifigure is a new version of Han Solo in carbonite. For that, you have the carbonite element that actually has frozen Han reaching out (as opposed to the printed image of former sets), and it comes with a Han minifigure that fits right into the back of the carbonite.
The ship itself is largely similar in design to the previous release, but it makes several noticeable changes. There are new stickers for the cockpit window, rounder pieces that attack to the sides, and, most of all, instead of dropping bombs, there is a place under the ship's ramp to place the Han in carbonite minifigure.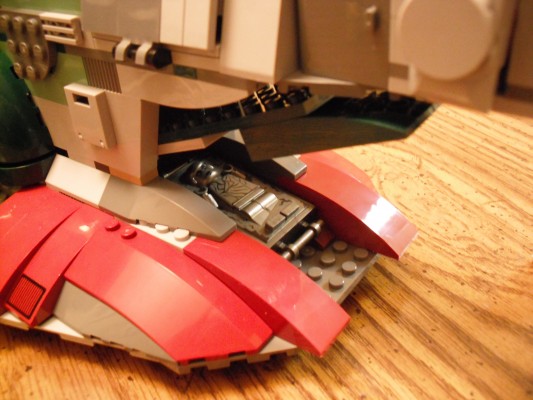 Further, the set removes the firing missile of the previous release and replaces it with a series of flick missiles. To fire, you turn the ship over and used a button that you've constructed. When you fire one missile, the next one drops into place, primed for Boba's next shot. I can't say I'm a fan of flick missiles, but that seems to be the gimmick that LEGO is going with for now. Also, Boba's seat in the ship is smaller than before.
All that aside, this is a really cool set to own. If you don't buy many other sets, but do like the spaceship, this is absolutely one to add to your collection.
Rating: 4 / 5 Stars