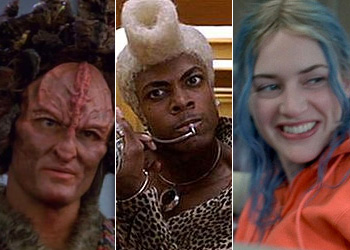 The sci-fi genre is well known for its often stunning array of visual delights in wardrobe, sets and special effects. It has, however, in its time been guilty of horrific crimes against hair. And so, compelled by some of the more shocking follicle sights sci-fi enthusiasts have had to endure, I give you my top ten all time worst sci-fi hairdos. Caution: read on at the risk of disgust!
10. The Kazon – Star Trek: Voyager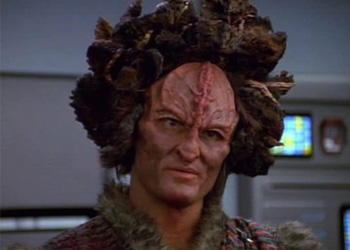 More a matter of genetics than choice, the Kazon of Star Trek: Voyager's Delta quadrant anchor my list firmly at number ten. I struggled with myself for quite some time over where the Kazon should sit in this list and, weighing up the facts, I have demoted them from list toppers to bringing up the rear for only one reason — that this is how their hair naturally grows. As much as they appear to have mossy chunks of petrified mould glued to their scalp by the hands of a rather artistic two-year-old child, it would be a little unfair to place them higher just because evolution saw fit to make a mockery of them.
9. Max Walker – Timecop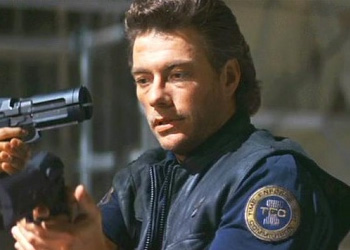 Rolling in at number nine is the tragic but strangely likeable Max Walker, timecop and all round good guy. Although easily regarded as "cheesy" by today's standards, the film itself was rather successful and has a healthy fan base to this day. All this, however, is no excuse for the tragedy that is Jean-Claude Van Damme's hair. I mean, what were they thinking? Released in 1994 and set in the not so distant future (2004) I cannot fathom how someone somewhere thought "swept back mullets will definitely be popular again!" Whoever was responsible, may you hang your head in shame.
8. Clementine – Eternal Sunshine of the Spotless Mind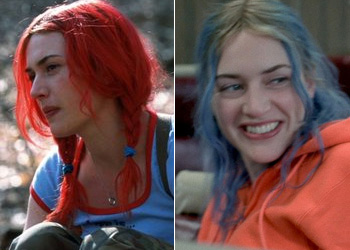 Although this was not a film I truly appreciated, I was mildly entertained by the ever-changing hair of lead character Clementine. A pleasant and comical distraction from the more dull moments of the film, Clementine's bright and generally dishevelled mop of hair was a sight to behold. I cannot decide which colour was more vulgar, the bright red with quirky styling or the appalling faded blue tone, complete with blonde roots and "not been touched with a hairbrush in weeks" look. I think for research purposes I'll let you be the judge on that one.
7. Noranti – Farscape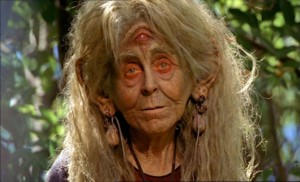 I have to admit I have thought about it long and hard and can only conclude that in order to reinforce her often crazy and demented nature, the producers of Farscape felt that the Traskan healer should have an equally mental hairdo. With a combination of dreads, heavy backcombing and quite possibly some small furry creatures in residence, Noranti Pralatong had a truly distinct look, even if sometimes with that third eye she had it felt like her hair was watching us.
6. Zorg – The Fifth Element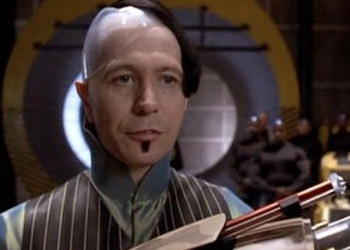 The first of our two contenders from the world of Luc Besson's spectacular film, Jean-Baptiste Emanuel Zorg is one truly despicable guy. The wealthy industrialist and all round baddie had what can only be described as one of the most awful hairstyles I have ever seen in sci-fi or any other movie genre for that matter. With one strip of admittedly rather silky looking hair that ran down the middle of his head, held through a clear plastic headpiece and flopped to one side, Zorg looked creepy and evil in equal measure. The buck teeth did help a little bit.
5. Associate Bob – Demolition Man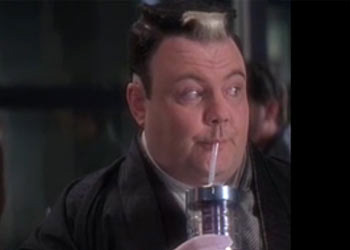 Greetings and salutations, I'm Associate Bob and I styled my hair on my pet skunk. I could almost forgive the socks and sandals combination, but what the heck is with the white tuft of hair in the middle of his forehead? For the snivelling character he was, Bob made some bold fashion choices with his bizarre hair being the proverbial jewel in the crown, even if the crown in question resembled a stinky rodent.
4. Pris – Blade Runner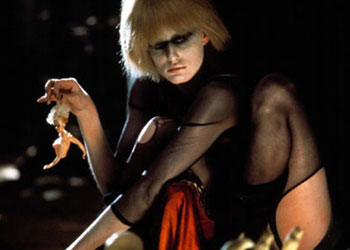 I almost feel bad for putting her in my list as Blade Runner is one of my all time favourite films. I did say almost. Pris had a rather eerie presence in the movie, and her hair I am sure was conceived in order to highlight this fact. The yellow-blonde and possibly razor-cut hair of Pris is a stark reminder to me of life before hair straighteners. Even more disturbing was that her hair never seemed to move either, and even the heavy rain that beat down struggled to make her gruesome 'do conform to gravity.
3. Aunty Entity – Mad Max Beyond Thunderdome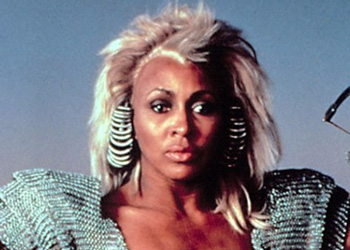 Coming in strong at number three it's Aunty Entity, the ruthless ruler of Bartertown. With the aid of some serious shoulder pads and low-cut chain mail, Tina Turner does a pretty good job of portraying the Amazonian-esque leader. It's such a shame that poor blind man lost control of his lawnmower as she was making her way to the set. The blades must have swept right past her face, thankfully not harming our lovely Tina but rather brutally shredding the platinum blonde hair across the whole front half of her head. Don't worry, Tina, I swear that one day vengeance shall be yours — just follow the trail of bad hair and grass cuttings.
2. Ruby Rhod – The Fifth Element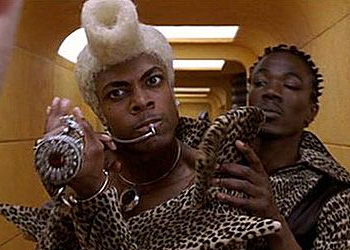 Wrestling for the top spot but having to settle for number two, it's Ruby Rhod's blond "coiled up toilet roll tube thing coming out of his head" look. High pitched lady loving DJ Ruby was very much "in your face" and boy did he have some hair to match! Flamboyant and heavily bleached, Ruby's hair made girls whimper and poodles yelp, most probably because it was obviously their shaved remains that must have made that wig.
As nauseating as this lovable little firecracker's hair was, in the end there could be only one winner, the ultimate dodgy do ever to have graced the sci-fi scene…
1. Londo Mollari – Babylon 5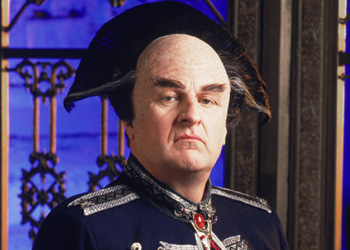 Like it or not, you knew deep down that Londo Mollari, long time drunkard and eventual Emperor of Centauri Prime, could be the only winner. Sporting a cultural hairstyle envied only by peacocks, Londo's style harked back to the navy admirals of old and ultimately rendered the use of a hat obsolete. Many an hour have I spent trying to calculate the amount of hair products required to achieve a style of such epic proportions. I do suspect that he has a specially modified pillow to accommodate his fan-shaped head, or else wouldn't his morning hair just be a complete nightmare? At any rate, kudos to his barber.