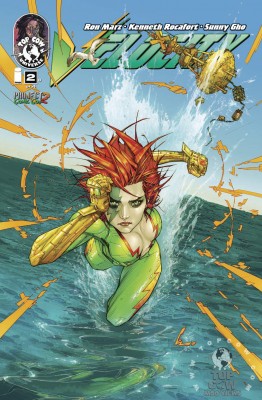 Just this week comic book publisher Top Cow Productions announced that the company will make its debut appearance at Project: Comic Con 2 this weekend in Maryland Heights, MO. Top Cow publisher Filip Sablik, writers Phil Hester (The Darkness) and Bryan Edward Hill (Broken Trinity: Pandora's Box, Pilot Season: 7 Days from Hell), and artists Kenneth Rocafort (Cyberforce/Hunter-Killer, Velocity) and Jeremy Haun (Berserker) will be available all weekend (Sept. 18-19, 2010) at the Top Cow booth for signings, and Sablik will also be available for portfolio reviews for aspiring artists!
In addition to this great opportunity to rub elbows with some of Top Cow's finest, the publisher announced that it will be offering an exclusive Project: Comic Con 2 variant cover for Velocity #2, created by Kenneth Rocafort (pictured above). According to Top Cow, there will be a limited quantity of the Velocity #2 Project: Comic Con 2 available and the SRP is $10, so it's recommended that you pick up a copy at Project: Comic Con 2 if you're at the Maryland Heights Center this weekend.
In Velocity #2, the fastest girl in the Top Cow Universe must race to save her Cyberforce teammates from a deadly "technovirus." Velocity #2 is written by Ron Marz (Artifacts) with artwork by cover artist Kenneth Rocafort. This limited edition comic isn't the only thing fans can get at the Top Cow booth — free preview books will also be available as well as awesome savings on trade paperbacks and convention variant covers.
Fans interested in sketches from the Top Cow artists are asked to stop by the booth at the beginning of each day to acquire a sketch ticket. For more information on Top Cow Productions or Project: Comic Con visit www.topcow.com and www.projectcomiccon.com, respectively.