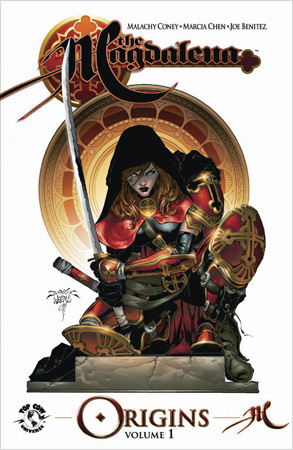 Issue: The Magdalena: Origins Vol. 1
(Collects issues 15-18 of The Darkness and issues 1-3 of volume 1 of Magdalena)
Release Date: December 29, 2010
Publisher: Top Cow Productions
Collecting the first appearance of The Magdalena in The Darkness as well as a kind of prequel story for the Magdalena bloodline (more directly, the Magdalena we have now), this trade take me back to when I followed Witchblade and The Darkness religiously every month and to when I discovered my all-time favorite Top Cow character.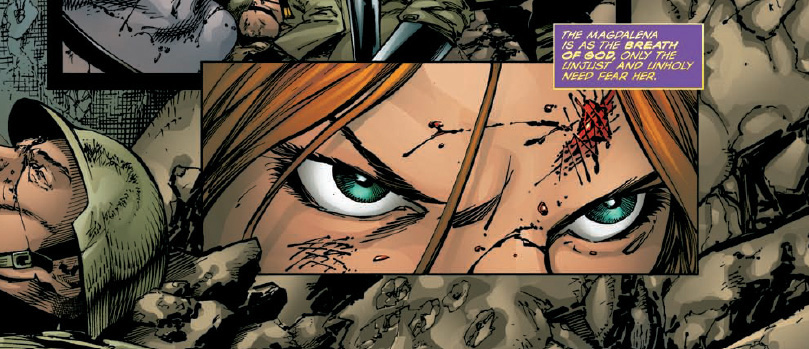 Okay, so what's really great about this trade is that it's the entire introduction to a character that's turned out to be a pretty decent part of the Top Cow universe in the decade or so after she was created. Whether or not that was intended from the beginning doesn't really matter to me. What mattered at the time was that a comics publisher FINALLY put out a comic that I dug and that dealt with two things I had and have a huge passion for: female characters kicking major ass and religious themes.
This trade is two different stories. The first is the introduction of that timeline's Magdalena (whose name is Mariella) in The Darkness, and the second is a bit of a prequel to this introduction. The gist of the first half is that a shady cardinal sends Mariella out to kill Jackie (because he's the bearer of The Darkness and that's what the bloodline of Christ is apparently born to do) before she had been fully trained. Of course, things don't pan out the way she expects them to, and her unpreparedness even leads to further development with the Angelus (the last part of the Top Cow Trinity). Reading it again after all these years, a majority of the story boils down to Mariella screaming "THE POWER OF CHRIST COMPEL(S) YOU!" and Jackie making sexual comments at her in between calling her a "bitch" while the story cuts between some strange street walker/street preacher side story and a shady cardinal suckering a naïve Father into taking the blame from something he didn't do.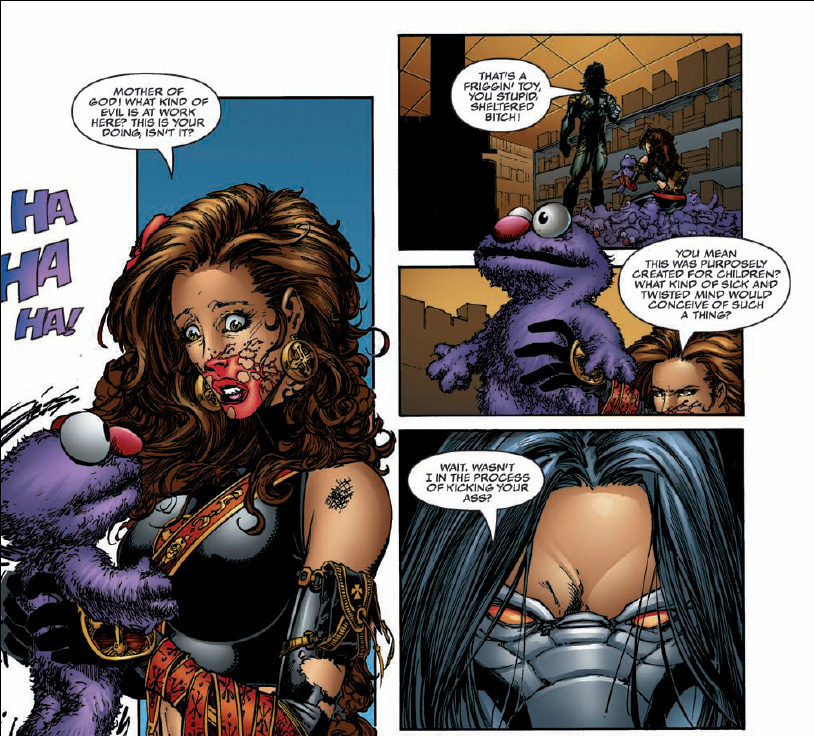 The second story is about the last case that Mariella's mother, Rosalia, took before she died. Which was a whole "vampires that aren't really vampires but humans infected with a blood disease that makes them exactly like vampires." Only not. I was a little confused on which it was, vampire or not, myself there. In the end Rosalia doesn't take them out, and that turns out to be her downfall. More importantly, what we discover in this story is alleged motivation for what Cardinal Innocent does in the first story with Mariella.
In all honesty, this trade is a bit dated. Besides those panels above, there's also a whole scene where the Mariella lands on Jackie's "total surround sound Dolby Digital laserdisc player," and the art still has that '90s look of overly elongated legs and arms and impossible waists (but isn't digitally done, which is a rarity, it feels like nowadays). There're also some pretty big spelling/grammar errors, but overall it's a great origin collection. Being a decade from when these issues originally came out, it's great to see where these two characters came from and what got them to where they are now. Beyond nostalgia, this trade is worth getting for the stories and the setup of this character and her bloodline and how it weaves into the rest of the Top Cow universe.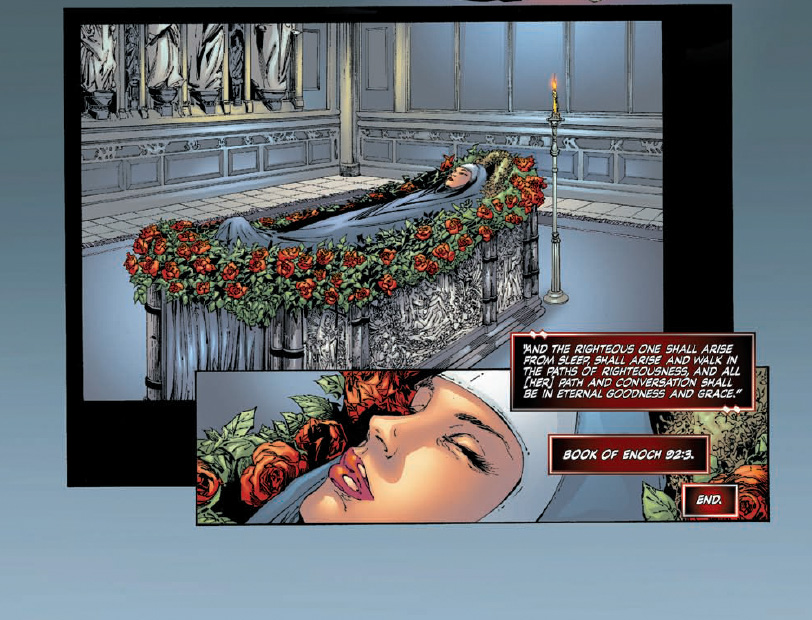 Rating: 4 / 5 Stars