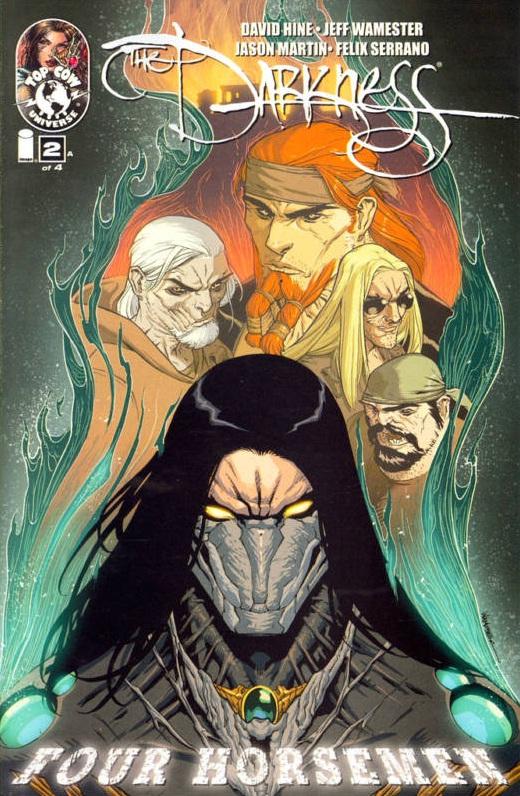 Issue: The Darkness: Four Horsemen #2
Release Date: September 29, 2010
Writer: David Hine
Pencils: Jeff Wamester
Inks: Jeff Wamester & Jason Martin
Colors: Felix Serrano
Cover A: Jeff Wamester & Arif Prianto of IFS
Letterer: Troy Peteri
Publisher: Top Cow Productions
If The Darkness is your older brother that gets you into Metallica and teaches you what the "f word" is and how to sneak booze from your parents' liquor cabinet without them finding out, then The Darkness: Four Horsemen is your older brother's cooler best friend. Yeah, this is the guy that will teach you how to be really bad. His methods are a little terrifying, but that's why he's your brother's cool friend. And you don't want to miss this ride. Just embrace the fear and know you will be a far better person once the ride is over.
Issue two does not suffer from the sophomore slump. Like the Horsemen themselves, it charges on hard and fast, a thrill ride of gore and sadistic hedonism that you can't get away from. Normally, I cringe at the use of graphic gore but in this storyline, it works and I can't imagine the tale being told any other way. This is not gore for the sake of gore. It's, shall I say, tasteful gore? Is that possible? Well, thanks to David Hine's fantastic storytelling, yeah, it is.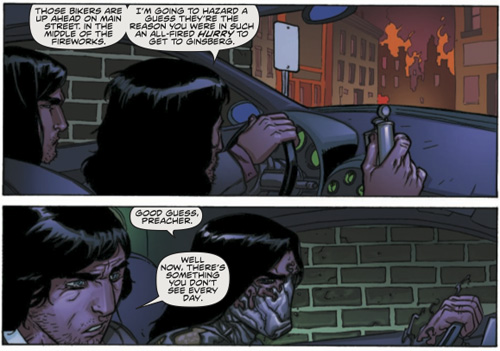 We find Jackie Estacado on his way to do a clean up job for Lucio Franchetti. A group of bikers have gotten out of hand and haven't paid their dues. Jackie's used to getting his hands dirty from time to time and expects this job to be no different from the rest. Sure, these bikers are probably possessed by the spirits of the Four Horsemen, but they should be of retirement age and no problem to take care of, right?
Oh, if only.
The bikers in question have holed themselves up in the sleepy little town of Ginsberg, CA, awaiting the end of the world, when the real fun begins. But while they are waiting, they stay entertained by unleashing the powers of famine, war, pestilence, and death on the unsuspecting townspeople.
I was very impressed by the interpretation of famine, war, pestilence and death. No lame literal interpretations — Hine does a clever job of updating the Four Horsemen's tricks for the twenty-first century and Wamester captures the gritty, sticky gore perfectly in his artwork.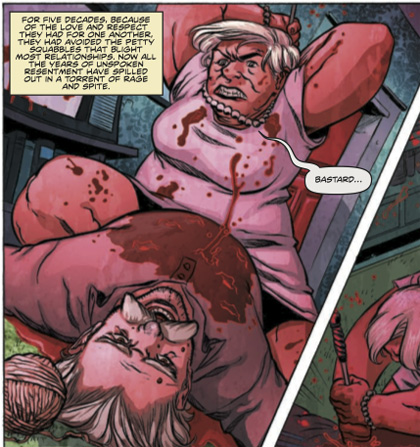 Jackie shows up, expecting a fight, and a fight he gets. Will Jackie be able to fulfill his promise to Mr. Franchetti? Did Mr. Franchetti really expect Jackie to clean up this mess?
I don't know and that is why I can not wait for issue three of The Darkness: Four Horsemen to hit the shelves of my friendly neighborhood comic book store.
Still not certain whether you should read this? Imagine if the television series Supernatural and the film Se7en were blended together with a dash of the dark humor of a Quentin Tarantino film. Sound good? Then this series is for you, my friend.
Rating: 5 / 5 Stars