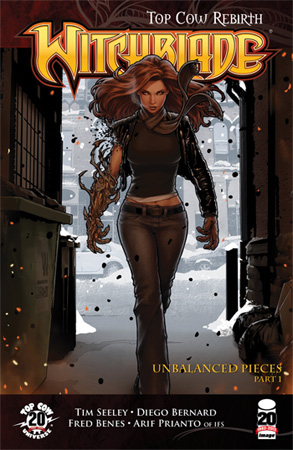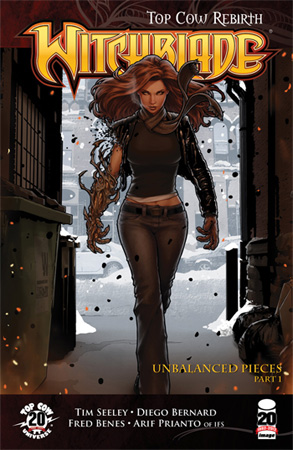 The newest installment of the Witchblade comic book series hit stores last week and thanks to the folks over at Top Cow I had a chance to read it. For those of you unfamiliar with the series, Witchblade details the exploits of one Sara Pezzini, a former NYPD homicide detective turned private investigator and bearer of a sentient supernatural artifact known as the Witchblade. With the Witchblade's immense power and intuitive ability to sniff out nefarious beings and deeds, Sara works to right wrongs while maintaining some semblance of a personal life — you know, the usual heroine gig.
Witchblade #151 marks a new jumping-on point in the Witchblade series, which was started back in 1995 by Marc Silvestri, David Wohl, Brian Haberlin, Christina Z and Michael Turner. My favorite comic book writer, Tim Seeley (Hack/Slash), teamed up with artist Diego Bernard (The Man With No Name) to produce Witchblade #151, marking the first time a completely new creative team has worked on the series in over six years, following the landmark run by Ron Marz (Silver Surfer, Green Lantern) and Stjepan Sejic (Artifacts, Army of Darkness).
Taking over another writer's character is never easy, but Seeley is up for the challenge. "Over the years, I've developed a rep as a guy who likes to write women who kick ass, and look great doing it," Seeley says in a press release issued by Top Cow. "I'm over-the-moon at getting the opportunity to follow up one of the most beloved creative teams in comic history, on one of the most enduring heroines ever!" Seeley expressed the same enthusiasm when I spoke with him recently about his experience working on Witchblade #151. When I asked Tim about his penchant for writing strong female characters like Cassie Hack in Hack/Slash and Sara Pezzini in Witchblade, he had the following to say:
"I've always had a predilection towards writing female leads. My first published writing gig was Lovebunny & Mr. Hell, which starred a spunky superheroine. My best guess is just that I have a real, genuine fascination with women. And I mean, not just the kind that compels me to try and buy them dinner so I can see them naked. Whether that's a good or bad thing, I don't know, but it does cause me to spend a lot of time trying to understand women, and that informs the way I write female characters. It seems to work, as Hack/Slash does have a high percentage of female readers. Mostly I try not to treat characters too differently based on gender, except for the way the rest of the world treats them. That to me seems to be the biggest difference between men and women… how others see them."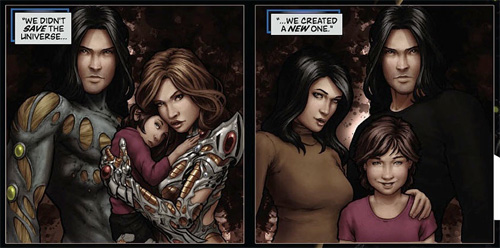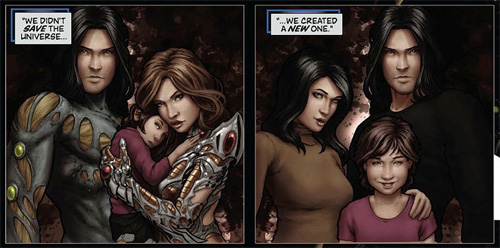 I also asked Tim what it's like to write another person's character, especially one with such a long, established history and fan base, and whether it limits what a writer can do with the issue he is working on. "For sure, especially with a character that has so few different 'takes'," Tim said. "With a character like Batman or Spidey, there's been so many—thousands! — of different writers that readers are used to slight variations in interpretation. With Sara, Ron's run DEFINES the character, so I'm going to this expecting some readers to not like how I write her. But, I've read the WHOLE run, and I'm distilling the things that I think I can play with to make the best, most exciting comics I can. But in the end, I'm just excited to be part of it. This is a character created by one of the IMAGE FOUNDERS! And co-created by one of the most popular pencilers of all time! How cool is this?!"
After reading Witchblade #151 it's clear that Tim's research on the series paid off. The Seeley-Bernard issue uses the Marz-era run as a springboard for Sara's latest adventure while remaining true to previous portrayals of the series's heroine. Even better is the fact that you certainly don't need much of Sara's back story to enjoy issue #151. Seeley does an excellent job of providing readers with just the right information about Sara's past in New York and with the Witchblade — all without being heavy handed, too.
Interestingly, this is not the first time Tim worked on the Witchblade series, having contributed to a cover for a past issue. As I found out when I spoke with him about issue #151, his previous work on the series had little to do with landing the gig working on the Top Cow rebirth: "Comics is a small industry, and I think meeting guys like former editor Rob Levin, and getting beers with the Top Cow guys at Cons let them get an idea of what kind of dude I am," Tim told me. "I think Diego is more than capable of drawing the s**t out of this book, so I don't know if they need me drawing Sara anytime soon. But if asked, I would certainly crack out my crayons."