Issue: The Last Of The Greats #2
Story: Joshua Hale Fialkov
Pencils: Brent Peeples
Inks: Matthew Waite
Colors: Mirka Andolfo
Letters: Troy Peteri
Cover A: Brent Peeples, Matthew Waite, and Mirka Andolfo
Cover B: Stjepan Sejic
Publisher: Image Comics
The second issue picks up one month after the Last saved humanity. Charles, the only survivor from the last issue, is telling the world that the Last is weakened from the fight. The only way he can regain his strength if his everyone puts their faith, trust, and lives in his hands. Interspersed with Charles speaking are scenes of destruction and people protesting. The Last later descends among the people, who are cheering him on.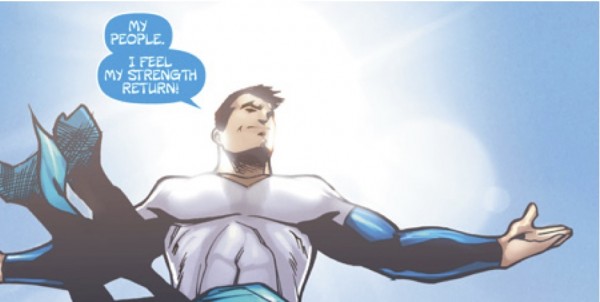 Charles and a general discuss the Last and there seems to be some intrigue against the Last. Meanwhile, the Last chases after a little boy, who says he hates all of the Greats. The Last reaches into the boy's mind and sees a bit of the past from one of his siblings. The Last then takes the boy, telling the people that he will take the boy in. He tells the people that he will fix all their problems as soon as he can. However, as the readers know, the Last isn't that kind and he gets rid of the boy. Later, Charles confronts him about it, but the Last waves it off. Charles threatens the Last, but the Last doesn't take him seriously.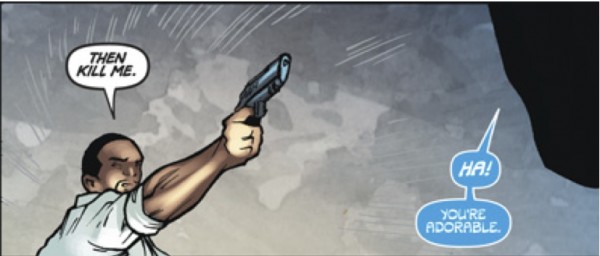 Once again, this was a solid issue. The art and colors are amazing. Every time the Last is around, there is a slight blue-ness to the room and without him, the blue-ness goes away. The images of the ruined buildings, like the UN building and the Eiffel Tower, are really powerful and highly detailed. The story is getting more twisted and interesting at every page. Even though I know the Last doesn't care about people, I never thought he would do what he did to the little boy. I can't wait to see what the Last has planned for humanity and if Charles will help or hinder him.