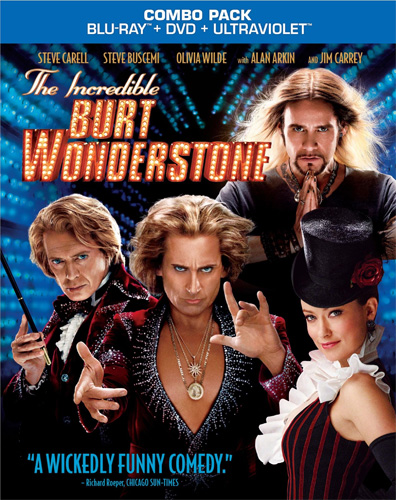 Steve Carell, Steve Buscemi, Olivia Wilde, and Jim Carrey are in a comedy together about stage magicians in Las Vegas, and Alan Arkin and James Gandolfini guest star. Sounds like the makings of a great movie, right? Unfortunately, even though it puts together a great cast with a promising premise, The Incredible Burt Wonderstone is not that movie.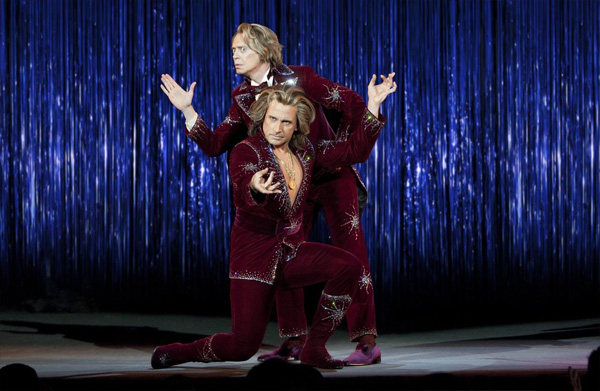 It's hard to say where the fault lies with Burt Wonderstone. The script is an obvious target, comprised of all the plot turns and character choices you're likely to predict after watching the first quarter of the film. It's hard to put all the blame on the script, however, when the direction seems like just as likely a culprit. Steve Buscemi never has had a role in which he didn't stand out, often stealing the show with his undeniable presence. The Buscemi we see in this movie is muted and forgettable. It's hard to direct Steve Buscemi to be uninteresting, but somehow that's what happens in this film. The killing stroke for Burt Wonderstone is that, even though it has all the components of a movie that should be effortlessly hilarious, it manages to be just not very funny.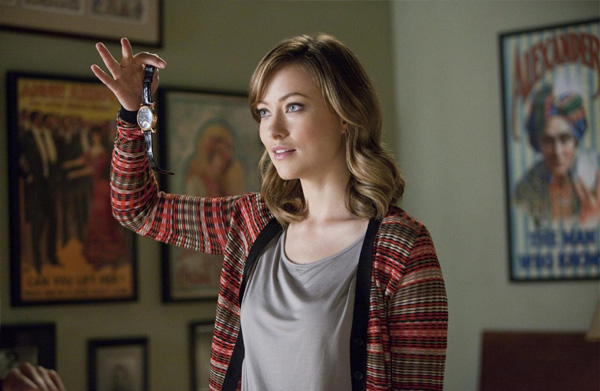 The film begins in 1982 with young Albert being chased down and bullied by kids from his school. It's Albert's birthday, and his day gets progressively worse when he finds that his mom isn't even home to celebrate with him. Resigned to his birthday fate, Albert opens the present his mom left for him before she went to work and is astonished to find a Rance Holloway magic kit. Many of the magician characters in Burt Wonderstone are analogous to real life figures, and Rance Holloway (Alan Arkin) is this universe's Harry Blackstone. Entranced by the Holloway tricks, Albert soon becomes friends with another young outsider, Anthony, and they embark on what will be a lifelong friendship based around their magic acts.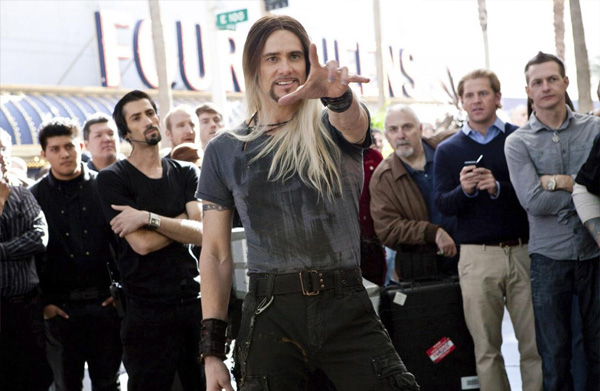 Jumping forward to the present, Albert and Anthony have become Burt Wonderstone (Steve Carell) and Anton Marvelton (Steve Buscemi), headlining Bally's hotel magic show for a decade. Over time their partnership and act both have grown stale, and they haven't updated their image from the velvet suited, poofy haired Siegfried and Roy look they've sported during their whole contract. Rotating through an ever changing roster of "Nicoles" as their magic assistant, their most recent hapless aid is Jane (Olivia Wilde). They continue to draw crowds and sleepwalk through their complacent performances until a newcomer arrives to shake up the whole magic scene. Steve Gray (Jim Carrey) is a David Blaine / Criss Angel amalgam who performs street magic for shock value. Like his real life counterparts, Gray is an unsettling presence with a penchant for doing bodily harm to himself in the name of magic. As magic audiences' interests begin to gravitate towards Gray's sensationalist stunts, Burt and Anton's Vegas appeal finally dries up. Bally's hotel owner Doug Munny (James Gandolfini) shuts down the duo's longtime gig, and the lifelong partners split bitterly. You very likely can guess the remainder of the movie's plot with a high degree of accuracy.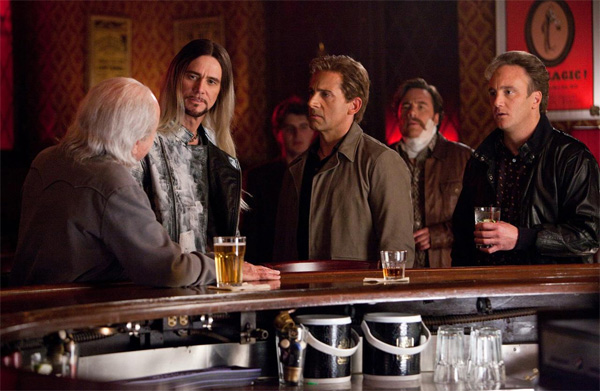 So many flaws make The Incredible Burt Wonderstone a hard movie to enjoy, chief among them being the central character. When we first meet Albert as a kid, he's a likable and sympathetic youngster, and we want to see him rise above his bullies. After the movie jumps forward and we reencounter him as the adult Burt Wonderstone, there's no longer anything to root for. Burt already has triumphed over the bullies, become ridiculously wealthy in Vegas, and is a giant horse's ass. Arrogant, misogynistic, bored, and generally vile, Burt is a hard character to like on any level. When things start to go badly for him, it feels entirely deserved. Only the fact that Steve Grey is even grosser than Burt provides any encouragement to cheer for Burt's plight. It's common for movies to set up an unlikable hero, only to reform and transform that character into someone the audience can applaud. That's the attempt this movie makes, but Burt stays too obliviously pompous for too long, and he never manages to become anything other than a placeholder for what should have been a great Steve Carell character.
Even movies with predictable or disappointing plots can pack in great humor, but even the laughs are few and far between here. All four of the principal actors in Burt Wonderstone have been really, really funny in the past, and it's unfortunate that this movie doesn't let them pull it off here. Most of the jokes are poorly constructed and just fall flat, but more than a few are downright puzzling in their approach and implications. Steve Gray's performance is called "Brain Rapist" (ala Criss Angel's "Mindfreak"), and a hashtag of "#rapist" accompanies all of his TV performances. The movie sets Gray up as the villain, but somehow his calling himself a rapist is played for laughs, not for reinforcing his villainy, and never seems like a questionable branding slogan to any of the characters. Another scene has a character bringing international aid to a hungry village in need of clean water. This being a comedy, there are jokes, but they are uncomfortable ones that feel more like oblivious production than thoughtful dark comedy. Some viewers might slide right past all the stuff that rubs me the wrong way here, but a lot of the movie's humor just wasn't funny to me.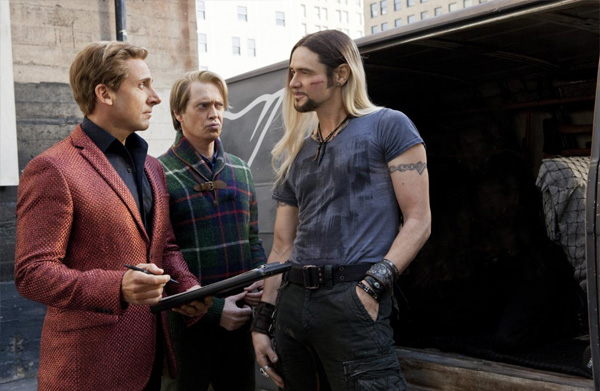 The Incredible Burt Wonderstone releases on home video this week, and the Blu-ray packs in just a few bonus features:
Steve Gray Uncut – An additional 9 minutes of Jim Carrey's self flagellating street magic
Deleted Scenes & Alternate Takes – Nearly half an hour of cut or altered scenes
Making Movie Magic with David Copperfield – An 8 minute feature with David Copperfield about his cameo in the movie and some of the film's magic tricks
Gag Reel – A standard outtake compilation
The Incredible Burt Wonderstone is a movie I expected to enjoy but ended up disliking. It lands somewhere in Will Ferrell territory (Talladega Nights Ferrell, not Anchorman Ferrell) but lacks the weirdly self aware humor that Ferrell brings to his movies. Alan Arkin's brief appearances as master magician Rance Holloway are more interesting than just about everything else in this film. The Incredible Burt Wonderstone is in stores today, June 25, 2013.