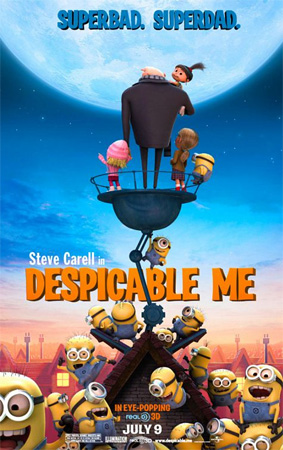 Director: Pierre Coffin and Chris Renaud
Screenplay: Ken Daurio and Cinco Paul
Cast: Steve Carell, Jason Segel, Russell Brand, Julie Andrews, Will Arnett, Kristen Wiig, Miranda Cosgrove, Jemaine Clement
Rated: PG
Never has villainy been so much fun.
If you've seen the first trailer, that's essentially the beginning of the film, as new top-villain-to-be Vector's (Jason Segel) dastardly theft of a major world landmark renders Gru (Steve Carell) a scheming relic. To get back on top, Gru devises his plan to steal the moon, but can't get funding from the Bank of Evil because they want to fund younger villains like Vector (who also happens to be the bank president's son).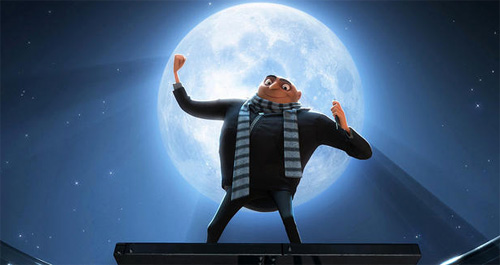 Going on with the plan, things come to a halt when Vector steals a vital component from Gru, who fails to gain entry to Vector's fortress until he notices three orphan girls selling cookies. After watching Vector happily welcome them in to purchase their cookies, Gru adopts the children as part of his scheme, and finds something he didn't know he wanted: a family.
The first real comment I'll give goes to the voice talents. Carell's accent as Gru, something the actor described as a cross between Ricardo Montalbán (KHAAAN!) and Béla Lugosi, makes the most mundane lines funny. Russell Brand (Get Him to the Greek) is practically unrecognizable as Gru's mad scientist Dr. Nefario. For the life of me, I couldn't spot Jemaine Clement of Flight of the Conchords as "Jerry the Minion," but co-directors Chris Renaud and Pierre Coffin, along with Clement, kept me in stitches as the minions.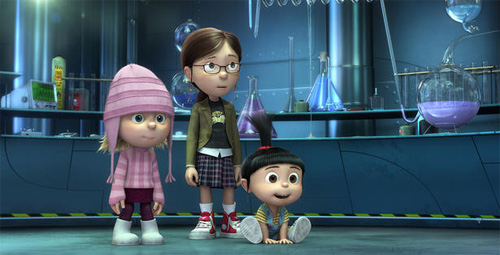 Lastly, despite the draw of teeny actor Miranda Cosgrove as Margo, the breakout star of the three orphan girls is Elsie Fisher as the unicorn-obsessed Agnes. She quickly endears herself as the cutest and funniest of the girls, spotting a giant stuffed unicorn at a carnival game and exclaiming "It's so fluffy I'm gonna die!"
Meanwhile, the minions are great little scene-stealers, whether they are buying a toy for Agnes (disguised a husband, wife, and baby) or submitting themselves as test subjects for Dr. Nefario's gadgets. Their appearance during the credits made me curse that the theater didn't have the movie in 3D, but that's because every movie out now is 3D and the theaters can only do so much. [Author's note: I'll save the rant about the 3D fad for another article, possibly entitled "How Hollywood Exploits a Fad to Death."]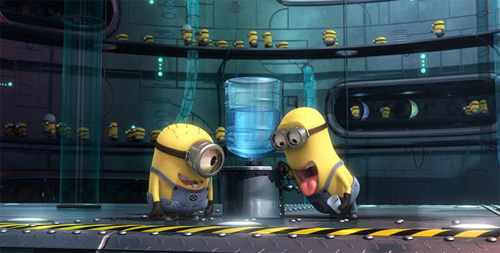 The only complaint I had for this was that it seems Gru becomes attached to the girls too quickly and easily after they move in with him without the directors giving much of a reason for it. Julie Andrews's scenes as Gru's mother were also too short, not really showing anything of her [lack of] parenting skills in flashbacks of the villain's childhood.
That said, I saw this with a date and several friends from school, and we all thoroughly enjoyed the film despite being in our mid-to-late-20s. It's great today to see a children's animated film that leaves enough humor to appeal to parents and the "big kid" in us all.
Rating: 4.5 / 5 Stars