Director: Joseph Kosinski
Screenplay: Adam Horowitz and Edward Kitsis
Cast: Jeff Bridges, Garrett Hedlund, Olivia Wilde, Michael Sheen, James Frain, Bruce Boxleitner
Rated: PG
I've honestly been waiting for this movie for at least half a year. I got excited when the first trailer came out in June and fanboyed over how amazing it looked. I wasn't disappointed.
For those new to Tron, the original film in 1982 was a special effects masterpiece about a computer programmer named Kevin Flynn (Jeff Bridges), who finds himself transported to the world inside his computer. It's a world where computer programs resemble actual people, even down to their character flaws. As wondrous as it is dangerous, Flynn must fight an evil computer program with megalomaniacal goals, aided by a security program named Tron.
Fast-forward to 2010. Since the plot of the original film, Flynn has married and had a son named Sam (Garrett Hedlund). Sam's mother passes away early on, and it's just father and son until Flynn disappears one night. In the meantime, Sam has grown up to be the largest shareholder in the company — and its biggest nuisance. In his first appearance on screen, Sam breaks into his own company and sabotages a new operating system, releasing it for free to the public.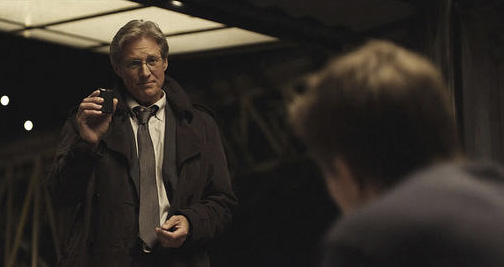 When Flynn's old partner, Alan Brady (Bruce Boxleitner) shows up at Sam's place with a mysterious text from Flynn, the action begins as Sam investigates. Sam discovers a hidden office with remnants of the first film, namely the master control computer interface and the laser that originally transported his father to the digital world. Unknowingly setting it off, Sam finds himself in that world as well, and it is far from the electronic utopia that Flynn had envisioned.
Quickly put on the grid where he is expected to "survive," Sam is reunited with his father, or so he thinks. In charge of this nightmarish world is Clu, a program that looks exactly like Flynn did on the day he disappeared from Sam's life. With the help of a program named Quorra (Olivia Wilde), Sam escapes and is reunited with his true father. The elder Flynn is overjoyed to see his son, and it becomes clear that his time in the grid has caused Flynn to become a bit zen-like, and perhaps, dare I say, dude-like?
Shortly after this Clu's real plan becomes apparent — it was he who sent the page to Sam in the hope that he would provide a way for Clu to access our world. No longer is the renegade program content to make a perfect system within the computer, he wants to make our world perfect as well. Much as with the first film, our hope lies in three characters who must stop an evil program from taking over the globe.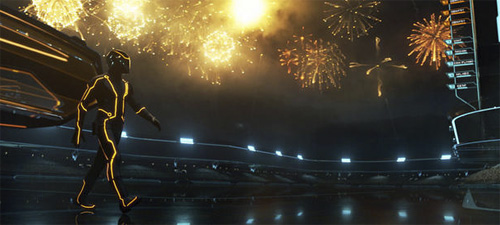 This was a visually stunning movie. I had the opportunity to see it in IMAX 3D, and while I'm still not convinced that anyone in Hollywood knows how to do 3D properly, on screen the visuals will blow you away. This film series has come a long way from 1982 and it shows, from the trail of light on the light cycles to turning the clock on Jeff Bridges back a couple decades. The sets only use a small variation of colors (black, white, red, blue, yellow), but they're made incredibly vivid and contrasting with each other. Everyone manages to stand out against any backdrop. I can't really say much more about it than to tell you that it's worth it for this alone.
The actors all turn out good performances. Hedlund doesn't just play Sam as a rebellious young man with daddy issues, but as someone who genuinely cares about others' welfare. While Encon planned to release the operating system for profit, Sam is concerned with making it available to those who cannot afford it. Jeff Bridges, meanwhile, does channel some of The Dude in his current interpretation of Kevin Flynn, who it appears has turned to Zen in the wake of his trials and tribulations on the grid. He has the air of a monk and has an ability to manipulate the system in an almost god-like fashion. He also does well portraying his evil alter-ego Clu, though I think Clu's single-mindedness could have been pulled off better.
Olivia Wilde could have used some more character development, but overall she is good and worthwhile to the story. It's clear that Flynn has tried to educate her about the outside world, but her naïveté produces some humorous moments, such as when she asks Sam if he knows Jules Verne personally. Michael Sheen provides a bit of humor as well, but it's a bit more tongue-in-cheek and over-the-top.
The story itself will produce some head-scratching moments, but overall is sound. Certain plot elements such as why Clu went bad and what the ISOs are could have used a bit more fleshing-out for those who didn't read the Tron: The Betrayal comic book put out by Marvel. In the end, this movie was a fun ride and a worthy successor to its predecessor.
End of Line.
Rating: 4.5 / 5 Stars