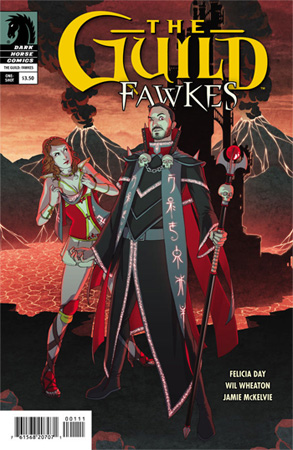 Issue: The Guild: Fawkes
Release Date: May 23, 2012
Writers: Felicia Day and Wil Wheaton
Artist: Jamie McKelvie
Colors: Matthew Wilson
Cover: Paul Duffield
Publisher: Dark Horse Comics
As the self-appointed biggest fan of Wil Wheaton at Fandomania, I have been looking forward to this since it was announced. I was not disappointed, to say the least. With the king and queen of the geeks (Wil and Felicia) writing it, how could it possibly not be good? I'll avoid too many spoilers for the comic itself, but I'll assume knowledge of all of the episodes of The Guild that are out there. If you aren't caught up, then you'll want to do that before reading the comic anyway.
The story takes place somewhere between Seasons 3 (Fawkes and Codex's one-night stand) and 5 (at MegaGameORama-Con) of The Guild. Fawkes still has feelings for Codex, but refuses to admit it. And it's affecting his performance in The Game. Will this lead to the demise of the Axis of Anarchy? Well, actually, since I'm assuming knowledge of the show up to this point, clearly the answer is yes. Of course, the point of the comic isn't so much to let us know what we already know, but to fill in the gaps from the point of view of Fawkes.
The writing on the comic is, as I mentioned previously, excellent. There's the expected humor, especially the scenes of Fawkes at his day job. I also appreciate the insights into his character's motivations; he almost seems sympathetic at times (almost). I could hear Wil's voice as I read the comic, too, which really added to the experience. Not to give away too much, but the reasoning behind why Fawkes ends up as a Furry at MegaGameORama-Con makes a whole lot more sense than you might have originally thought.
The artwork is spot on. The characters look just like the actors who play them. Fawkes is, of course, particularly well done, complete with trademark kilt. There are also plenty of little details to discover in the background. I particularly like the incorporation of a certain poster's artwork into some drawings that Fawkes makes in his journal. (Celeste: That's a Thinkgeek link. I don't know if they have anything like the Amazon program, but I figured it didn't hurt to mention it!)
All in all, this is a fine addition to The Guild story. If you enjoy The Guild, especially if you enjoy filling in background information, you'll enjoy this comic.
Rating: 4.5 / 5