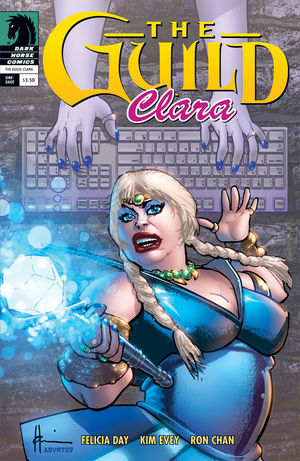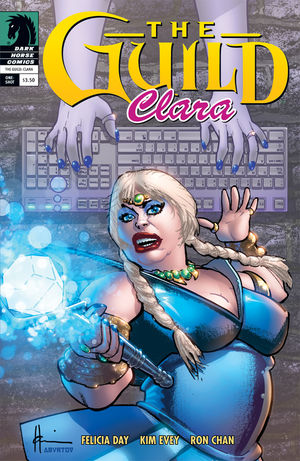 Issue: The Guild: Clara
Release Date: September 21, 2011
Writers: Felicia Day & Kim Evey
Artist: Ron Chan
Letterer: Nate Piekos of Blambot
Cover A: Howard Chaykin with Jesus Aburto
Cover B: Greg Aronowitz
Publisher: Dark Horse Comics
Do you ever find yourself zoning out during a guild meeting, and wonder about stuff. Like, when are we going to start raiding? How do they get the cheese into the spray cheese can when the nozzle is so small? Do I have two or three children? Perhaps while your guild leader is droning on about the upcoming election you think about The Guild and want to know more about… Clara. Yeah, Clara is a mellow and fun lady who has her priorities straight. But has she always been this cool? What was she like when she was younger? And has her husband always been such a stick in the mud?
Those answers and more await you in Dark Horse Comics latest one shot, The Guild: Clara.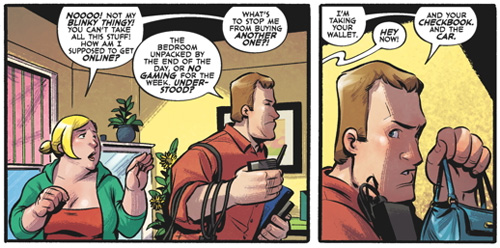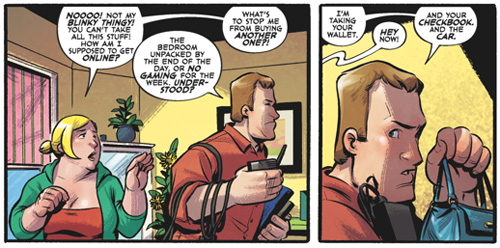 This issue focuses on none other than everyone's favorite nominee for worst mother of the year. Clara begins to zone out during a guild meeting and inadvertently finds herself forced into interacting with her family! To make matters worse, her husband, what's his name, has taken away her blinking Internet thingie, forcing her to tackle unpacking (What is the rush? It's only been ten months since they moved in.) and to top it all off, he forgot to take the kids with him too. (Three? When did she get three children?)
But it isn't all bad. The second kid knocks over a box, revealing mementos from Clara's youth. Yea, time for a walk down memory lane! (Anything to avoid unpacking. Besides, the kids should know their history!)  From adventures in France with the locals to enthusiastically cheering her school's football team; even seeing how she and her husband met — Clara has lived a full and colorful life. It's no wonder she wants the adventure to continue with the gang from The Guild.
This is meant to come off as a humorous and light look into the day-to-day life and back story of Clara. It does have its humorous moments, but some felt a little too forced. The audience that will read this comic is already aware of how much time Clara spends neglecting her family so she can go on raids. I wasn't expecting an intellectual retrospect on the youth of Clara, but I didn't need to be reminded so often that she neglects her family to play video games. Yes, her house is dirty, she doesn't know how many children she has, because she plays video games all the time, hilarious! Next point, please.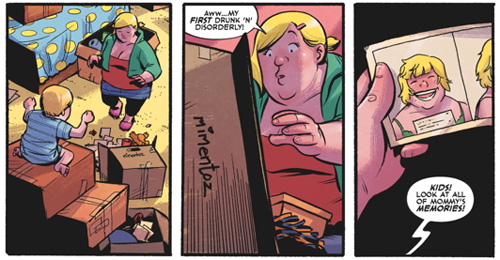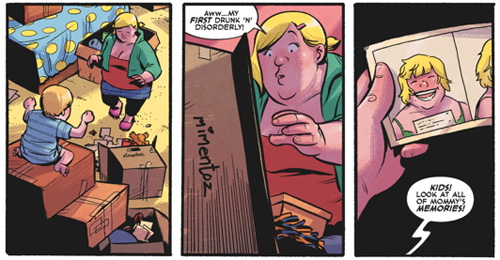 Fortunately, most of the comic focuses on Clara's past and not her present. I found myself literally laughing out loud as she reminisced about her toddler exploits in France. The part when she saves the day during high school, and the advice that comes from that moment, almost had me in tears.
If you are a fan of Felicia Day and The Guild, you will already have a copy reserved for your weekly pulls at your friendly neighborhood comic book store. If you have no history with The Guild and no idea who Clara is, this might not be the best comic for you to randomly pick up. While the overall humor of the situation is universal, the back story of The Guild really helps to lay a strong foundation. Watch The Guild. Even if you aren't going to buy this comic, it's a funny show. Odds are good, once you finish the show, you will pick up a copy of this comic.
Rating: 2 / 5 Stars