The Conners wrapped up a month dedicated to shows revolving around families that on TV are great, but in real life would be a major pain (for most). We're moving past that and into a new realm. Not generic families, oh no — we're all about the classic programming in April. Shows that make you feel like you're at home, be it because they happen to be about family or are about a place that feels comforting. We were going to start this off with a place where everyone knows your name, but did you know the Cheers finale was an hour and a half? I had no time for that this past weekend, but was just as surprised to realize The Wonder Years was only 30 minutes each week. Didn't that show feel like an hour? Anyways, we're talking about the last time Kevin Arnold's monologue was on TV and how love lasts, but not always the way we think.
Name of Episode: "Independence Day"
Premiere Date: January 31, 1988
Finale Date: May 12, 1993
Site: The Wonder Years
Impact on Pop Culture
At the time I would've told said you were crazy to think Fred Savage was attractive, but watching the finale — hey, Kevin! I see it now. Other than pushing this child actor even more into Tiger Beat pages and on award show stages, this show really did a number when it came to that narration factor. Today it's just the norm. From How I Met Your Mother to The Goldbergs, we're eased when someone else is sort of watching over the action as well. Also, much like Happy Days did, The Wonder Years showed what life was once like a couple decades prior — but unlike The Fonz and Co. this one had more of a realistic tone. Also, it took away the idea that you needed a laugh track for a 30-minute show — a big deal, people. Back to Fred though, he sort of backed away from the spotlight after this show but that was because he took more of a prominent role behind the camera, directing It's Always Sunny in Philadelphia to Modern Family. So his personal impact was to just keep giving to the TV realm.
Facts & Stats
It premiered after the Super Bowl.
Danica McKellar, aka Winnie Cooper, auditioned for the role against her sister.
You can see a lot of stars before they hit it big on this show including Friends' David Schwimmer and Robin Thicke (yup — that guy).
The moms of the kids on the show are still good friends all these years later.
While a show about growing up, it was just that that led to the end. They were airing well before 10pm and couldn't really explore the new things they wanted Kevin to experience in their earlier time slot.
What I Knew Before Watching the End
This is one of those shows I'd love to sit down and rewatch because at the time, I watched these by myself as a kid and I'm pretty sure I missed most of the greatness. All I knew was that Karen was a hippie, Wayne was annoying, Kevin and Winnie were meant for each other, and Paul was scary without glasses. People who practically wear glasses since birth should never not wear them. Oh yes, and I knew it had my favorite TV theme song — ever.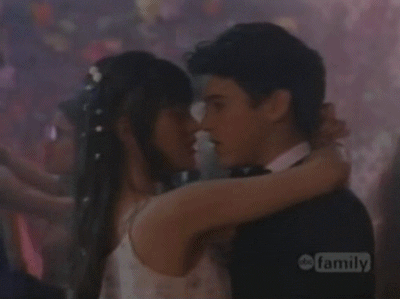 Final(e) Thoughts
This finale would've felt a little rushed had it been void of the "previously on" recap at the start. That really helped get you up to speed. You knew Kevin had a fight with his dad, had run off to "find himself" (because that's what he says) where Winnie was working that summer and then saw her kiss one of her fellow coworkers. Over the course of 20 or so minutes we watch this couple that had an obvious childhood history blow up, reconnect and them — BAM! They didn't end up together in the end?! At the time, I'm pretty sure I watched this and was very unhappy. The main couple is supposed to live happily ever after, but then you have to realize this was a show about reality and growing up in said reality.
It was kind of weird these two didn't make it though, because if you read Aziz Ansari's Modern Romance, back in the day (long before Tinder and whatnot) people didn't have a lot of options when it came to love. With that, many did marry those who were closer to them. However, I think because Kevin and Winnie were more towards the late '60s and early '70s, the idea of marrying the girl next door was starting to diminish. Women were starting to head out into the world more and as we learn in the final monologue, Winnie had done just that. She went off to Paris to study something or another. So it was completely believable that she'd head off, and what was Kevin supposed to do — wait around? No, instead their love did last. Only it lasted as a friendship. Which, can't we be happy that they didn't just become memories to one another?
That's the thing about growing up. We may not wind up sharing the same ship we once did when we were young. Your best friend may just be a friend 15-20 years down the road, that childhood girlfriend you thought you would be together forever may just end up someone you say "happy birthday" to on Facebook. Time changes our dynamics and we can't help it sometimes. Kevin and Winnie were a great starter couple, and I'm sure they took what they learned from those years together and put that towards their new loved ones.
As far as the finale goes, it was quick and to the point and just when you thought you got that happy ending, nope. In came the monologue and with that, we got to hear what became of each of the characters in the years to come. Would I rate it the best? Nope, but on that note — it was far from the worst.