Not all families you'd worry about having as neighbors are comedic. Okay, most are, as the next couple of weeks are comedies — but this week, we're stirring up some drama talking about what is often considered one of the best shows to have ever existed. Really though, The Sopranos has been called that by numerous critics but how did their finale hold up for a first-time viewer?
Name of Episode: "Made in America"
Premiere Date: January 10, 1999
Finale Date: June 10, 2007
Site: The Sopranos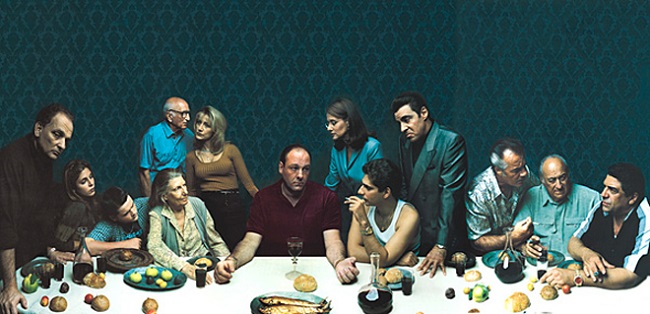 Impact on Pop Culture
Again people, it's considered one of the best and well-written series to have ever graced a small screen. Then Breaking Bad came along and people either forgot about Tony Soprano or drew comparisons to Walter White. Nevertheless, The Sopranos shifted the TV spectrum and made serial dramas more of what they are today. Instead of this show strictly about the guy who runs a mob, it found the balance between his home and work life and it played out beautifully over the course of six seasons until it came to an abrupt end that is still talked about today.
Facts & Stats
HBO initially thought audiences would think the show was about music because of the title. Well, this was far from Glee, wasn't it?
Ray Liotta was approached but turned it down because he didn't want to do TV at the time. It's cool, he has Shades of Blue now.
Fans who want to visit the house the Sopranos lived in can find it at 4 Aspen Drive in North Caldwell.
One time they actually calculated what Tony Soprano's net worth would be. In their world, he was worth $5-6 million.
We wouldn't be here if things had gone as planned and the show was made into a movie like it was originally planned.
What I Knew Before Watching the End
The characters' names were in my head thanks to another blog where I had to post reviews on Tumblr. Meaning I had to tag the cast. Other than that, absolutely nothing other than it had something to do with the mafia.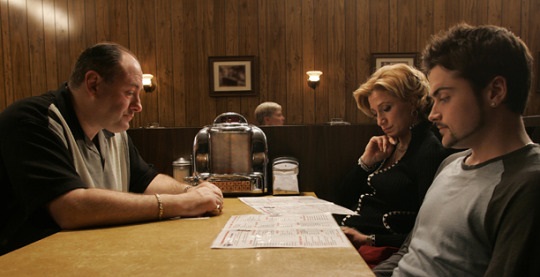 Final(e) Thoughts
Going to be honest, it's a lot easier to jump into a comedy at the end because laughter is easy. I almost fell asleep with this finale on — that is, up until I was interested in A.J.'s future plans to go into the Army, and when some guy got shot point blank at a gas station. That's when things started to get interesting because other than that, I was lost. Tony was concerned about someone coming forward and making a testimony, there was a sad old man with what I'm assuming was Alzheimer's, and they were really into this gas station and its lack of pay phones.
Really though, one dude mentioned it in the beginning, another guy was questioning about a guy who made a call there, and then the guy who got shot said something about it. For being HBO though and knowing what they get away with in Game of Thrones, I wanted to know why we just heard that car roll over him and didn't see any sort of aftermath? Not to sound gruesome. Maybe it's because years of Dexter desensitized me from the "gore" of TV, or maybe I just wanted something more to wake me up. Anyways, that and A.J.'s almost stint overseas made me wonder if 9/11 had an effect on this show prior since they mentioned terrorists and whatnot. I do like that he was talked out of enlisting in hopes of owning a club — because that's totally normal.
Looking into this show after watching, I now understand why the final scene is so important and had I been a fan, I would've been livid at the time. How can you end like that? I thought for sure I was watching a busted link. I knew it was going to go black, but I always thought that was after some sort of action in the background. Nope, just a shady man walking into the bathroom and Meadow walking in to have dinner with her family and then — darkness. The end.
While it was annoying that we didn't even get a hint as to what happened next, like a gunshot or maybe a scuffle, I think to leave your audience with a mystery is kind of cool. In TV things are so exact. There's a beginning, a middle, and an end. The same with actual life but what if there was no end? The way they ended forever leaves their beloved characters in an open ended array of possibilities. Did that man come out of the bathroom and take the whole family out? Was he even there for them? We will never know. So while I was completely lost and bored through half of this finale, the unique ending made it better than some but it doesn't seem like it'd top my personal list because in the end while I wanted to know what happened next — I didn't really care. They failed to make me love them enough to.