Wrapping up this month of classic television is Family Ties. It gave us the opposite of what we were used to. Instead of cookie cutter parents who were hard on their kids, we got a little Republican in Alex P. Keaton who was a world away from his once-upon-a-time hippie parents. It's a great show to catch in syndication, a show that sadly jumped the shark a bit with the addition of a kid, but a show that still remains a fan favorite all these years later.
Name of Episode: "Alex Doesn't Live Here Anymore"
Premiere Date: September 22, 1982
Finale Date: May 14, 1989
Site: Family Ties
Impact on Pop Culture
Again, this show's star was a teen who was unlike the typical high school student that would come to mind. Instead of partying, he was working towards his financial success in the business realm. It was created to mirror the conservative shift the world was heading towards in the '80s, and Michael J. Fox's Alex Keaton was leading it on the small screen. He won numerous awards for the role including a few Emmys, and even after it was off the air, people still kept it in mind. Both The Simpsons and Family Guy have referenced the show and for the tweens and teens of the late '90s, who could forget the line in LFO's "Summer Girls," "Michael J Fox was Alex P Keaton?" Uh, no one — that's who.
Facts & Stats
Ferris Bueller was almost cast as Alex. While it's hard to see anyone but Fox as the lead, we can see why they'd want Matthew Broderick.
Oscar winner Tom Hanks appeared on the show as the alcoholic brother of Elyse.
Their conservatism paid off as Ronald Reagan once said Family Ties was his favorite show.
The show never reached number one in the ratings, but came in a close second during both seasons four and five.
The theme song was sung by Dennis Tufano and Mindy Sterling only during the first season.
What I Knew Before Watching the End
Like The Wonder Years, this is a show watched on my own. The stories and actions went over my head. I laughed at things I probably didn't understand, but today it's a show that I get a little more but watch a little less. I feel like this was in syndication on a great channel that no longer exists and my nights with the Keatons came to an end in recent years.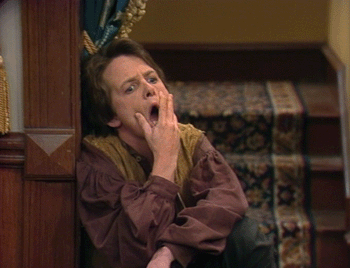 Final(e) Thoughts
How can one find something heartwarming and annoying all at the same time? This was a two-parter that showcased the sibling bond of the Keaton kids in the first half and the breakdown of a mother and son in the second. As someone who loves her brothers but doesn't necessarily like them as people sometimes, Alex and Mallory's goodbye seemed the most real to me. It had this idea of family at the helm, but at the same time showed us how we don't always have to understand those we're linked to by blood to love them. While that half was better, it seemed like quick filler until the second, more annoying half.
So here's what's up — Alex landed a high paying job in New York. His mother thinks she has the rest of the summer with her oldest son. Nope, he's leaving in a week. All he can do is talk about the Big Apple and how he can't wait to leave. On one hand, he's excited to leave and that's understandable. On the other hand, his mom was right — he's being an ungrateful brat. Finally when they came toe to toe with one another and both wound up in tears over how hard it was for both of them to say goodbye, it got to be too much. Yes, I wept for two weeks straight after leaving for college but I was right out of high school and had never lived anywhere by my small town. Alex, he was like 20 or so and come on, he was walking into a $75,000-a-year position. That financial security alone was like, okay rich kid — shut up, move out of your parents' house and be done with it. I'm 100% biased though because I do not have it in me to ever side with someone who still lives in the room they grew up in as an adult. He should've already been out on his own, and just sad to leave Ohio. The first world problem of a future 1%, Alex P. Keaton, everybody.
As a finale, all we really got was what Alex's future held. I wish we could've gotten something more for the rest of the family, and for that, it failed to really touch me. I did cry when Alex walked back in for one last hug, but that's because I do have some sort of heart. Because we don't get a clue as to what is going to become of the rest, or what their next chapter holds, this finale doesn't quite stack up next to the ones currently sitting on the top of my list that you readers will get come the end of the year.