For a show that spawned Frasier, you'd think their finale would've been constructed a little better. Three parts? Why did it need to be an hour and a half that night? I finally took the plunge and walked into this place where everyone knows your name, and when I walked out I was like, why did I even come here in the first place? Also, are you supposed to be attracted to Ted Danson?
Name of Episode: "One for the Road"
Premiere Date: September 30, 1982
Finale Date: May 20, 1993
Site: Cheers
Impact on Pop Culture
This show wasn't afraid to go there, not like Degrassi but still. They dealt with everything from adultery to alcoholism, but at its core it showcased an even playing field for the rich and the not-so-rich. At the bar, it was easy to see how everyone had their problems, no matter what their lives were like outside the Cheers doors. It was about mixing the classes and then making them even, teaching us that we're all the same amount of messed up.
Facts & Stats
GQ once voted Cheers the best show, ever.
Kelsey Grammer almost wasn't Frasier, as John Lithgow was the show's first choice for the role.
George Wendt's real life wife voiced his onscreen wife Vera.
They never plan on doing an official reunion show. The creators said it ended just as they intended.
The show was originally supposed to be set in a Barstow, CA motel.
What I Knew Before Watching the End
My mom and dad used to watch this. I was too young to care, but I did recognize they had a great theme song. Other than that, I was never into the ships that sailed there, or the insanely intense topics they covered. I was a mere child just waiting to have control of the remote to watch cartoons.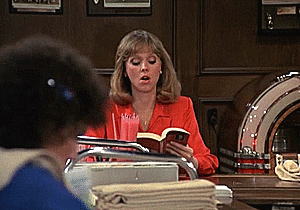 Final(e) Thoughts
Really quick, while I didn't care too much for this finale, I must say that I have a newfound appreciation for shows like this. After hearing the gang from It's Always Sunny talk at PaleyFest about actually having the ability to leave the bar and their moderator, Mad Men's Matthew Weiner, point out how profound the writing has to be for a series to be able to carry on in one setting, I give Cheers its due respect. Okay, now onto the finale.
No one died, there was a quickie wedding, and a couple that I can only assume was the Ross and Rachel of its time got back together and then decided against it. I kind of liked that whole Sam and Diane not working out thing because really, I see Sam as this heartthrob of his day and then I look at her and I'm bored. She's so cookie cutter, and I'm not sure why they were the couple to watch for, but really, they annoyed me together and I only saw them on screen together for that short time. So when Sam decides not to leave the bar and head to California with her, I was like, YES.
There was some growth for each character, all but Frasier. I don't recall him or Carla having anything to look forward to the next day, whereas Clifford gets a promotion, Woody gets elected, Norm gets a job, Rebecca gets married, and Sam realizes where home is. There were all these little things that ended with this group of bar friends talking about the meaning of life. While that part may have been profound for a fan who'd spent the last 11 years watching, it was a little meh for a first timer. The attempt to leave Boston was big, but I feel this finale was missing something even bigger to make it as great as critics claim it to have been.