Everybody's working for the weekend! At least that's what we'll partly see this month as we take a look at some of the most prominent workplace series in television history. From Scranton to Pawnee to Brooklyn, all of these places and more housed coworkers who made a number of generations fall hard for their at-work antics. So much so, we felt cheated when we didn't get to see them on their days off and on vacations, but were more than pleased when they allowed us into their bigger moments like births and weddings. To start off we're going back in the day to a time before Danny DeVito wasn't just Charlie Kelly's roomie on It's Always Sunny, but rather the semi-normal lead on Taxi.
Name of Episode: "Simka's Monthlies"
Premiere Date: September 12, 1978
Finale Date: June 15, 1983
Site: Taxi
Impact on Pop Culture
Much like Roseanne later showed us, Taxi showed us the working man. The staff of this taxi company were not raking in enough cash to make them millionaires. They were relatable, all unique, and presented the melting pot that truly is New York City. Also, it's hard not to notice that a string of big time talent came from there: DeVito of course, Tony Danza (who went on to make us wonder who really was the boss), Marilu Henner (who is still intriguing us with her insanely remarkable memory), and Christopher Lloyd — uh, hello, he's the freaking Pagemaster. Yes, I put that above Doc Brown. Sorry, I'm a product of the '90s.
Facts & Stats
Andy Kaufman only came to the studio two days a week: Tuesdays for a run through and Friday for the actual taping.
Tony Danza is the one driving the cab in the opening credits.
It was cancelled twice in its lifetime.
Jeff Conaway's character was originally written to be a black guy.
According to Judd Hirsch, no one on the cast liked Kaufman.
What I Knew Before Watching the End
You know how you often think you know a lot about a show, and then you watch and realize — nope. Nothing came to mind. I had forgotten Danza was even a part of this cast. Also, it was nice to learn Unbreakable Kimmy Schmidt's Carol Kane was on it. So in retrospect, I think over the years I'd seen only a handful of episodes of this show and knew 1% of what it was really about. It's a taxi company, what more is there to know? Unknown to me was the will-they-or-won't-they (did they even go down that road?). Unknown to me were the bigger moments. This is one of the few in a long time where I went in a little cold.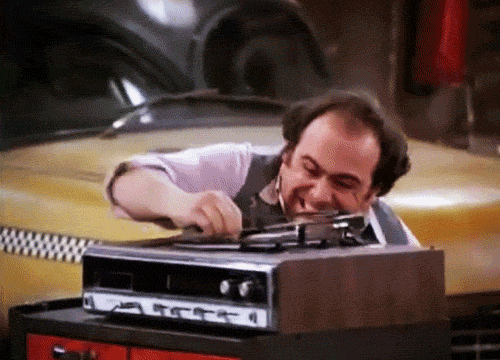 Final(e) Thoughts
Right off the bat, I'd say James L. Brooks and company didn't know whether or not they'd be returning for a sixth season because this was not a series finale in the least. At least it didn't feel like one to me. It was all about two characters, Kane and Andy Kaufman, trying to ensure a green card and prove their marriage to be legit. What sucks though is that Kane's Simka is realized to have a terrible case of PMS and can't ever make it through, or even to, the interview at the immigration office.
I'm not sure about you, but I'm 100% that a show would never let this fly as their finale farewell. With an ensemble cast and a business, I expected perhaps the company closing its doors and each character struggling to find their next step. Instead we watched a woman learn of PMS and gain her green card. A funny episode, but series finale worthy? Not at all, but can we judge a show for ending on a less than sweet note if they weren't prepared to leave fans with a proper goodbye? I will give this show a pass because unlike Married… with Children this one probably didn't expect to get the axe after only five seasons. Married on the other hand should've been more prepared.
With a pass in hand, I'd put this right about Married in the final run of things just because it was comical, but it lacked full closure for everyone and left us with not much to hold on to as the final credits rolled.