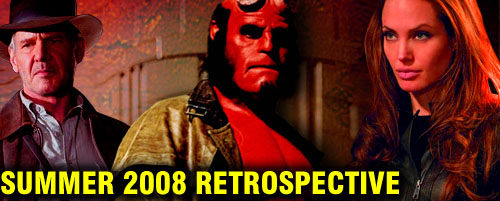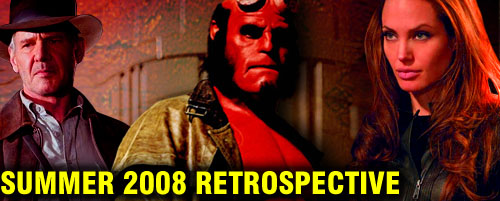 It's been quite a season for movies, and the summer of 2008 finally has ended. Here's a look back at all the good, great, and terrible films that hit theaters in the past few months.
Best Movies of the Summer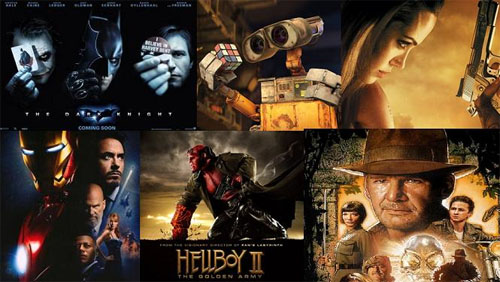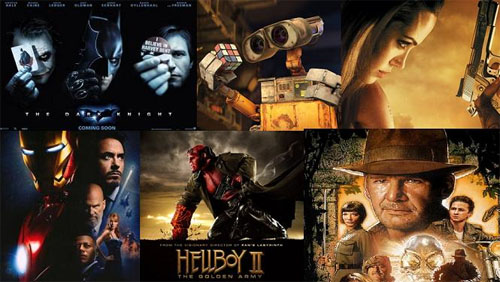 The Dark Knight
Psychologically complex, visually arresting, and narratively shocking. Director Christopher Nolan elevates the Batman mythos beyond the "comic books and popcorn" fare and brings it to the level of cinematic art.
Wall-E
PIXAR continues their winning streak with a heartfelt and satirically sharp story. Wall-E is a tale about a future where humans have regressed to a life of blissful, obese complacency, and the little robot who inspired them to actually live. Make room for another Oscar, PIXAR.
Iron Man
Robert Downey, Jr. and director Jon Favreau bring style and wit to one of Marvel's second-tier superheroes. This kind of wit has never seen in the superhero genre. With Marvel Studios' debut, we are seeing the groundwork being laid down for a new renaissance in superhero cinema.
Hellboy II: The Golden Army
Guillermo Del Toro makes a Hellboy film which feels more like his own creation and successfully combines the sublime characters from Mike Mignola's comic book series with his own singular vision. The final result is a gorgeous fantasy adventure brought down to Earth with Ron Perlman's blue collar charisma.
Wanted
Night Watch/Day Watch director Timur Bekmambetov brings his trademark visual eye to America by adapting this wild urban fantasy (based on the graphic novel). Combining sleek car chases, otherworldly gunplay, and unconventional characters, Wanted pleases on multiple levels like a good action thriller should.
Honorable Mention: Indiana Jones and the Kingdom of the Crystal Skull
It's been two decades since Indy has appeared on the big screen, and it appears age has not caught up with the mileage, because the series and its star have still not lost their mojo after being transplanted into the Atomic Age.
The Biggest Surprises of the Summer

The Incredible Hulk
There are many reasons I wanted to stay away from this one. When it comes to movies, curiosity can be your best friend. Marvel Studios' sophomore effort redeems the mean-green dude and gives him the movie he should've gotten five years ago.
Kung Fu Panda
At the epicenter of this smorgasbord of martial arts goodness is Jack Black. He almost single-handedly injects a generic story with more heart than you would think a film like this would bear (no pun intended).
Tropic Thunder
Ben Stiller is hit and miss now and then. You get the impression that he never gets the opportunity to go all the way. After Tropic Thunder, you hope that Ben Stiller is allowed to go as far as he wants. The brilliance of the movie lies in its daring to bite the hand that feeds it with its wicked satire of the Hollywood establishment.
The Guiltiest Pleasures of the Summer


Speed Racer
The critics panned this film by calling it "underwhelming." I say "bollocks to that!" Come on, what more were you expecting? The Wachowski Brothers set out to bring Speed Racer to the screen, and to that end they were successful. The races are sensational, the casting is ideal, and the story is right out of the classic anime series. Hell, Speed even gets to do that silly hand gesture that he does when he jumps out of the Mach 5.
Journey to the Center of the Earth 3D
Granted, 3D is a cheap selling gimmick, but WHAT A GIMMICK! Using state-of-the-art 3D, director Eric Brevig delivers a clever adventure with remarkable vistas which are made even richer. It is also commendable that the use of the 3D is never obnoxious and never intrusive. You never lose focus on the three leads, and the film never dilutes the legacy of Verne's original novel or the original James Mason film, for that matter.
Biggest Letdowns of the Summer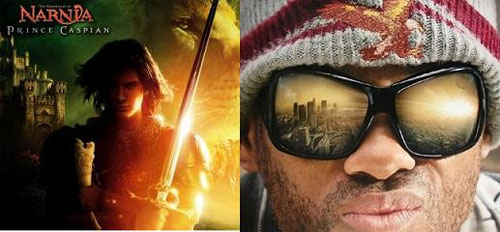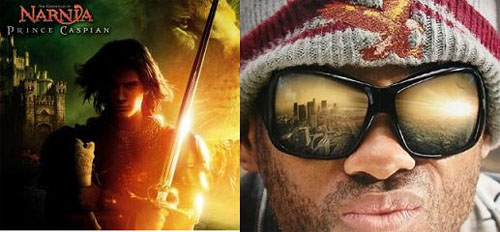 Chronicles of Narnia: Prince Caspian
Yawn, let's see. A fantasy about an exiled prince?… SEEN IT! The evil humans persecute those who are different?… SHREK DID IT! Final epic battle involving trees and living tidal waves? Wasn't there some fantasy trilogy that did that a few years back? I think I made my point. The only real question I've got is, "What impact did the Pevensie siblings have on the story that couldn't have been accomplished without their presence?" Also I notice how the Narnians seem to be susceptible to hostile takeovers, leaving them to rely on Aslan to come and save their butts again. If I were Aslan, I'd say, "Screw y'all! I'm not cleaning up your mess. I ain't your mother, and I ain't Jesus!"
Hancock
Now this would have been a great idea for a superhero story/redemptive drama. Problem is, we only get half of that. The movie flies high, but then a mid-point revelation occurs, and in a split-second, the movie does an about face that destroys the evolution of the story. Will Smith could've had another franchise on his hands, but it can only be assumed that the producers got a bit too overzealous.
Best Actors of the Summer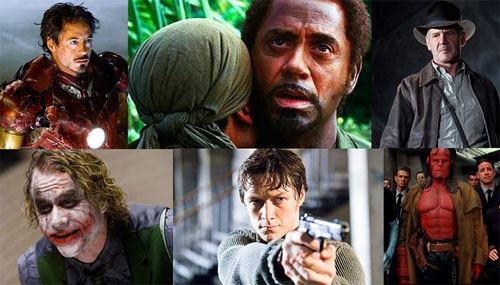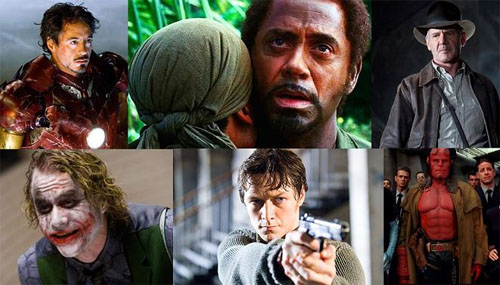 Heath Ledger in The Dark Knight
Even if he had lived to see this day, I would still be putting him at the top of this list. Ledger relentlessly pours himself into The Joker and creates a definitive interpretation of the character by giving us a villain to rival Hannibal Lecter.
Robert Downey Jr. in Iron Man and Tropic Thunder
It's been a banner year for Robert Downey, Jr. by kicking out two hits in one summer. Early in the summer, he's a self-absorbed merchant of death who develops a killer metal suit with a conscience to match. Thanks to Downey, Jr's charismatic performance, we buy Tony Stark's development every step of the way. Then in "Thunder" he becomes the living, breathing example of what happens when you take method acting a bit too far. Time goes by you, and almost forget that he's actually white.
Harrison Ford in Indiana Jones and the Kingdom of the Crystal Skull
Ford slips back into the leather jacket and fedora hat after all this time. After looking at him you wouldn't even realize two decades have passed. Ford uses his age to convey Indy's laments towards his life alone, and then he hits it out of the park when he finds out the truth of Shia LeBeouf's character.
James McAvoy in Wanted
His performance echoes that personal dissatisfaction we all have when we wonder if we were meant for something different. McAvoy's delivery of his character's awakening goes all the way to eleven, and never has you groaning with disbelief. Nor does he have you doubting that a man like him could be a supernatural assassin.
Ron Perlman in Hellboy II: The Golden Army
Perlman is no stranger to acting under make up, but what sets Hellboy apart from his prior work is that he (like Robert Englund with Freddy Krueger) has adopted this character. From here on in, no matter what happens, Hellboy's secret identity is Ron Perlman.
Best Actresses of the Summer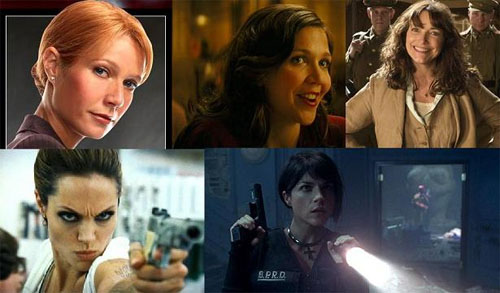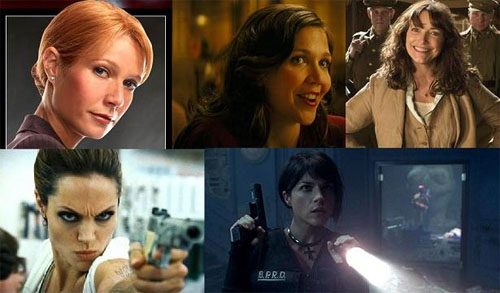 Gwyneth Paltrow in Iron Man
In a testosterone charged superhero flick, Gwyneth Paltrow proves that she can hold her own as the efficient Virginia "Pepper" Potts. Her chemistry with Downey, Jr. sizzles and gives the character considerable charm as she plays the only woman who truly knows the real Tony Stark.
Maggie Gyllenhaal in The Dark Knight
Picking up the pieces after Katie Holmes' wooden, unlikeable performance as Rachel Dawes, Gyllenhaal delivers the kind of warmth and authority that the character should've had in the first film. The Rachel Dawes of The Dark Knight has no problem holding her own with the boys in criminal hearings and interrogation scenes. Because Gyllenhaal helps the character reach her potential, it makes her character's fate all the more affecting.
Angelina Jolie in Wanted
We've seen Jolie in gun fights, but that's not what makes her performance in Wanted special. It is that she handles Fox's conflict with total conviction–the kind that makes the viewer cautious as to where her loyalties really lie.
Karen Allen in Indiana Jones and the Kingdom of the Crystal Skull
Much like Harrison Ford, time has barely caught up with Karen Allen and her character Marion Ravenwood. Even after decades of absence, there is still only one woman for Indiana Jones, and Karen Allen still has the spunk to turn Jones' fedora.
Selma Blair in Hellboy II: The Golden Army
After an appropriately muted performance in the first film, Director Guillermo Del Toro expands on Hellboy's pyrokinetic girlfriend Liz Sherman, and Selma Blair sets the the screen on fire when she stands by her devil man with tear-jerking devotion.
Worst Film of the Summer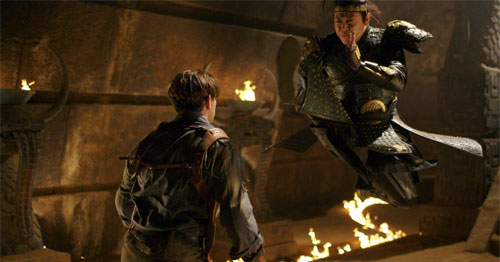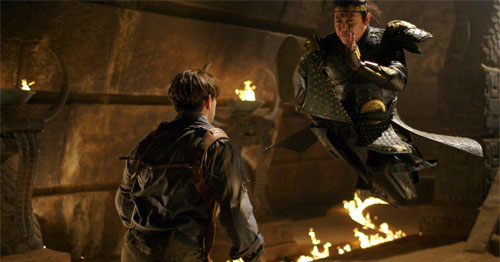 The Mummy: Tomb of the Dragon Emperor
Unrequired. Unecessary. Underwhelming. Gone is the spirit of fun of the previous two films. Gone is the ability to enjoy the O'Connells' adventures or even their humorous antics. Who's to blame? Well, pretty much everybody, but Rob Cohen takes the bulk of the blame because of his uninspired direction and lackluster handling of the franchise. I'm sorry to say that this franchise is all wrapped up.