Over the past decade, Marvel has spit out major motion pictures for nearly all of their most popular titles. We've seen most of our favorite characters leap from the page to the screen successfully played by actors who were seemingly born for the roles. Patrick Stewart and Ian McKellen were IDEAL for The Professor and Magneto. Robert Downey, Jr. encompasses Iron Man better than anyone could. And despite his disinterest in a sequel, I believe Thomas Jane breathed life in Frank Castle flawlessly.
But… they weren't all as ideal as J. K. Simmons as J. Jonah Jameson. Some of the casting was ::sigh:: less than par. So I want a good ol' fashioned "DO-OVER!" I want to turn back the hands of time and re-cast some of the poorly-cast roles in Marvel's motion picture catalog. Use what we've learned form the "failed" performances and muster up some new life into these tarnished characters!
Ororo

Munroe / Storm

Ororo Munroe, Queen of Wakanda, Storm. She is many things. "Decently portrayed in cinema" is not one of them. Halle Berry isn't by a long shot a bad actress, and she has a little golden bald man to prove it. Then why was Storm so damn annoying?! Between the bad writing and awkward attitude and delivery, one of the most powerful women in the Marvel universe was downright irritating on screen. So let's turn back time, shall we?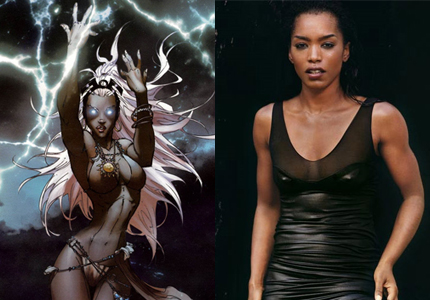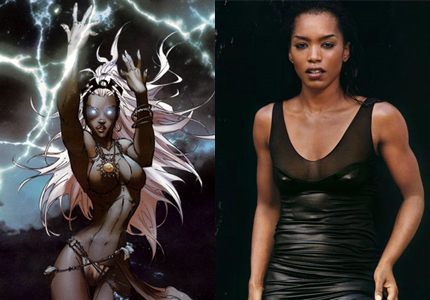 Angela Bassett (Boyz N the Hood, Malcom X, Contact) could've brought the POWER that Storm needs. A strong and beautiful yet intimidating women. The kind of woman who could give even Hugh Jackman a look that would make him flinch. THAT is Ororo.
Rogue
Storm wasn't the only X-wo-Man that was weaker than necessary. Not that Anna Paquin wasn't adorable (and ANOTHER Academy Award winner), but Rogue is more than just adorable, she KNOWS she's adorable. She's not timid and is never a damsel. She's cunning and quick witted and if you're smart you won't take your eyes off of her for a second, sugah.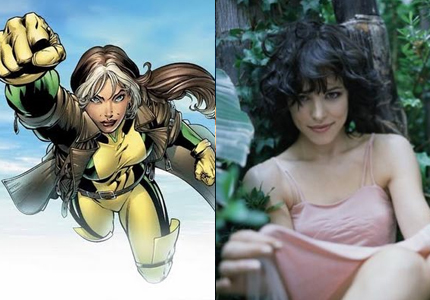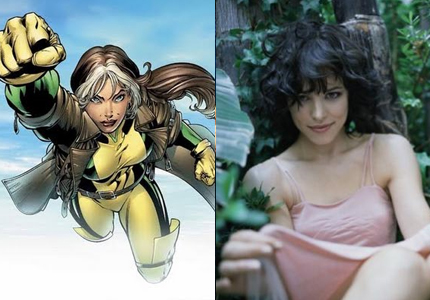 Rachael McAdams (The Notebook, Red Eye, Sherlock Holmes) is all of the above. Would I cast her in this role because I'm in love with her and would cast her in nearly every role? Yes, probably. But I'm sure in this particular instance she very well may be the best for the job. She would bring our southern belle to a whole new level of… belle..y.. ness.

Sabretooth
OK, keep in mind I've turned back the hands of time, so I'm at the first X-Men film. Despite the version and performance of Liev Shrieber in Wolverine: Origins, Singer went with a very Comic-Booky Sabretooth for the first installment of the series. I didn't mind over-the-top comic book Sabretooth. To be honest, I liked that Singer kept the character looking like the Sabretooth of the comics. Only problem was they tapped into the wrestling world and gave the role to Daryl Karolat, aka Tyler Mane, instead of giving it to the wrestler they SHOULD'VE given it to.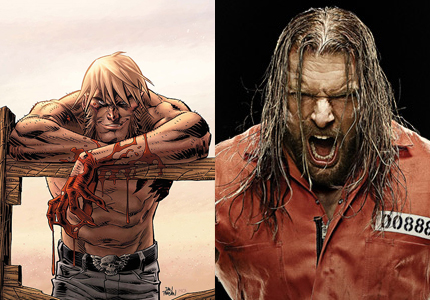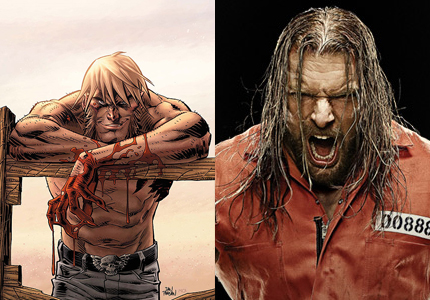 Paul Levesque, aka WWE's Triple H., is one of the wrestling industry's biggest names, and he got there because he can do it all. Not only is Paul entertaining in the ring, but the guy has proved time and time again he can act. Aside from carrying his persona with the WWE, he's made numerous guest appearance on TV as well as held some decent roles on the big screen and I think he's JUST what Sabretooth needed. He's got the size, the attitude, voice and, most importantly, the ability.
Susan Storm
Sue was the first female superhero created by Marvel in the Silver Age of comics. She's the basis of obsession for multiple characters in the MU and the heart of the Fantastic Four. Sue is hot. Jessica Alba is hot. So I can see their train of thought when casting her. But the problem is Sue Storm is not JUST hot, she's also a smart and often dominating woman with a charm and charisma that force the men in her lives to not only swoon, but depend on and respect her. Jessica Alba is… well, just hot.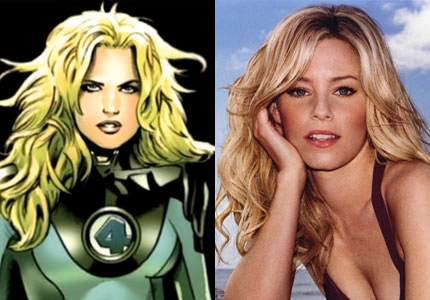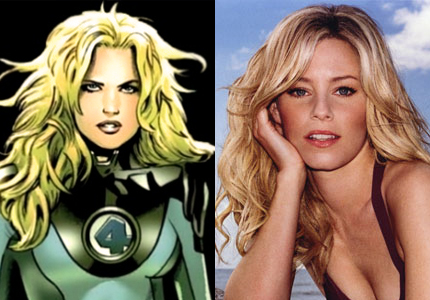 Elizabeth Banks (Catch Me If You Can, Scrubs, W.) is sexy, smart, and has the ability to be everything at once. She's the total package, just like the Invisible Woman. With a range that rivals any actress in Hollywood, it pains me to think that Jessica Alba is EVER a better choice for any role, ever.
Victor Von Doom
The Nip/Tuck guy?! REALLY?! I'm not even gracing this one with an explanation of why that's a bad idea.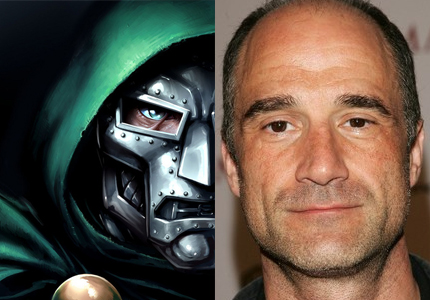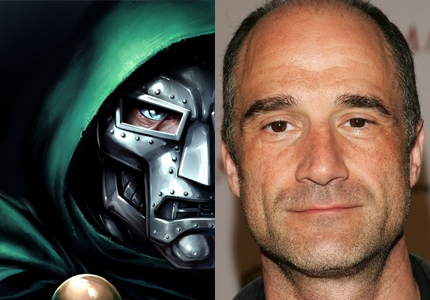 Elias Koteas (Zodiac, Curious Case of Benjamin Button) won his way into most of our hearts behind a mask as Casey Jones in Teenage Mutant Ninja Turtles. Since then he's been in damn near everything you've seen in a role you probably don't remember. I think he'd be great behind Doom's mask, and this decision was inspired by his recent role in Shutter Island, in which he properly creeped me the hell out. Victor Von Doom is a brilliant man and he never acts without thinking. I think Koteas could've brought the dimension this scarred character so desperately needed.
Elektra
Garner was by no means terrible. I will say she possessed the physical ability to play the character that not many women in Hollywood have. Regardless if I've got a re-do I'm taking it. Hell when you've got a Greek character the actress should… oh I dunno, look Greek?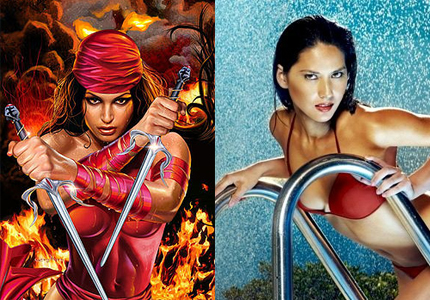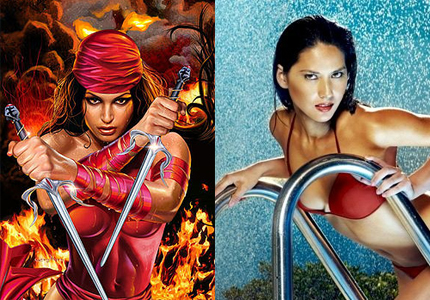 Olivia Munn (G4's Attack of the Show, Greek, Date Night) is probably under-qualified. But it's OK because I don't actually have the power to turn back time and recast these movies. But she's Olivia Munn!! What nerd wouldn't love to see her play ANY character?! And who knows, maybe Elektra could be the challenge that she finds herself in! Maybe she's this amazing actress with levels we've yet to see. You definitely can't deny she's got the right look….  Let me know when you're done staring at the picture and we'll move on.
OK, good. Moving on.
Matt Murdock / Daredevil
Stripped of his sight and his father as a child, Matt Murdock live's in Hell's Kitchen, NY… it's not a pretty place.. and he's not a pretty man. I always loved Daredevil and looked at him as one of the darkest and deepest comic characters that Marvel had. I'm not a Ben Affleck hater by any means… I love Affleck. He was the bomb in Phantoms. But long before he was ever connected to the role I always had and idea of who would don the horns, and if I'm doin-over I've got to go with my gut.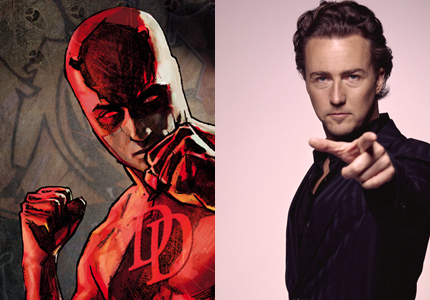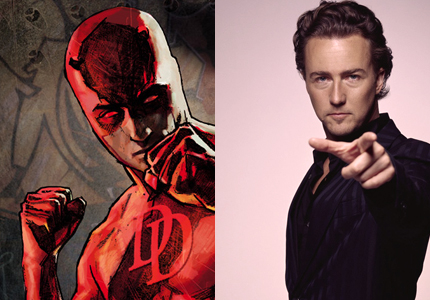 Edward Norton (American History X, Fight Club, The Italian Job) has proved time and time again that he can play a truly twisted and damaged individual. One of my favorite actors of all time, I always imagined his voice when reading Matt Murdock's words and I feel he is Daredevil more than any other actor. I think Norton playing DD would've helped raised the bar for Marvel adaptations… but what's that you say? Norton is what now?… Bruce… who?
Bruce Banner / Hulk
As I mentioned, Edward Norton is one my favorite actors of all time and I thought he was awesome as Bruce Banner. But he would make an even BETTER Matt Murdock… and in my perfect world all the Marvel movies exist in the same universe and we can't have Norton playing both roles. So I give you the mild mannered Bruce Banner.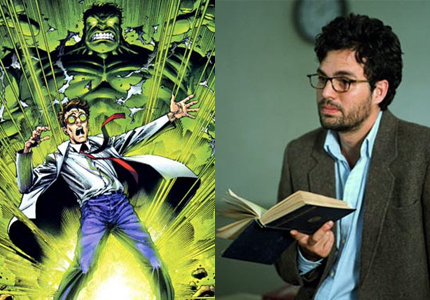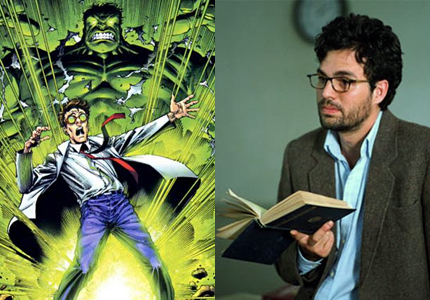 Mark Ruffalo (Eternal Sunshine of the Spotless Mind, Zodiac, The Brothers Bloom) is one of my OTHER favorite actors of all time and I think he has exactly what Banner needs, and that's to be just a little bit more of a dweeb. The Hulk was never one of my favorite characters on the page, but if he's portrayed by Ruffalo I could easily see him being one of my favorites on screen. Mark Ruffalo posses an indescribable likability, yet still has that something in his eye that leads you to believe he's capable of terrible things.
Natasha Romanoff / Black Widow
Now I know Iron Man 2 only just came out and most that have seen it like Scarlett Johansson in the role of the Black Widow, and I'll admit I didn't hate her as much as I thought I would. But to me, Natasha needs to be a tall exotic beauty. The kind of woman you can't stop looking at. She oozes "unobtainable." I don't need to tell you that Scar-Jo is disturbingly sexy, possibly one of the sexiest women alive, but she's also pretty cutesy and that doesn't work for me. She has a girl next door vibe that I can't shake and when I see her I want to ask her if she listens to Damien Rice and what her favorite flavor of ice cream is, not about what it's like traveling the world as a freelance agent of S.H.I.E.L.D.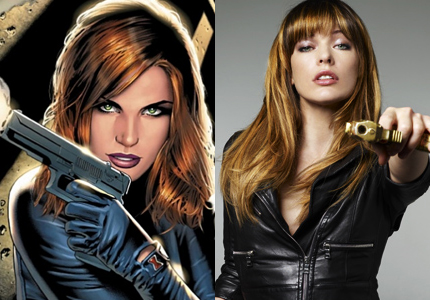 Milla Jovovich (Dazed and Confused, The Fifth Element, Resident Evil) is a no-brainer to me. We've seen her do everything we need to see Romanoff do. We've seen her sexy, intelligent and incredibly deadly. I loved Iron Man 2, and again I didn't hate Scarlett, but Milla would've provided me with a bit more believability that this was indeed the infamous Black Widow.
Mary Jane Watson
On to Spider-Man… Let's just say across the board I think outside J.K. Simmons and Bryce Dallas Howard (and SOMETIMES Franco) the franchise is filled with casting FAILS. It's just… well, you saw the movies.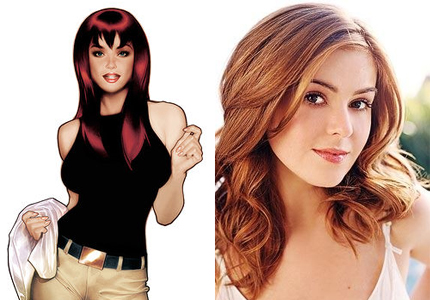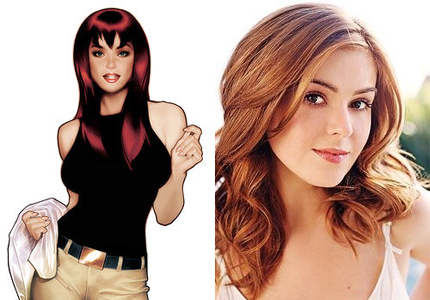 Isla Fisher (I Heart Huckabees, Wedding Crashers, Definitely, Maybe) is everything Kirsten Dunst is and more. When reading these characters you get the idea that there's no chance in hell Parker could ever have Watson. That Parker is the luckiest man on earth that she even TALKS to him. But according to my Hollywood-Obtainable-Sex-Rules-Handbook (3rd Edition), Tobey is about two notches above Dunst on the Boneability Scale, so it just doesn't work for me. But Isla Fisher… now she's got what it takes to be girl that seems truly out of reach, but isn't.

Dr. Otto Octavius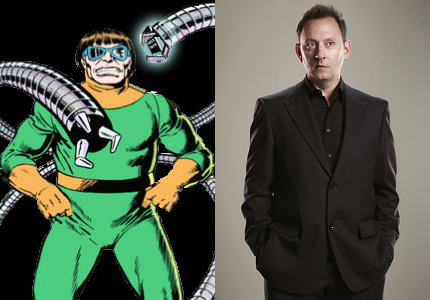 Michael Emerson (Saw, Lost) would make an insane Doc Oc. We all know how twisted and evil he can be from his performance as Ben Linus on Lost. And despite recent versions of the doctor in many mediums being big and brooding, I always enjoyed the older incarnations. I saw the character as a very small and bitter man who used his robotic tentacles to get over a sort of inferiority complex. A man who you probably laugh at well before you'd fear. And THAT trait is something that Michael Emerson has tenfold.

Eddie Brock / Venom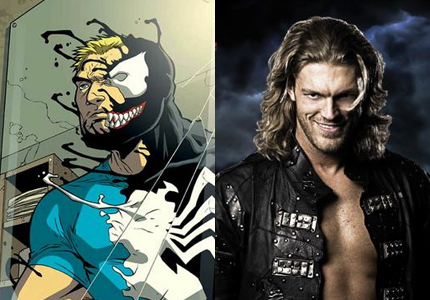 Adam Copeland, aka WWE's Edge, is my choice for the Non-Ultimate version of Eddie Brock. Now I can hear you shaking your head and going "what?" all the way from here, so just hear me out. Much like Triple H, Edge has proved time and time again that aside from being an amazing physical performer in the WWE, the man can act. His ability to carry a story and make us believe in him has brought him into that small group of pro wrestlers that have nearly surpassed their industry. And his ring persona often parallels that of Eddie Brock's twisted jealous demeanor. I think Adam Copeland could give us the Venom we so dearly need, and he probably wouldn't need any unnecessary voice modification when completely symbiote, either.
Peter Parker / Spider-Man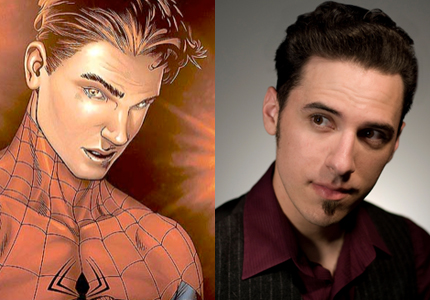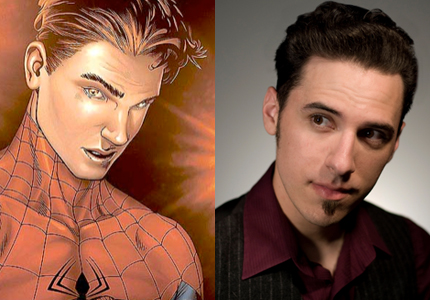 Who the hell is that? ME! Yeah, that's right! I'm THAT narcissistic! (Hey, it's my article, I can do what I want!) You hear that Hollywood!? I know you're rebooting Spider-Man and I want a shot! Hey, it makes just as much sense as casting… oh, I dunno… Tobey Maguire? Heyooooooo!
Thanks for reading, kids. Till next time.
Paid for by Jake Lloyd for Peter Parker.
Black Widow
,
daredevil
,
Elektra
,
fancast
,
fantastic four
,
Lists
,
Marvel Comics
,
movies-
,
spider-man
,
the incredible hulk
,
x-men