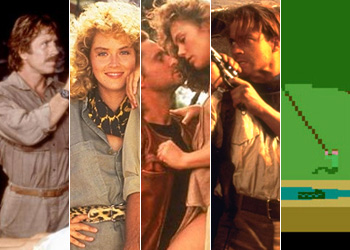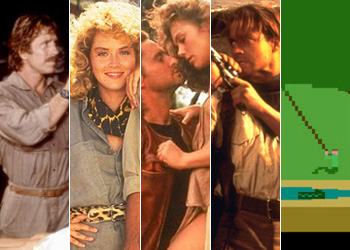 Indiana Jones was destined to be a timeless icon. At least, that's what it seems like now, after four blockbuster movies, an award winning TV series, video games and, of course, countless copy cats. Created as an homage to adventure serials and thought up by two giants of the business, it all seems inevitable. Basically, if Indiana Jones hadn't defined an era, some other guy with a signature hat and bull whip who teaches archeology by day and saves the world from Nazis at night would have.
The price you pay for that kind of success is a bunch of derivative copy-cats trying muscle in on the ground you've laid instead of coming up with their own culture defining characters. Then again, maybe Indy was derivative himself? Is homage just another word for derivative?
I don't know. But here's a bunch of movies that wouldn't have gotten made if it Indiana Jones had never raided that ark, and why the more you try to criticize them, the more we want to see them:
Firewalker (1986)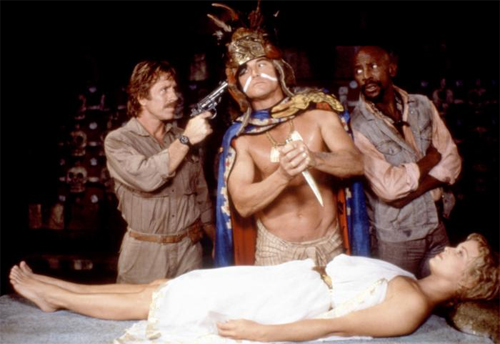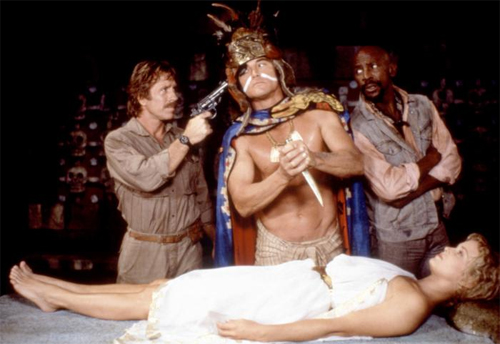 Critics of the time basically panned this little ditty as a blatant ripoff of Indiana Jones. I wouldn't go that far, but it probably wouldn't have gotten made without a little Jones gold shining in the producers' eyes.
Louis Gossett Jr. and Chuck Norris play two soldiers of fortune looking for a gig when a love interest type shows up with a map leading to Aztec secret treasure. This movie is so drenched in unoriginal tropes of the '80s adventure movie that even my one sentence description made me groan when I re-read it for editing purposes.
On the other had, if you like Chuck Norris movies, the previous paragraph had you salivating for more. You get barroom brawls, goof-ball one liners and, best of all, a Chuck Norris character who can't shoot straight to save his life. Maybe that's not best of all. Best of all might be Chuck Norris single-handedly taking down an entire bar full of hotheads with his patented reverse round house kick to the face.
King Solomon's Mines (1985)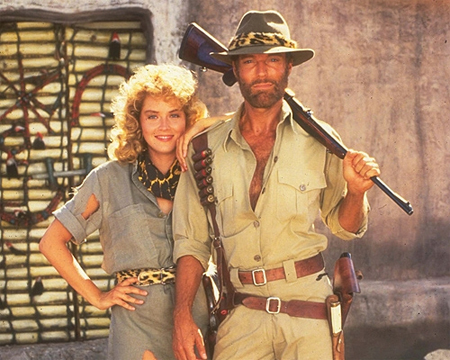 This one would never have gotten made if it weren't for Indiana Jones. I wouldn't be surprised if the conversation went something like:
Studio Executive: We need to cash in on this Indiana Jones adventure genre thing. What have we got
Script Doctor Type: We've got nothing. But King Solomon's Mines is in the Public Domain.
Studio Executive: I like it. But throw in a romantic comedy element, and make sure there is quicksand.
Script Doctor Type: Fine, but can I at least make it irreverent in a way that makes it obvious we know that the audience knows we are riding Indiana Jones's coat tails?
Studio Executive: Sure, whatever. But make sure we get John Rhys-Davies. I love that guy's voice.
Solomon is loosely based on the original novel that basically invented the adventure story as a genre. Loosely is the key word (and I should have included it in my "barely recognizable" entry). But that just makes it more endearing. You've got unoriginal plot twists, great banter between the hero and heroine, and quicksand. What else could you want? Oh, yes, the hero has a cool hat. There's that too.
Romancing the Stone (1984)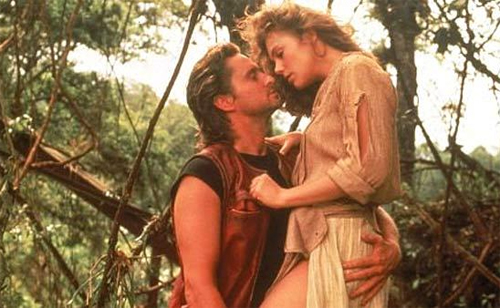 There are two minor details that remove this movie from the cheap imitation category. The first minor detail is that it was written and started production before Raiders was released. The other minor detail is that it was directed by Robert Zemeckis. But we can include it in this post because it probably wouldn't have ever left development hell without Indy's help.
This movie has it all. It has great chemistry between Michael Douglas, Kathleen Turner, and Danny DeVito. It has a solid script that includes crocodiles, mudslides, gun fights, jungles, caves, and a treasure map. And, it has Alfonso Aráu (the dude that played El Guapo in The Three Amigos). This movie and Raiders basically form the bookends of adventure movies in the modern era (assuming the 1980s can be considered the modern era).
The Mummy (1999)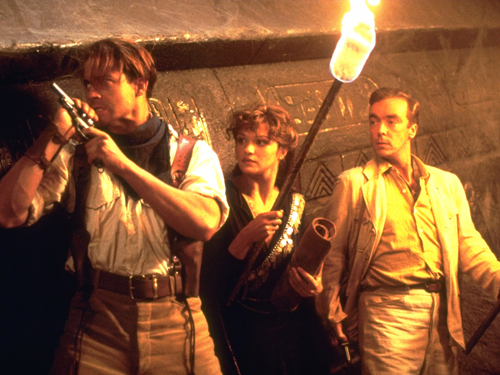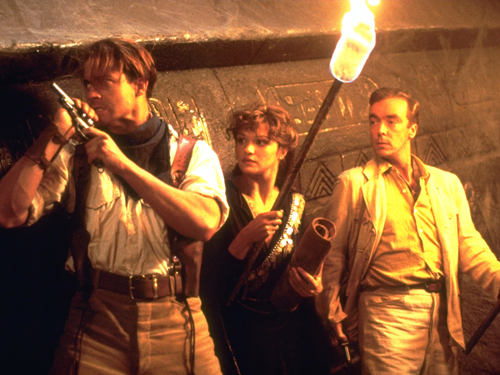 It's hard to argue The Mummy was rushed into production to take advantage of the Indiana Jones Phenomenon, seeing as how it came out 18 years later. But the influence is unavoidable: the hero is a treasure hunter, it's set in a similar time, and there are plenty of legends, secret societies, and ancient civilizations whose secrets must be unraveled (get it? The mummy… unraveled? Ahem.).
Pitfall (1982)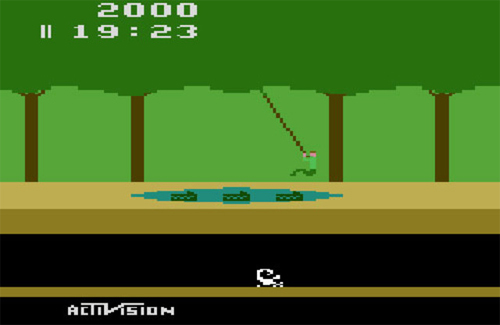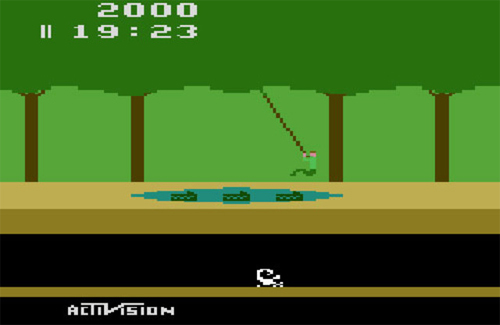 This isn't a movie, it's a video game. But there's no doubt they were trying to capitalize on Indy's success. This Activision classic video game is as close as you can get to being an Indiana Jones property without actually calling it Indiana Jones. You've got a guy trying to find treasure who has to swing over pits full of snakes.
You also have to negotiate quicksand (the best plot device ever!), rolling logs, snakes, crocodiles, scorpions, and mom's insistence that you go outside to get some fresh air. What fool decided to not make a movie out of this one?
Honorable Mention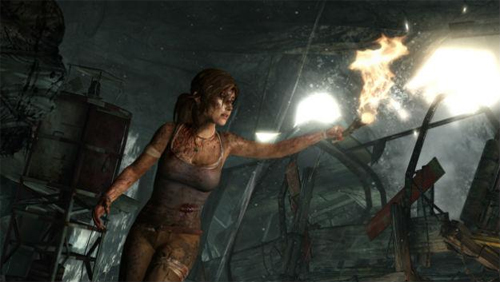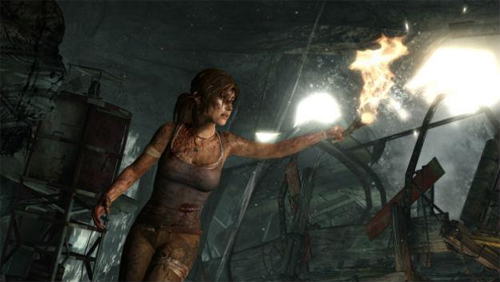 Tomb Raider gets an honorable mention. But it's so original and explores the human condition with such insight that I couldn't put it in the main list.