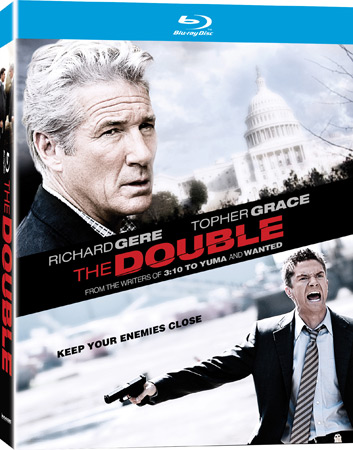 Sometimes an actor plays an iconic character so well that it takes a drastically different performance to make me stop thinking of the actor entirely in terms of that original character. For the entirety of the time I've been aware of him, Topher Grace has been Eric Foreman from That 70s Show to me. That's not a slight against Grace's acting chops. Rather, he sold Eric so well for so long that the actor became the role in my mind, even after his turns in Predators and Spider-Man 3. 2010's spy thriller The Double, recently released on Blu-ray, just might be the movie that finally allows me to break Grace out of his 70s Show roots.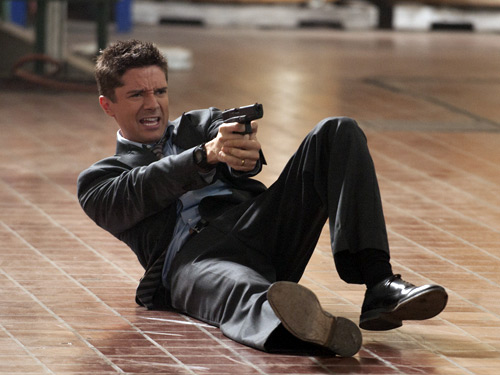 Topher Grace plays Ben Geary, a young and rising FBI agent who has built his career on studying a mysterious Soviet assassin known only by the codename Cassius, a reference to the Roman senator who was a leader in the Caesar assassination plot. Cassius lead a group of trained killers through stealthy and bloody hits until he completely disappeared without a trace. After a United States Senator is murdered with a M.O. that precisely matches Cassius's methods, the Feds assign Geary to the case. In a joint effort with the CIA, former agent Paul Shepherdson (Richard Gere) is pulled out of retirement to help catch the assassin he chased for most of his own career at the Agency.
Shepherdson believes Cassius stopped killing because he died years ago, and he is convinced this newest killing is the work of a copycat. Geary is determined that Cassius is alive and back in action, and the uneasy FBI-CIA partnership takes the two investigators on a twisting search for the truth that spans from the Cold War era through today. Martin Sheen also stars as Shepherdson's former superior at the CIA, and True Blood's Stephen Moyer plays the sole surviving assassin from Cassius's old gang. Stana Katic (Castle) has a brief appearance as a Russian prostitute, and Odette Yustman (Cloverfield) plays Geary's wife.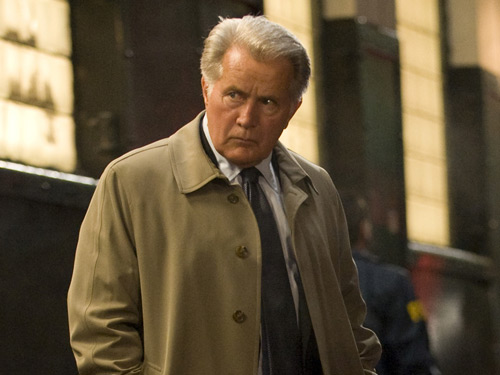 The Double manages to make Cold War espionage relevant two decades after the fact, and its plot packs in more than one surprising turn that should catch even jaded spy-philes off guard. If you're interested in checking the movie out, I can't stress strongly enough for you not to watch the film's trailer. As is the unfortunate trend these days, the previews blatantly give away at least one of the movie's biggest spoilers. You're well advised to go into this one without any additional foreknowledge.
The Blu-ray release packs in just a few bonus features, but the first two are impressive and worth a spin after you've watched the movie once:
Audio commentary with the writers / directors, Michael Brandt and Derek Haas
Featurette with interviews with the cast and writers (approximately 8 minutes)
Trailer – This is the one you should not watch prior to seeing the movie!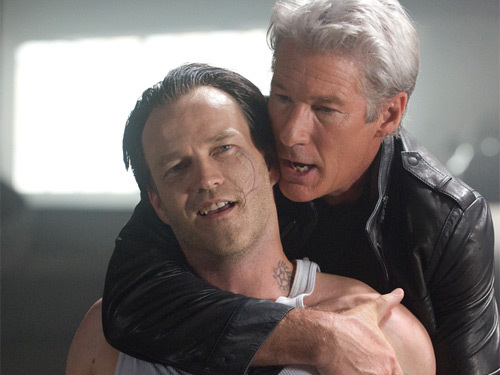 I'm a sucker for a good spy flick, and having some good twists and turns makes these sorts of movies even better, so The Double was right up my alley. In addition to some clever writing by the guys who delivered Wanted and 3:10 to Yuma, the movie serves up some really intense performances from several great actors. Richard Gere and Martin Sheen always bring the gravitas, but it's Topher Grace as the earnest FBI man who steals the show. The Double released on Blu-ray on January 31, 2012, and is available in stores now.