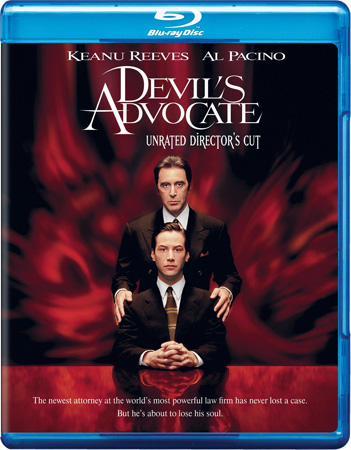 October is here, and that means it's the perfect time to set aside a few hours each week to catch up on your creepy movies. Warner Bros has added some spooky favorites from the late '90s and early '00s to their Blu-ray offerings, giving you more choices when it's scary film time. An unrated director's cut of The Devil's Advocate joins the ranks of Warner's HD collection, appearing for the first time on Blu-ray.
The Devil's Advocate, originally released in theaters in 1997, is a classic morality tale about temptation and greed. Set just shy of the looming millennial turn, the movie stars Keanu Reeves as Florida attorney Kevin Lomax. Fresh off a big courtroom win, Lomax received an invitation to meet with the multinational Milton, Chadwick & Waters firm in New York. Tempted to check out the prospect of moving up in the world, Kevin and his wife Mary Ann (Charlize Theron) fly north, where they meet the firm's senior partner, John Milton (Al Pacino). Milton's true demonic identity is as obvious to the audience as his name would imply, but Kevin and Mary Ann are at first unaware of the Biblical situation into which they've wandered.
Kevin accepts the firm's offer and begins working with them while Mary Ann settles into her new life in New York. As Kevin lawyers his way through cases and assists the firm in setting up a new division, Milton displays his wealth and all-reaching power in ever more diabolical ways. Pacino's alternately devious and maniacal portrayal of the Devil incarnate is worth the price of admission, but Reeves' morally grey lawyer also presents a surprisingly compelling character. Guest starring Craig T. Nelson and Delroy Lindo, The Devil's Advocate is equal parts horror and drama, and it delivers just enough disturbing scenarios and imagery to sell its premise. There's a particularly memorable speech Milton gives that likely is the high point of the film, and it's all worth a viewing for the buildup and eventual payoff.
The new Blu-ray edition includes special features that previously were packed in with the movie's DVD release:
Audio commentary by director Taylor Hackford
Deleted scenes – The Blu-ray box advertises over twenty minutes of deleted scenes, and the actual compilation far surpasses the twenty minute mark. There are twelve different scenes, some of which are extended versions of scenes already included in the movie and some of which are completely new. All twelve feature optional audio commentary tracks from the director.
Theatrical trailer
The Devil's Advocate Unrated Director's Cut released on Blu-ray on September 18, 2012, and is in stores now.