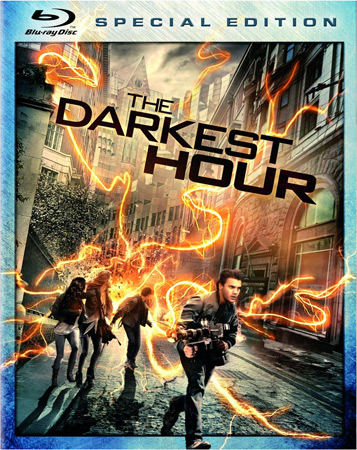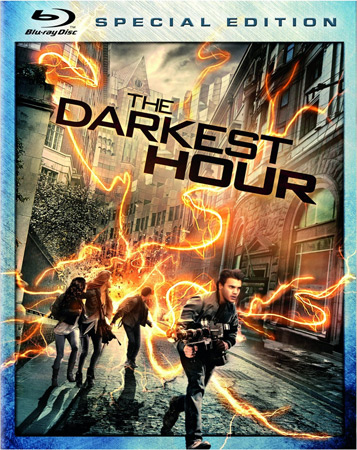 If you were in a movie theater on Christmas Day last year and didn't want to see The Girl with the Dragon Tattoo, you just might have opted into a screening of The Darkest Hour. If you missed it in December, you have another chance for alien shenanigans this week when The Darkest Hour arrives on Blu-ray and DVD.
Emile Hirsch and Max Minghella star as Sean and Ben, two American hopeful entrepreneurs on a business trip to Moscow. They have developed a new social networking travel website and have a deal in place to sell it to Russian backers. Upon arriving at their meeting, they find that their not-quite-friend Skyler (Joel Kinnaman) has swiped their idea and beaten them to the punch in selling the whole thing off. There's no real explanation of exactly how Skyler swindled the hapless duo or why it took them until they reached the Moscow board room to learn of this kink in their business model, but such are the ways of commerce in the Russian sci-fi business age. Their predicament and loss of millions of potential dollars are pitiable, but Sean's pre-meeting proclamation to Ben that "Team work makes the dream work" pretty much makes his being robbed justifiable.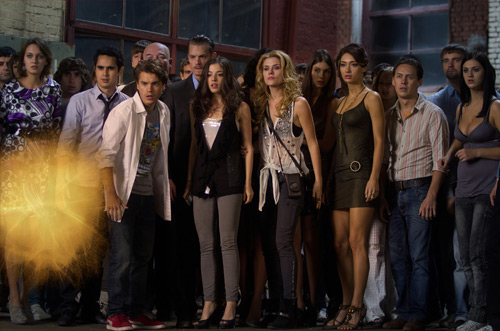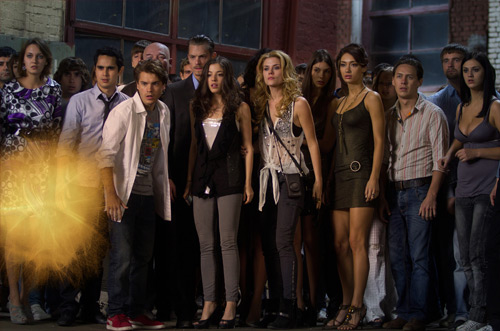 Meanwhile, American friends Natalie and Anne (Olivia Thirlby and Rachael Taylor) are vacationing in Moscow and have been using the website Sean and Ben created to plan their tour itinerary. They end up in a nightclub the website recommended at the same time Sean and Ben are there to drown their sorrows after losing their business deal. In the wacky world of filmic coincidence, Skyler also shows up, obligatory Russian model on his arm so that he can more effectively scoff at his former friends' misfortune and secure his place as the douche tool of the movie. Once all the principal players are in place, the power in the club shuts down. Everyone piles into the street Cloverfield-style to see that all of Moscow has gone dark as strange orange lights fall from the sky.
At first the Russian clubgoers are confused and intrigued by these nearly invisible energy balls. Their curiosity quickly shifts to ohmygodrun when a policeman tries to poke said energy ball with his nightstick and then is disintegrated in a fabulously whirling cloud of electrical dusty death. From this point forward, The Darkest Hour becomes a movie about our accidental party of five struggling to understand what is going on as they try to survive what could only be a bizarrely deadly alien invasion.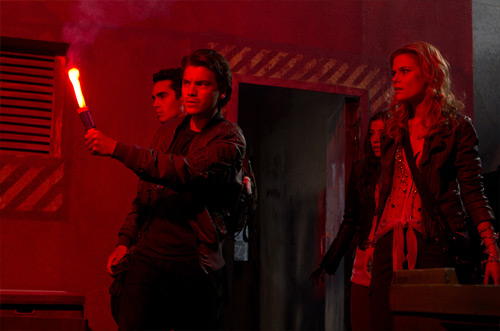 Produced by Timur Bekmambetov, one of the guys behind Night Watch, Wanted, 9, and the upcoming Abraham Lincoln: Vampire Hunter, and written by Jon Spaihts, one of the post production writers for Ridley Scott's upcoming Prometheus, The Darkest Hour has some good science fiction pedigree to back it up. Indeed, it has some clever turns and noteworthy elements, not the least of which being a Russian setting in what typically would have been an apocalyptic story set in America. The aliens themselves are mysterious enough to provide some chills and tension through the first half of the movie, relentlessly pursuing humans with their wicked electric lassos of doom. I really enjoy science fiction that fully explores the fantastical situations it presents, and The Darkest Hour does that through some neat methods of evading the aliens and some scientifically based attempts to combat them.
As interesting as the aliens might be, and as dire as humanity's situation appears, the movie unfortunately stumbles for several reasons. Chief among them is that the story remains flat and predictable throughout. Given the basic plot setup, if you tried to map out how you'd expect for the rest of the movie to play, you'd probably be more right than wrong. There are some tense moments, but all the suspense is in the moment of each specific scene and separate from the context of the overall movie, largely because none of the characters is especially sympathetic or sufficiently developed. Many of the performances leave something to be desired as well. While a number of the actors are perfectly adequate for their parts, there's more than one performer whose native accent keeps bubbling up in distracting ways throughout the film. There also are some pretty atrocious lines of dialogue (see "teamwork" above) that no actor could pull off successfully.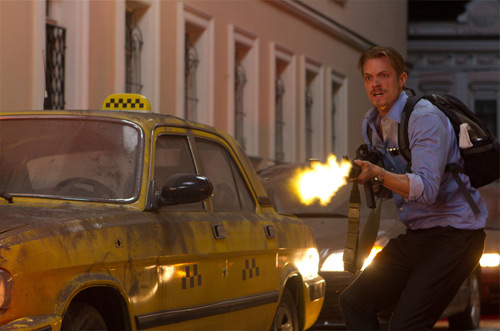 The Blu-ray release does pack in some special features to accompany the film:
The Darkest Hour: Survivors – An epilogue to the main film, lasting just under 10 minutes, and providing some possible closure that the movie itself lacks
The Darkest Hour: Visualizing an Invasion – Making-of featurette
Deleted and Extended Scenes
Audio Commentary from director Chris Gorak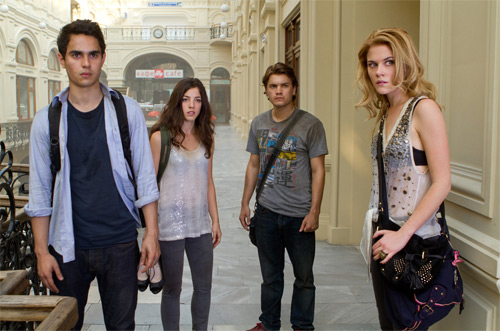 The story is entirely straightforward and lacks any surprises or twists along the way. The effects do look neat and usually involve screaming victims being dragged into the air before being obliterated, but even the heavy CG lags on occasion. Overall, The Darkest Hour feels like a clever germ of a story that gets partially explored before becoming lost in the film's various troubles. The Survivors short film actually is pretty good, even if it makes me wonder how good the full movie would have been if it had followed these epilogue characters instead of the American travelers.
The Darkest Hour releases on DVD and Blu-ray on April 10, 2012, and is in stores today.