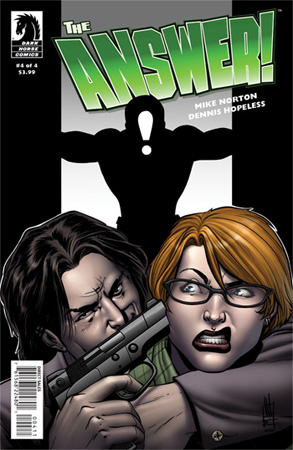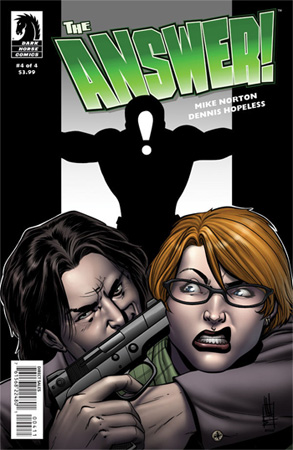 In the final issue of The Answer! a lot of questions are answered, but more issues are brought up. The Answer has been shot by a crazy man who says he is immortal and that Devin has a "mind that unlocks a new wor(ld)". After a small tussle between a guard and the man, Devin manages to grab the gun and point it at everyone. Before she can do much, Chip, who was shown in the first issue as a self-help guru, reasons that helping The Answer and getting an explanation is better than trying to shoot her way out.
Note: This recap may contain spoilers!
Once The Answer has been taken away, Chip leads Devin into a small room. He explains who the man that shot The Answer is, but Chip insists that it doesn't matter, that nothing matters except Devin. When Devin was eight she snuck into a roped off area of a museum and solved a 2,600 year old puzzle, some kind of magic book. Chip was there that day, and has since then become obsessed with finding Devin, as he wants her to solve it again and open a portal into another world. The Answer manages to save Devin once again and she races out of the building. There she meets Jay, a friend of The Answer's, who has been looking out for Devin since she was eight. He was also at the museum and didn't like how Chip looked at her. Devin is understandably upset and demands to be taken home.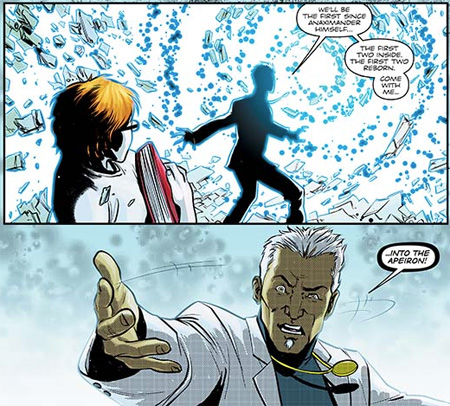 Jay takes her to the library she was at in the first issue, stating it would be safer than her apartment. However, the library is blown up and Devin snaps. The Answer arrives and Devin uses the magic book and destroys the men trying to kidnap her. The Answer wants to keep Devin safe, but she goes off on her own.
As I said in the beginning, the end of the issue leaves readers with more questions. What is the other world? Who is The Answer exactly? How does he manage to escape death so often? Is he connected to Devin? Is he connected to the magic book and the other world? How does Chip fit into this? How does Jay fit into this? What does Devin have to do with anything?
I hope there will be a sequel to this because I really like this world and the storyline. I'd like some answers to my questions and just to find out more about everything. The Answer and Devin are great heroes and I want them to work together to save the world. Or at least to punch Chip in the face.