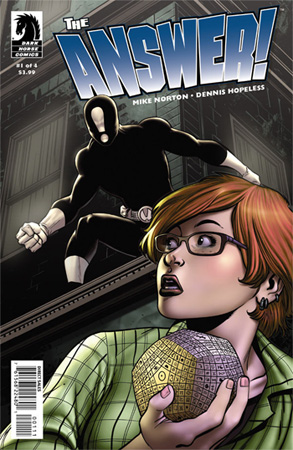 The issue opens in medias res, with a woman we later learn is named Devin on the ledge of a building. To her right is a man in a costume — The Answer, according to the cover. On her left are men with guns. It's an easy choice to make, but before we can see how her jump goes, the issue rewinds four hours.
Note: This recap may contain spoilers!
We learn that Devin is a librarian, 30 years old, has an uneasy relationship with her mother, and loves to solve puzzles. Devin's mother has sent her a puzzle — as Devin calls it, the "Rubik's cube's sexy older brother". She is able to open it and finds a note with a website on it: www.entertheapeiron.net. The issue then jumps to a man talking about the Apeiron and what it is at a meeting of what looks like hundreds of people.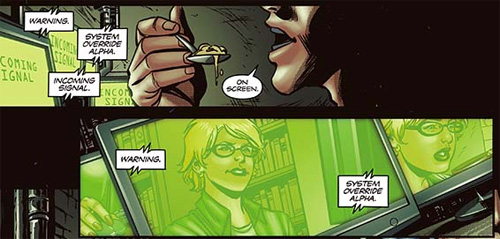 Meanwhile, Devin has gone to the website and is told that the game isn't over yet. At the same time, The Answer is stopping some bad guys while his sidekick or computer guy (we aren't told yet) sees Devin on her computer. The Answer then rushes to where she is. Devin has solved puzzle after puzzle and, as The Answer sneaks into the library, she's beaten the whole thing. The Answer manages to convince Devin to follow him and, just as he predicts, armed men swarm the library. Which brings us back to the beginning. Devin makes her jump and The Answer tells Devin to get on a bus. The issue ends with The Answer somehow getting on the bus, even though bad guys surrounded him as it pulled away.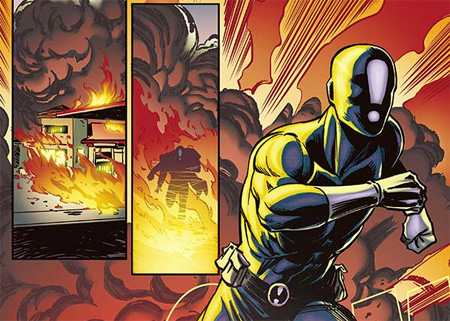 I really liked this issue. I thought that it was intriguing because I want to know more. I want to know why The Answer saved Devin. I want to know why Devin solving all those puzzles on the website was enough for a troop of men to come get her. I want to know how The Answer knew where to find Devin and thought she'd be faster than she is. I also want more lines like, "You have punctuation on your face!" because that is probably the best reaction to a superhero I've ever seen.